He may have played the shot-caller in Friday Night Lights, but Kyle Chandler is the first person to admit that it's the ladies of his life who have gotten him to where he is today, especially his wife, Kathryn.
"She told me, 'You're doing this," Chandler recounts talking about his upcoming movie Carol opposite Cate Blanchett. He had turned down the role at first, concerned about his abilities to keep up with acclaimed talents like Blanchett and director Todd Haynes. Of course, this is the same guy who initially turned down his Emmy-winning role as Coach Eric Taylor.
Kathryn's advice was sound, and Chandler triumphs in his scenes, playing a beleaguered husband in the 1950s who slowly comes to grasps with the fact that his wife, played by Blanchett, has lost feelings for him, and now is in love with a woman, played by Rooney Mara. The two women have already garnered attention for their performances, but it is Chandler's pivotal struggle that really takes the story home. Haynes has since gone to assert that he had difficultly seeing anyone else in the part, recently saying, "You have to cast a real man to play opposite Cate Blanchett."
Sipping an Amstel Light, waxing poetic about long motorcycle rides and paintball shootouts in his fleeting Texan drawl, there's no doubt that Chandler is a real man. He knows how to crack a joke, throw a party, and heed a good piece of advice when he hears it.
How did your wife finally convince you to take the role in Carol?
We bounce things back and forth. There have been a few times that I haven't listened to her. And in all of those cases, she was right and I was wrong.
And those cases were?
[Laughs] That doesn't matter. After 20 years I'm learning that she's got a pretty good read.
And you held your own against Blanchett. 
We had done a day of a movie way back when with Terrence Malick. It was one of those projects where you walk on set and you don't know what's going to happen. Then you leave and you have no idea what just happened. On this film we got to really work together, and she's got this incredible presence. She's very powerful and intelligent. There's a lot going on in those eyes, and working with someone who's that smart is great because they can follow you wherever you're going.
You have to go to a pretty dark place in this. Are you able to shut it off when they yell cut, or do you stay in that mindset and wallow through the film? 
I can't work like that. I'm the first one who's going to fuck around with the crewmembers or throw something at someone just to break it up. I can get back into it but I need that release. Or maybe that just means I'm unfocused. [laughs]
You've gotten into some very interesting roles — like The Spectacular Now, and Netflix's Bloodline. What set you on this course after Friday Night Lights?
I had this moment that really helped shape my career path a few years ago. I was having this great big dinner party back home in Texas. One of our family friends, a really nice lady, came up to me and said, "You play a lot of the same character. I'd like to see you do something different." I was like, "Oh. Thank you… I guess." She's just one of those ladies who just speaks her truth, and I respect her, so it got me thinking. Not long after that The Spectacular Now came to me. I read it and thought, "This guy is sort of the lynchpin of the whole film." If I screwed it up, I was going to screw it up for everyone. I knew I had to do it, because I was afraid of it.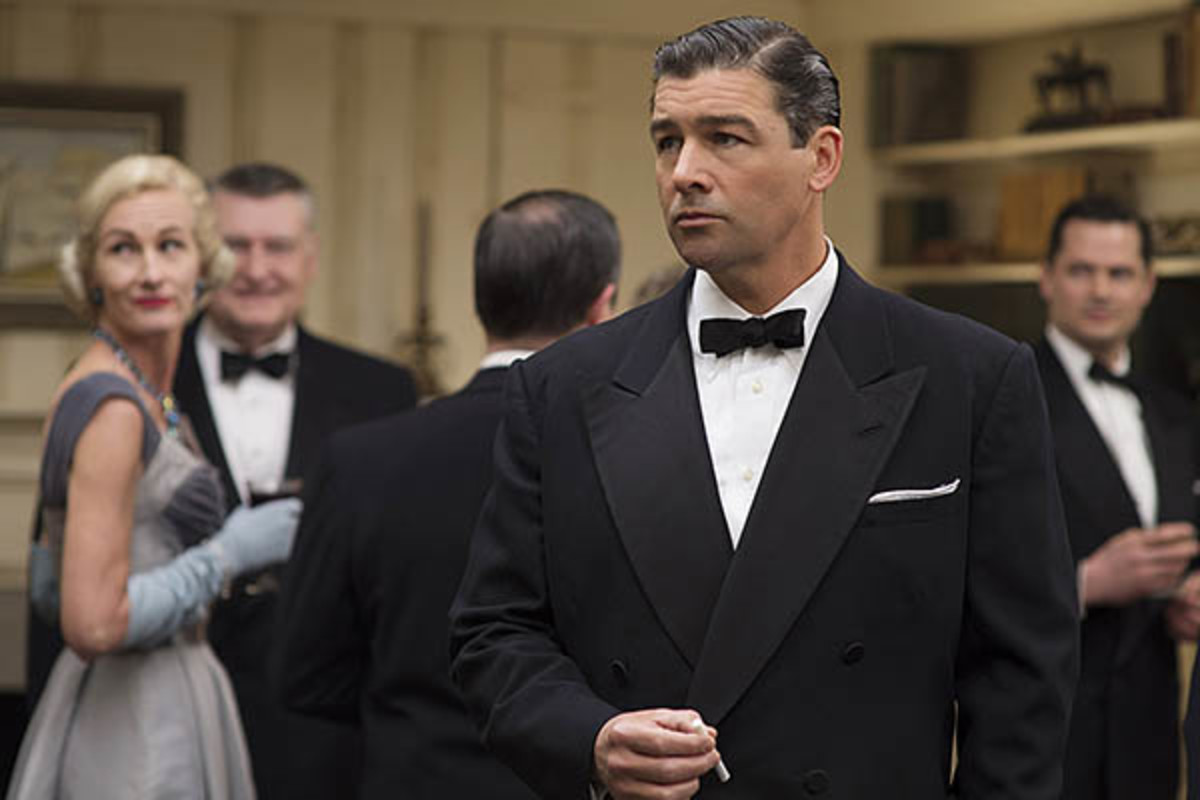 A slight step up from Chandler's East Dillon polos. (The Weinstein Company)
Do you throw a lot of parties at your place in Texas?
I like to. I enjoy cooking for people. My family and I are pasture people. We like to get rocks and form a circle and do these big bonfire parties. Those are one of the great party requirements. Then when the fire is wrapping up, you go out to the pasture and play paintball. I have four semi-automatics. 
What's your advice for throwing a great house party?
I like to be outside. No TVs or anything like that around. The grill should be going at all times. If you can, get some clams or some seafood and just throw them on there. The first big party I did I had some Maine lobsters, which I love, flown down. I have a place in Maine, the number is in my cell phone, and it shows up at your door no more than 48 hours after coming off the ocean floor.
Any games? Twister?
Yes, some Naked Twister goes down.
I'm not sure if I should believe you right now…
I also want you to know that I'm funny myself. That's going to be my next project: a big, fat comedy movie.
Who would you want to work with?
I'm pretty open. I'm waiting for the phone call. People don't know I'm funny. But I'm damn funny.
I believe you. You're cracking me up right now.
Talk about subtle humor? I'm all over it.
Seth Rogen is here in town for a couple projects.
Let him know that I'm funny.
What are you going to do with your free time until then?
I love motorcycles. That is one of my outs. I have a KLR 650. I want to do an Alaska trip, so I got the KTM 1290 SA, which is the new bike. I have about 1,700 miles on it so far. I like to drive. I like to hear the road. After a few minutes it turns into that hyperspace in Star Wars, where the real world disappears and connects with something else new. Like when you're on that second beer and it all just clicks.
For access to exclusive gear videos, celebrity interviews, and more, subscribe on YouTube!