They call him Mr. Pipeline.
Gerry Lopez is considered to be among the most influential surfers in the history of the sport. Lopez, born and raised on the Hawaiian island of Oahu, helped pioneer the shortboard revolution that in many ways led to much of what surfing is today.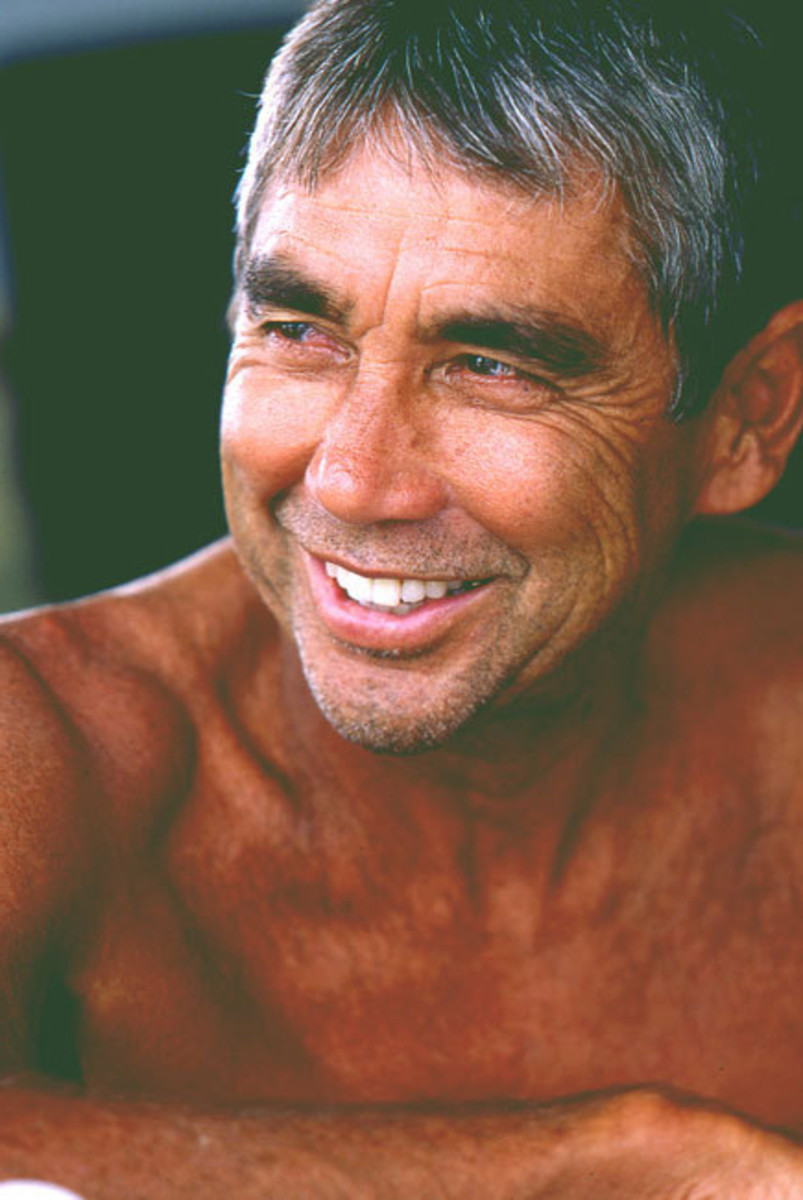 LISTEN TO THE FULL PODCAST: The Dog & Surfer Roadshow with Gerry Lopez
 
Lopez made Pipeline his home, dominating the world-famous North Shore wave starting in the 1960's and claiming the Pipeline Masters title consecutive years in 1972 and 1973. 
Lopez mastered the art of tube riding and would garner the reputation as one of the greatest surfers in the world.
And inexplicably, despite his popularity (and the warm, beautiful waves of Hawaii), Lopez left his home state in the early 1990's and moved with his family to the Bend area of Oregon to start a new life of snowboarding and river surfing, while repping his longtime sponsor Patagonia and still shaping his world-famous surfboards.
I caught up with the legendary surfer to ask him who he thinks the greatest surfer ever is, why he moved to Oregon, surfing river waves and the valuable lesson he learned from Duke Kahanamoku while growing up in his home state of Hawaii.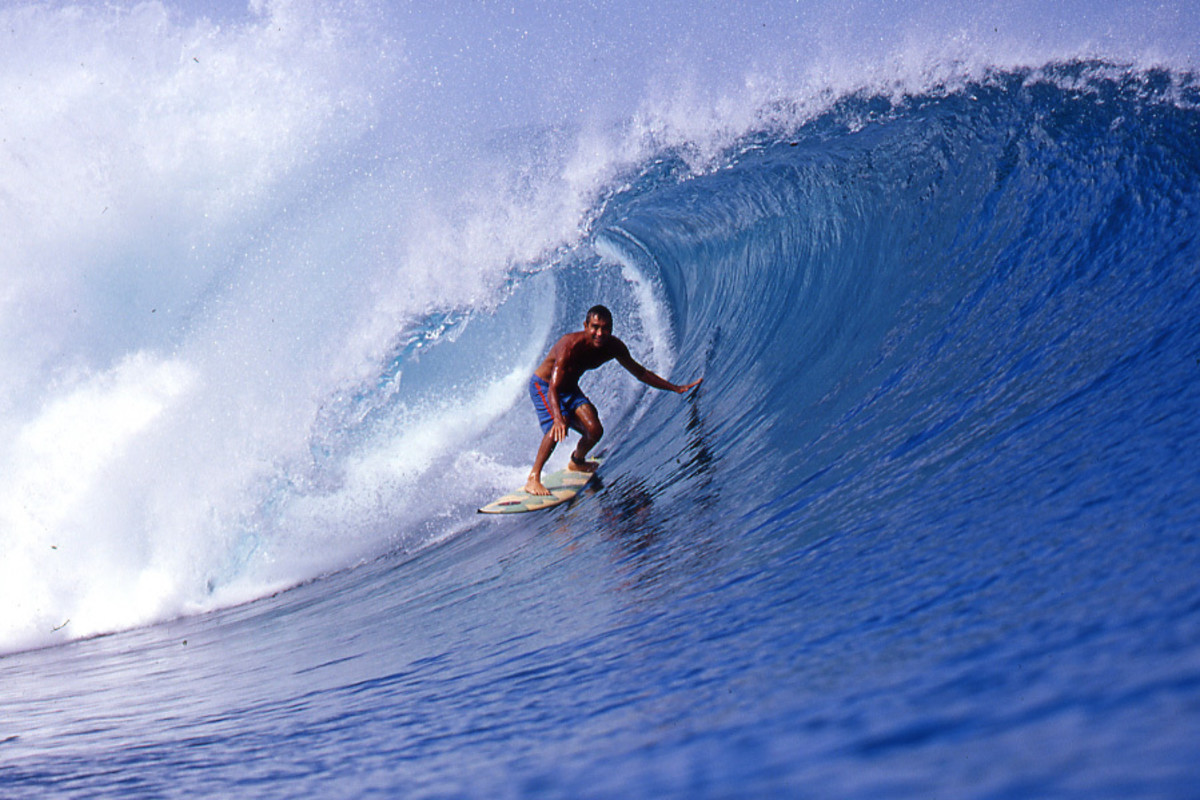 I'm incredibly honored and flattered every time I interview you. The greatest surfer ever Kelly Slater bows his head to you. How are you doing?
Thank you, I'm doing well. And I doubt that Kelly bows his head to anyone.
Slater repeatedly will say that the biggest honor in competitive surfing is winning at Pipeline, because he gets one of your surfboards as a trophy.
Yeah, well that's a surfboard. (Laughs) Kelly's a great surfer.
In your opinion, who is the greatest surfer ever spanning the entire history of the sport?
Speaking in a competitive sense, obviously Kelly Slater has done more than probably anyone will ever do. I mean, he is like Robby Naish was to wind surfing, just indomitable.
Through the history of surfing there's been so many greatly admired surfers from, probably going back to the ancient Hawaiians, there are different chiefs that I don't know but I mean in my time Duke Kahanamoku, Paul Strauch, Fred Hemmings, George Downing, just endless guys from the early eras and then quite a few guys from my era and then, you know, more guys from all the different generations after me. We don't have time to name them all. (Laughs)
What made a born-and-raised Hawaiian, who basically owned one of the greatest waves in the world, get up and move to Oregon?
Well, it's pretty nice. We came to Bend in the summer of '92, and it was actually two surfers, Sunny Garcia and Derek Ho, who told me that the snowboarding was real good here in the winter, and we came back that winter. 
It was Grubby Clark, and his wife, and my wife, and we loved it so much we ended up buying a house on that second trip within three days of being here and both of us just kind of been here ever since.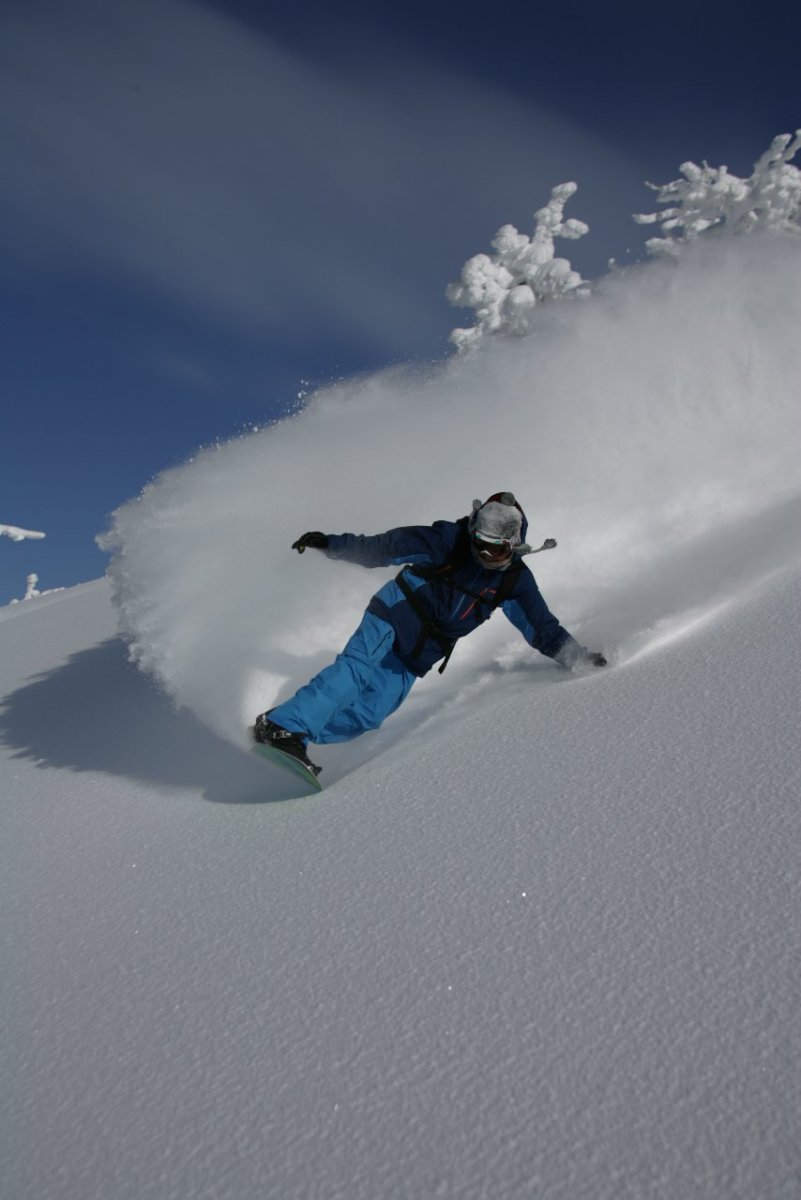 That's incredible.
It's a wonderful place and we're here in central Oregon. My surfing buddies go, "Wow, that's kind of far from the ocean!"
I've been asked this a lot of times. I think what I like here is the space. There's just a lot of space all around you, the air's great, the water's good and I can't find that so much at the beaches anymore.
Although, the beaches here in Oregon have quite a bit more space than the beaches in Hawaii and Southern California. I've spent a lot of time in Hawaii. A lot of quality time, and I guess it was just time for me to see something else, so here I am. (Laughs)
That video of where I river surf, it's a far cry from Pipeline but I tell you what, any wave from the river when you're 200 miles from the ocean will do. Especially if it's breaking every day like it does. (Laughs)
I'm glad you brought that up. It was in the news that you were river surfing in Oregon. I've only seen a handful of rivers in the world that create waves. Germany I think has the most famous one in Munich where you can river surf. Tell me about this river in Oregon. How did you discover it? Give me the whole story.
Well, the whole story goes back, oh geez, not long after I got here. A friend that I'd made here, who was actually an Olympic cross-country skier and was passed the Olympics. And he was a great kayaker. He said, "Hey, I got a wave out here that I've been riding on my kayak. I think you can ride it on a surfboard."
And so he drove me out there in the middle of nowhere. I got out and saw this wave and I went, "Wow!" And he had a surfboard. 
He had an old, beat-up Becker, kind of mini-tanker, and it was his first time. He got out there and jumped in and paddled into this thing, and kind of wobbly got to his feet and it was the coolest thing I ever seen. (Laughs)
When he fell down, I went, "Hey, let me try that." And one thing led to another. 
We went to (he and I, his name was Ben Husaby) probably three or four different evolutions of surfboard design to ride that wave. 
And then it got too popular, and it was in a private waterway and eventually they shut it down on us.
And that was, a guy reminded me, I think almost 12 years ago. So I've been going back to the ocean or behind a boat to find waves, and then this proposal came up a couple years back about using one of the waterways here, the Shoots River, actually, where it comes through town and they're building a waterpark.
And the Parks and Rec got behind it, and they finished it last year. They didn't quite have it right for a surfing wave, but they worked on it again this winter when the water was down and low and behold, I'm watching this wave and, boy, I'd been diving in there as much as I can ever since it's been going and it's real popular.
A bunch of guys came from Montana and Idaho, where they also have river waves, and today I was surfing with a couple of guys who drove down from Hood River because they saw that video and wanted to give it a try. (Laughs)
Is it easy to get up?
No. It's not easy; it's actually as hard as learning how to surf on a regular wave. It's pretty frustrating.
I had my big snowboard event here, which is called The Big Wave Challenge, where Mt. Bachelor and I kind of team together and we build these waves out of snow and have a competition and judge it like a surfing contest.
So I had all these surfers in town, and they of course saw that video too, and they were all out there on that wave. Some of the best surfers in the world ended up getting their noses skinned and (pause for laughter) taking some gaffe learning how to ride this wave.
Do you surf in Oregon?
Oh yeah. I mean, the surf here in Oregon can be really great. You know, it's a little bit of a trek but, I mean, there's been days that I've looked at the forecast and seen maybe good conditions with a good swell and I'll get up early in the morning, drive out there four hours, get in the water for four or five hours, and then turn around and drive home.
I've surfed Oregon and it's windy and the ocean temperature is frigid, that doesn't faze you at all?
Well, it does a little, but you know, the wetsuit technology has come so far since the early days of wetsuits that, I mean, you're pretty warm out there.
Patagonia makes a wetsuit that's lined with merino wool that is pretty doggone warm. The river wave is snow melt water, so it's pretty cold. I'm out there, I'm pretty toasty and I don't even wear gloves or booties. Of course, you know, I'm not in the water very long when I am. (Laughs)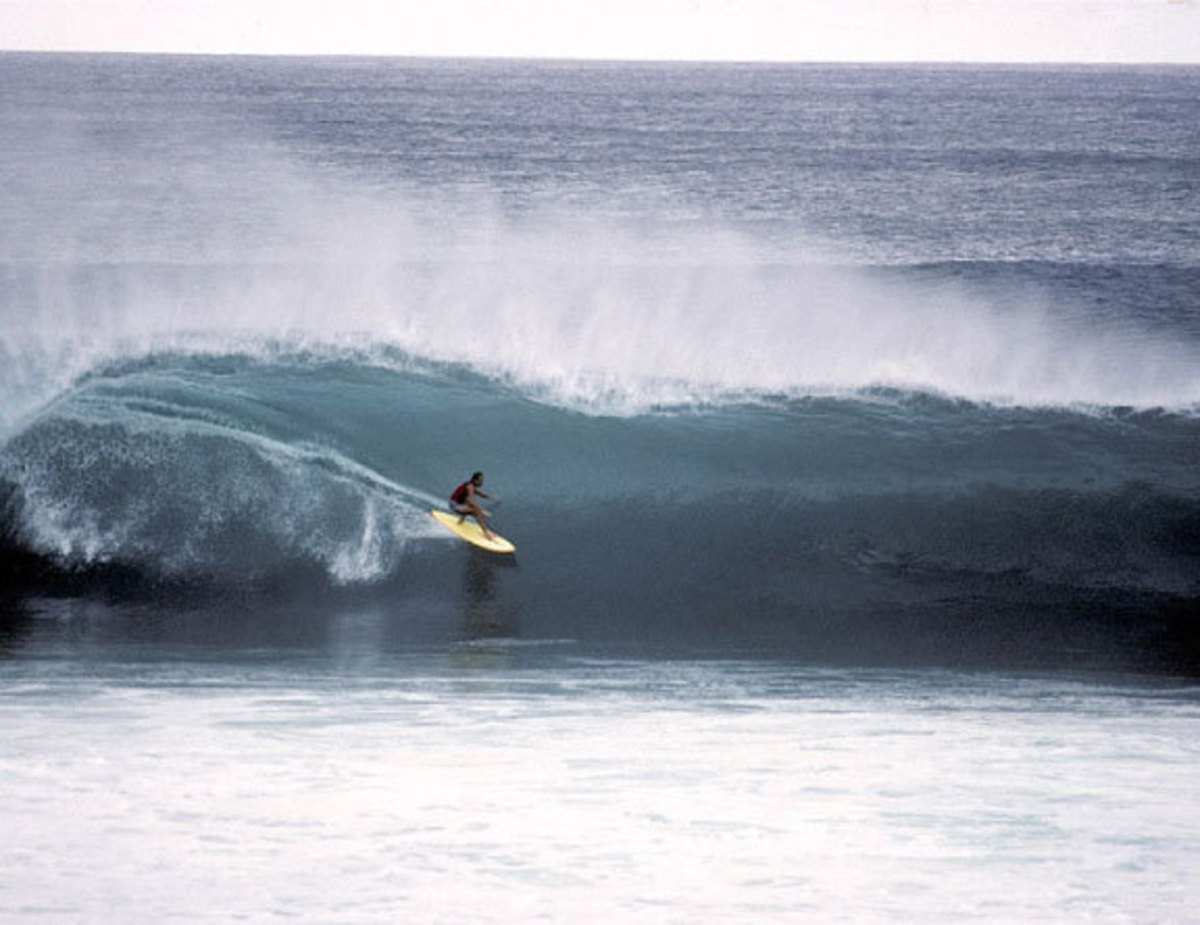 You always have the greatest stories. Anything else you'd like to mention?
We live in a busy world these days. There's a lot going on. A lot of people, and there's tension every now and then when I don't know if it should be there.
What I like to mention is what I kind of learned growing up in Hawaii, especially from Duke Kahanamoku, is how to live with Aloha. He was really a great man. We all considered him the greatest surfer, but he would laugh at that and go, "No, no. I'm an ambassador of Aloha."
He carried this card that he would give to people, because it had this beautiful message on the back of it. The card had a picture of him surfing on the front, and on the back it said:
"Aloha means love. In Hawaii we greet friends, loved ones and strangers with Aloha, which means with love. Aloha is the key word to the universal spirit of real hospitality that made Hawaii renowned as the world's center of fellowship and understanding. So try meeting or leaving your brother nobles with Aloha and you will be surprised by their reaction to the Aloha of love. I believe it, it is my creed. Aloha to you, — Duke"
And I've always thought that was such a wonderful thing. It's really been close to my heart for a great many years. And I hope that I can carry on, in a very small way at least, some of the tradition that Duke left for all us surfers.
You had Duke's card memorized?
Lopez: I do. I have no props here. (Laughs)
More from GrindTV
What I learned from a year around the world with my wife
First Chair Festival hits Salt Lake City with ski movies, music & more
Catch a unique look at the Golden Gate Bridge: Battery Wagner Trail
For access to exclusive gear videos, celebrity interviews, and more, subscribe on YouTube!