By Jim Baird
We left a big chunk of paddling for the last day, and after breakfast, we headed out in perfect weather with some uncertainty as to how long it would take to bypass the obstructions that lay in front of us. We had two potential portages around chutes and then the mouth. That's where the river gets very wide and shallow with many braided channels, some shallower than the others. It's best to begin paddling the mouth at high tide. This will insure that there is enough water to prevent hang ups in the shallows, avoiding the need to repetitively jump out of the canoe and drag.
The first chute we approached initially seemed like a mandatory portage, but on further inspection, I decided that it could be lined. When lining with two people, it's best if the front line connects to a bridle secured at the keel line.
If lining solo, like in this video, a 50-foot rope from the stern is sufficient. You'll see that I keep my life jacket on while lining, which is always a good idea. Lining can be dangerous; if you're not careful, you can slip and hurt yourself or lose your boat and pin it. It wasn't easy, but a few minutes later, I arrived safely at the bottom of the drop, happy that we'd skipped the portage.
Unlike the East Natashquan, the Natashquan's main branch is traveled by a handful of recreational canoe parties each year. And the lower reaches of the river are used by First Nations people from Natashquan IR and Parent Point, sister communities that lay at the river's mouth.
Most people who paddle the river arrange for pickup at the last bridge to avoid the shallow mouth. We wanted to paddle the whole route though, from source to sea. I didn't want to pull out before our bow touched salt water. In hindsight, I wouldn't say I regret this decision, but I'm not speaking for Tori when I say this.
A strong, cold headwind picked up as we reached the mouth. We hit the receding tide but the blasting wind slowed us so much that we lost the water, and we made a couple bad decisions on some of the channels we took. This forced us to paddle in very shallow water, crossing the wide river looking for deeper channels; we had to drag through a couple stretches too. It seemed like we were getting nowhere against the relentless wind, but we still managed to put 10 miles behind us. Stopping to chomp down granola bars with only about 3.5 miles left, I looked up the bluff to see the fish smoking teepees of the Innu, whose salmon fishing season had just come to an end.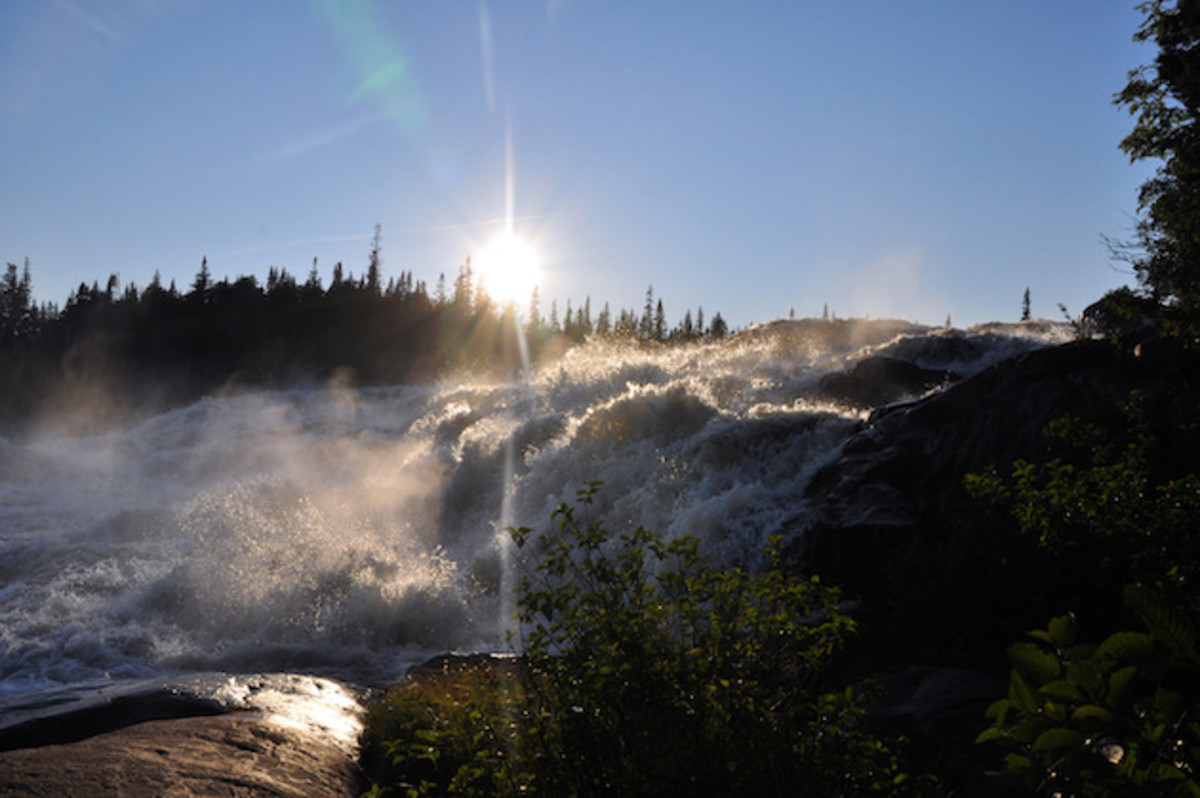 With no other options, we put our heads down and paddled hard into the headwind to complete our journey on the evening of Day 14.
Unlike any river I've paddled before, it seemed that the Natashquan had a consciousness. It seemed the river played a game of hardships and rewards to almost an uncanny level. It happened again and again to us, right from the beginning of the trip. To name a few: a tough, trail-less portage reveals the unforgettable and empowering reward of a seldom-viewed, 150-foot falls that thunders into a canyon; an 18-hour portage is followed up with miles of swift current through the S-bends of an ancient stretch of river, flanked by towering mountains; a stressful evening trying to make distance into headwinds, and further soured by some botched navigation, is rewarded with an epic campsite found just before dark and a spectacular Northern Lights display.
This was Tori's longest canoe trip, and it was her first trip in the remote Canadian wilderness. A few petty arguments near the beginning of our journey were soon mooted with the awesomeness of the trip, from the challenges to the river's wild beauty. And despite the hardships, it seems that for Tori too, the good parts didn't just outweigh the bad; they were sweetened by them. But with the trip all said and done, the biggest reward for me is that Tori is not only still talking to me, she has also found a passion for wilderness travel. As I write this post, we are at the beginning of a four-day drive, headed for the wilds of the Canadian north, Buck in the back seat, and a canoe on the roof.
— Check out more LESSONS FROM THE TRAIL WITH JIM BAIRD, including:
Episode 1 of the Côte-Nord Adventure: Getting There
Episode 2: How to Strap a Canoe on a Float Plane
Episode 3: Tips for Dealing with Waves and Bugs
Episode 4: Sometimes There's a Cabin
Episode 5: Shotgun Whitewater
Episode 6: Maneuvering a Canoe in Whitewater
Episode 7: Cleaning Pike and Brook Trout
Episode 8: Delaying the Inevitable
Episode 9: The Big Carry
Episode 10: Bear Trouble
Episode 11: Heavy Rain
Episode 12: How to Use and Axe
Episode 13: Expedition Fishing Tackle
Episode 14: Whitewater Paddles
This summer, C&K is rolling out new episodes of Jim Baird's Cote Nord Adventure series, presented by Nova Craft Canoe.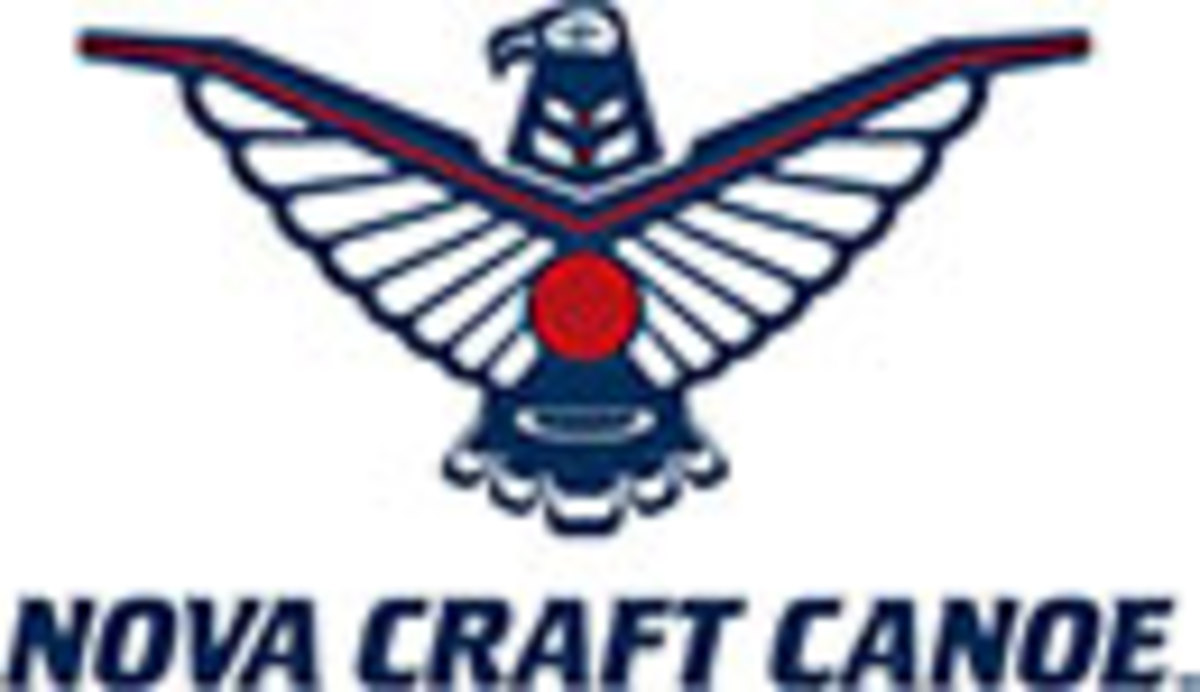 About this Series: Come along with Adventurer Jim Baird, his girlfriend Tori, and their dog Buck as they paddle a wild and seldom traveled river of Quebec's breathtaking Côte-Nord region. Watch the story of their adventure unfold in this 15-part video series as they use and learn a variety of wilderness travel skills, including everything from whitewater paddling maneuvers to axemanship and, when unwanted visitors show up, operating a bear banger. You'll get to see things from the dog's perspective too. So grab a paddle, and get ready for a 14-day journey that begins 118 miles from the nearest road.
The article was originally published on Canoe & Kayak
For access to exclusive gear videos, celebrity interviews, and more, subscribe on YouTube!