The Canadian 1:250,000 topo map marks a long, and horrific looking, seven-mile portage that starts at the south end of Lac Marquand. The trail bypasses three miles of Class I-II rapids leading up to a Class V drop which is immediately followed by a 150-foot waterfall. Then comes a three-mile-long canyon full of continuous rapids that push into a final six miles of swifts.
We had a decision to make. We could either tackle the canyon head on by paddling the river up to the falls and bushwhacking around them, or we could take the historic portage trail. Another look at the map and knowing the portage trail hadn't been used for 70 some odd years helped us decide — we'd take the river. I worried what we were getting ourselves into though. If the natives used to abandon the river in favor of a seemingly never-ending portage, how intense would the canyon run be? Not to mention a pushy approach to a 150-foot falls.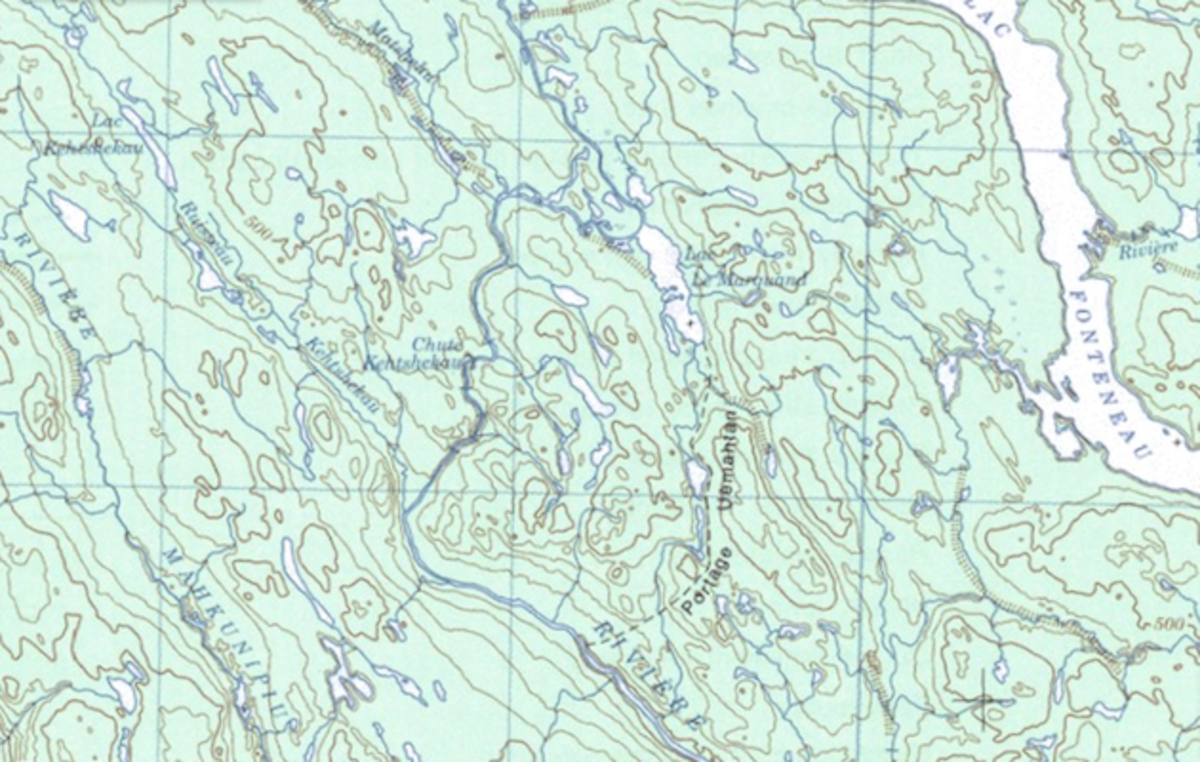 While loading our canoe, I readied my shotgun. Bear incidents are rare, but there is a healthy population of black bears on the East Natashquan. After all, the river's full name – Natashquan Hipou means a place where bear are hunted in Montagnais Innu. In most parts of black bear country, you're fine with leaving the gun and bringing bear bangers and bear spray. But if you do decide on going to the trouble of lugging a gun into the bush, you may as well make sure it's ready to use and safe.
I choose to take a 12 gauge pump shotgun because it's versatile and reliable. A 12 gauge is a good survival gun, it can be used to fire shot for hunting waterfowl and other small game, but can also fire slugs which is optimal for bear defense. I also go with a pump because it holds more rounds than a double barrel, and is simpler mechanically than a semi-auto. I can totally disassemble my shotgun and put it back together, not an easy feat with a semi. Plus, a pump is less likely to jam. The gun you see in this video is a Remington 870 Express, and I've used it on all my northern trips over the past several years.
Follow these steps to keep your pump action shotgun safely at the ready:
1) With the safety on, and action open (pump pulled all the way back), put one shell in the chamber.
2) Close the action part way to allow access to the shotgun's tubular magazine.
3) Load the magazine.
4) Weather in your canoe, tent, or around camp, keep the shogun in a place where it can be accessed as quickly as possible.
5) To fire, simply pull the pump forward effectively closing the action, disengage the safety, and fire.
Note: Carry your shotgun in a waterproof, floating case. I made a roll-top scabbard out of plastic which I then fit into my floating soft case. Unlike what I used on this trip, a brightly colored outer case is best for canoe trips because it's less likely to be left behind.
The long approach to the canon and falls proved to be pushy with little or no slow sections of current. Thankfully, the rapids didn't amount to anything over Class II in this stretch. Getting closer and closer to the falls we were able to play it safe by ferrying, or peeling into eddies in order to bail, scout from the boat, and check our maps when needed. If there's ever a time to make sure you know your location on a river, it's in situations like this – pushy rapids with a falls just downstream. We used a lot of front and back-ferrying in this stretch to safely get into shore eddies and to open up blind corners. This was especially true when we pulled over on river right before the falls and found no signs of a trail. Hoping there'd be a different story on the river left, we opted to front-ferry over.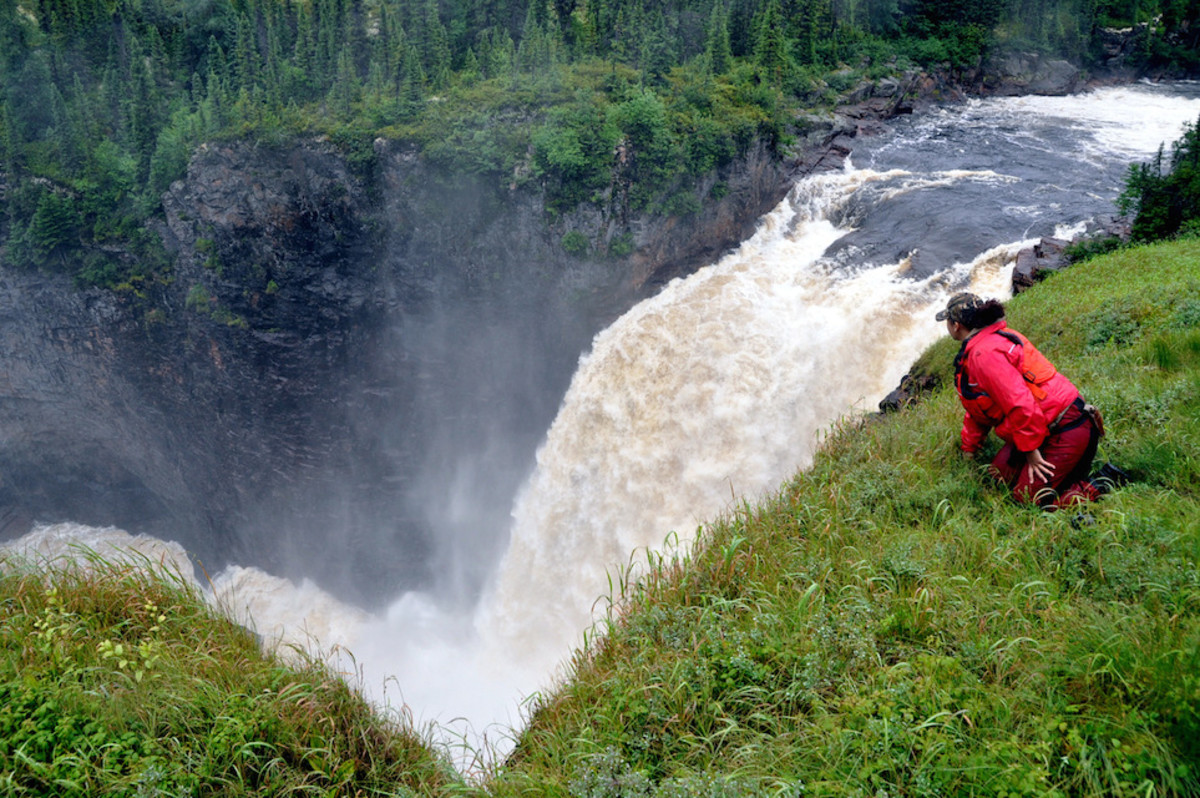 The Front Ferry:
1) Point your bow into the current on a slight angle towards the shore you want to travel towards.
2) Start paddling forward hard.
3) The bow paddler is the motor. The stern paddler adds as much paddling power as needed while controlling the angle.
4) Adjusting your angle: If you start slipping down river, your angle is too wide. If traveling up river, your angle is too tight. The stern paddler adjusts the angle using draws and pries when needed.
5) You'll know you're doing it correctly when your canoe moves directly sideways across the river. This is caused by a combination of the current's power and the side wash it creates on your canoe, your paddling power, and the angle of your boat.
No sign of an old trail on river left was evidence enough that very few, if any, native travelers came this way in previous generations. We soon accepted that this would be a bushwhack. I put Buck's heavy, doggy backpack on him for the first time this trip, and then helped Tori shoulder a hefty load. Stumbling my way ahead I heard a faint cry and turned back to see both Tori and Buck pinned to the ground by the weight of their packs. Buck lay belly up with a sheepish look on his face, and Tori was face down beside him trying to squirm free. It was pretty funny. I don't think things got much better than this on the carry.
The ground was lumpy, and laden with deep, soft, moss. The bush was dense in areas and there were many downed trees to contend with. The rain was persistent enough to soak us to the bone, but not heavy enough to keep the black flies at bay. The end of the carry was a long, steep hill that we descended in more or less a controlled fall. The portage was only about a 900 yards long, but it's about as tough as a 900-yard portage gets. On the bright side, we did take a break mid way to check out the spectacular falls and shoot what is likely the first video footage ever taken of it.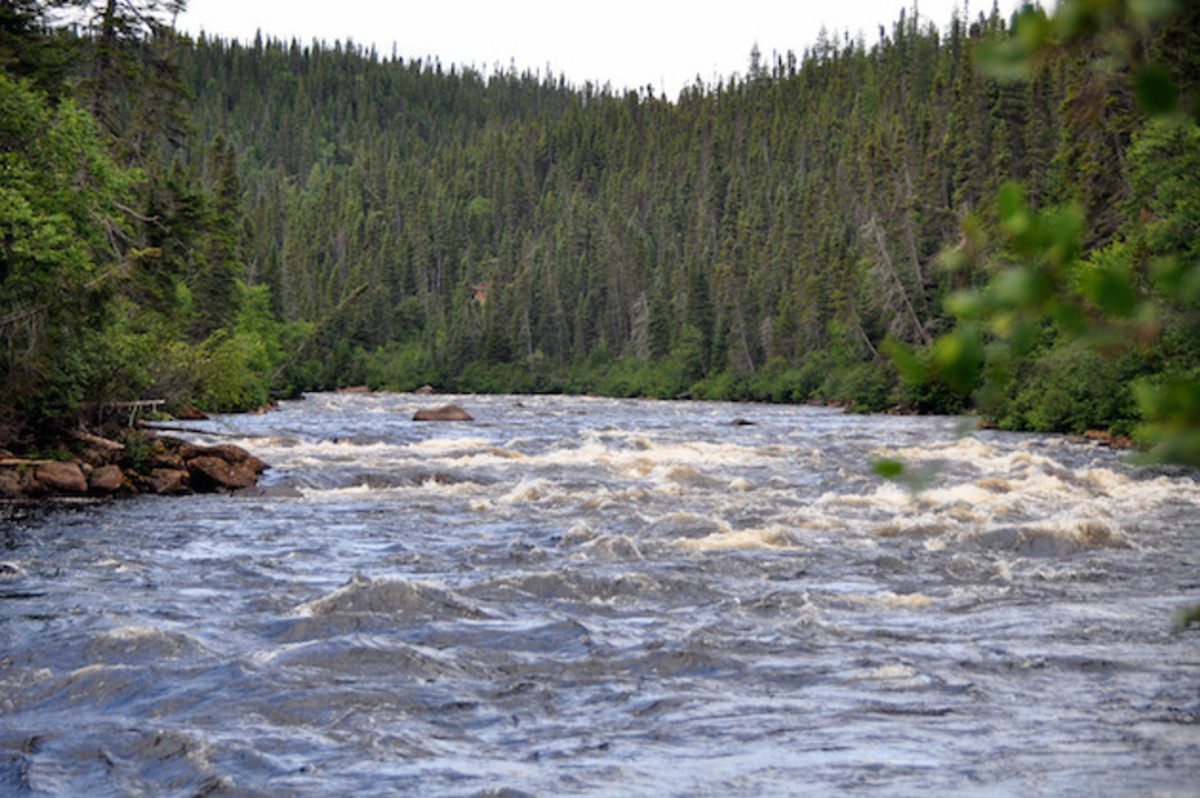 Night was falling quickly when we finally got through the portage. Common sense told us to stay put and tackle the rapid-filled canyon the next day. Staying put wasn't the easiest decision though as we were in a horrible camping spot. Thankfully the rain stopped and I lit a blaze to dry out our cloths. A little anxiety came to bed with me that night as I listened to the sound of rapids, echoing through the canyon walls, and I wondered if the natives had been right in avoiding this place.
— Check out more LESSONS FROM THE TRAIL WITH JIM BAIRD, including Episode 1 of the Côte-Nord Adventure: Getting There, Episode 2: How to Strap a Canoe on a Float Plane, Episode 3: Tips for Dealing with Waves and Bugs, Episode 4: Sometimes There's a Cabin.
This summer, C&K will be rolling out new episodes of Jim Baird's Cote Nord Adventure series, presented by Nova Craft Canoe.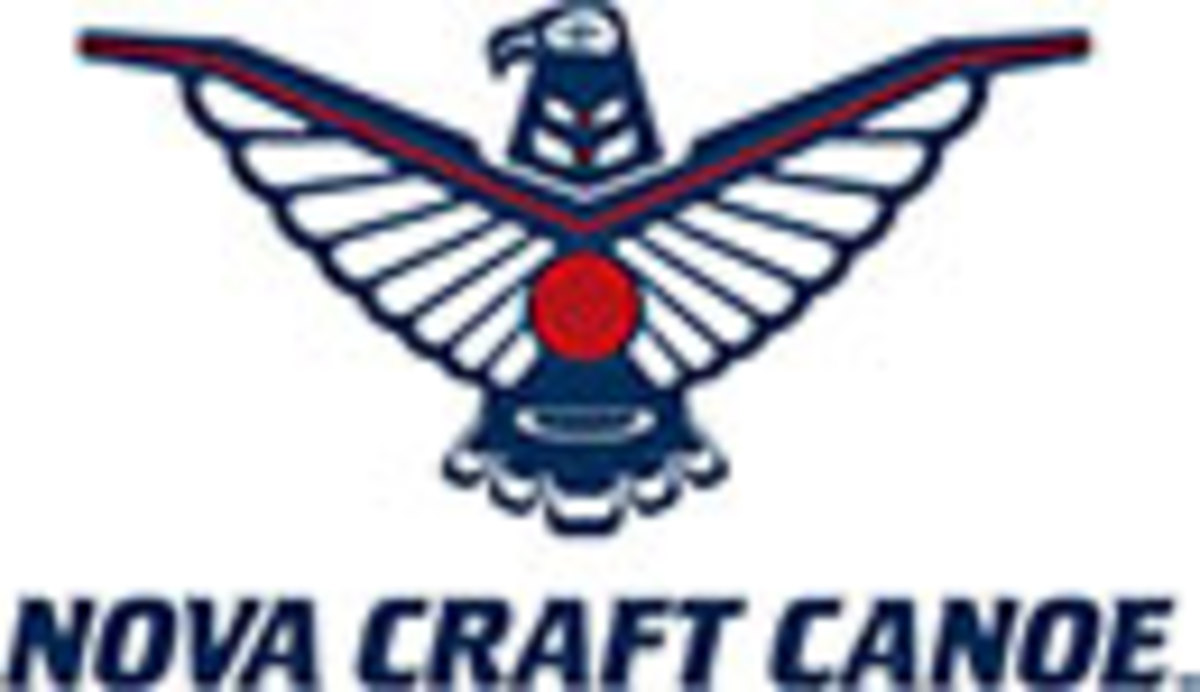 About this Series: Come along with Adventurer Jim Baird, his girlfriend Tori, and their dog Buck as they paddle a wild and seldom traveled river of Quebec's breathtaking Côte-Nord region. Watch the story of their adventure unfold in this 15-part video series as they use and learn a variety of wilderness travel skills, including everything from whitewater paddling maneuvers to axemanship and, when unwanted visitors show up, operating a bear banger. You'll get to see things from the dog's perspective too. So grab a paddle, and get ready for a 14-day journey that begins 118 miles from the nearest road.
The article was originally published on Canoe & Kayak
For access to exclusive gear videos, celebrity interviews, and more, subscribe on YouTube!