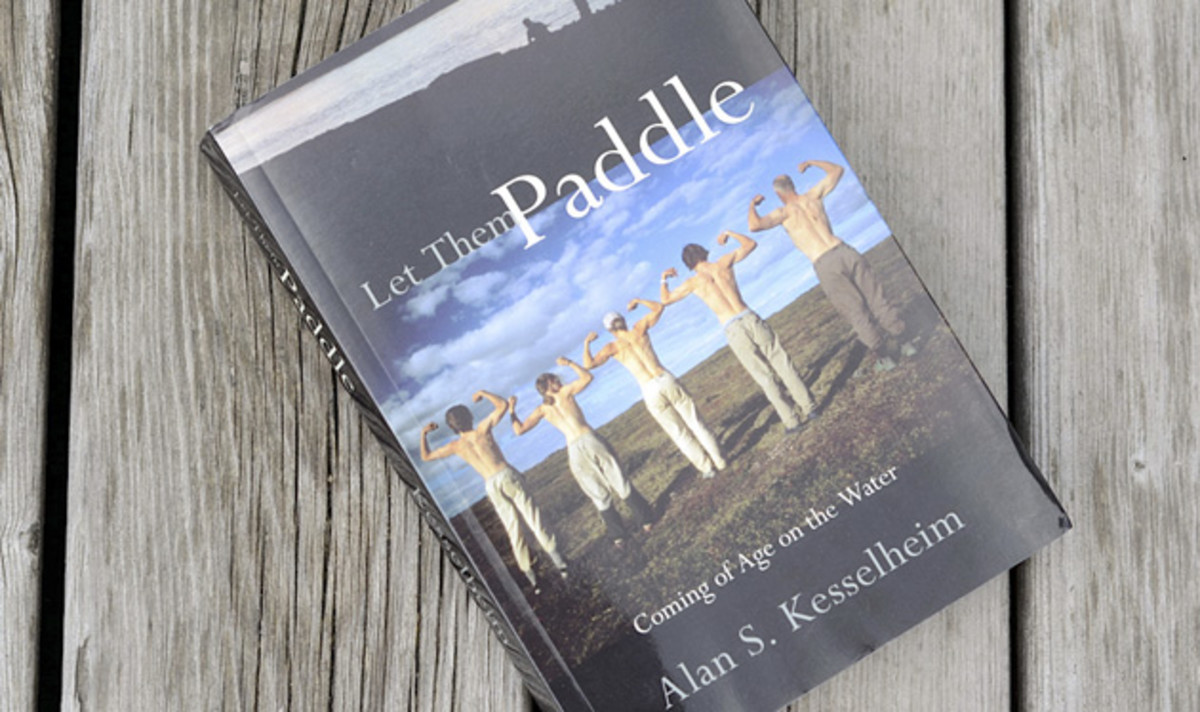 By Conor Mihell
Readers of Canoe & Kayak magazine have lived vicariously through the countless adventures of editor-at-large Alan Kesselheim for decades. It's my hope that Kesselheim's latest book will reach a far broader audience. In Let Them Paddle (Fulcrum, 2012), Kesselheim explores how canoe expeditions on wilderness rivers have shaped the lives of his three children, from womb to adolescence and into young adulthood. With North America facing a looming epidemic of so-called "nature deficit disorder" that threatens to undermine environmental quality, Kesselheim's book issues a timely, essential reminder of how parents can do better.
In his distinctively spare prose, Kesselheim takes readers on four journeys. In 1991, Kesselheim paddled northern Canada's Kazan River with his seven months pregnant partner, Marypat Zitzer. Years later, the family returned north to mark their firstborn Eli's transition to adulthood on his "birth" river. Similarly, Kesselheim and Zitzer's second child, Sawyer, comes of age in the upper reaches of Wyoming and Montana's Yellowstone, and daughter Ruby had similar rites of passage on Manitoba's Seal River and Texas's Rio Grande.
The family comes together on each expedition, battling near-constant headwinds on the Kazan, braving a healthy population of grizzly bears on the Yellowstone, and making an epic transit of Hudson Bay's icy, unpredictable waters to finish a month-long run on the remote Seal. Kesselheim blends page-turning adventure narrative with introspection that delves into each of his children's personalities to explore the challenges of parenthood. Besides the obvious challenges of wrangling five unique individuals into two canoes and one tent, dealing with harsh weather, big water and unpredictable wildlife, Kesselheim discovers that outdoor adventure has forged familial bonds like nothing else.
On the Kazan, "the sinews of river, the roar of wind, the embrace of wilderness hundreds of miles on one side have pulled us together," writes Kesselheim. "It has been anything but contrived. It has been real and consequential in a way few things are in town. I don't know what it means, what it will mean to Eli, how to weigh its significance.
"I do know where we are and how it feels to lie on the ground, more than a month out, in the middle of my family."
It's a sad reality that the well-traveled, expedition-savvy children profiled in Let Them Paddle are among today's minority. But Kesselheim makes a compelling case for bringing kids back to nature, be it in suburban parks or on a feral northern river. Read between the lines and you'll be floored by the revelation that the future of wild places, and ultimately humanity, depends on renewing the bond between children and the Earth.
Click HERE to get yourself a copy.
The article was originally published on Canoe & Kayak
For access to exclusive gear videos, celebrity interviews, and more, subscribe on YouTube!