South Africa's Gary Player is one of only five golfers in the Masters era to have won all four major championships, completing the career grand slam, which he did with a win at the U.S. Open in 1965 at St. Louis' Bellerive Country Club. That was 50 years ago, and he's still active in golf as a player, course architect, and ambassador for the game. Ahead of this year's U.S. Open at Chambers Bay, we talked with the Black Knight about that legendary win, losing majors, and what's ailing Tiger Woods.
Was your Grand Slam win your proudest moment on the course?
At that stage in my career, yes. Subsequently I would say, a moment that I think surpassed that was winning the grand slam on the senior tour.
Really?
There's such nativity about the senior tour, how well the guys play. I'm the only one in the world who's won the senior grand slam. You have to do that after the age of 50. So there's a reason why people haven't done it. Nicklaus, Palmer, Trevino, Watson, all the guys tried — they couldn't do it. Because they probably weren't as fit as they were when they were 25, and I was. So I think that was the biggest moment of my golf career.
What do you learn from winning?
I learned that the dedication and the sacrifices and what I went through is worth it. Having lived in motels for 63 years, being away from my family and country, my farm, the sacrifices that I had to make to become a world champion. When you win, what I've realized is it's been worthwhile.
What was your most difficult defeat?
One year I was playing in the masters, and I had a chance to be the first golfer to win the master's twice in a row. And I was two shots ahead of Arnold Palmer, with three holes to go. And nine out of 10 times, you would win. And I hit the ball first, and I hit the ball 12 feet from the hole, on the 16th hole. And he hit the worst-looking shot you could ever wish to see, it wasn't even on the green, it was to the right in the fringe. Nobody in the history of tournament golf has ever two-putted from there. And I said to my caddie — "We've won." And he hit the ball around the fringe like this at 100 mph, because it gathered speed, hit the flag, and went in. [sigh] I missed my putt. The next hole, he hit a terrible drive into the Eisenhower tree. I knocked it way over the tree — he had a 5-iron in to about 28 feet from the hole. I hit it closer. In. [Palmer made the putt.] We tied. We went to an 18-hole playoff in those days, and he beat me. And that sticks out as the most unpleasant memory of my career. Because you go to your grave remembering that. Every time I would walk down that 16th hole, it was like a spook haunting me. And I say to myself, it's a damn mirage. As the Scottish say, it's 'ne-possible'. He couldn't do that. But he did it. And you can't put it down to talent, it's 100 percent luck.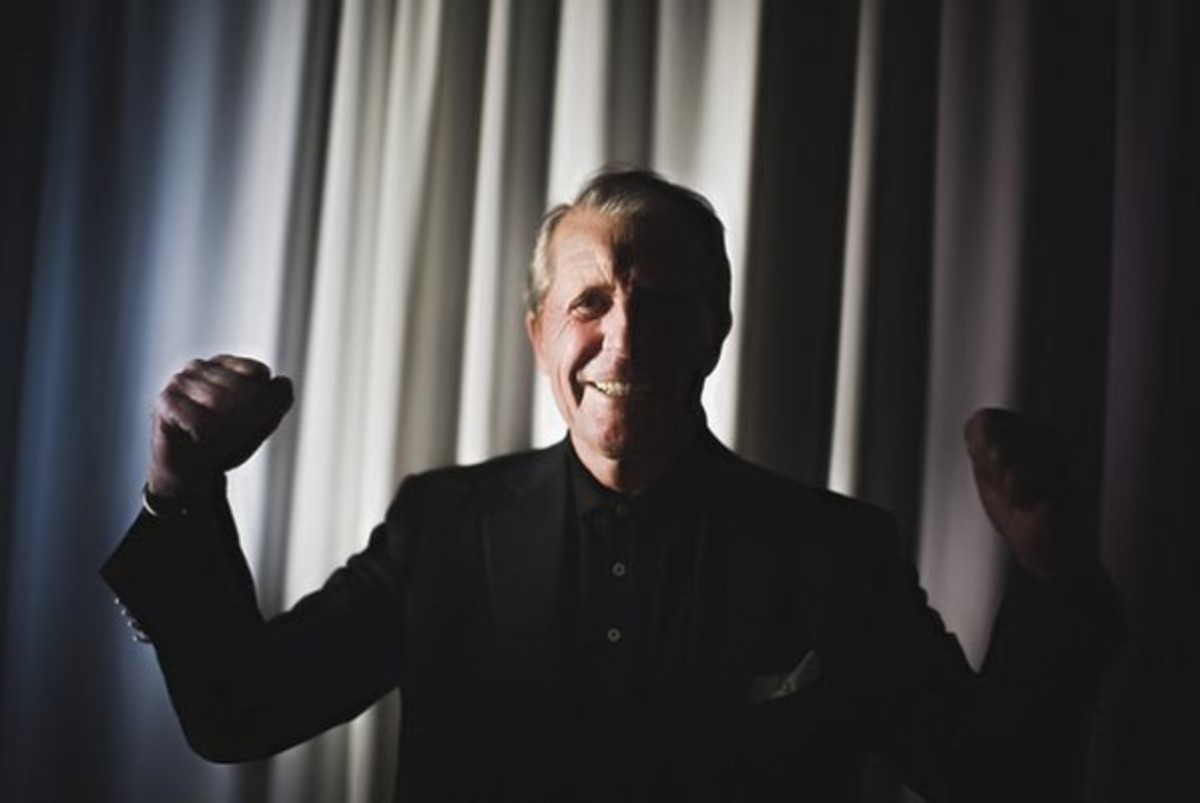 (Photograph by Chad Springer)
What is the best advice you ever received?
You have to realize your body is a holy temple, and you have to be in shape for longevity, for productivity, and to excel and to be able to contribute to society.
Do you have any vices?
My one vice is that I eat too much of the biggest poison in the world: sugar. Dietitians all seem to have an opinion, and they vary on what is the right diet. I don't subscribe to all these diets. But the one thing that is unanimous, they all say sugar is the poison. But I just love chocolate, and I like sweet things. Thank goodness I work out like a Trojan. That's not an excuse, but it helps a little bit.
You've been married 58 years — how do you maintain your relationship?
You've got to work at it. I tell my wife every day how much I love her. And keep telling her how beautiful she is, even if she isn't. Because beauty is in the eye of the beholder, and you've got to work at your marriage.
How should a man handle growing older?
Growing older is purely a matter of mind and a matter of how you eat and a matter of how you exercise and your outlook, your attitude. Obviously you've got to grow older with grace, which is another thing you've got to keep teaching yourself. You see, you can be 80 years young, and 20 years young. I'm 80 years young.
Who should we be watching at the U.S. Open?
You ought to watch Jordan Spieth, Rory McIlroy, Jason Day, and Kevin Kisner. There are a host of young guys who are like mushrooms in the field waiting to be watered and nurtured into springing up and becoming champions. And we are in no position to be saying, "Who will do it?" Rory McIlroy has got the best swing, but Jordan Spieth is the best putter.
What do you make of Tiger Woods today?
Let me put it this way, Tiger Woods, in my humble opinion, and I stand for correction, is confused. He's had all these coaches and they're all talking about something different. The man wins the U.S. Open by 15 shots, he's on his way to annihilating every record, and he goes to a lesson after winning the U.S. Open by 15 shots, and from that day it went downhill. Not to be detrimental about coaches, but there are people who can coach the average pro and can coach the members and amateurs, but there are very few players who can coach the best player in the world. So he goes from coach to coach to coach, and he goes to bed every night saying "I'm the No. 1 player in the world, and I can't hit a fairway with a driver. What the hell am I doing?" It's enough to drive a man crazy.
And then he has sleep deprivation, which he told me at the Masters this year. He said, "I sleep three hours every night." That is fatal. That's a big factor against him, but the man has got such gas in the tank and is the most talented man that ever played golf. That he wins tournaments not hitting fairways and being confused about the swing and still wins, you got to have some kind of talent. And we need him. Golf needs Tiger Woods to come back, very badly indeed. I wouldn't be surprised if he never wins another tournament, and I wouldn't be surprised if he never wins another major. But I wouldn't be surprised if he won many tournaments and many majors. That's the kind of predicament were in because we're dealing with a very different person than the normal person. And I hope that the later that I said comes back and he wins tournaments and majors. I hope that takes place because we need him. Golf needs him.
If you could only play one more round, where would you play and with whom would you play?
Mandela, Churchill, Mother Theresa, Lee Kuan Yew, and Billy Graham, because those are the people I admire most. and I'd pick St. Andrews, Scotland, because it's the home of golf.
For access to exclusive gear videos, celebrity interviews, and more, subscribe on YouTube!