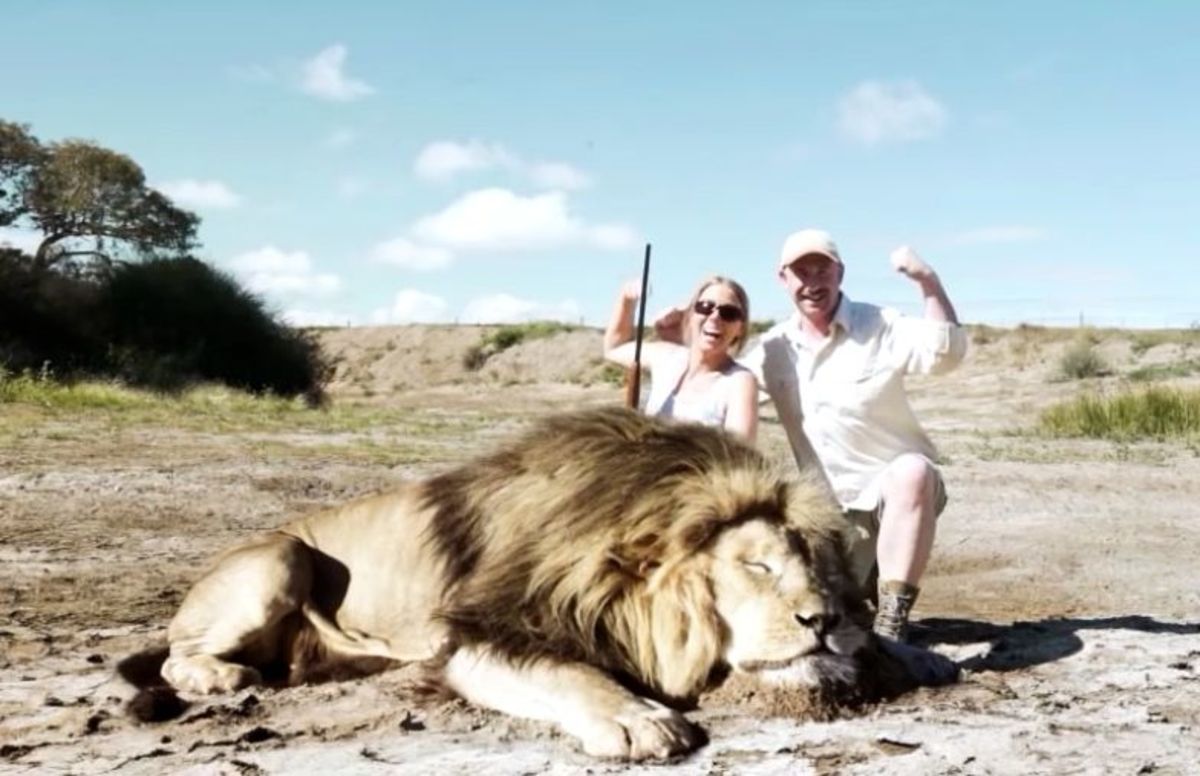 A female trophy hunter who killed a lion posed behind the animal for photos with her guide in South Africa before another lion shockingly interrupted the proceedings and exacted revenge on the trophy hunters for shooting his friend.
In the court of public opinion, the video is a fake, but the message behind it is very much clear.
The Daily Mail first shared the video under the headline, "Dramatic footage captures a lion 'pouncing' on two hunters posing with a beast they have just killed as internet questions if the video is fake."
Jayden Tanner posted the video on YouTube and wrote this as the description:
I managed to get my hands on this video when I was in South Africa a couple of months ago, a hunter showed me and thought it was hilarious. For me this video highlights a distressing situation that the world needs to see.

Every year trophy hunters kill thousands of exotic wild animals in Africa, this combined with poaching poses a serious threat to the survival of our most loved and endangered species. We have to stop this now. Animals are also bred in captivity for the sole purpose of being hunted by tourists who are willing to pay the high price tag, a lion hunt can cost a trophy hunter up to $35,000.

We need to raise awareness around this issue. Please share and save our wildlife.
The video is entitled "Lion takes revenge on trophy hunter! [LEAKED VIDEO]." Warning for an expletive:
The video shows the lion emerging from over the hill in the background around the 47-second mark and seconds later it runs after the trophy hunters.
Next, you hear two gunshots, followed by the lion proudly and conveniently walking back into the camera's view past its dead friend.
Considering the bad acting and other factors, it becomes rather obvious the video is a fake. The majority of commenters agreed, and took their shots, like the filmmakers:
"This video is fake. However, I hope all Trophy Hunters suffer a fate like this. There is no place in the world for this unnecessary killing of such beautiful creatures."
"Although this is obviously fake it was made for a reason and that was to tell people to not hunt and poach these beautiful animals so please stop."
"Yes it's fake, congratulations. But the point is not whether the video is fake or real. It's a video made to campaign against trophy hunting. There's even #stoptrophyhunting in the comments. The idiots who disliked it because it wasn't real should feel really dumb right now."
"It's got people talking which is what it set out to do."
The conversation about trophy hunting actually started in earnest last July with the killing of Cecil the lion by a Minnesota dentist outside Zimbabwe's Hwange National Park. The killing sparked outrage and a debate over trophy hunting. This video obviously attempts to keep that debate alive.
More from GrindTV
These 5 mountaineering companies will show you the ropes
An insider's guide to visiting Durango, Colorado
How to start a campfire by using an improved hand drill
For access to exclusive gear videos, celebrity interviews, and more, subscribe on YouTube!