Former NHL star Chris Drury is probably best known for his time on the ice, winning Rookie of the Year for the Colorado Avalanche in 1999, and chipping in 16 points in the team's playoff run to the Stanley Cup in 2001. But 25 years ago, he was just a nervous kid on the mound in Williamsport, pitching for the final out of the Little League World Series.
"I remember the last batter smashed it real high," Drury says. "A deep fly ball that I thought he may have hit out. I don't know if you've seen the tape, but I was squatting down on the mound, just like, 'Oh please, please don't go out. Please don't.'"
It didn't, the left fielder camped under the ball, and Drury's Trumbull, Connecticut team won the state's fourth championship and broke Taiwan's three-year reign in the process. Now retired from hockey, Drury devotes his time to Little League as a father, coach, and board member of Little League International. He also threw out the first pitch at Thursday's American semifinals. We chatted with Drury about what it was like to win the World Series, why he chose hockey, and what Little League gives back to the kids and community.
You've won the Little League World 25 years ago, but you also won a Pee Wee hockey championship, a college hockey championship, NCAA player of the year, NHL Rookie of the Year, a couple Olympic silver medals, a Stanley Cup… Is there anything left? Is there anything you're not good at?
I don't know. I just made pancakes for the kids, and they seemed happy with that, too, so…
What's it like to have a key victory at every step of your career?
You know, it was just a lot of fun. As the youngest of three boys, I think I really learned how to compete and play against bigger, better kids at an early age. I think through playing a lot of backyard baseball and a lot of Little League baseball, against older, bigger, tough kids, it really just taught me how to compete and how to hang in there in every kind of situation.
 
The moment like when you won the little league world series at age, what, 12?
I had just turned 13 that week.
 
What do remember about that moment, about being 13 and achieving all your wildest 13-year-old dreams?
It was just an amazing summer. We certainly had a rugged team, but it wasn't like we were going into it saying, 'Hey, we're going to Williamsport. We're going to win this whole thing.' No team from our town had ever even won a game in the state tournament. But we just kind of got on a roll, and I think slowly, over the summer as we started playing bigger games and better teams we just got on that roll and realized, "Wow, we're actually pretty good. We can hit, we play good defense, we've got good pitching." I remember, before it even started, just thinking, "Could you ever imagine? We almost had to stop ourselves, like, "No, no, no, let's not even think about it. Let's just play our first game and see what happens."
 
You pitched that game, right? And were you on the field at the end?
Yeah, I pitched that game – I was on the mound for the last out. I think we were up 5-2. I got maybe one out, then they got a runner on, then I got another out, and then the last hitter smashed it real high – a deep, fly ball that I thought he may have hit out. I don't know if you've seen the tape or anything – but I was squatting down on the mound, just like, "Oh please, please don't go out. Please don't."  But the left fielder camped under it, and it was just kind of pure joy and ecstasy at that point.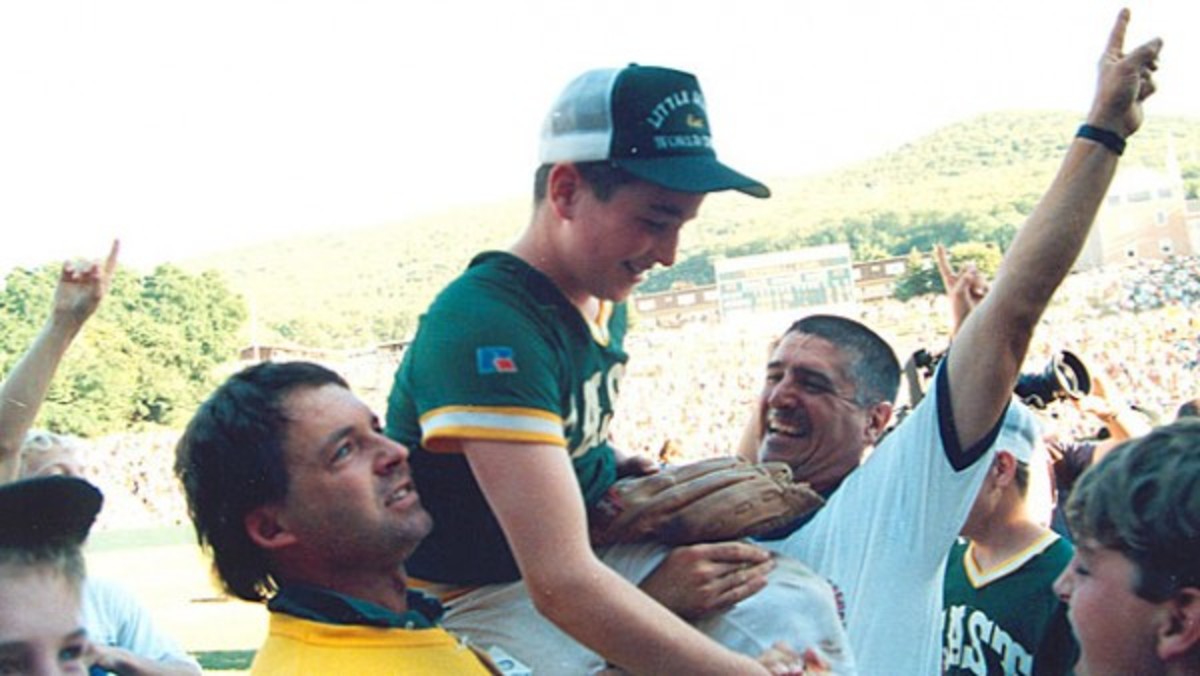 Did you have the world's biggest pizza party after a game?
You know, when it ends, you just go see your parents for a few minutes and then they put you in a kind-of compound. You're fenced in. There's ping-pong, pool, and everything else in there, to kind of keep you busy. But there was really no one there. Every team that had played and lost had left. All the coaches, parents, they were out partying somewhere, I guess, and we didn't even know that was going on. So we just kind of messed around in the at the dorms. It was actually a pretty nice moment, just to be together with all the guys.
How did you end up picking hockey over baseball?
I played baseball right through high school. I didn't really have to make a huge decision until sophomore, junior year. And I think for me, there was just much more opportunity in hockey. I had some injury trouble in baseball and missed a year. But I was allowed to play hockey with a cast and fight through it, and that kind of made the decision for me. But I love them both equally. The minute any hockey season ended, I would pick up a bat and ball and move on to the next season. Of course, as soon as baseball ended, I was off to get ready for hockey.
 
Do you think you were you were a good enough pitcher to go pro?
That's a good question. I would never – and could never – project myself to say, "Hey, I'd play here, play there," you know. I hung in there, I hit a pretty good senior year, but other than that, who knows?
What's it like to be able to coach Little Leaguers now?
It's great. It's fantastic. I'm lucky that I'm able to get to pick and choose what I want to do, and being able to be around not only my kids, but other kids, who have hopes and dreams and goals is awesome. Hopefully I'm able to help them along their way. Looking back, I remember the great hockey coaches I had, the baseball coaches, the volunteers, the dads, the guys who always brought extra gum or always had an extra dollar for a post-game drink for the kids. That stuff sticks with you, and it still sticks with me, so hopefully I can pass that on to the next generation. 
Do the kids ask you what it was like to win in '89?
I'm not sure how much the kids know. I mean, they're obviously young, so unless their parents have told them they probably don't know. They've asked me a few hockey questions.
What do you see the kids getting out of Little League baseball?
A sense of community. A sense of being on a team at a young age. Baseball is a hard sport for professionals. If you fail 70 percent of the time, you've had a good year at the plate. So I think it teaches kids that, hey, every at bat isn't going to be a home run. I think it shows them how to compete, how to stick with it through adversity, and I just think it's a lot of fun. I'm in the dugout during the innings, and the conversations and the fun things these kids are doing when they're not up at bat, is fantastic. I see them having the time of their lives. The way they bond and come together as a team is pretty amazing. The motto is the whole program is character, courage, and loyalty. And I think those are three pretty good lessons. If my son, or any kid on the team walks away with those three attributes instilled in them, I've done my job.
 
What can the kids learn from your experience as a pro?
I just try to add a little perspective. Having been through a lot of different situations and having played a lot of different sports, again, just trying to instill in them that it goes by quickly, so have as much fun as you can. Don't let the little bumps in the road – a strikeout, an error, a loss – ruin your day or get you down too much. You're not going to get a hit every time. You're going to strike out, but just let it go and get ready for the next at bat or the next play. It's not an easy thing, and I probably wasn't too good at it either. But the quicker that you can move on and just get ready for the next challenge is important. We had a tough game one time, lost in the last inning, and kids walked off the field pretty upset. But it was the head coach's birthday – and literally, 30 seconds later everyone's hammering down cupcakes and ice cream sandwiches and it was over. It was great.
For access to exclusive gear videos, celebrity interviews, and more, subscribe on YouTube!