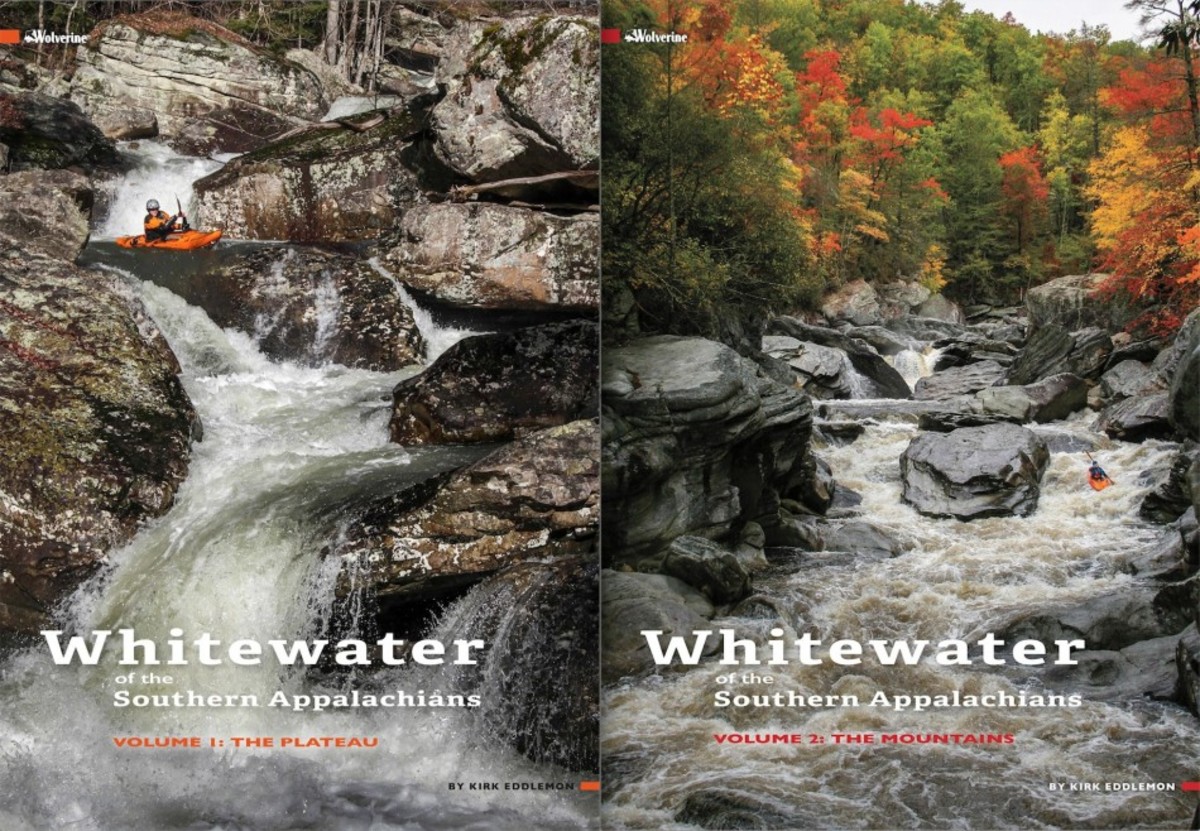 What makes a guidebook great, one that becomes the testament to a paddling region, is accuracy and extent. That means nailing a few key elements: the blend of narrative and imagery that takes us to the deepest gorges and the steepest creeks; the stats and the circumstances necessary for that dream river to run; and the directions to get there. Kirk Eddlemon wants to create that testament to the Southeast in Whitewater of the Southern Appalachians. And that task — amassing the most comprehensive coverage of one of North America's most abundant paddling regions — is no short order.
Fortunately, the Knoxville, Tenn.-based kayaker and author has a background in geology and he approaches this task systematically by creating a scientific catalog of rivers. Enlisting the help of some of the region's most knowledgeable paddlers, Eddlemon has poured countless hours into gathering descriptions, images, and the most precise data to over 380 paddling reaches.
The coverage is so broad and deep the mass of information takes two volumes, split along the geological border of the Tennessee River Valley: Volume One comprises the horizontally stacked sedimentary sandstone west of the Tennessee, an area known as the Cumberland Plateau; Volume Two tackles the Peaks and Valleys of metamorphosed rock to the east.
And Eddlemon left no stone between unturned, even making a few unexpected discoveries along the way. We jumped at the chance to sit down with the author, who says his goal was to give paddlers new to the region, "a full menu of rivers" and "to create daydreams" for those accustomed by providing "the knowledge to make those daydreams a reality," and to "rekindle that yearning to seek new adventures." — Joe Potoczak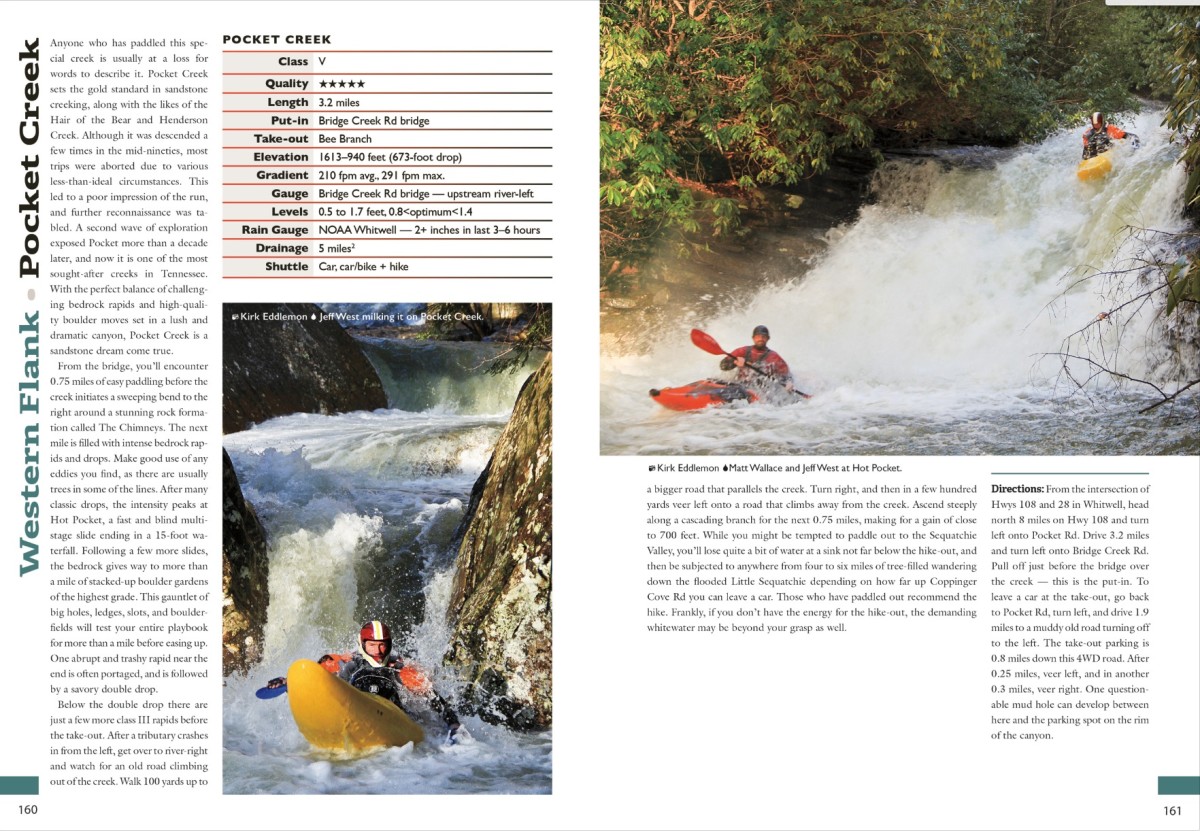 C&K: How does your background in science affect the way you look at a river?
Eddlemon: I appreciate approaching things with a scientific perspective. Anytime I am out on the river there is constantly a story peeking out from the water and rocks, beckoning me to understand the long-term geologic story behind these places, and how that has informed the development of the biology, the ecology, and the human development within a river corridor — things that really shape the entire river experience we have today. You pick a Saturday, go out on the river, and these are the things you experience. But there is a deep-seeded story behind all of that. One that almost essentially boils down to the geology of the place.
In that attempt to include every stretch, did you rediscover or find any new runs?
Overall, by the time we were actually putting together this book, most of that groundwork had already been laid. In the mid- to late 2000s quite a bit of stuff was being explored, some of which had been run under bad circumstances in the '90s. One that stands out to me is Pocket Creek over in the Sequatchie Valley. This creek had been done in the '90s without enough water, and with too much water. So, it was written off as having some nice drops, but not worth the effort.
We went in, during 2008 and ran it with the proper flow, and discovered what we thought was maybe the best Class V creek in Tennessee. Since then lots of people have been going back in and catching it. Anytime you go and do a first descent or re-discover something, it's easy to have rose-colored glasses about just how great a creek is. It's hard to be objective and say, 'Here is what sucks about it or what is going to keep it from being a classic.' To have other people go in on hearsay, and confirm that this is an amazing creek, that is just an awesome thing to experience,
and this book is a compendium of a lot of those rediscovered stretches.
A lot of runs around here haven't been appreciated for what they offer, and a big goal with this book is not just for newer paddlers to see the menu of options, but for people who maybe have developed habitual tendencies, who don't really step out of the box and try new runs, who have theirs standard routing chart for when it rains, to take this book and re-spark that excitement of discovery. There is no other emotion like that sense of discovery when paddling.
With your priority to present the most accurate data available, did you compile any info that was contradictory to what the paddling community may have believed to be true?
One that stands out to me is the length of the standard Linville Gorge run, from the trail at Babel Tower to the trail at Conley Cove. In the early days, people would talk about it being 8-10 miles of just solid Class V, and then more recently you'd hear it's five or six miles of solid Class V. There are all kinds of numbers out there. That run has more drops of consequence than any other river on the East Coast. So it's not surprising those numbers get exaggerated – and I think ego also plays a part in it. Who wants to believe that all that action that took you six hours to paddle is only 3.8 miles long, which is the actual length of the standard Linville Gorge run?
Gradients also get exaggerated a fair bit, and it doesn't really do anyone any good when you exaggerate the numbers. Hyperbole and flourish-ey statements are great for stories around the campfire, and that's good fun. But when it comes to numbers, you want those to be independent of opinion, trauma, emotions, and personal experiences.
They used to say the Lower Cullasaja was 900 feet per mile. But the actual gradient is less than 300 feet per mile. Which is pretty humbling, because you really feel like it's just terribly steep. It's probably one of the more intense, scarier runs around, but it has a lower gradient than a Class IV creek in the Smokies. It's hilarious how that works, and there are reasons for that.
I'm a firm believer there is a reason for everything, and if you look at the geology, the watershed size, the orientation of the bedding of the rock, and everything about it, there is a reason why those numbers don't follow the standard correlation that steep gradient equals hard whitewater. I've always had suspicions about the relationships between certain pieces of data surrounding a stream, and what that means about difficulty or how frequently it runs. Assembling this data confirms that there is a relationship. There are so many correlations you can make between a stream's watershed size, its gradient, its geology, and all those factors are going to come together to affect the difficulty, the style of whitewater, and how frequently it has enough water to paddle. That stuff is really interesting to me. There is research potential there.
Along with all of this rigorous data, you've also included essays on geomorphology by Philip Prince, and on chasing rain. What do you hope a paddler gains from the complete work?
That it will increase broad appreciation for the bigger picture of rivers. Our sport is definitely one of the "Mountain Dew"-type sports. I am an adrenaline junkie at times myself, but kayaking is not like dirt-biking, or skateboarding. With those sports you are clearly involved in a very contrived, human dependent activity, where it's really just about you. It's about performing feats, and being physically precise. Paddling is more in the direction of mountaineering, or climbing. Sports where a majority of their identity is about the natural world itself, and how we are just a totally insignificant, disregarded part of that.
People make paddling about them, and I want people to look at this book and realize that there is a massive picture and story behind the environment we all get our rocks off in. Instead of focusing on how well you did on the river on a given day, with this information maybe you have a better chance of simply being humbled and feeling small in these places.
Getting that revelry and spirituality out of it is what sustains you. It's what keeps you paddling for 40 years instead of seven. It's what allows you to be paddling in your 60s and 70s, which is my plan. We are super-lucky to be able to do that. Not everyone in the world has that opportunity. Living in this country you are able to just spend your free time paddling rivers, that's pretty remarkable.
— Whitewater of the Southern Appalachians is now on sale, reaching select retailers by late January. Click HERE to learn more about Whitewater of the Southern Appalachians and upcoming book signings with author Kirk Eddlemon.
–Check out more whitewater posts from C&K.
The article was originally published on Canoe & Kayak
For access to exclusive gear videos, celebrity interviews, and more, subscribe on YouTube!