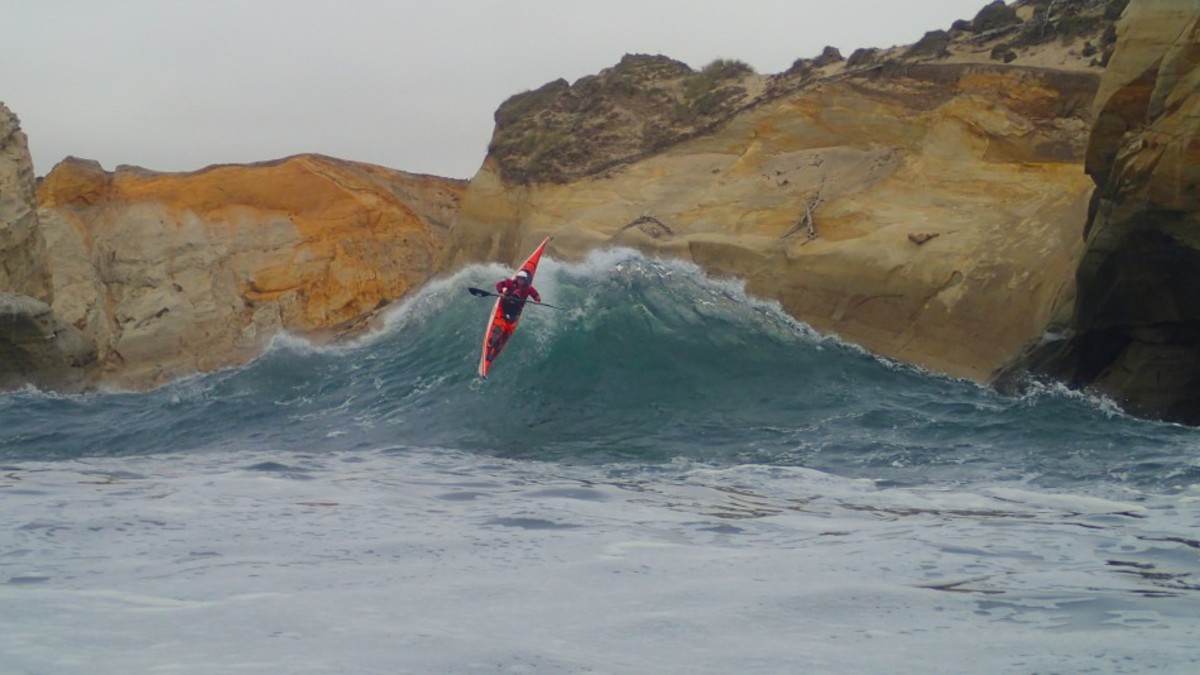 Our class of ten sea kayakers bobs up and down in the swell off the Oregon coast. We're gathered around Sean Morley — a British police-officer-turned-kayak-surfer, expeditioner and world-renowned instructor — who has been charged with the task of honing our long boat surfing skills in seas that are rough even by the standards of the Lumpy Waters Symposium.
The 104 students and 30 coaches who travelled to this year's event have split into groups to practice skills ranging from bracing and rolling to sea navigation and advanced rock gardening. For the last 45 minutes, however, our group hasn't seen a soul. We followed Morley out around a stunning sandstone cape near Pacific City, Oregon and have stopped just outside the surf zone where we plan to practice carving down the faces of waves in our 14- to 17-foot sea kayaks.
"Everyone take a moment to plan your line to shore," Morley instructs the class of intermediate-to-advanced paddlers. We crane our necks, and try to size up the waves from the seats of our boats. The narrow line of beach periodically disappears behind curtains of white foam. The sound alone is intimidating. "Ask yourself if you feel confident about this landing."
It's the first morning of the three-day gathering and my first sea kayak symposium. In fact, it's one of my first days on the ocean period. I've had plenty of experience on whitewater rivers and creeks, but evaluating beach breaks is foreign to me. All I know is I'm itching to surf. Confident? Sure, why not?
The class discusses the conditions with each other quietly. Many of my fellow students are veterans of Lumpy Waters, now in its sixth year, and are well-versed in spotting sea hazards. I feel my confidence fade and color rise to my cheeks as the class votes to stay out of the surf. Morley compliments their good sense. He points out several sharp-looking reefs just below the water's surface and explains why getting back out past the waves will be much harder than getting in. "It's big out here," he says.
We leave the beach and begin traversing back around the bluffs. Caves explode with sea water as the swells rocking our boats make violent contact with land. It's big out here indeed.
Morley and his co-instructors, Kate Hives of The Hurricane Riders and Californian Bill Vonnegut, paddle up to the cliffs and dip into a tiny cove amongst the bursting waves. It looks a bit like a river canyon, with steep vertical walls. Vonnegut moves closer to assess the conditions. A tricky entrance focuses the larger swells into menacing 20-foot faces, but once inside the waves bounce into each other, dispersing their energy into foamy stacks that mariners call clapotis. Though far from flatwater, it's not dangerous.
Vonnegut motions volunteers from the group to join him, and I fall in line with several others and work my way toward the opening. Just as I begin paddling toward the constricted entrance, everyone around me starts yelling, "OUTSIDE!"
Even I know what that means: a big set is coming and it's time to paddle like hell away from shore. I spin my 16-foot sea kayak as quickly as I could–it feels awfully slow compared to the 9-foot creek boats I'm used to paddling–and manage to make it out before an enormous wave crashes past.
At the next lull, I join the group in the cove and see Morley is still parked out of the protected area with another, even bigger wall of water headed his way. As the towering surge moves in, Morley paddles forward and catches the momentum of another wave rebounding off the cliff face. He surfs away from shore and hits the oncoming swell with so much speed, he launches into the air. I can see the full hull of his 16-foot sea kayak for a moment before he deftly dips an edge to absorb the impact, and turns back towards us as if nothing had happened. It was so fast, I'm not sure if I should believe what I had just witnessed, but another student manages to catch a remarkable photo of Morley landing the stunt (above).
With a new metric for judging my confidence level, I slowly ease into surfing when we arrive at a safer beach. We ride the waves all afternoon, shouting encouragement to each other while the instructors provide insightful feedback.
For the rest of the symposium, I believe it when people call the coaches — who've travelled from as far as Scotland and South Africa to be at Lumpy — "world class." The next day, I learn the basics of rescue and rock gardening from other paddlers just as skilled as Morley. Around the campfire at night, a man tells me that half a day of guided bracing and edging exercises did more for his balance than years of self-taught paddling.
The other students I meet range from teens to septuagenarians, beginners to experts, but at the end of each day, it's possible to pick up on a common glow radiating off nearly every face — a satisfied feeling caused as much by a rewarding day on the water with good instruction as by the good food, microbrews, and touch of sunburn. It's obvious why so many sea kayakers, coaches and students alike, return each year for a long weekend on lumpy waters.
–Check out MORE GREAT PHOTOS from C&K.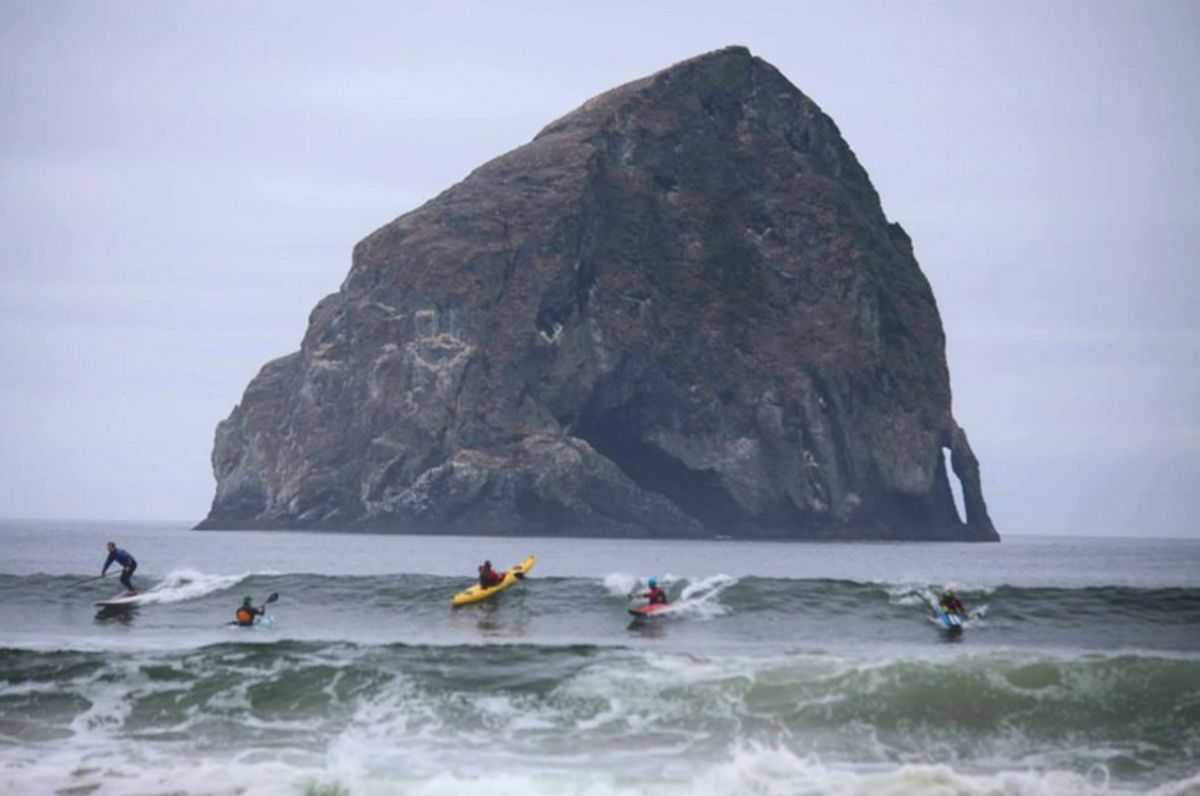 The article was originally published on Canoe & Kayak
For access to exclusive gear videos, celebrity interviews, and more, subscribe on YouTube!