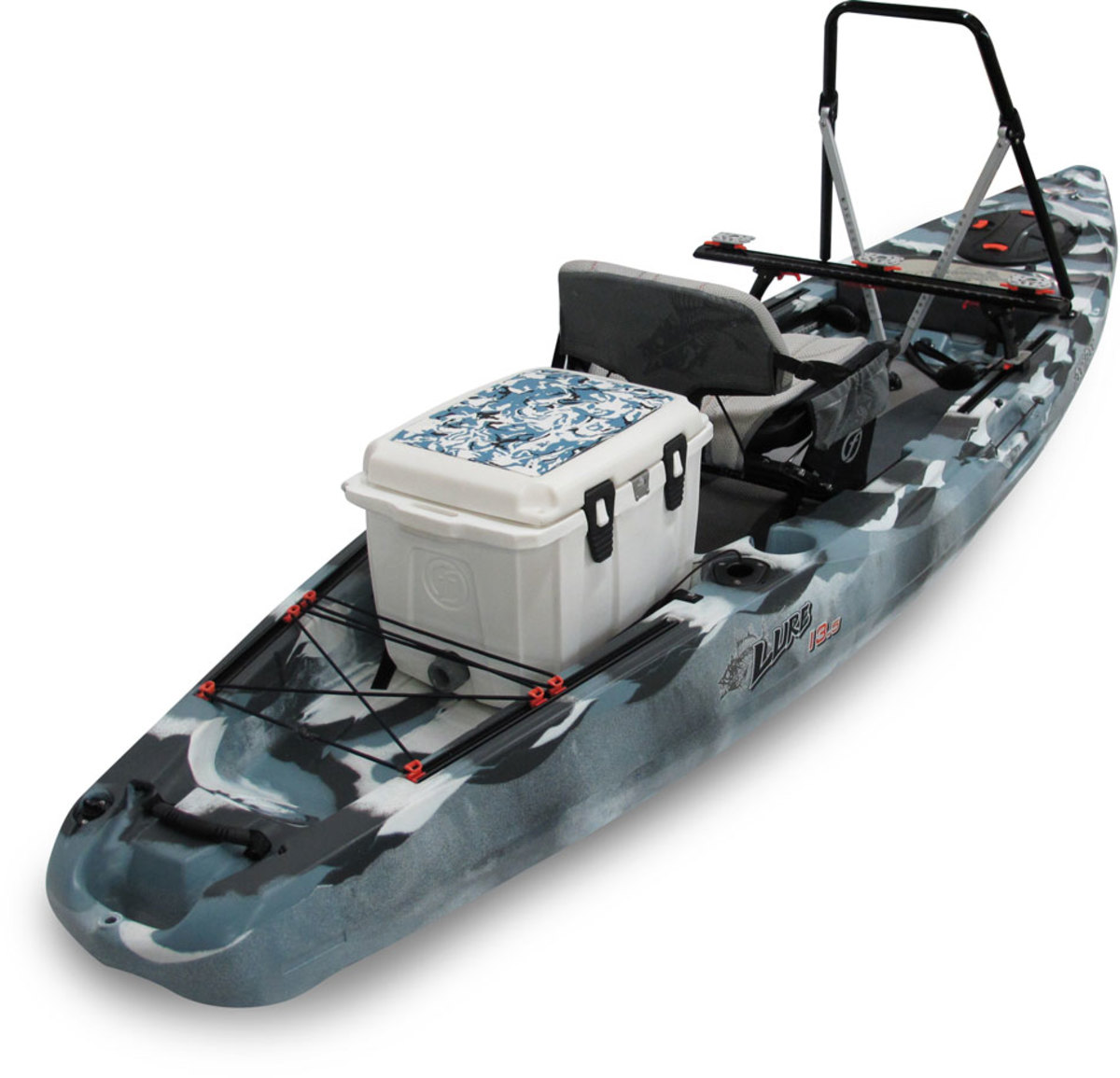 By Paul Lebowitz

That didn't take long. Just a year after its launch, FeelFree's Lure family of stand-up savvy fish 'yaks is growing, literally. The new Lure 13.5 features a bigger hull, one large enough to accommodate a multi-use bow console – first spotted in our teaser story last week.
The console is interesting. FeelFree's Roland Jimenez says it will have a cutting board built into the insulated top. That's right, the compartment is designed for use with an optional console cooler insert for chilling fish and drinks. The console can also be used as a child seat, presumably rear-facing. More on that when we go eyes-on with the Lure 13.5 at ICAST next week.
"We knew we had to do it, it was just a matter of time. The original Lures were designed to accommodate a growing market of kayak anglers seeking more comfort, more stability and multiple seating positions and we did just that," said FeelFree's Jim Hager.
In addition to all the fishing features found on the shorter Lure models, including the unique scissor lifting Gravity Seat, the 13.5 debuts an integrated transducer recess and access port for easier (and more reliable) sonar installation.
We found the standing deck in the Lure 11.5 to be spacious and rock steady. It's probably safe to say the 13.5's enlarged standing platform will be even easier to use. For those who need need a little extra help, FeelFree is introducing an optional stand assist bar.
Like the other models in the line, the 13.5 will be 36 inches wide. You can guess the length. Weight capacity is estimated at a solid 500 pounds. Hager says the extended 13.5-foot length makes the boat ideal for paddling longer distances on larger bodies of water.
"We recognize this kayak is not for everyone. Fact is, the Lure 13.5 is designed for
the serious kayak angler, the one who's ready to take on even the most extreme fishing
adventures," he added via a release.
The Lure 13.5 will be available in fall 2014; $1,599.
The article was originally published on Kayak Fish
For access to exclusive gear videos, celebrity interviews, and more, subscribe on YouTube!