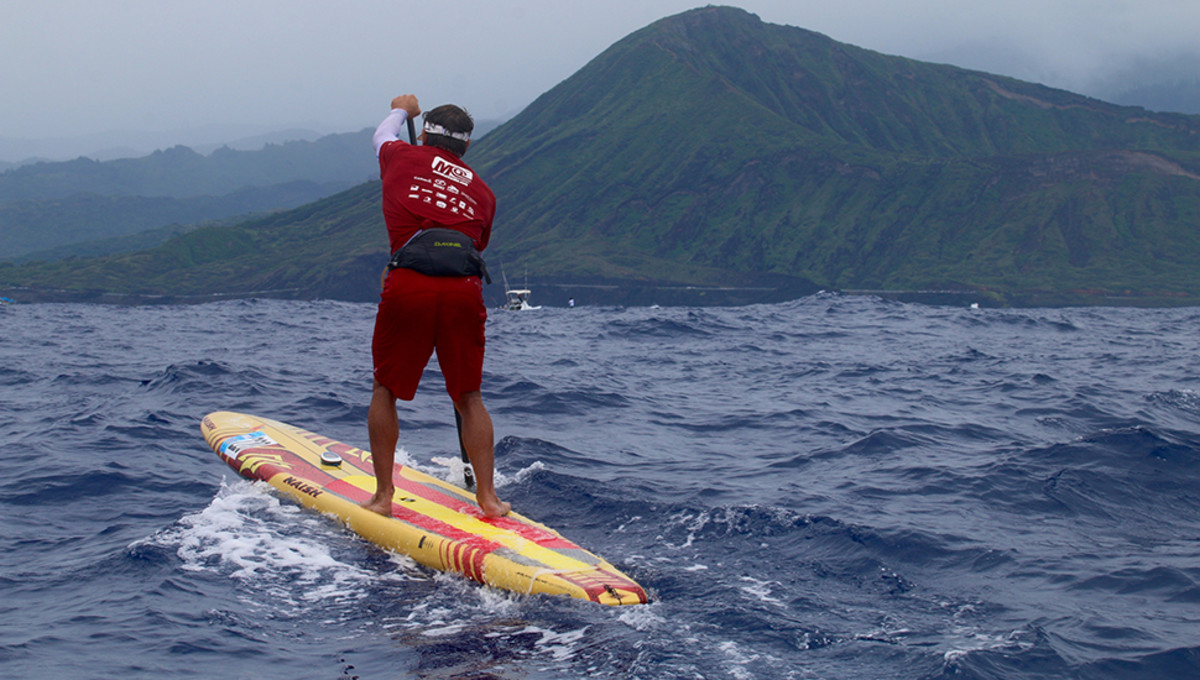 M2O Solo at Sixty With Buzzy Kerbox | Part 1
Words by Benjamin Marcus
"After 27 years of racing and channel crossings I want to retire from the channel races as it is really hard on this vintage body and I'm ready to say enough is enough!" – Buzzy Kerbox
BUZZY AND LAIRD IN 1990
Twenty-seven years after Buzzy Kerbox and Laird Hamilton prone-paddled the Channel of Bones by themselves, Buzzy is training hard and gearing up to compete in the legendary race that emerged in their wake.
The Molokai 2 Oahu Paddleboard World Championships began seven years after Buzzy and Laird's team stunt and the race is now in its 21st year. Buzzy has competed in the race 14 times in the past–sometimes solo and sometimes teamed up with his sons–but this will be Buzzy's final M2O, going solo on a standup paddleboard at 60-years-young.
BUZZY CASSIDY AND THE SUNDANCE LAIRD
Buzzy Kerbox and Laird Hamilton were about as close as two men can be without buying each other flowers–paddling partners, SUP partners, business partners, tow-surfing partners, adventure partners.
In the fall of 1990, they paddled the English Channel from Calais to Dover while dodging cargo ships and the effects of hypothermia. That same summer, Buzzy and Laird barely made it from Corsica, France to Elba, Italy when the "37" they saw on maps turned out to be 37 nautical miles, not 37 kilometers. Doh!
But escaping death was nothing new to these boys. Earlier that summer, Buzzy and Laird decided to prone paddle from Molokai to Oahu. Unsupported. No boats, no helicopters, no nothing except for Buzzy, Laird and their 12-foot paddleboards equipped with compasses, water bottles, and a few chocolate bars.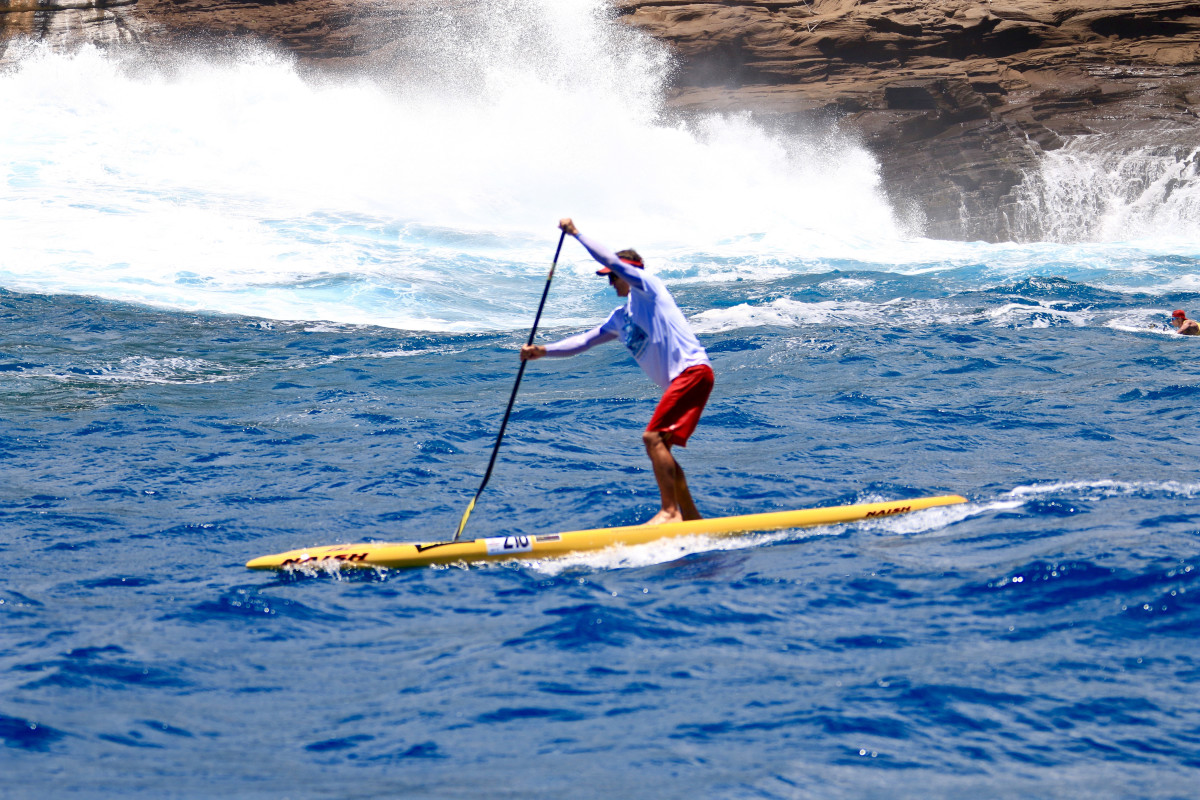 On the Molokai side, they were dropped off close to the southern tip by Hans Hedemann at five in the morning.  They promised they would call him from the Outrigger Canoe Club once they got to the other side. Hans promised to call the Coast Guard if he didn't hear from Buzzy and Laird.
"It was heavy," Buzzy remembered.
"It's a long way to go and that run was the windiest channel I've ever seen to this day. It was blowing 15 to 25 knots and the stronger the wind blows, the stronger the current moves. At one point I lost sight of Laird. There was so much swell and current and wind, we both had to be up high to see each other. That got me a little worried, but he stopped and I caught up with him."
Their paddle would cover 30 miles in six hours.
"We were gonna try to paddle all the way to the Outrigger Canoe Club but the current was so strong we paddled ashore at Hawaii Kai," Kerbox said. "We put our boards down and told this guy we just paddled from Molokai, could he give us a ride to the Outrigger?
He's all, 'Yeah I could give you guys a ride,' so we picked up our boards and he said 'Where's your guys' paddles?'
And we said we don't have paddles. Our hands are our paddles. We just paddleboarded from Molokai.
He's like: 'Oh my god!'
But now we do it with the paddle."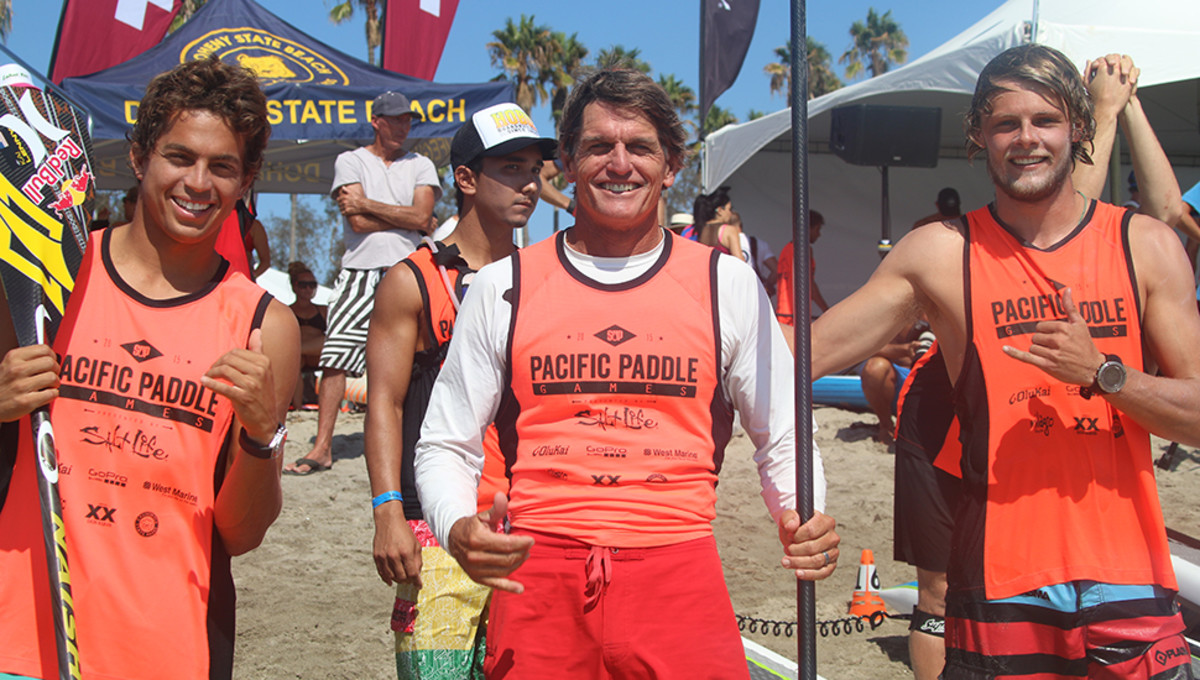 CHALLENGING THE CHANNEL OF BONES
A lot of guys and gals are doing it with paddles now.
There are a lot of open-water crossing races around the world, but the Molokai 2 Oahu Paddleboard Championships is considered the mother of them all–a late-July, 32-mile crossing of the treacherous Ka'iwi Channel, aka the Channel of Bones. It's the same channel that flipped the Hawaiian voyaging canoe Hokule'a in 1978 and lead to the tragic but heroic death of Eddie Aikau.
Buzzy Kerbox did the inaugural race prone and 14 times overall as prone solo, a stock team, and also on a SUP team. He has also won his division several times in both prone and SUP.
Despite his own accomplishments, Buzzy has nothing but respect for the race and anyone who finishes.
"Imagine doing a marathon where the last 10 miles are uphill, into the wind and the last two miles are the steepest," Buzzy said. "The Molokai Race is the hardest race I've ever entered because the last 10 miles are simply grueling.  That's where you hit the Molokai express current headed back to Molokai and the water is going every different direction. It's like paddling in a washing machine. There are swells that tease you but the current doesn't allow you to catch any more glides. Then you round the corner at Portlock Point and get blasted with a headwind for the last mile to the finish line. This race pushes your body and mind to overcome these extreme challenges just to finish.  Everyone who attempts and finishes this race is a winner.  After a Molokai race, everyday challenges seem so easy!"
Related
A first-person account of competing in the Molokai 2 Oahu.
10 preparation tips for the M2O.
The article was originally published on Standup Paddling
For access to exclusive gear videos, celebrity interviews, and more, subscribe on YouTube!