Cold weather has us thinking about paddling trips to warmer climes. Some suggestions here from a feature in the July 2011 issue of Canoe & Kayak magazine.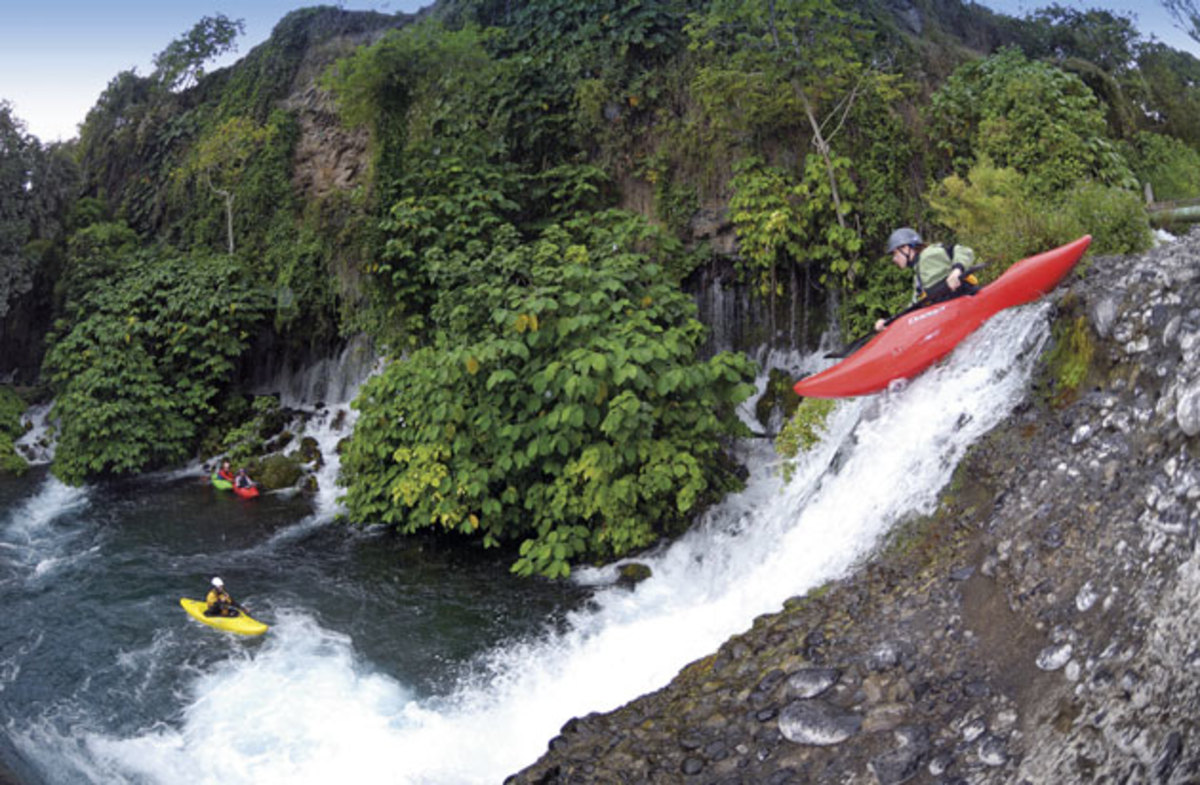 Words by Kate Stepan
Photographs by Paul Villecourt
I've been in Mexico 13 days and haven't been tired, hungover, sore, or nervous on the way to the river. Today I am all of those things as our driver, Israel, nonchalantly guides our rented SUV through the clogged main artery of the bustling Veracruz capital of Jalapa. Finally, it feels like a kayaking trip. I find the words in Spanish to ask Israel to stop for a lechero at the edge of the big city, a last-chance caffeine break before we enter the sparsely populated countryside where the Rio Alseseca and its narrow bedrock slides await.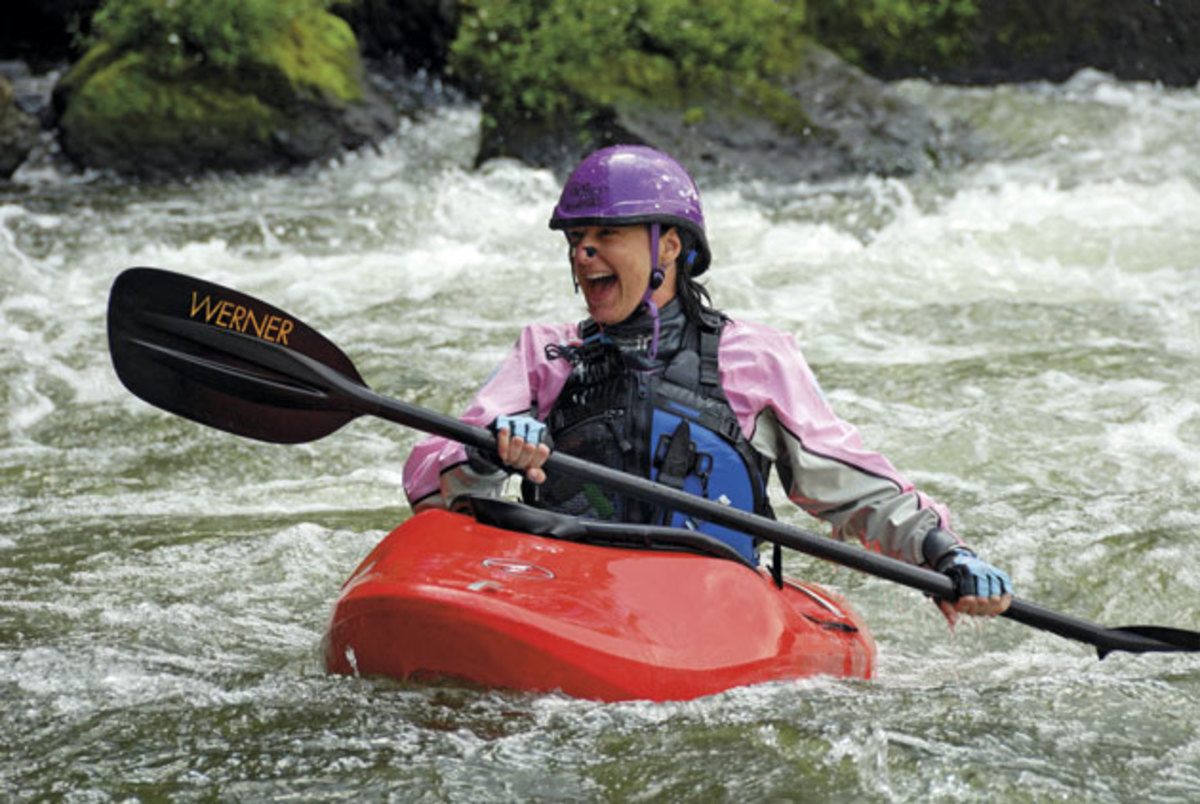 I've replayed one twisting Class V drop in my mind for a week, ever since I decided to walk around it. The drop is called Cabrón, which literally means "male goat" but which also carries several more nuanced and vulgar definitions—all of which seem to match the rapid. The steaming, milky coffee soothes my aching head, but the caffeine along with a mental picture of the frothing rapid, sends the butterflies in my stomach from flutter to frenzy. Ahh, it's good to feel normal again.
The only things in the last week that felt normal to me—kayaking every day, drinking liter bottles of cheap cerveza with local paddlers every night—seemed to be a wild departure for the 11 other women in our group. I'm a river guide escaping the Colorado winter; my cohorts are occasional paddlers indulging in an exotic break from desk jobs. Their professions range from architect to civil court judge.
We've all come to Mexico to spend a week with Anna Levesque, an acclaimed kayak instructor known for her women-only instructional clinics and retreats like this one in the tiny rafting town of Jalcomulco, located in the mountains just inland from Mexico's Gulf Coast. Billed as a week of intermediate whitewater, the trip promises to "push boundaries on and off the river."
The boundary-pushing starts in an unlikely place; a mostly Class II stretch of the Rio Antigua just outside of town. It's our first day paddling, and as we arrive at the river, "Eye of the Tiger" blares from the van stereo.
The first rapid has a Class III move around a stiff hole. I start a little lackadaisically, miss the move and run straight through the hole, which is a little sticky but good fun. By the time I spin around to watch the others, two empty boats are bobbing through the tail waves. I take a minute to assess the scene—Janice and Mary swimming for shore, Anna and assistant guides Mil and Emily herding boats into an eddy on river-right—and then give chase to a stray paddle. I hand the stick back to a waterlogged Mary, who is catching her breath and blaming the swim on off-season jitters. I'm running through the trip itinerary in my head, a list of rivers including a much-anticipated run down the aforementioned Alseseca. Surveying the toll that the first rapid took on our party, I can't help but wonder how Anna expects the group to be running Class IV by week's end.
A spunky, curly haired Canadian, Anna began guiding rafts in West Virginia after college and soon found herself traveling to warmer waters farther south. She became a top-rated freestyle kayaker, landing a Dagger Kayaks sponsorship and becoming a fixture on the pro paddling tour before transitioning to instruction full-time. Since founding Girls at Play in 2005, she has established herself as the go-to authority on women's kayaking. She's been quoted in Time, Shape, and Women's Adventure magazines. Men's Health called her for a quip on the singles scene in Asheville, N.C., where she lives with her husband, Andrew Holcombe, also a Dagger pro.
I've admired her paddling for years, but I never saw the need for the culture of ladies-only paddling support that she represents. As paddlers, we couldn't be more different. Anna has inspirational, estrogen-laden slogans and a signature line of purple paddling attire; I've been known to screen potential boyfriends on Class V runs. As for girl power, most of my boater-chick friends huck harder than me and certainly don't cry on the river. A five-time member of the Canadian freestyle team who claimed bronze at the 2001 worlds, Anna certainly has the street credit, but I've always wondered about the message women like Anna are sending female boaters. If women really want to get as good as the guys, shouldn't they, well, man up?
The next morning, we're sitting around the glass table in the foyer of Esprit, the Canada-based guiding outfit, with sunlight streaming through the doors behind us open to the street. Mary announces that she doesn't want to go on the river.
"Maybe it's just not for me," she says, speaking about kayaking in general. A lithe brunette from Delaware, Mary expected Mexico to be like her home river, the Lehigh in northeast Pennsylvania. Mary organizes the pool sessions for her paddling club and can roll several different ways, including a hands roll. She's tall, athletic and an accomplished ballroom dancer. She regularly paddles Class II-III with her friends, three of whom have joined her in Mexico. But she is not used to challenging herself in new places, particularly swollen, muddy rivers in a foreign country. Her confidence is clearly shaken after yesterday's swim.
My eyes are on Anna as she sits down next to Mary and presents a few options other than hanging around for us to get off the river. She allows Mary to discuss her fears for a few minutes, but then gently asks her to make a decision. Mary ends up joining us, albeit in the front of a Jackson Dynamic Duo co-piloted by Jon, an Esprit guide happy to get out of dinner duty.
"I do sometimes practice tough love," Anna tells me later. "There are times when a conversation is over and it's either time to get in your boat or start hiking. But I like seeing someone who is really scared be able to work through the fear."
I've got my own mental block: playboating. The mere thought of wedging myself into a tiny piece of plastic more suitable for storing leftover food than keeping me upright in the river invokes a twinge in my hips and feet. Yet here we are on the Rio Actopan, with turquoise waters, shallow, creeky rapids, and loads of boof rocks. Near the takeout is a fluffy surf hole—a gently sloping feature with a mellow current flowing over it, perfect for flat-spinning and side-surfing. I try several times to spin but, as usual, I flush on every attempt.
"Kate, stop," Anna calls to me from the eddy behind the hole. "Look over your right shoulder. Like this." She surfs her playboat into the small foam pile and gracefully edges it around. I hop back in and look at the hole, to the right, and immediately sink my upstream edge. I awkwardly recover and paddle back up for another try. Looking over my right shoulder, just as Anna instructed, I slowly transition to a back-surf, then finish the spin. It works! Once I slowed down and analyzed the movements, the boat spun as easily as Anna made it look.
Suddenly, I'm splatting, rock spinning, and surfing around everything. I've always envied the playboaters I paddle with, who see the whole river as a playground. Could it be this supportive environment that's making me feel more confident? Whatever it is, I'm having a blast paddling mellow whitewater without the adrenaline rush of Class V.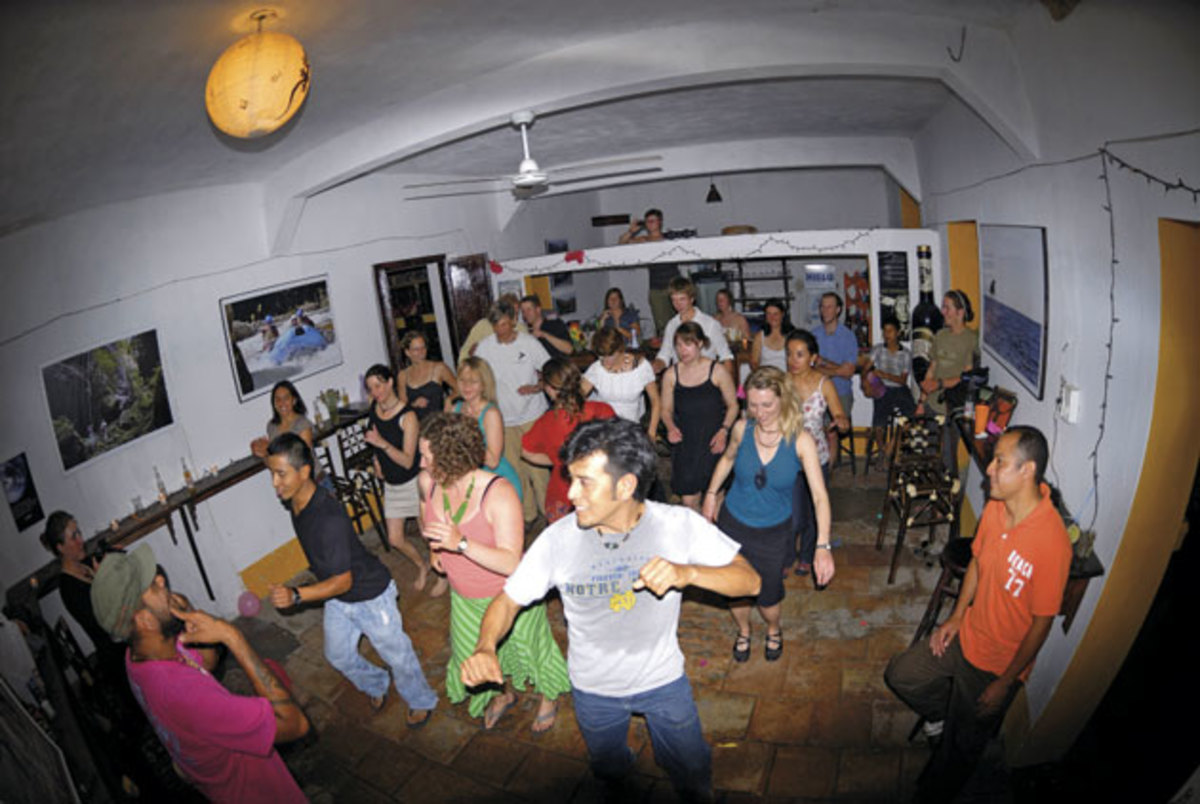 Tonight is salsa night. We clear a space in the Esprit lounge and line up along the edges of the room. The scene is decidedly junior high dance: girls on one side, giggling nervously, and the guys on the other, uncomfortably staring at their feet and the tile floor. The difference is, as adults, we have the ability to laugh at ourselves. And to drink cana margaritas, made with a locally distilled sugar cane liquor. Carlos, our dance instructor for the evening, leads us through the basic salsa steps: right foot to the side, cross behind it with the left, repeat on the other side. I'm still not sure where all the hip shaking and shimmying come in, but soon Carlos pushes the guys, mostly local raft guides, toward us to form awkward pairs. I'm trying to step my feet to the music when Anna and Carlos whirl by, twirling around each other and gracefully clasping outstretched arms.
Soon Janice, a retiree and grandmother-to-be, is pounding on a djembe drum while the boys form a snaking line known as the elephant dance. We've been enveloped by Anna's infectious energy and the south-of-the-border spirit, and, thanks to everyone's digital point-and-shoot cameras, will soon have the YouTube videos to prove it. Some of the "salsa" tunes are reworked U2 and Beatles ballads. Others are just live improvisational drums and flute. As the room begins to whirl with the music, I envy Mary's ability to move her hips to the erratic Latin beat. I realize she has probably spent as much time on a dance floor as I have in a kayak. Well, whatever floats her boat, I think to myself as I lose the beat again.
The next evening we cram into a temascal, or sweat lodge, on the edge of town for a native purification ceremony. Roxy, who is leading the ceremony, pours water over heated rocks in the middle of a dark adobe dome meant to symbolize the womb: no light, one way in, one way out, and a chimney-like "umbilica" where spirits can enter. We discuss, at Roxy's coaxing, the concept of being "fireproof," and what makes us feel that way.
When it's my turn to share, I find words and feelings pouring out of me about kayaking. How I used to feel if I wasn't running the shit, I wasn't cool. How lately, and especially on this trip, I can feel grateful for a river, a sunny day, and good friends. How with my newfound playboating skills I can make Class II challenging again, and fun. How Anna has driven home the value of doing what is best for ourselves, regardless of what those around us choose. And how much I've admired these women who are clearly pushing their comfort zones on the river and traveling in a different country. Afterward, as I struggle into Chacos outside the temascal, Anna sidles up next to me.
"That was totally sick, dude," she intones in her best bro-brah impersonation. Then back to her reassuring calm. "We're cool in our own right."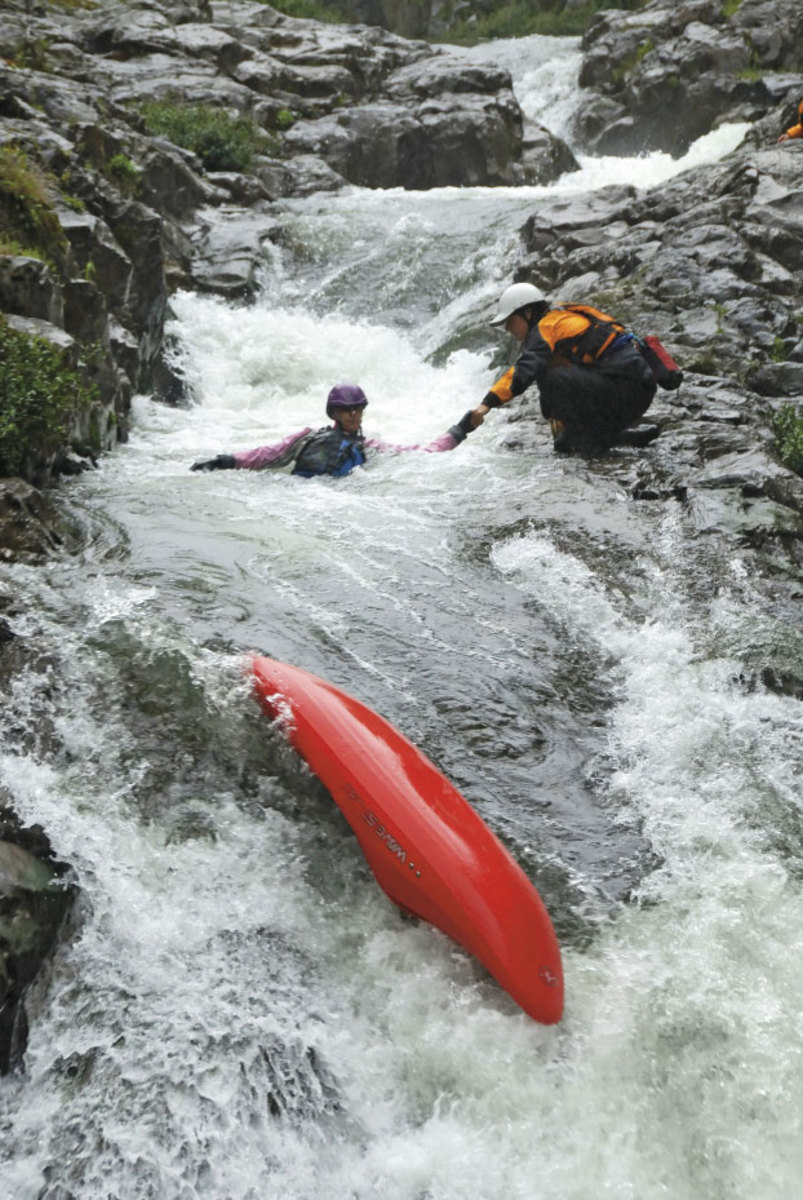 We rise early the next day and drive about two hours over the mountains to the Alseseca, with a hazy view of the snow-capped Pico Orizaba, an inactive volcano that's the third-tallest peak in North America, in the distance.
Our put-in for the short three-mile section is a roughly hewn bus shelter on the side of the road with a path descending into the canyon. We slide boats down a grass-covered slope to the river, about 250 cfs of crystalline water flowing over bedrock. The entrances to some of the drops are not much wider than the Jackson Hero I'm paddling.
The first rapid consists of a slide with a delayed boof over a sticky hole. Anna's guides have set up "live bait"—a person tethered to the end of a rescue rope, ready to jump in and pull out a swimmer or boat. With luck, both at the same time.
Anna runs first to demonstrate the line, and she styles it. Next comes Angie, who is hand-paddling. She loses her angle and plunges straight into the hole. Laura, the live bait, leaps into action, righting Angie's boat before the next small pour over at the rapid's end. Now it's my turn and I'm gripped, visualizing the line and trying to follow Anna's advice to "breath into the nervous feelings," whatever that means. I reach the top of the slide, point my boat right and take a huge, perfectly timed left boof stroke to launch over the seam next to the hole. I catch an eddy where Anna is waiting below. "Nice line," she says, and we watch as a few people walk, a few others manage to miss the grabby part of the hole, and a few trash themselves.
"I've never been in a hole like that," says Wendy, hair plastered to the side of her helmet, breathless and a little bewildered after surfacing from the deep. It's clear that many in the group have never been on a river like this, but with Anna's coaxing and the safety net of fellow guides, the run goes surprisingly smooth.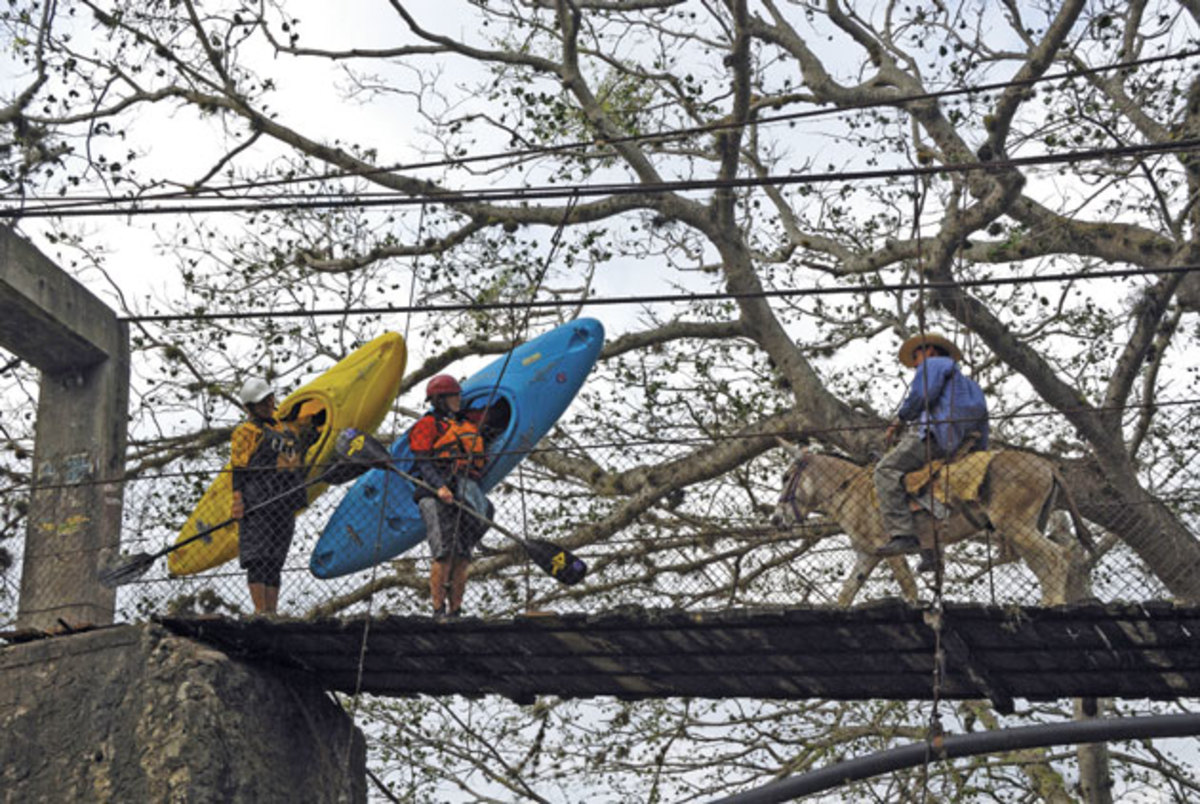 Later, Anna tells me about the people she learned to paddle with. "It was a tough crowd," she says. "It was 'you need to do what we do.' There was no nurturing. If you're not going to run a rapid, then you'd better hike your ass to the bottom and be there when we get there." I have a flashback to my first kayaking mentor, Danny. With a stringy, shoulder-length ponytail, Danny's claim to fame was his ability to do a back-deck roll without getting the lit cigarette in his mouth wet. Danny was always quick to right my upside-down kayak while I carped rolls at the bottom of rapids. But forget discussing lines or feedback on technique. I learned, or failed to learn, to playboat by watching from the eddy as he carved and flipped his Wave Sport XXX. And there was certainly no one holding onto my boat in the eddy above my first waterfall, lining up the angle and sending me off the drop as Anna did for a few of the girls on the Alseseca.
"My whole mission is to be a voice for the female experience and make it okay to be different," Anna says. "Most women are really receptive to instruction and like a social aspect. They thrive in a supportive environment." Feeling the stoke from firing off the drops of the Alseseca, sometimes blindly based on Anna's hasty verbal beta, and soaking in the buzz of excitement in the van on the way back to Jalcomulco, I'd say she's doing something right.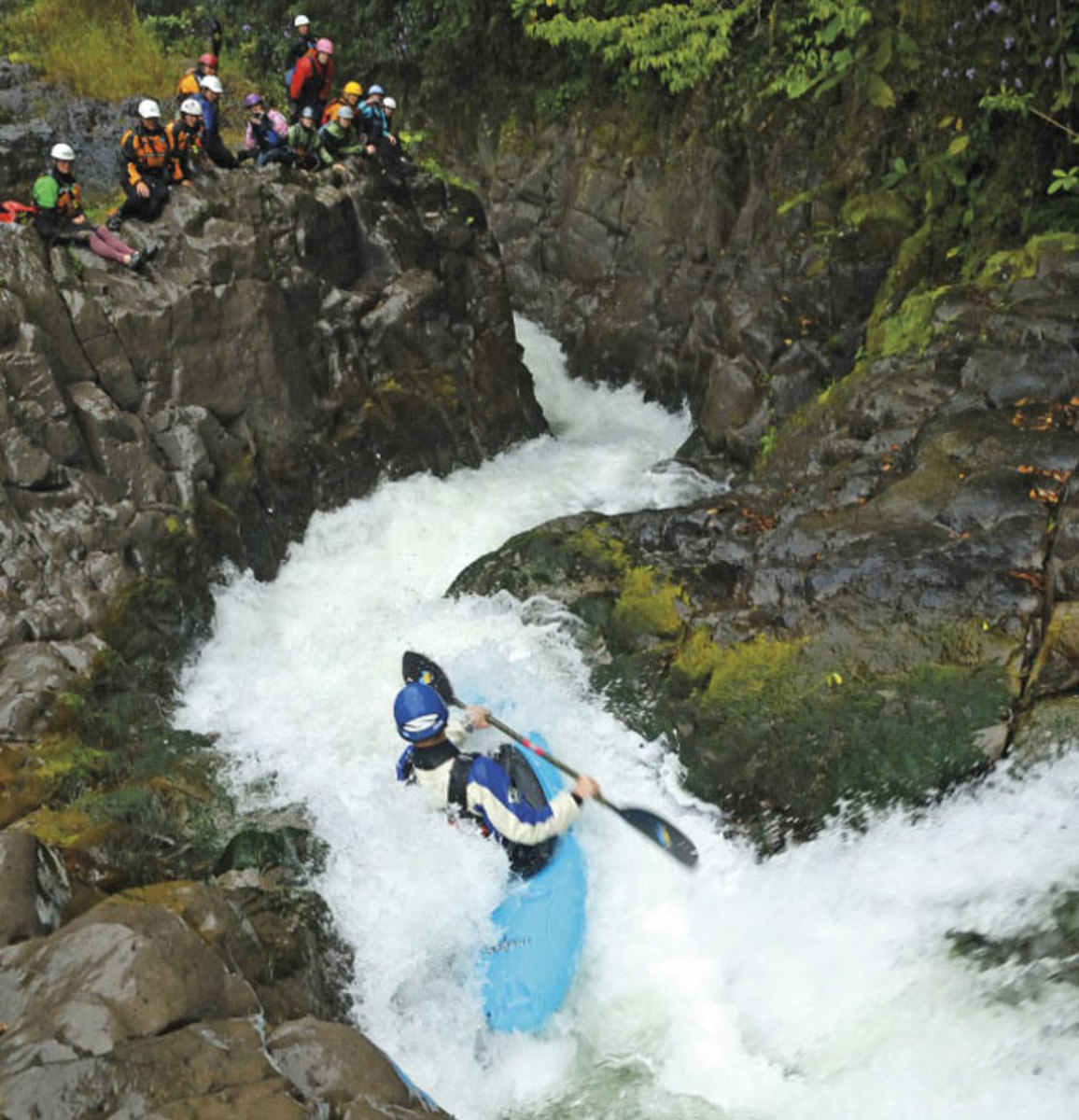 I've stayed in Mexico for an extra week of paddling, and on my second run down the Alseseca I step up to run Cabrón. As I peer over the lip of the drop for a scout, I feel the familiar nervousness churn in my gut. I'm grateful for the ability to acknowledge it and move on, and imagine the support of all the ladies with whom I'd been kayaking with the week before. I imagine Mary on the dance floor.
I stomp the main drop, but hip-check the wall of the mini-canyon after it. It's a violent flip, and I have to wait until the end of the walled-in stretch, signified by a whirling hole, to finally roll up. All's well that ends well, and on the way home our group—which consists of two guys and two girls—asks Israel to stop for beer and baño breaks three times. It's good to feel normal again, paddling like a girl.
IF YOU GO:

–Fly Continental or United, which have flights into Veracruz City with a connection in Houston for about $800. From there, you can rent a car or take the once-daily direct bus for the three-hour ride to Jalcomulco. Other local buses, with connections in outlying cities like Jalapa, take longer but run more frequently.
–Fuel up with tortas and licuados—breakfast sandwiches and fresh fruit smoothies—from the "juice ladies" at their roadside stand in Jalcomulco.
–Boat with Canada-based Esprit, which offers multi-day rafting, kayaking, and canoeing excursions (whitewater.ca) on nearby rivers. Several outfitters in town offer day trips on local rafting runs.
–Eat on the street. Twilight brings scores of food vendors out onto Jalco's sidewalks—be sure to check out the wood-fired empanada fryer one block from Esprit and wheelbarrow-grilled corn, slathered with mayonnaise and topped with parmesan cheese, chili powder, and a squirt of lime served by a local couple in the town square. If you're not feeling the street fare, duck into Betos, Piquena Cid, or Nachita; all open air restaurants.
–Get beta and drink cervezas on the street corner outside Dona Matti's store—it's the most popular hangout for paddlers.
–Stay at La Villa or Posada del Rio for about 35 USD a night, or camp at Aventuras Sin Limite (raftingsinlimite.com), a rafting company on the outskirts of town.
SHORT ON SHUTTLE?
Put in on the Class II-III Rio Antigua in the middle of Jalcomulco and float about three miles to Apazapan, where a great surf wave awaits at the takeout. Throw your playboat on the local bus and ride back up for 10 pesos.
For other area runs or to check out outlying rivers like the Alseseca or Filobobos, get in touch with one of several drivers available for hire.
The article was originally published on Canoe & Kayak
For access to exclusive gear videos, celebrity interviews, and more, subscribe on YouTube!