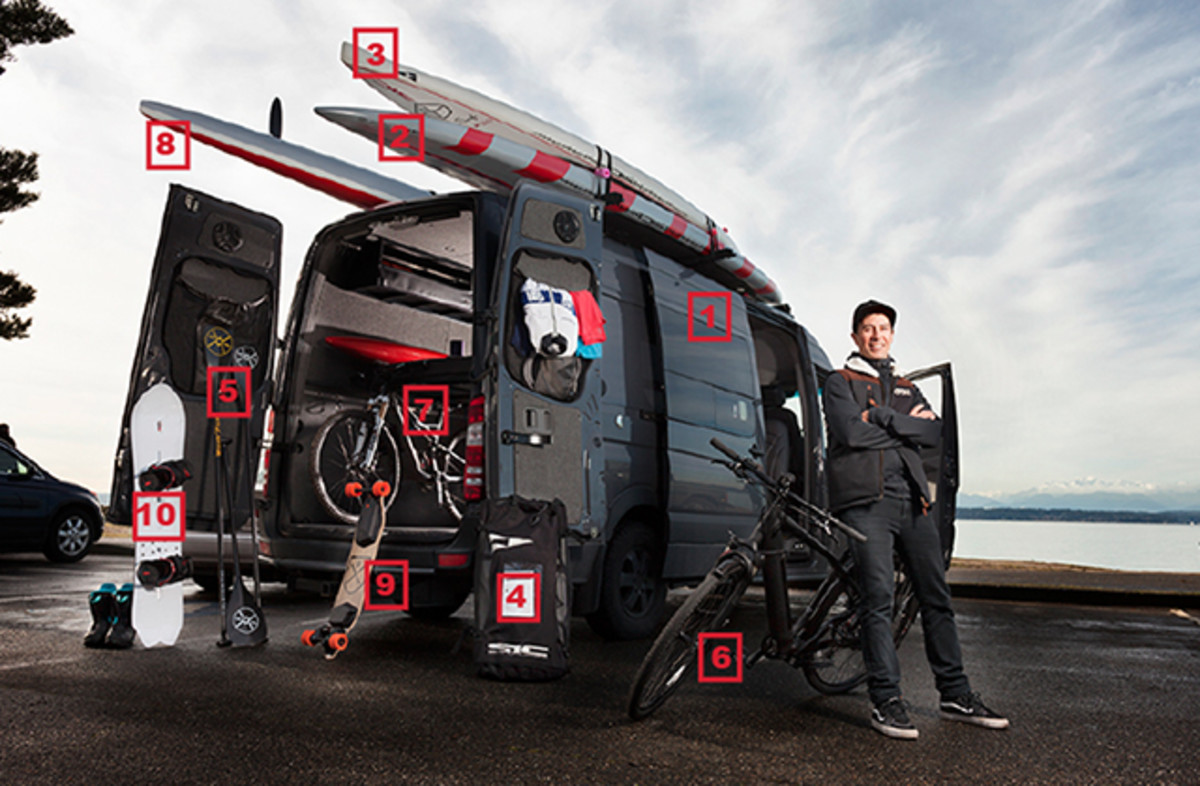 From the mag | Inside the Ride | Art Aquino
Art Aquino
Age: 49
Hometown: Seattle, Washington
Art Aquino is a classic downwind junky who pushes the limits in just about every outdoors sport on tap in the Pacific Northwest. When Aquino's not stalking wind from Seattle to Hood River to Maui he's often participating in his own cross-training triathlon on his home turf. A common day often involves carving fresh tracks in Cascadian powder by morning, downwinding on his SUP across Puget Sound after lunch, and if there's time, a second downwind pass on his OC-1. This is the life of a regular PNW renaissance (sports)man.— Mike Misselwitz
1. 2012 OUTSIDE VAN by Mercedes Benz.
This is the best piece of gear I own. It enables me to get in a three-sport day when conditions allow for it. It hauls all my gear, seats six and sleeps four. It has an onboard power system with solar panels that runs a fridge, freezer, microwave, blender, two diesel heaters and hot water for the shower and sink.
2. SIC Maui Custom Bullet 17'2" X 24".
This is my favorite board with steering for bigger days on Puget Sound and Hood River. The steering lets you make last minute connections on the fly and works great for conserving energy.
3. SIC X-14 Pro-Lite 14' X 24.
This is the ultimate flat-water machine. It's narrow but stable and fast, my go-to board for flat-water training and racing.
4. SIC Air-Glide X-12.6 Inflatable.
This board's great for exploring, chill time with family and friends, and for first-timers. It's super stable and nearly indestructible.
5. Werner Paddles.
I have the Grand Prix in two sizes—one for flat-water racing and a longer one with a larger blade for downwinding. Sometimes I change it up with the outrigger—a super lightweight carbon setup.
6. Specialized Turbo X E-Bike.
I normally use this bike for solo downwind runs in Puget Sound. It works great for planting the van at point B so I have a vehicle waiting for me when I get out of the water. It also gives me a nice warm-up and rides fast and efficiently to help me save energy for multiple 10-mile runs on the SUP or OC-1.
7. Specialized Stump Jumper.
This bike is ideal for getting out in the forest and exploring single-track trails. Another great option for downwind training.
8.Kai Wa'a Scorpius XS OC-1.
This is by far the fastest downwind machine I own. It's great cross-training for SUP because it puts you closer to the water with an entirely different vantage on wind swells and when the swells are smaller it catches everything!
9. Boosted Dual+ Electric Skateboard.
I've been skateboarding my entire life and always dreamt of the day when I didn't have to push anymore. It even recharges itself when braking down hills!
10. Burton Fish 151 Snowboard
I've been skiing since the '70s and snowboarding since the late '80s. It wasn't until recently that a buddy of mine turned me onto this shape. It's short, with a wide nose and a fish tail, which helps to eliminate back leg burn and makes you feel like you're surfing powder.
Pimp out your paddle rig with more customizing ideas from our Inside the Ride archives.
The article was originally published on Standup Paddling
For access to exclusive gear videos, celebrity interviews, and more, subscribe on YouTube!