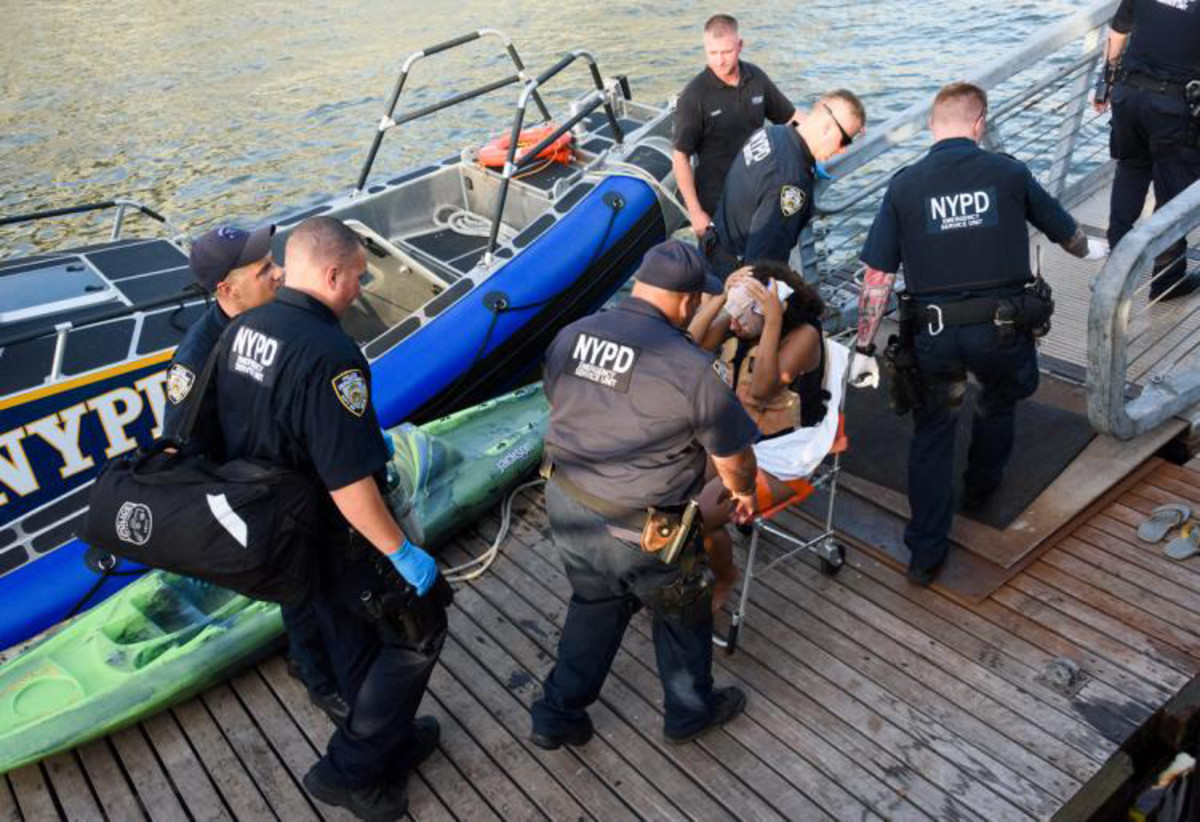 Reports blame sun glare on the water as the cause of this week's accident involving a group of kayakers and a ferry Monday evening on the Hudson River near Midtown Manhattan. Police say the New York Waterway ferry was leaving Pier 79 at 39th Street just before 6 p.m., when it struck 10 kayakers, sending multiple paddlers into the water. Five people were hurt, including one employee of the Manhattan Kayak Company who suffered a severe arm injury. The reports that immediately began spinning out on that night's network broadcast news were quick to hit sensational notes with images like the one above as well as Harbor Unit Police Officer Tommy Le's announcement to NY 1 News that one of the victims "was lying on top of the kayak and there was this pool of blood and we knew that we had to go over there and assisted him as a priority."
Another paddler suffered a serious head injury, while the guide had a punctured lung plus a broken rib, while others were hurt with minor injuries to the shoulders and back.
As many as 10 kayakers rescued from Hudson River after being hit by ferry, NYPD says. https://t.co/0fGJXfX4mz pic.twitter.com/0YBx5pfCSH

— ABC News (@ABC) August 30, 2016
"It is a minor miracle that it hasn't happened to some other kayaker or boater or jet-skier before," said Eric Stiller, founder and owner of Manhattan Kayak Co., to the Wall Street Journal, "I tell people out here, we don't have great white sharks. I've got something bigger and faster than great white sharks. Out here, we've got ferries."
On Tuesday, the team at MKC announced in the Facebook post below that the kayakers were doing well, their injured guide "in good spirits," as well the fact that the accident was the longtime outfitter's first major incident in nearly two decades of guiding kayak tours on the Hudson and around the NY Harbor. The post also noted that all the participating kayakers were properly outfitted with safety gear, fully briefed on safety protocols, and "led by one of our senior instructors who is ACA certified in both SUP and Kayak disciplines, as well as being a veteran guide who learned to paddle on the local waters here in NYC."
A preliminary investigation determined the captain of the NY Waterway ferry, backing up from Pier 79, "was unable to see the kayakers behind him" before striking them, New York Police Department Chief of Patrol Carlos Gomez told the Wall Street Journal. "Apparently sun glare was a factor," Chief Gomez said. "It sets, as you know, west, and he was looking behind him and the sun kind of blocked his vision or impaired it."
The accident highlights the risks for recreational and commercial watercraft when they share the increasingly crowded waterways. "When you have that mix you run the danger of collision between recreational and commercial mariners," Andrew Coggins, a retired U.S. Navy commander and professor at Pace University who studies the cruise industry, told the Wall Street Journal, "The collision, clearly illustrates the dangers involved in mixing commercial and recreational shipping. Commercial ships don't always see recreational shipping and recreational shipping doesn't always stand clear of commercial shipping."
The incident provided outfitters leading recreational kayak and standup paddleboard tours an obvious reminder that their clients need to stay vigilant on the water. They should follow safe practices, including such common-sense measures as being aware of nearby vessels, staying clear of ships and avoiding designated commercial routes.
"Whoever is in the right or in the wrong, you're the one who is going to get hurt," said David Matten, of Long Island City Community Boathouse, which leads recreational kayak tours on the East River, in the Wall Street Journal, "You have to stay away from the ferry. It's incumbent upon us to pay attention, where they are and where they are going."
"Assume no one can see you and give ship traffic a wide berth." That was the basic advice I got from a fellow California sea kayaker, Mike Rumsey. "Know were the ferry and shipping channels are," Rumsey said. "Even around the docks is like crossing the street stop look and don't play around moving boats."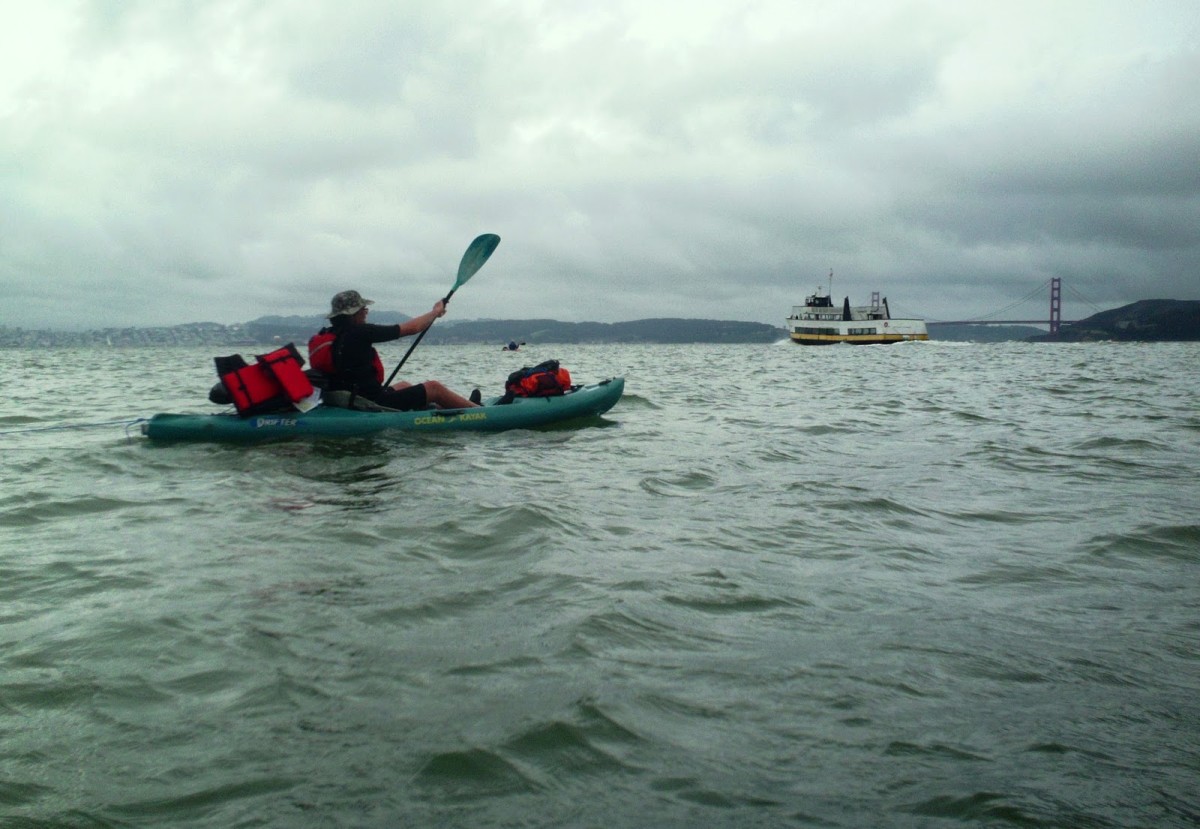 Discussing the incident on the Hudson with Rumsey reminded me of the importance of this vigilant-paddling takeaway during the summer's busiest paddling weekends. According to a recent California State Parks Division of Boating and Waterways news release, the DBW anticipates an increased number of recreational boaters on waterways during the upcoming Labor Day weekend and reminded boaters that following simple navigation rules can greatly decrease the chances of being involved in an accident. In 2015, 503 boating accidents, 232 injuries and 49 fatalities were reported to DBW on the state's waterways.
"Just like highway rules, navigation rules tell boat operators about right of way, signaling to other boats and how to avoid collisions on the water," said DBW's Deputy Director Lynn Sadler. "Not only must boat operators keep a sharp lookout for fast moving vessels, submerged hazards or swimmers and paddle craft, they must know navigation rules in order to quickly and safely respond to changing conditions."
Having paddled my share of the San Francisco Bay's busy waters, I know navigation is not as simple as crossing the street. Out of the safety of Horseshoe Bay, some of the wildest sea conditions on the entire West Coast can be found. The Bay is known for steep waves, fast and swirling currents and howling winds blowing through the Golden Gate. Adding to the chaos are the pleasure crafts, ferries and ocean-going vessels competing for the same waterway. Area guides and kayakers familiar with these water make it clear. You can't out-run or beat the fast-moving ferries crossing their traffic lanes, like the one pictured below, and caution should always be exercised.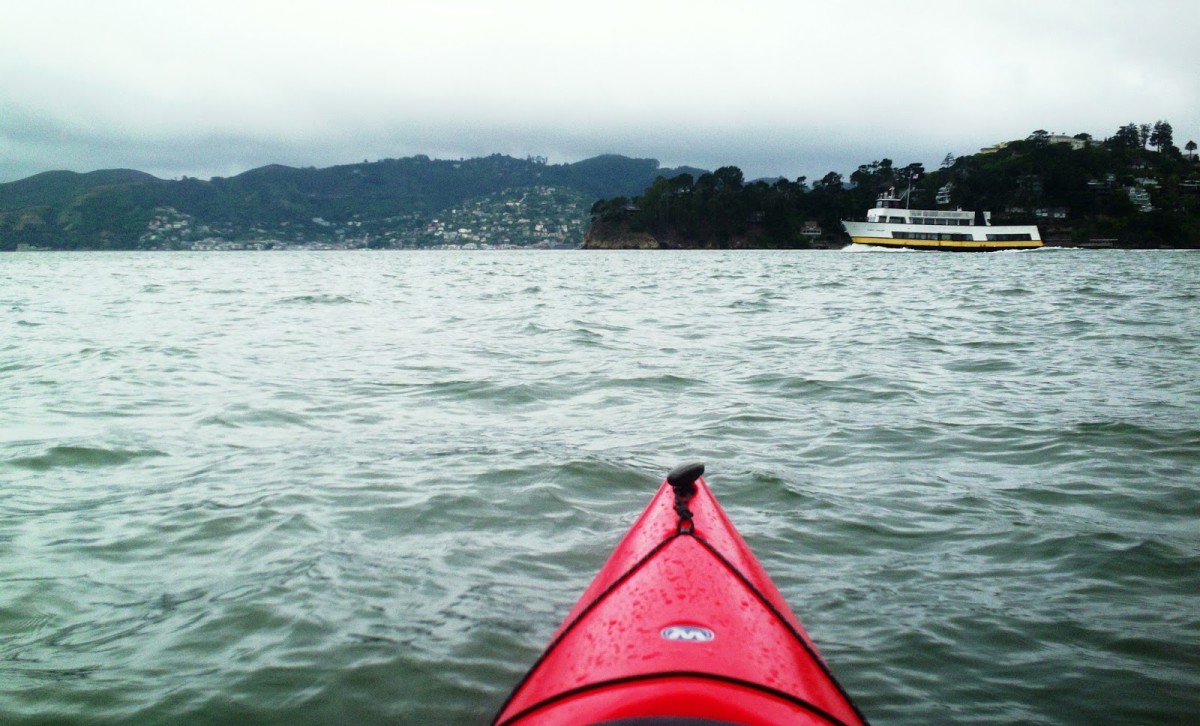 "When I'm on the bay since I'm the slowest and smallest thing out there," added Rumsey. "I'm always trying to keep my head on a swivel and be aware of my surroundings."
"It's true that we share the waterways with all vessels," added California-based sea kayaker Kathi Morrison, "But believe it or not, kayaks sit on the bottom of the right of way chain. We are no match for tankers, ferries, commercial vessels or something with a motor or sail. We must paddle responsibly and defensively understanding that vessels cannot see you or react quick enough to avoid consequence."
California kayak instructor Byrant Burkhardt noted that, "it's easy for a large group to cross the ferry path when the ferry is at dock, but it's actually not a good idea, not knowing when it will launch but expecting the pilot would see them before taking off." He points out the general rule that when a large group crosses traffic, to stay close together for maximum visibility.
"Know the ferry schedule as it's easy to get displaced by their engines," added Morrison. "Stay in a close group, wear bright clothes and know that you cannot out-run other vessels. Turn on your VHF radio to channel 16 monitoring all the ships."
Closer to home, far off from any ferries or large boat traffic on Lake Natoma, near Sacramento, the lake was only crowded with small sailboats, paddleboards and dotted with kayaks. On the beach, surrounded by kayaking students Current Adventures Kayak School ant Trips instructor Kim Sprague gave the last of his pre-paddle instructions before hitting the water. He hit one of the kayaks hard with his hand, exclaiming that these boats are tough. You can crash into each other and they won't break. From the back a female student raises her hand and asks what about the bigger boats?
The advice, from Sprague, was the same solid advice for when kayakers head out to navigate those busier, crowded and congested waters:
"I just always yield to the bigger vessel," Sprague said. 
---
— Read more on this subject with 'Traffic Rules for Paddlers' part of C&K's Safer Paddling series.

— Read more about paddling on the Hudson, as well as the recent 10th anniversary of the SEA Paddle NYC event, and the annual kayak circumnavigation of Manhattan.
— Check out the Unfiltered feature on Manhattan Kayak Co.'s Eric Stiller, from C&K's March 2012 edition.
The article was originally published on Canoe & Kayak
For access to exclusive gear videos, celebrity interviews, and more, subscribe on YouTube!