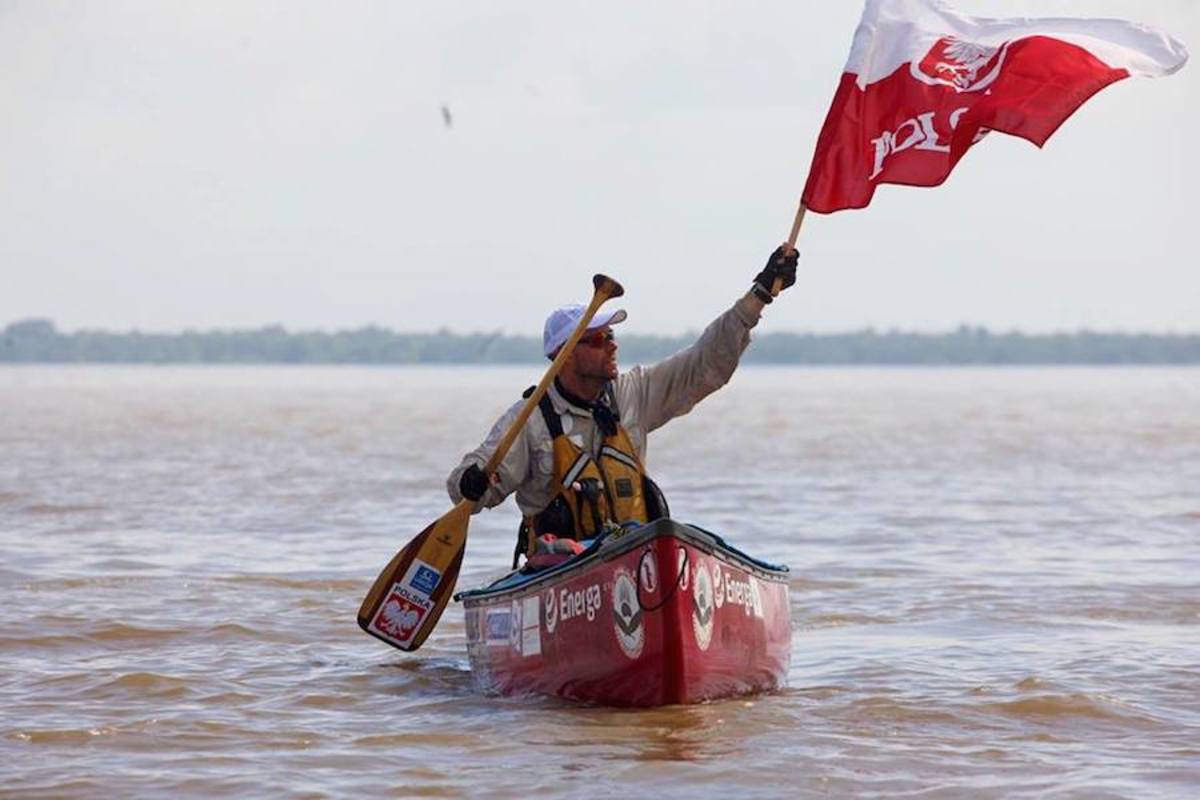 By Jeff Moag
Canoe & Kayak editor
Last September, Polish adventurer Marcin Gienieczko finished a traverse of the South American continent by foot, bicycle and canoe. It was an impressive expedition by any standard, particularly the 3,720-mile descent of the Amazon which Gienieczko said he completed alone in an open canoe. Guinness soon proclaimed it the longest solo paddling journey ever.
That was 14 months ago. The reason Canoe & Kayak is only now covering the story goes to the heart of expedition paddling—why canoeists and kayakers undertake long, difficult trips and what they expect to gain in return. It sheds some light on our editorial process at C&K and, more than anything, shows how easy it is to fool the Guinness organization.
Guinness officially classified Gienienczko's expedition as the "Longest Journey by Canoe (Kayak) Solo." Of the record's four elements—longest, canoe, kayak and solo—we soon learned that Gienieczko could back just one: He paddled a stock Mad River 16 canoe. Guinness has a remarkable history of botching paddling records, so it's no great surprise they would confuse a kayak with a canoe, or declare Gienieczko's trip the longest despite ample evidence to the contrary. But how did Gienienczko manage to slip the 'solo' claim past the vaunted Guinness fact-checkers, even after he hitched a ride on a motorboat and forced his Peruvian fixer to paddle hundreds of miles with him? That's a story worth telling.
Gienieczko didn't mention a world record when he first contacted me back in November 2015. He didn't need to. Paddling the length of the Amazon in a bright red canoe was story enough. I quickly agreed to cover the expedition online, even though reporting the story promised to be a tragicomic exercise in the limitations of Google translate. I could barely make sense of Gienieczko's email, but he'd attached a long description of his trip translated by a man I know well, Piotr Chmielinski. So I cc'd Chmielinski in my response to Gienieczko.
Chmielinski responded right away: "Jeff we must talk." He did not copy Gienieczko.
A Polish-American explorer best known for making the first source-to-sea descent of the Amazon River, Chmielinski has graduated to godfather status in the world of expedition paddling. Simply put, if an expedition involves Polish people or the Amazon, Chmielinski is sure to get involved. He's a fellow of the Explorer's Club with deep connections within National Geographic, major Polish media and the influential website Explorer's Web, which published an expose on Gienieczko in June.
I should stop here to acknowledge that Chmielinski has his hooks in me too. There's no denying his passion, and no way to escape his tireless promotion of the expeditions in which he takes an interest. He's relentless, often exasperating, always charming.
Chmielinski is a fierce guardian of paddling records, most especially his own, but also those of his protégés. And when Gienieczko canoed most of the Amazon River and claimed a Guinness World Record, it put him on a collision course with two of Chmielinski's favorites: transatlantic kayaker Aleksander Doba, and brothers David Andres and Hubert Kisiński, who had recently navigated the Amazon on bicycles bolted to rafts.
Chmielinski had been in my ear about the brothers for weeks, but this time he wanted to talk about Gienieczko. "Listen Jeff," he said in a hushed, conspiratorial tone. "There are some things you should know about Marcin."
He said he'd taken an early interest in Gienieczko's expedition, offering his advice and connections. "Because he was doing the Amazon—my Amazon—I wanted to support him. I did whatever I could," says Chmielinski, who also monitored Gienieczko's satellite position updates from the Amazon. In doing so, he discovered an anomaly: Gienieczko's satellite tracking devices showed that he had covered 60 river miles in less than three and a half hours—a speed of about 18 miles per hour. The Amazon current can be strong, Chmielinski said, but not that strong.
Chmielinski told me that others in the tight-knight community of Polish adventurers had questioned details of Gienieczko's earlier expeditions in Alaska and Australia. Even before the trip had begun, the two had clashed over Gienieczko's decision to hire Gadiel "Cho" Sanchez Rivera as a guide and fixer, which Chmielinski argued would disqualify the solo claim. Gienieczko agreed to travel with Sanchez Rivera only as far as Atalaya, where his Guinness attempt would officially begin. But he didn't part company with his guide there; he merely began leaving Sanchez Rivera out of photos and expedition updates. When Chmielinski learned of this deception, he began focusing his considerable energy on persuading Guinness to retract the record. He also lobbied me and other reporters not to tell Gienieczko's story, or more precisely, to tell a different story.
This, frankly, was the last thing I needed. There's just no upside to inserting C&K into a pissing match focusing on the minutiae of Polish expedition paddling. I'd already had second thoughts about publishing a story about Gienieczko's trip due to the language barrier and Gienieczko's lackluster photos. So I took the easy way out. I spiked the story.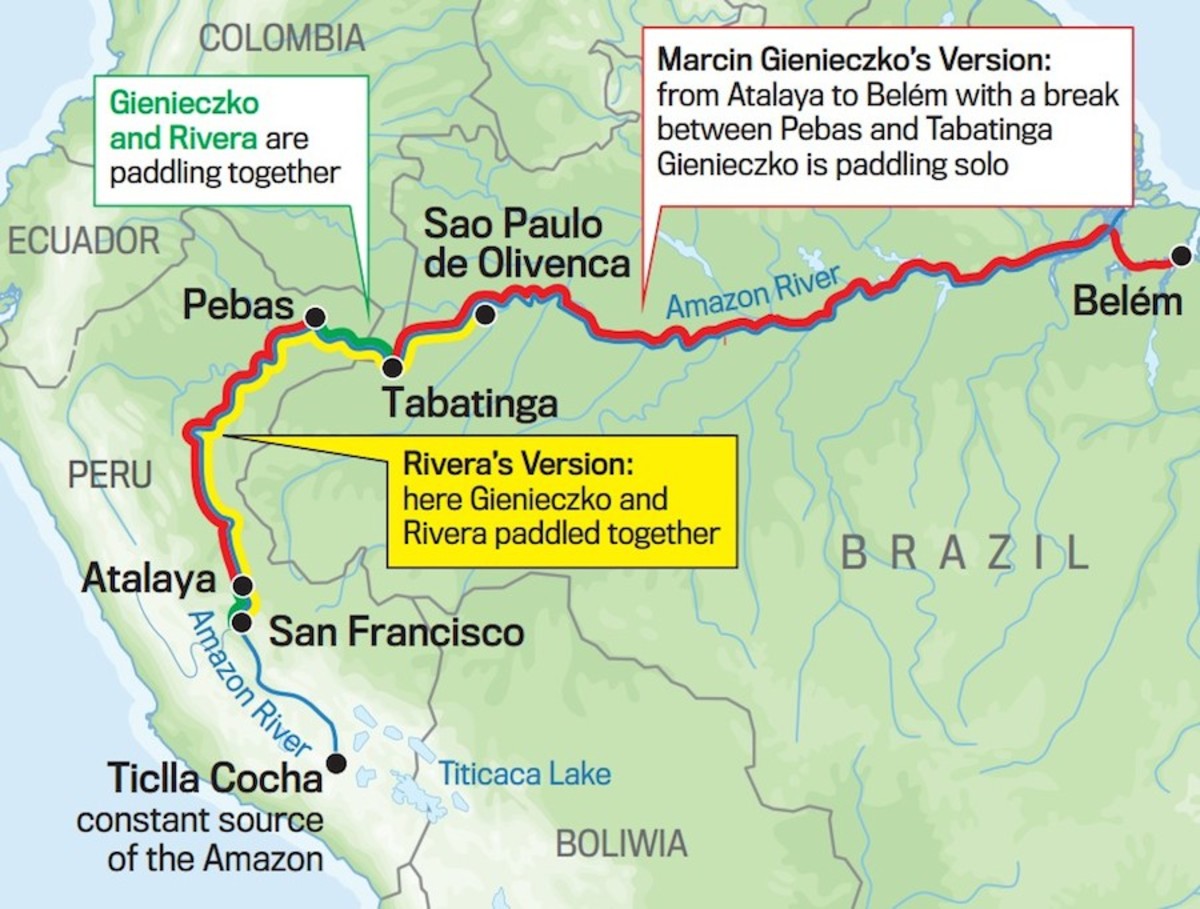 That should have been the end of it, but Chmielinski wouldn't let it go. In March, he sent a friend to interview Sanchez Rivera in Peru. At first I didn't know what to make of the videotaped interview, conducted by Polish expatriate Jacek Klisowski. In the video, Klisowski questions Sanchez Rivera in Spanish, pausing for a rough contemporaneous translation into English. The questions are leading; Sanchez Rivera seems disinterested. I study him, trying to determine if he was just telling the Pole what he wants to hear. Then Klisowski mentions Gienieczko's claim that Sanchez Rivera sat in the canoe but didn't paddle. The guide's eyes flash and his voice takes on an edge. "That is a lie," he says, "because I paddled very hard together with him. I don't know if he paddled hard or not."
Sanchez Rivera paints an unflattering picture of Gienieczko, who he said regarded him more as a servant than a comrade. The treatment was an affront to the Peruvian, who had accompanied the English explorer Ed Stafford on his historic Walking the Amazon expedition. For two years Sanchez walked side-by-side with Stafford, who treated him as an equal and acknowledged his critical role in the expedition's success.
The paddling trip with Gienieczko had a decidedly different dynamic. For the months they travelled together, Sanchez Rivera claims, they ate from separate food stores—Gienieczko the new supplies he'd purchased for the trip, Sanchez old packets left over from a previous expedition. (Gienieczko did not respond to repeated requests for comment.)
Gienieczko had hired Sanchez Rivera to guide him through the Red Zone, a lawless tract of the Peruvian Amazon where strangers, particularly white foreigners, are met with suspicion and sometimes violence. It's unlikely that Gienieczko could have traversed the Red Zone alone without incident, so hiring Sanchez Rivera was a prudent choice, even if it did call his solo bid into question.
Gienieczko began his solo Guinness record bid in the town of Atalaya, Peru, where the Tambo and Urubamba rivers join to form the Ucayali. Above Atalaya, Gienieczko and Sanchez paddled together in the canoe, and at one point enlisted the help of a motorboat to avoid turbulent waters. Gienieczko acknowledges the assistance, which is not relevant to his Guinness claim.
For much of the trip the duo were escorted by a Peruvian Navy motor launch with four armed men aboard. This is a courtesy routinely extended to Amazon adventurers whose untimely demise would reflect poorly on the Peruvian government. The navy escort points out a fundamental problem in Gienieczko's planning: The Amazon is a terrible place to attempt the world's longest solo paddling trip. It's exceedingly difficult to travel alone there, even if you accept the considerable risk. The authorities simply won't let you.
In the strictest sense, the solo bid was void the moment Gienieczko hired Sanchez Rivera. The chartered motorboat and later the navy escort just added to the size of the expedition. Guinness has a more generous definition of solo, however. So long as Gienieczko paddled alone, Guinness would certify the record.
But he didn't paddle alone.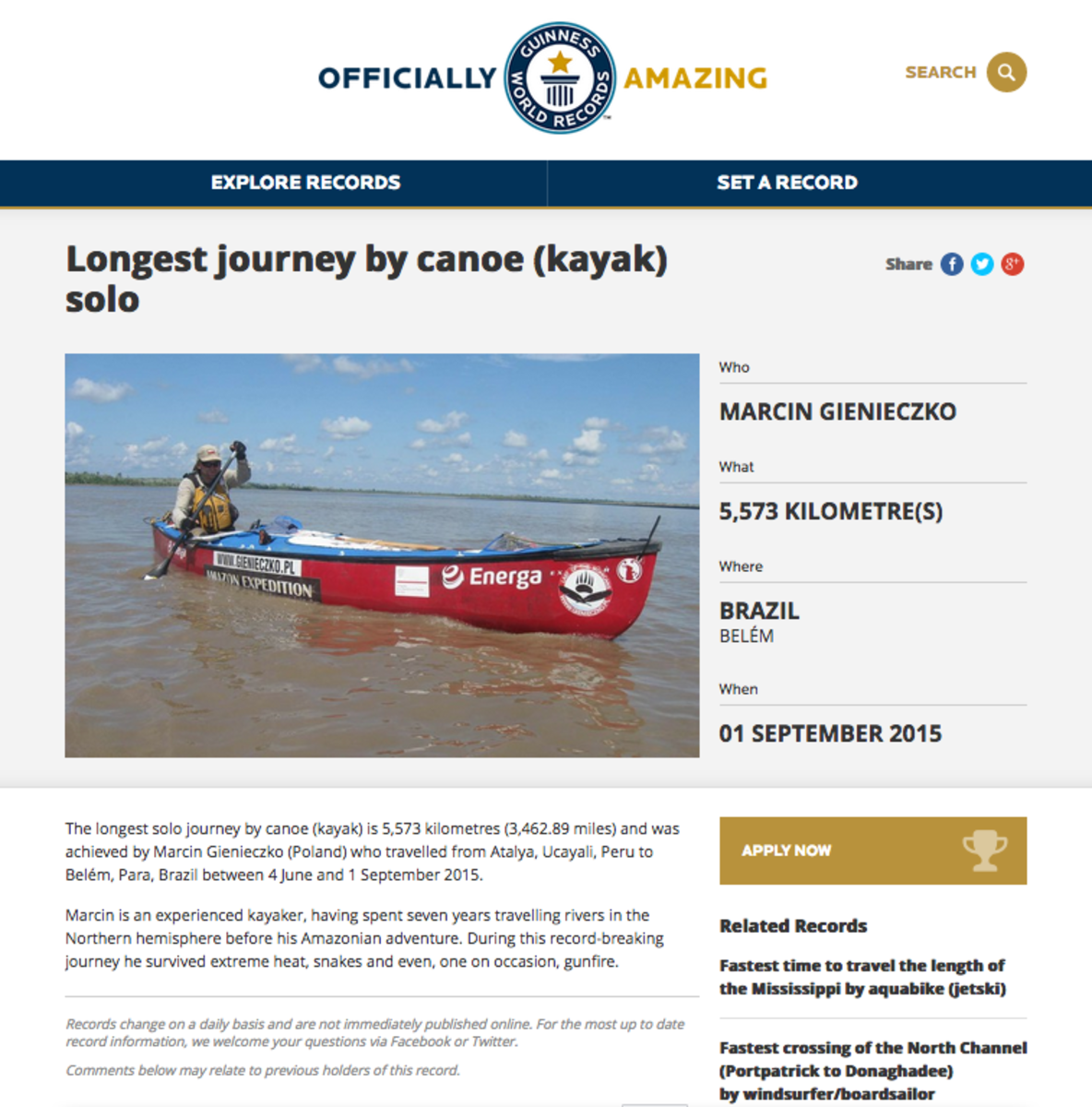 In his interview with Klisowski and again in a statement provided to Guinness, Sanchez Rivera claims he helped Gienieczko paddle for hours every day. "Between the port of Pucallpa, Contamana and Iquitos I was paddling in the same canoe with Mr. Marcin Gienieczko the majority of the time, because he was tired and ordered me to do so as his guide," he writes in the extravagantly notarized statement.
A July 3, 2016 post on Gienieczko's Facebook page seems to acknowledge this. "From the city of Pebas, Marcin paddles in his canoe together with Gadiel towards the Brazilian border. . . . The Navy of Peru didn't give permission for a solo paddle," the post says in Polish. It has since been deleted.
Sanchez Rivera also claims that Gienieczko hitched a ride on the navy launch. According to Sanchez Rivera's sworn statement, the crew "put the canoe aboard the military launch for approximately 40-45 kilometers (25-28 miles), because it was getting dark and it wasn't possible to get to the port of Francisco Orellana only by paddling the canoe. They attached the canoe to the right side of their boat and used the motor until they arrived at the port of Francisco Orellana."

The statement corresponds with the position-tracking anomaly that first raised Chmielinski's suspicion. Chmielinski has shared all of this information and much more with Guinness. For months, the organization has told him privately that it is investigating Gienieczko's claim. It has made no public comment about the record, which until this month was still listed on the Guinness website. (Guinness has since removed the citation, though the comments—including those of Gienieczko and a who's-who of notable Amazon paddlers—remain.)
Corrinne Burns, a Guinness Records Manager based in London, tells Chmielinski that the record is being reviewed. An email to Burns requesting an interview about Gienieczko's record was answered by Kristen Ott, a Guinness spokesperson based in New York. "We take any accusations about our records very seriously and thank you for taking the time to contact Guinness World Records," Ott wrote. "We are aware of the questions raised about Mr. Gienieczko's attempt and potential breach of our guidelines."
So how does the Guinness organization go about investigating credible claims that a record is bogus? Burns's email exchanges with Chmielinski shed some light. On June 30, three weeks after receiving Chmielinski's detailed dossier questioning Gienieczko's claims, she responded to Chmielinski's follow-up email: "I have now received your emails—we will continue looking into this. Thank you for the contact details of Mr. Sanchez Rivera."
A few hours later, she emailed again, explaining that Guinness would take no action to contact Sanchez Rivera. "So we can begin an investigation, we would need Mr. Sanchez Rivera to email us—so he will have to initiate contact with us. We cannot email him, though we will of course respond to him if he emails us."
That's a curious policy for an organization that has built its reputation on the thoroughness of its fact-checking regime—though it certainly helps explain how Guinness has so frequently gotten paddling records wrong, often embarrassingly so.
When I first started covering paddling 20 years ago, an English kayaker named Shaun Baker had recently set the Guinness World Record for the highest waterfall descent in a kayak, on the 64-foot Aldeyarfoss in Iceland. Two years later, Shannon Carroll ran 78-foot Sahalie Falls in Oregon. It was a notable achievement—a female athlete beating an all-comers world record in the adrenaline-addled world of extreme sports. But it was never a Guinness record because Carroll didn't apply.
In 1999, Tao Berman dropped 98-foot Johnston Falls in Alberta. He did apply, and jumped through all of Guinness' hoops. Yet Baker's record stood on a technicality. He argued that Berman's drop was not completely vertical—though Berman and the photograph beg to differ—and Guinness certified separate records for both athletes. Baker's record stood well into the 2000s, by which time running waterfalls of more than 64 feet had become commonplace. Finally, in 2007, Tyler Bradt ran 107-foot Alexandra Falls, knocking both Baker and Berman's records out of the Guinness pantheon. That mark still stands as the "Longest Waterfall Descent Canoe," despite the fact that Bradt himself ran 189-foot Palouse Falls seven years ago—beating his own record by more than 80 feet. It played on television networks around the world, and just one of the online videos of the Palouse huck has garnered more than 1.5 million views. Apparently, the folks at Guinness never noticed. Bradt didn't bother to apply for a new record for the simple reason that a Guinness record no longer has any credibility in the world of whitewater kayaking.
Guinness records still have a great deal of cachet outside of paddling however, which explains why Gienieczko would go to such lengths to claim his distance record. Corporate sponsors are rarely schooled in the history of paddling. They wouldn't have known about Paul Caffyn, who paddled 9,420 miles around Australia in 1982; or Freya Hoffmeister who also circumnavigated Australia and later South America by sea kayak; or Oskar Speck who kayaked 31,000 miles from Germany to Australia in the 1930s. Each of those expeditions, and many others besides, would fit the definition of 'solo' used by Gienieczko and Guinness. Others would meet more exacting standards. When Franz Romer, Hannes Lindemann, Pete Bray and Aleksander Doba (twice) crossed the Atlantic in kayaks, they were absolutely alone and self-supported. Each of those trips was longer than the 3,720 miles Gienieczko claims on the Amazon. Gienieczko didn't canoe more than 4,500 miles across North America, as Mike Ranta has done twice. He hasn't paddled the 3,780-mile Missouri-Mississippi river system as Mark Kalch, Paul Gamache, Janet Moreland and others have.
These are just a few of the paddlers who have completed longer solo trips than Gienieczko. His sponsors probably never heard of any of them. Even if they had, the Guinness name would bring publicity, and publicity would bring money.
As dubious as Gienieczko's distance record may be, he has a far stronger claim than the two others Guinness has celebrated for the "Longest Journey by Canoe (Kayak) Solo." The record first entered the Guinness annals at the rather mundane distance of 327 miles, set by Daniel Bloom over 10 days in June 2006 on the Thames River in England.
"The main reason for the record was publicity to raise money for charity," Bloom says now. There was no Guinness record in the category at the time, so it was easy enough for Bloom to set one. Ott, the Guinness spokesperson from New York, says that new records are vetted to make sure they're credible, but it hardly seems likely that was done in this case. Still, so what? Bloom raised money for a good cause, and I can't imagine the likes of Paul Caffyn or Mike Ranta begrudging such an obviously implausible record.
The next to claim the record was Helen Skelton, a bombshell British TV presenter with a penchant for high-profile sporting spectacles, such as riding a bicycle to the South Pole. In early 2010, she allegedly paddled 2,010 miles on the Amazon from Nauta, Peru to Almeirim, Brazil. Guinness certified two records from the trip—the longest solo paddle, and another for the "the longest distance in a kayak in 24 hours by a woman," 75 miles. The expedition raised money for charity, and also raised some hackles in the paddling community.
"My favorite Guinness hall of shame entry is the Helen Skelton debacle," says West Hansen, a champion ultra-marathon canoeist who led the first complete descent of the Amazon from its newly discovered most-distant source in 2012. Hansen is suspicious of Skelton's timeline, which shows her matching the pace that Hansen and his team maintained in their 2012 expedition, which remains the fastest Amazon descent on record. Hansen's group had decades of ultra-marathon race experience and used much faster kayaks with wing blades. Yet somehow Skelton—a paddling novice who battled a stomach ailment and took time away from the river to attend Carnaval—maintained the same pace as a group of trained racers at their limit. Hansen doesn't buy it, and he scoffs at her 24-hour claim. "Creating a 24-hour distance record with a distance most female paddlers consider a long training run?" he says. "Don't get me started." (When marathon paddler Katie Pfefferkorn-Mansker learned of Skelton's claim, she promptly set a new record of 192.1 miles.)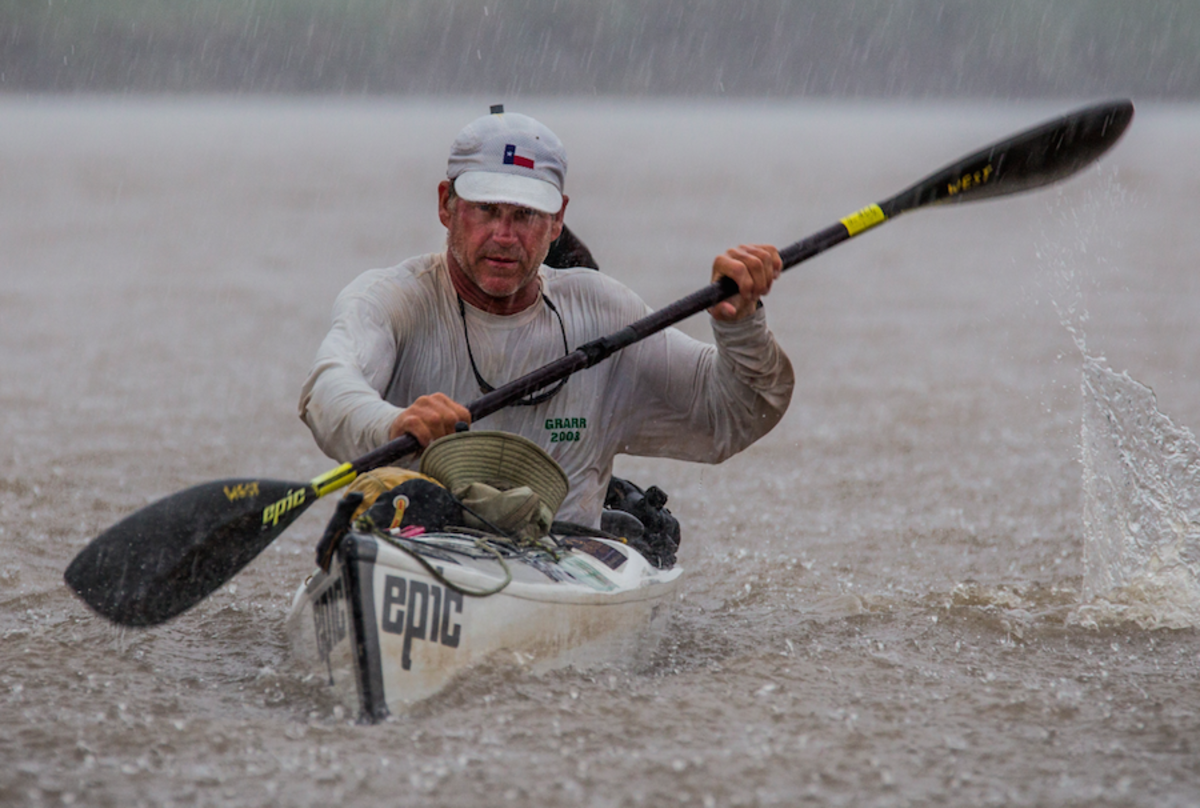 For years, I've resisted writing anything about Guinness's incompetence and indifference about all things paddling-related. At C&K, we don't much care for superlatives. We're much more interested in the story and style of an expedition than some contrived 'first' or 'only.' I think that comes down to the river-runner in us. To put it into a tidy cliché, we know what the sport of paddling is about. It is not about records. It is certainly not about money or fame.
Paddling is something that you do for your own reasons, reasons that even your closest friends and family may not understand. My unsolicited advice to Marcin Gienieczko is to drop it. Stand on your considerable achievements and what they mean to you. Let Guinness go back to barking at carnivals. As paddlers, our place is on the water, bows pointing ahead.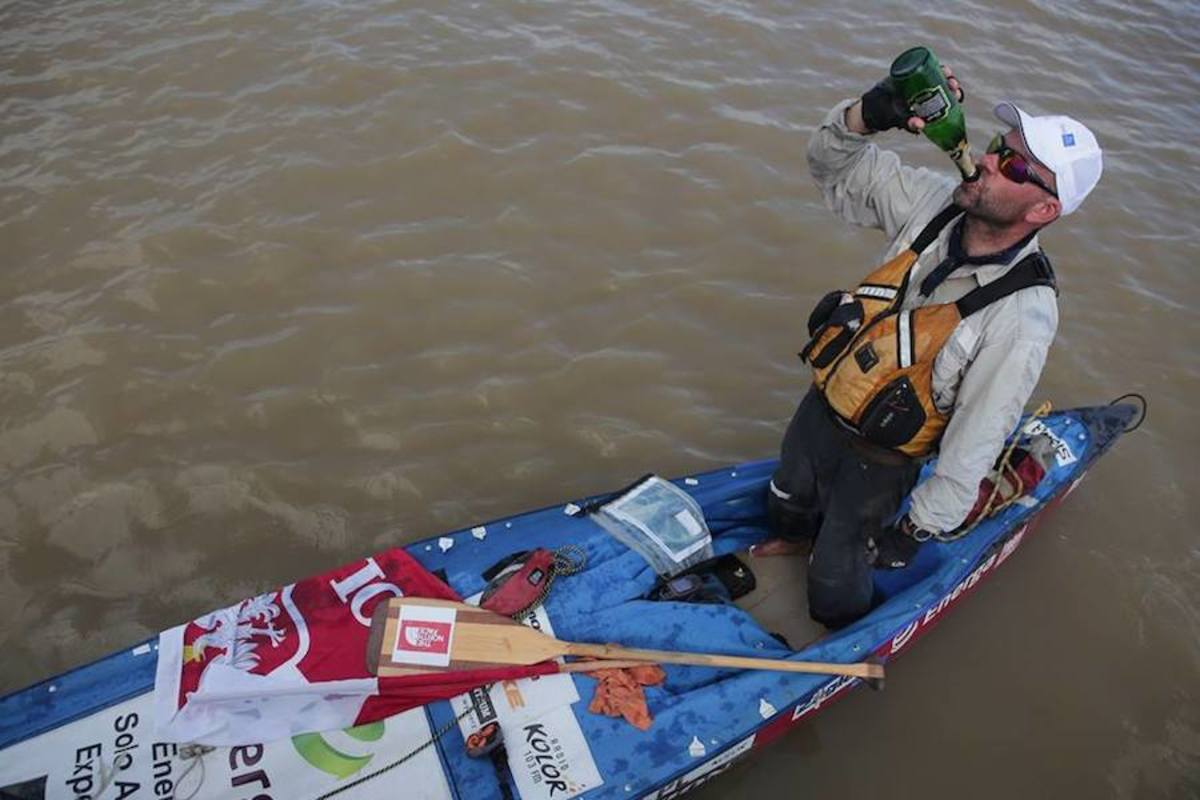 The article was originally published on Canoe & Kayak
For access to exclusive gear videos, celebrity interviews, and more, subscribe on YouTube!