While it's probably fun to be Marco Andretti, the model-dating scion of the great racing family, sometimes it's tough to live up to his last name. "Being an Andretti is a double-edged sword," he says while unbuttoning his shirt at the end of a long day. "You have everyone in your corner, but you also have these huge expectations." He's been able to live up to most of them by earning Indy 500 Rookie of the Year honors and taking home two career victories, but Marco wants more. His next chance to separate himself from the famous pack comes this Sunday at the Indy 500, where he's hoping to become the first Andretti to win the race since his grandfather Mario captured the title 45 years ago. We sat down with Marco to talk about his legacy, the Andretti women, and what a victory at Indy would mean for his career.
Did you ever want to do anything but race?
The way I started, I went into the sport thinking I just had to do it. That's what the third Andretti does. And I found myself winning races and going home and just never smiling or enjoying it. I put so much unnecessary pressure on myself to succeed that it was overwhelming, so I backed away from it. 
How old were you then?
I was nine.
I mean…
[Laughs.] Maybe it was reverse psychology, but they were like, "You really don't have to do it if you don't want to." I think I mainly did it just to see what my father and grandfather would do. But once I was away from it, I truly missed it. I think I needed to feel what it was like to not drive, and to have it be my own decision. And my dad was totally hands-off. I went and found sponsors with my mom, and then I was winning and having fun. That's when we, as drivers, are doing our best work.
But you still carried the Andretti name?
Yeah, but I had to win like everybody else. We all have our own path to carve. I've had doors opened for me because of my name, but I still have to walk through them. 
How do you hope to set yourself apart from your father and grandfather?
Winning the Indy 500 would really make me relevant in the sport. Marco Andretti, not just Andretti. My team has led almost 1000 laps, but we just need to win more. I wish I had more to show for it. I'm still young, but I never use that excuse. Winning Indy twice, and maybe adding a couple championships, would put me up there with my father and grandfather in the record books.
How good are your odds at Indy?
It's extremely competitive from top to bottom right now. There are probably 20 guys that can win the Indy 500 this Sunday, and I think that's a big reason why it's cool for the fans. You don't know who's going to win.
What kind of workout do you keep for driving Indy Cars?
Well what's unique about Indy cars is that we don't have power steering. We have a ton of down force, enough that we can run inverted and upside-down. It beats you up, so you have core exercises, normal weight lifting, and I do a ton of endurance running. You need to be able to sustain a certain heart rate. Sometimes we run races without cautions, pushing the entire time. It's hard for the casual race fan to relate and to realize how difficult it really is. On a hot day, it can be brutal.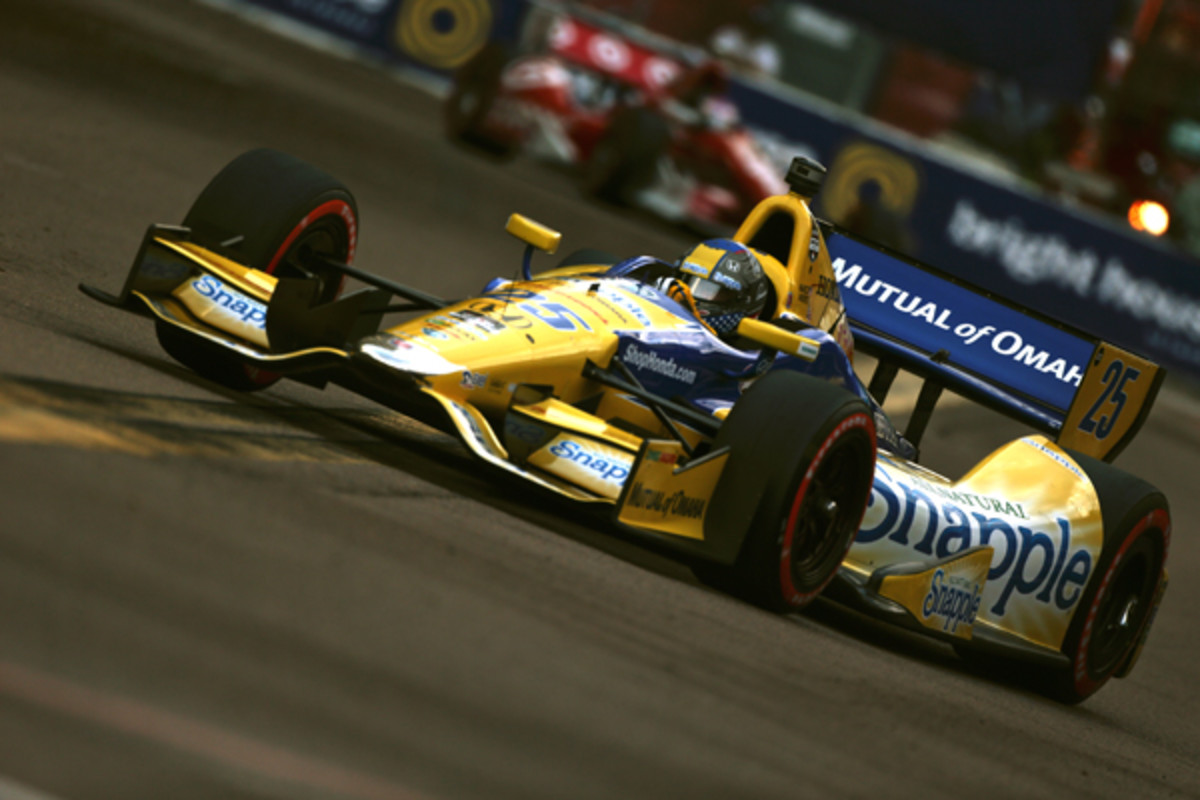 How are your workouts different from back when Mario was driving?
My grandfather was in the car all the time, and that's really the best way to work out. You can run on the treadmill all you want, but if you're not in the racecar all the time, you're going to breathe heavy in a race. You use different muscles, and there are some races and courses that, after lap four you think, "There's no way I'm making it." But you start hitting your marks, your heart rate comes down, you take your mind off of it and adjust. Back then they were in the car all the time.
We know so much about the men, but what are the Andretti women like?
They're extremely supportive. I give my grandma a lot of credit, because I don't think my grandfather could have been as successful as he was with a woman that demands more time. She was all about the racing, too. She's the backbone of the family. She likes her cigars and she doesn't take BS from anyone about anything. He needed the type of woman that knew he wasn't going to be home for three days, because he's at the shop or on the track or doing this or that. Nothing worthwhile comes without a sacrifice, and that's where I really credit the women. They know our schedules are hectic and we might not call for hours on end.
Are they still nervous every time you get in the cockpit?
I'm sure. My grandma always says, 'Be careful.' She never says "good luck", never says "go win". She just says "Be careful… but go fast." 
Ever wonder what life would be like if your father was an accountant?
I would have had to get better grades and be present at school. [Laughs.] A lot of things would have to be different. I'm not sure. I don't really have an answer, but that's because I'm so blessed to be in this situation.
For access to exclusive gear videos, celebrity interviews, and more, subscribe on YouTube!