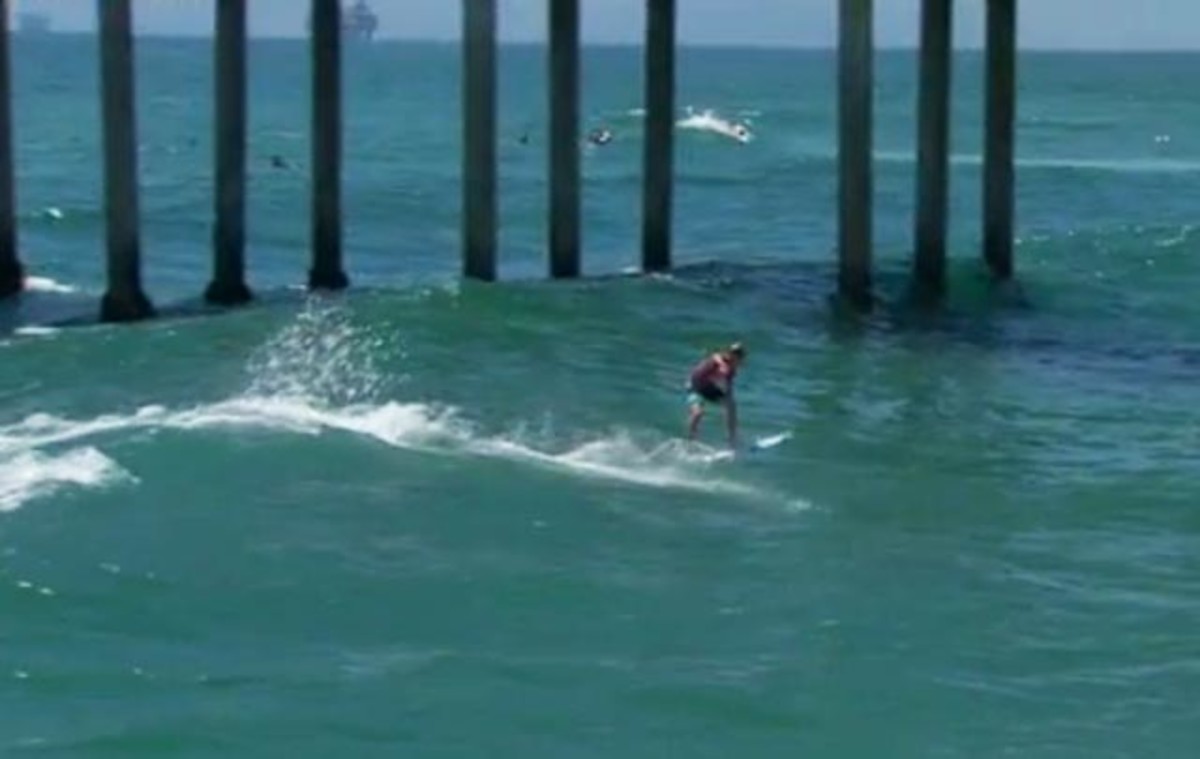 Think about it: Is there anywhere else in the world that has a specific maneuver named after it? The Pipeline pullout? Never heard of it. The Sunset straighten out? Negative. The G-Land jammer? Nope. Yet everyone has heard of the "Huntington Hop." It involves a series of pumps, jumps, hops, weaves, and a bit of luck. When executed successfully, the Huntington Hop allows a surfer make it from the outside, through a deep spot where the wave tends to peter out, and into the Huntington Beach shorebreak where a big turn or air can rack up more points.
For competitors in the Vans U.S. Open of Surfing, it's something you have to be able to do to accrue enough points to make it into the next round. It's not the prettiest maneuver, but a U.S. Open has never been won without some serious hops. We caught up with Vans team rider and Puerto Rican superstar Dylan Graves to get the scoop on the infamous Huntington Hop …

So what's the trick to the Huntington Hop? Are there certain waves or tides that make it easier to make it through to the inside?
I don't have too much experience with it, but I've done enough contests there to know that the trick is to hop your brains out!
The Huntington Hop seems tiring. Is there some kind of training you can do to prepare for it?
Get on a trampoline. You just gotta grind it out. Actually, the dance floor is great training for the Huntington Hop. Get all low. Twerking helps, too.
How many more points do U.S. Open contestants get when they successfully execute the Hop?
If you hop successfully into a nice section on the inside you could get three or four more points [in a 10-point scale]. The judges really like when you finish strong on the inside.
Is there any way to make the Huntington Hop a little more pleasing to the eye?
I don't think so. It's pretty grind-y. It is what is, you know? You can't try to hide it; it's more function and less fashion. Some guys dream weave [weaving through rather than hopping] it though. I don't know if you get more points for that—but it definitely looks better.
Who really sticks out when you think of guys who can do the Huntington Hop?
I've seen Adriano de Souza make some inside connectors that were near impossible. I gotta give it up to him; it's like he's got Turtle Wax or jets on the bottom of his board!
To see the Huntington Hop live, log on to vansusopenofsurfing.com/live; it's the one maneuver you can count on to see just about every ride!
More U.S. Open coverage on GrindTV
Aerial antics at the Vans U.S. Open of Surfing
5 reasons to check out the Vans U.S. Open of Surfing
Kelly Slater pulls out of the U.S. Open
For access to exclusive gear videos, celebrity interviews, and more, subscribe on YouTube!