New Hampshire's Korey Nolan recently collected 1,000 Expanded Polystyrene foam Dunkin Donuts Coffee Cups to make a surfboard.
"From what I understand, they sell an average of 30 cups of coffee per second worldwide. In consideration of my creation and assuming there are about 700 coffee cups in the board, I could have enough material to make a new surfboard every 23.3 seconds," Nolan tells ASN.
He built the board as an entry to the Creators & Innovators Upcycle Contest presented by Vissla and the Surfrider Foundation, which inspires people to create surfcraft from something that would otherwise be considered "waste." Last year's winner, Taylor Lane built a fish using thousands of cigarette butts.
"The hot cups are made from expanded polystyrene foam, or EPS, which is also a common surfboard blank material," says Nolan. "At this point in my deliberation, it was clear that these cups would be a worthy and effective source of flotation for a surfboard."
Either way, that's a whole lot of cups. EPS (like polyeurethane) is a toxic product made of fossil fuels, which are the main source of greenhouse gasses and climate change. It's used in surfboards but also the cups (which are designed for a single use and then likely discarded). Obviously, this surfboard is a great reminder of how convenience is hurting the planet.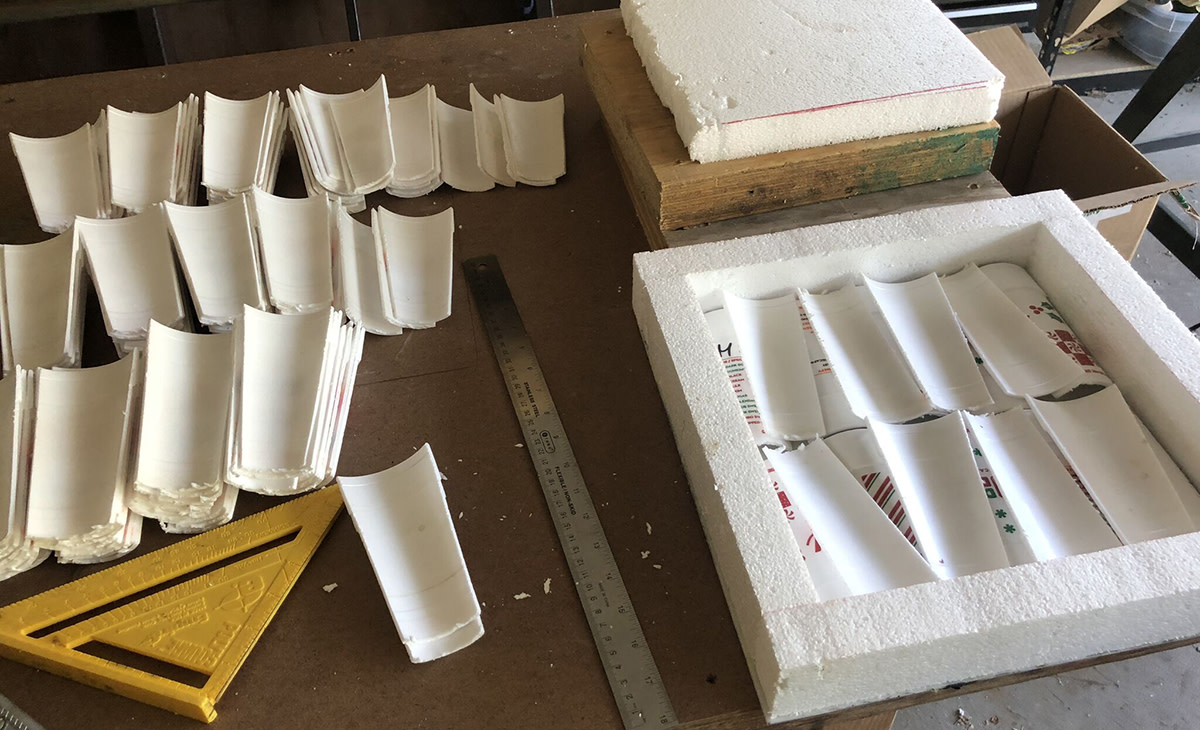 Though he builds artistic custom surf fins out of alternative materials, this was Nolan's first surfboard. He is, by trade, a graphic designer and production facilitator at a sign shop but he also has the label Primal Snowboards where he builds snowcraft out of eco-conscious materials (e.g. bamboo-core, basalt fiber cloth, and Entropy epoxy resins).
He began collecting cups for this board last November and had gathered 1,000 by June.
"I estimated that this number would give me roughly what I would need to make a 6'x22″x3″ foam blank, with some to spare. A majority of them came from friends and family, and some were collected by me," Nolan tells ASN.
It was quite a process that began with cutting the sides of the cup into four pieces that look like terracotta roof tiles. He discovered that a simple glue wouldn't do the trick and ended up using Entropy CPM compression epoxy.
"It's a great environmentally friendly option for snowboard building. It can be heat cured in under an hour, which is what I ended up doing with the help of a silicone heat blanket from my pneumatic snowboard press," he explains.
That meant creating a mold to compress the cups into a shapeable blank. This is where his know-how really came in handy as he used a waste piece of wood from the sign shop, and CNC routed the panel of wood into individual ribs for a mold that would include the final rocker profile.
"I used this mold to create a left and right blank of foam to which I glued a snowboard waste bamboo stringer between," says Nolan.
But, the most time-consuming step of the build was hand laying the cup chunks into the mold and brushing each one with epoxy.
"I was able to lay down four layers of 70 cup chunks at once, then compress and heat the mold before the resin began to kick in on its own," he explains. "This was only possible with the (much appreciated) assistance of my wife, Becky. In the end I had a 6'x22″x3″ blank of foam and epoxy, with the correct rocker built into the layup."
The shaping process was fairly traditional compared to building the actual blank, but Nolan still found it to be the the most difficult, simply because he'd never shaped a surfboard.
"I chose a Mini Simmons," he says. "First, I felt it alluded to the shape of a foam coffee cup. Also, I wanted something that was buoyant for its size that packed in a lot of foam and was known for paddling well. This was because I knew I'd be using a lot of epoxy to bind the cups together that would work against their buoyancy.
"The first time I paddled the board into a wave, I knew it was going to actually work. That was the greatest feeling of all, to have turned refuse into something useful that I will have forever."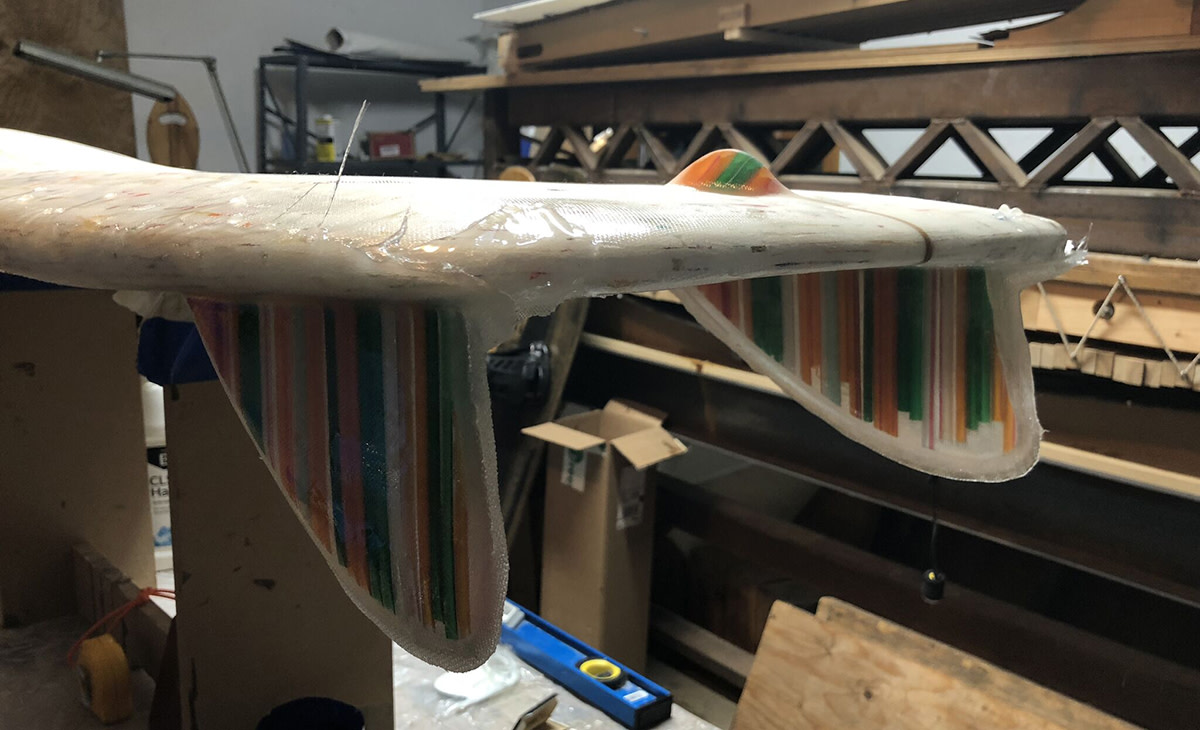 And the entire process has been documented on his Instagram page. Nolan says it wouldn't be possible without the help of his wife and family, advice from New Jersey shaper Johnny Borbone, his boss who allowed him to use equipment and everyone who gave him cups.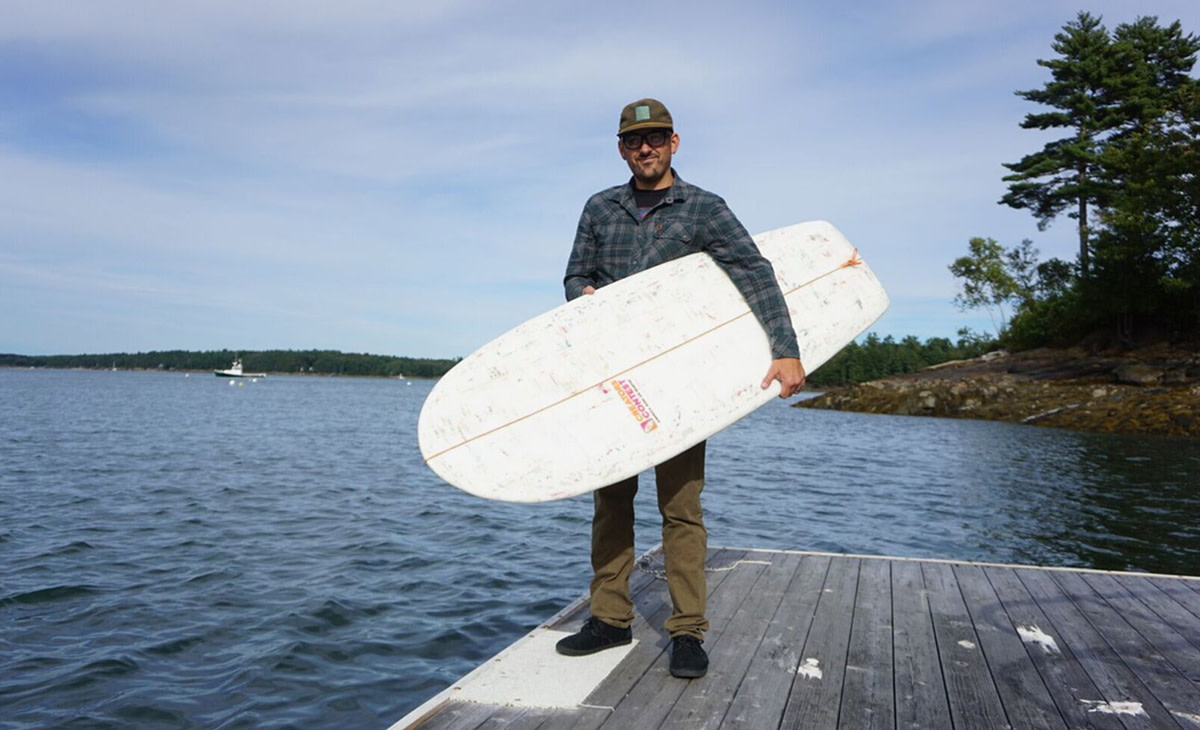 "My personal choices in my life are formed by how I will leave this earth in the hands of my daughter and others. From eating a plant-based diet, to buying products with little to no packaging, these are things I do to try and reduce my detrimental impact on the world," Nolan tells ASN. "I began to contemplate what other forms of waste permeate our landscape and cause considerable ecological damage. It has already exceeded my expectations, and been shared by people who I regard highly – influential people who should overlook me as a novice shaper and kook-dad."
Nolan has proved to not only be talented and innovative, but also thoughtful.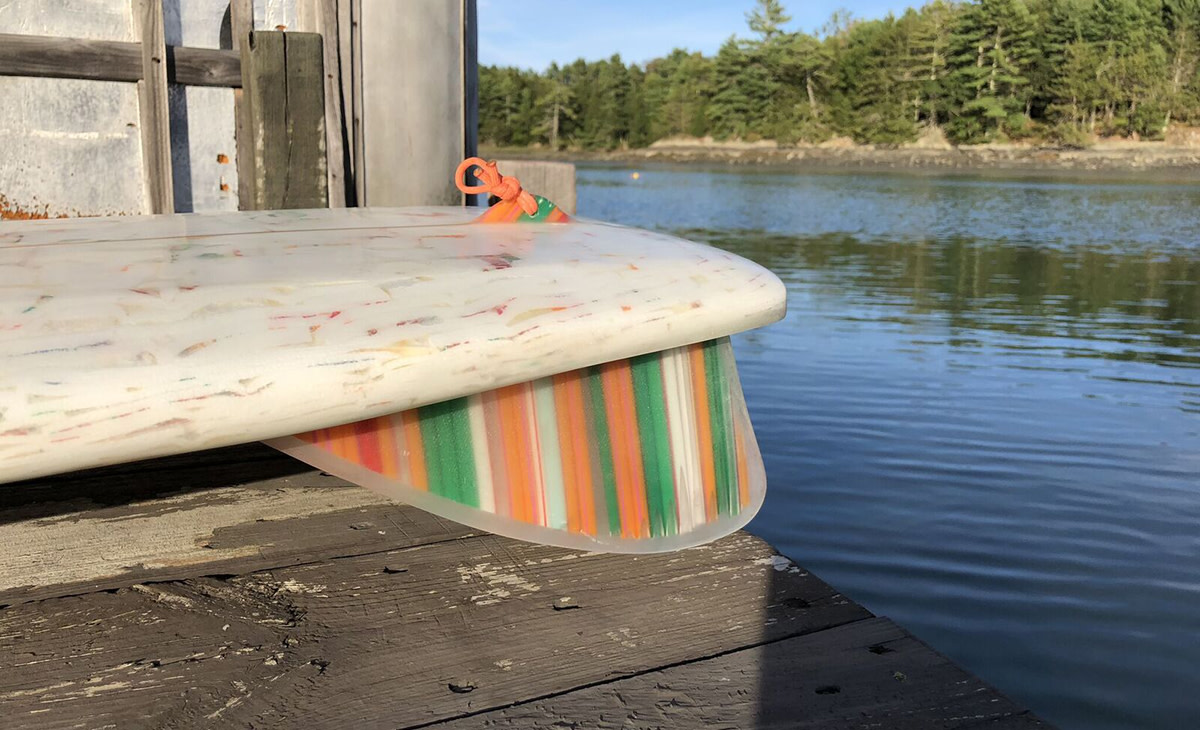 "I needed help collecting cups, but at the same time, was hoping to raise awareness for overconsumption of disposable products," he continues. "In the end, I've had mixed feelings about how to thank the people who have helped so essentially with this project. I can only truly say 'thank you' to them, and hope they can reflect on the impact this project has had on ecological awareness, and that they understand why I feel so passionately about this."
The board has officially been entered into Creators & Innovators. Nolan knows he's up against some stiff competition worldwide and is more inspired by his contemporaries for their use of waste product than he is competitive.
For access to exclusive gear videos, celebrity interviews, and more, subscribe on YouTube!