In the summer of 2004, Laura May was shopping with her mother when she glanced in the fitting room mirror and noticed something was "off" — her spine looked abnormal and her right shoulder appeared to be jutting out.
She scheduled an emergency appointment for the next day, where an X-ray would reveal a curvature of the spine: Scoliosis, a fairly common condition among girls going through puberty. Her doctor recommended surgery to help remedy the problem, wherein a surgeon would place two medal rods next to her spine to help guide it straight and prevent her spine from pulling on her internal organs.
"I went in for surgery on February 25, 2005," May says. "That was the last time I ever walked a step."
May emerged from the operating floor paralyzed from the chest down. A subsequent six-year court case that ended in the high court in London would reveal that her surgeon had been negligent, using the wrong equipment and, as a result, inserting a screw into her spinal cord at chest level. She has no feeling, movement, bladder or bowel control from that point in her spine down, and the two titanium rods in her back run from the top of her hips to her shoulders, impacting her mobility as much as the paralysis itself.
In the span of a few hours, May had gone from a healthy 11-year-old who spent her afternoons riding her bike and playing the river near her home to one confined to a wheelchair.
"When I woke up from my operation unable to feel my legs, one of my first thoughts was 'What about my bike?'" May remembers. She was introduced to hand cycling in rehab. "You're 'encouraged' into disability sport; I have never been so upset. I thought it might have been the answer and it'd feel like riding a bike, but the reality is dismal."
The months and years that followed were filled with outrage, disappointment and devastation as May realized not only would she never ride a bike again, but the scoliosis in her spine and metal rods in her back would even hinder her ability to pursue hand cycling. Then, she discovered a UK charity called Back Up, which designs multi-activity courses for teens with spinal cord injuries.
"I canoed, camped and did a lot of things I thought I couldn't do," she says. "I spent every year at school looking forward to a week with Back Up. It was only when I was 17, on my final course, that I realized I should maybe pursue some of these activities and give them a go."
Now 22 years old, the Lancashire, England-native is an Outdoor Studies student at MMU Cheshire. She's an avid sit skier, mountain triker and volunteer who helps other people with disabilities enjoy the outdoors. But what surprises most people to learn? May is a rock climber.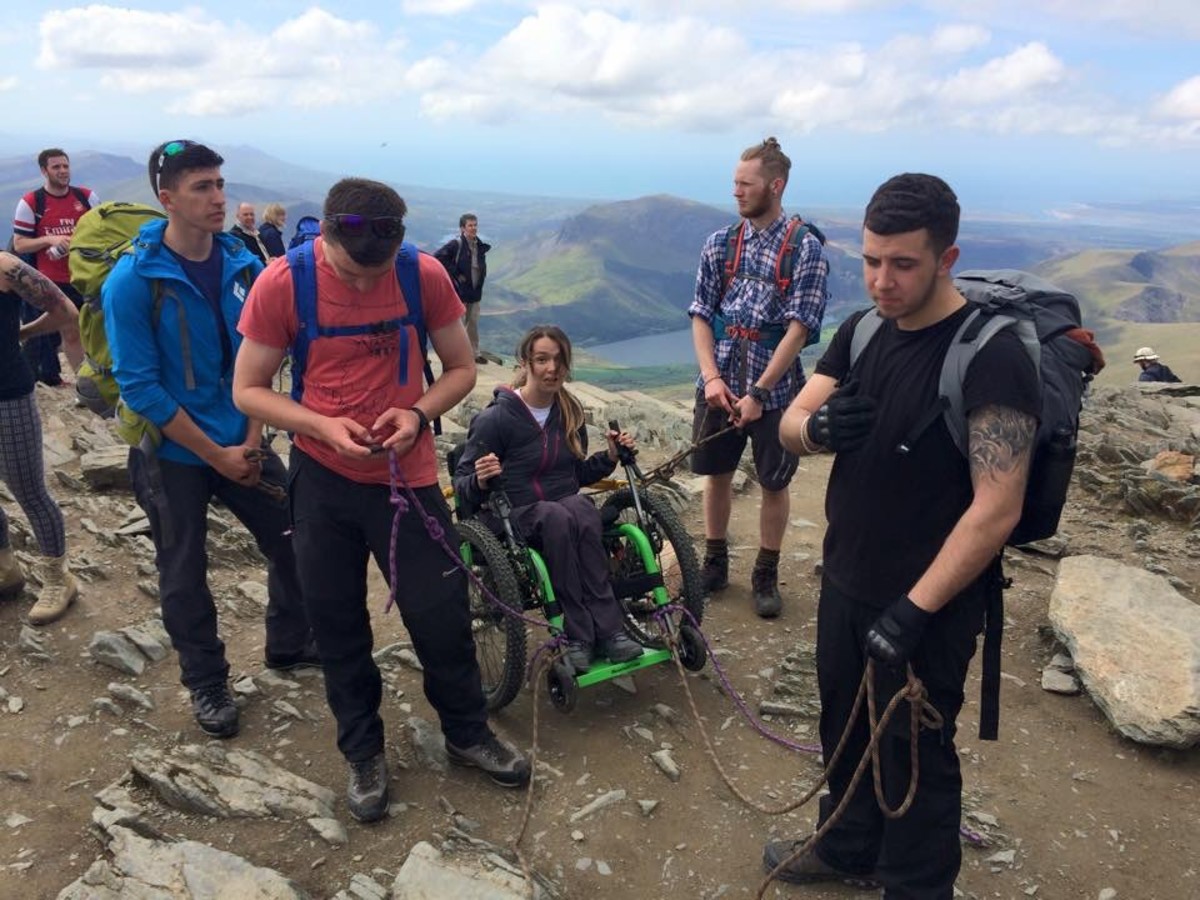 With the help of her fellow volunteer instructors, she learned to use a specialized chest harness and belay system that wouldn't apply pressure to the skin she sits on, which could cause pressure sores that would lead to months or even years of bed rest. She began to work with personal trainers, focusing on building her back and shoulder strength and learning new techniques that would help her climb.
"I'm slowly picking certain grip techniques and using them to literally pull myself up the wall or crag," she explains. "I also find that I can still use parts of my body that I don't necessarily control in the conventional way to swing and make progress and find the next hold."
May began chronicling her adaptive outdoor adventures on a personal blog. It's there where she gets honest about the complexities of her disability, and the mental health struggles that have stemmed from her injuries.
"We live surrounded by social media and seeing everyone go out and 'live,' and it's extremely easy to get bogged down in your own thoughts," she says. "I see so many support groups on Facebook for people with spinal cord injuries and I actually find them pretty depressing. The outdoors made me realize I could be free and do what I wanted. So every time I get out and have even just a short trike with my dog, I feel better in my head. Spending time in the natural world and getting my heart pumping, and feeling like I'm using my strength really gives me a sense of happiness and freedom that I think helps with my mental health a lot."
Through her outdoor pursuits and blog, May is also highlighting another huge obstacle facing outdoor enthusiasts with disabilities: accessibility to natural places.
"I'm not asking for mountains to be made into tarmac ramps," she explains. "Simple things like replacing styles or walls that have to be climbed over or creating accessible parking spaces where there's already a [parking lot] make all the difference in the world."
May says there's a growing demographic of adaptive athletes who would rather go climbing than play traditional wheelchair sports.
"I did, and sometimes still do, find the idea that 'everyone in a wheelchair should play wheelchair basketball' patronizing and incredibly alienating when you have no interest in it whatsoever," she says. "It can have a completely negative impact on you to the point where you don't wish to engage in exercise at all, and that's how I was for quite a long time. So I'd like people with and without disabilities to see that you can still do a hell of a lot more than you might think, and it doesn't have to be the 'conventional wheelchair' way. You can just be you. I just happen to be a girl who likes playing outside!"
May hopes her story will encourage outdoor media outlets and people in positions of power within the outdoor industry to start thinking differently about the scope of adaptive action and outdoor sports, and bring awareness to para-climbing, mountain triking and sit-skiing.
"Sitskiing is awesome," she laughs. "I'm terrible at it as my spine isn't straight and anyone who skis know how important it is to be straight, but I'm finding my own way. Just the feeling of traveling in a different way to wheels and feeling completely equal to other people around you on the slope is a pretty cool feeling."
More from GrindTV
The 'Slurpee Wave' photographer is at it again
Here are the 5 best honeymoon destinations for surfers
Late-spring athleisure items for the sporty guy
For access to exclusive gear videos, celebrity interviews, and more, subscribe on YouTube!