Mike Libecki was halfway up a 2,500-foot tower in Afghanistan's Koh-i-baba Mountains when he ran into an overhanging two-ton boulder the size of a garage door that was clinging precariously to the wall. "I have a rock hammer, and bonnnng – it's just hollow," says the tireless explorer. "My experience told me it was going to hold, yet it was hollow. I didn't know what to do." Libecki, fingers jammed into tiny cracks in the crumbling limestone, crawled underneath and around it. A few minutes later, the semi-detached rock came thundering down, shredding two of Libecki's ropes. Had it given way 10 minutes earlier, the boulder would have crushed him. "It was too close," he admits, "and frightening as fuck."
Libecki tells this story as a way of illustrating the hazards of searching out what he calls "virgin earth," the summits of the world that have yet to be touched by mankind. For the past two decades, Libecki has carved a niche for himself in the expedition world by obsessively pursuing first ascents. At 41 years old, he's claimed more than 50 first ascents on 50-plus expeditions: in Greenland, China, Madagascar, Kyrgyzstan, Uzbekistan, Tajikistan, Papua New Guinea, Venezuela, Yemen, and Antarctica, among other places.
"I think people get caught up in thinking that the earth is tapped," says Libecki. "But it's totally untrue."
RELATED: The 2015 Adventure Race Calendar

In the case of the Koh-i-baba Mountains, Libecki's curiosity was piqued when he glimpsed three spectacular summits in the background of a photo in National Geographic. Libecki spent two years tirelessly researching the area, attaining a visa, and setting up a rescue plan that involved two different security companies. His payoff was three virgin-earth summits.
"You can't explore by map," says Libecki. "You have to suffer and feel and breathe and eat and taste and smell. That's exploration."
In Franz Josef Land, an isolated Russian archipelago above the Arctic Circle, Libecki made three separate trips to climb one rock tower – the first attempt thwarted by Russian bureaucracy and the second by lurking polar bears.
"Without that misery and suffering, it wouldn't be the same payoff and joy," he says.
Of course, he's not always first. Once on Socotra Island, in Yemen, Libecki spent three days climbing a tower only to reach the top and find a neatly arranged pile of stones covered in lichen and moss. When analyzed by a Yemeni botanist, the pile was determined to be at least 90 years old.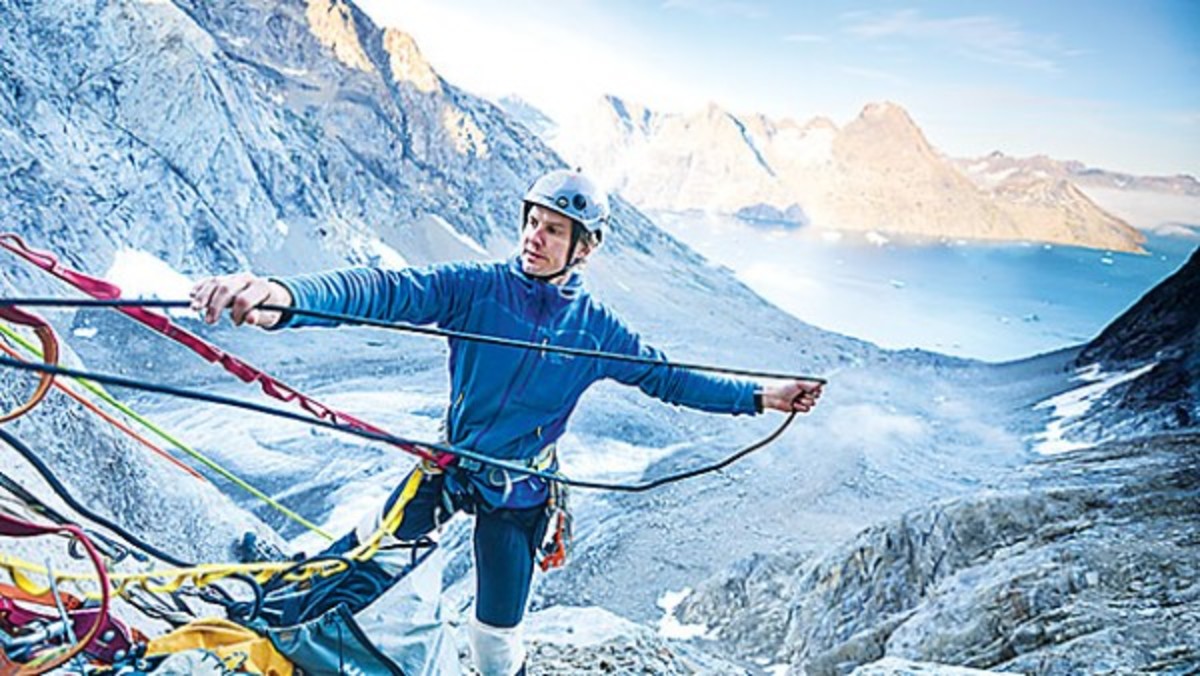 (Photograph by Keith Ladzinski)
"That's part of the exploration process, to find out if anyone has ever been there before," says Libecki. "You don't know until you go."
Moving quickly, packing light, and often going it alone, he stands in stark contrast to many of the past "first" expeditions, which generally relied on massive funding and manpower. But being fast, light, and alone also puts him at great risk.
"It's amazing he's still alive," says veteran polar explorer Will Steger. "Not many people can survive what he's done. It's much more dangerous than the Arctic trips I take."
In 1998, on an expedition to Canada's Baffin Island, Libecki spent 32 days living in a portaledge dangling off a 4,200-foot rock wall. He spent five weeks in Queen Maud Land, Antarctica, in 2005, battling below-zero temperatures and punishing winds to summit a 2,000-foot rock tower solo. In 2012 he and noted sports climber Ethan Pringle made a grueling first ascent on the southeast coast of Greenland. They were on the move for nearly 60 hours straight, taking catnaps on five-foot-wide ledges.
During that expedition, Angie Payne, a boulderer who was along for the ride, woke up one morning, sore and exhausted after a two-day trek, to find Libecki already up and packing his bag, his sights set on another distant peak.
"It's sunny, and you just see this kind of fire in Mike's eyes," says Payne. "Mike was like, 'I gotta do the first ascent of that tower,' and he just went off on his own."
Libecki says another group, a team with whom he was friendly, was also eyeing the peak, and he wanted to get ahead of them. "I ran up there, speed-climbed this thing, and got the first ascent by two days," he says. "I was psyched because I was obsessed with the first ascent. It's very real."
Libecki's fixation with peaks traces back to his teenage years in Yosemite National Park, where he worked at the Mountain Shop, one of the climbing world's most famous stores. It was the perfect apprenticeship for a wannabe climbing bum. After dropping out of Fresno City College his freshman year, he pursued climbing full-time.
"I do it because I love it," he says. "It's about joy and being able to follow organic passion."
His other passion these days is his 11-year-old daughter, Lilliana. He gushes on as much about her as he does about upcoming expeditions: He coached her soccer team for five years, volunteers in her classroom, even won the local father-of-the-year title at her school.
"When I'm home, I'm a full-time dad," he says. And when he's away, Lilliana's mother takes care of her.
Like most adventurers, he's supported his expeditions, which can cost upwards of $50,000, through sponsorships, writing and taking photographs for magazines, and testing gear for outdoor companies. There are also public-speaking engagements, with Libecki narrating a kind of vacation photo album that dwarfs anything you could possibly dream up – a roaring polar bear on ice, 60-mile-an-hour windstorms in Antarctica, the sun pounding down a jagged summit in Greenland. He's become a master at convincing audiences, through unrelenting optimism, that discovery is still possible on this finite planet. And he ends all his talks and emails with motivational slogans like "Dream big . . . and climb those dreams," "Why ration passion?" and "The time is now." (The last adage he credits to his grandmother Bertha, who encouraged him to pursue his love for travel.)
It would all smack of hokeyness if Libecki didn't hew so closely to his own gospel.
Next up, in November, is another trip to Antarctica, this one for three weeks with Lilliana while based on a ship. "It's an introduction for her to get into more remote places but be in a stable environment," says Libecki.
Of course, there are other, more ambitious trips in the works, too – there always are. Libecki's goal is to hit 100 expeditions before he turns 100. His plans call for a return to Greenland and Baffin Island, and what he calls a "big trip" to Siberia, where he'll attempt to hike from the Ural Mountains to the Arctic coast, hopefully finding several peaks to climb along the way and negotiating all the risks that come with being first – polar bears, minus-50-degree temperatures, two-ton rock falls.
"I have a shield of optimism around me," he says. "That's just what I do."
Mike Libecki's Greatest Adventures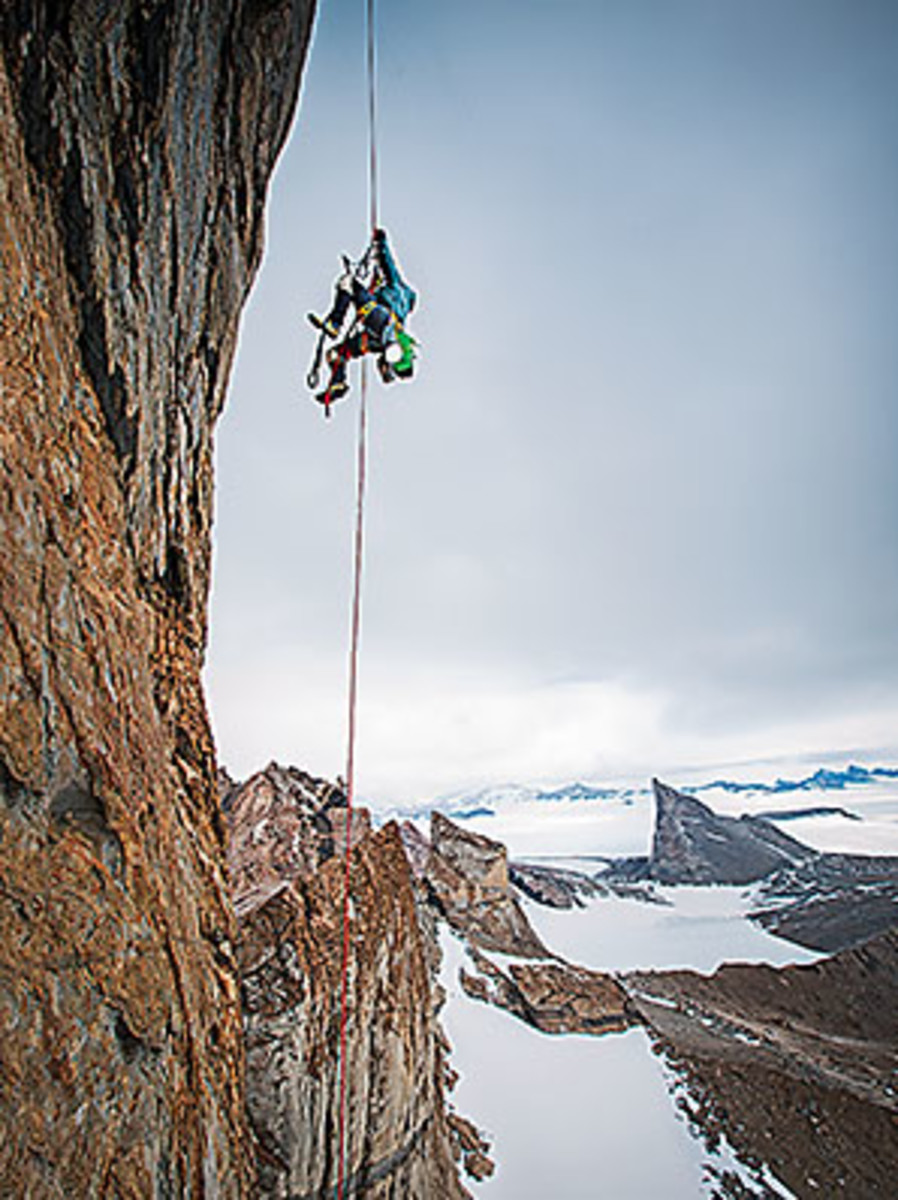 (Photograph by Corey Arnold)
Canada, 1998
Along with two other climbers, Libecki spent 32 continuous days bivouacking in a portaledge in negative temperatures to climb Walker Citadel, a 4,200-foot granite tower on Baffin Island.
Greenland, 2001
After discovering a glacial cirque in 1998 with dozens of unclimbed peaks, Libecki returned to scale a 2,200-foot spire. In eight trips to the island, he's notched eight first ascents.
Antarctica, 2003
To access an inland mountain range, Libecki kite-skied more than 200 miles across the frozen landscape. His payoff: first ascents on several unclimbed walls, towers, and spires.
China, 2013
Libecki, after getting arrested on a previous trip to the Tian Shan Mountains (it was an off-limits military area), returns with a permit and establishes the first multi-pitch ascent in the mountains.
For access to exclusive gear videos, celebrity interviews, and more, subscribe on YouTube!