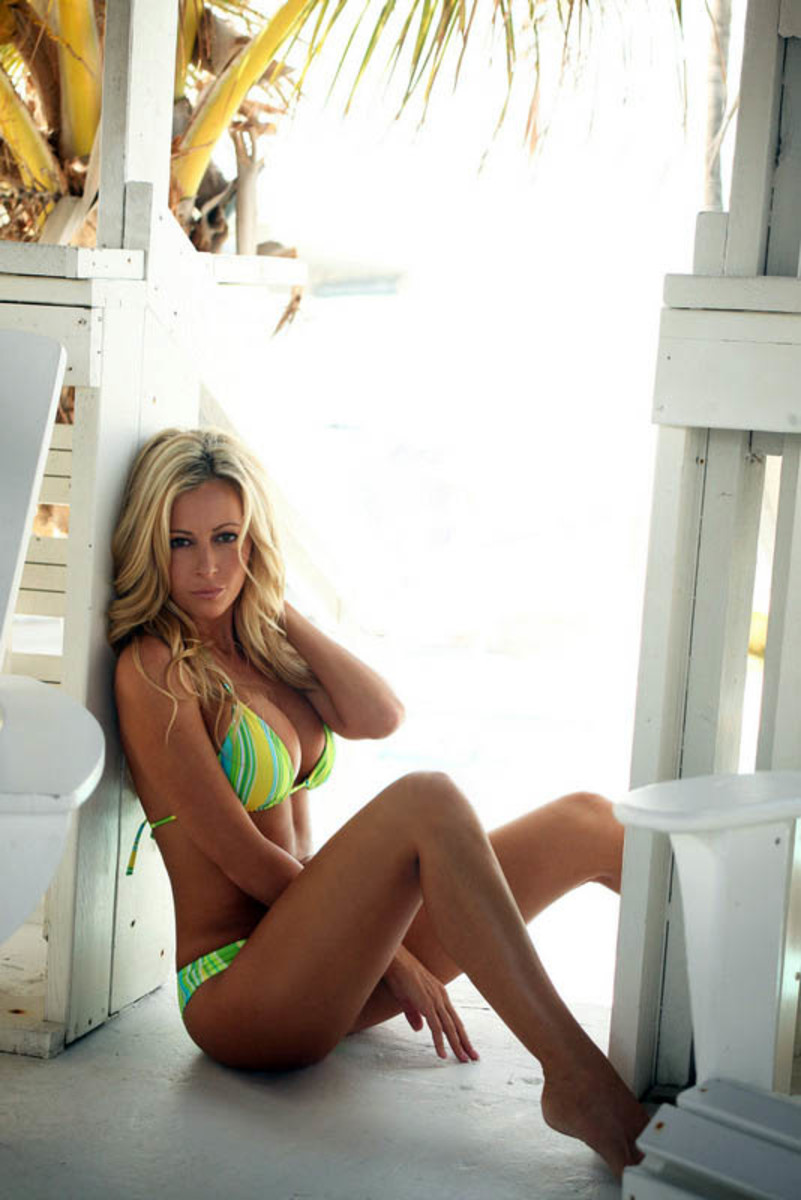 Congratulations to Tampa, Florida's Michelle Baker! The blonde vixen was a semifinalist in Maxim's 2009 Hometown Hotties contest, just to give you an idea of Michelle's previous accomplishments before being crowned Miss October. Here's a few fun facts on Michelle: she doesn't have any tattoos, loves flying planes, is a huge Chicago Cubs fan, and is most comfortable in a bikini on the beach.
Check out all the entries from October 2010.
Check out all the monthly winners in the Girls Of TransWorld SURF.
To enter the TransWorld SURF Model Search e-mail your photos to [email protected] Please add your name, age, hometown, and a bit of info about yourself. Contestants must be 18. Monthly winners receive a free swimsuit from B. Swim and sunglasses courtesy of Spy Optics and will also be in the running for the ultimate prize: Miss TransWorld SURF.

How did you hear about the TransWorld SURF Model Search?
A surfer friend told me about it.

Hometown?
Chicago originally, but I now live in sunny Florida—tt was just too cold up there and there's no beach!

Profession?
Model and yoga teacher

Do you surf at all?
I've been paddling on a long board a few times and it's really fun. I've only been on a surfboard once in my life but I would really love to learn. I'm really athletic and I love anything challenging or adventurous.

What's a typical day in sunny Florida like for you?
Wake up and go running, usually 3-4 miles, hot yoga class, possible shoot (usually on a beach somewhere), lunch is something light and healthy, and then I teach a sunset yoga class at my house outside, walk my dog, and have dinner with friends.

Any hidden talents? Hobbies?
I've taken flying lessons, and although its been a while, I can say that I can successfully take off and land a small plane. My other hobby is baking cookies. My signature cookie is Hawaiian chocolate chip, they have coconut and macadamia nuts in them. I like to bake a Baker's Dozen and send them to friends gift wrapped in the mail!

Place you've never been that you want to travel to?
Australia would be fun.

Do you have any names for your poses?
That's funny! Especially because I teach Yoga! Not really… can you help me think of some?

You're a Florida girl, does that mean you like 4x4ing and fishing?
I love the ocean so any time I'm on the water I am happy whether it's a boat, a board, or any kind of flotation device. I'm not really into fishing, but I can cook fish really amazing! I love 4×4's and getting muddy! That is the most fun ever! I do have an old pick up truck, but I also drive a Mini Cooper.

What's the best pick up line a guy ever used on you? Worst?
A guy came into my yoga class after he had seen me in the newspaper in an ad for the yoga studio and he said that I reminded him of a Christmas tree because when I smile I light up the whole room. I thought that was really sweet! The worst one… well, there have been a few. Another funny one that I remember was that my last name has to be Baker of course because I have the hottest set of buns he's ever seen. But it's best when guys don't use pick up lines, I just like it when guys are down to earth and genuine.

Anything else you want to add?
I'll be on "Bikini Destinations" on HDNET this month. Thanks so much for featuring me in TransWorld SURF!
For access to exclusive gear videos, celebrity interviews, and more, subscribe on YouTube!