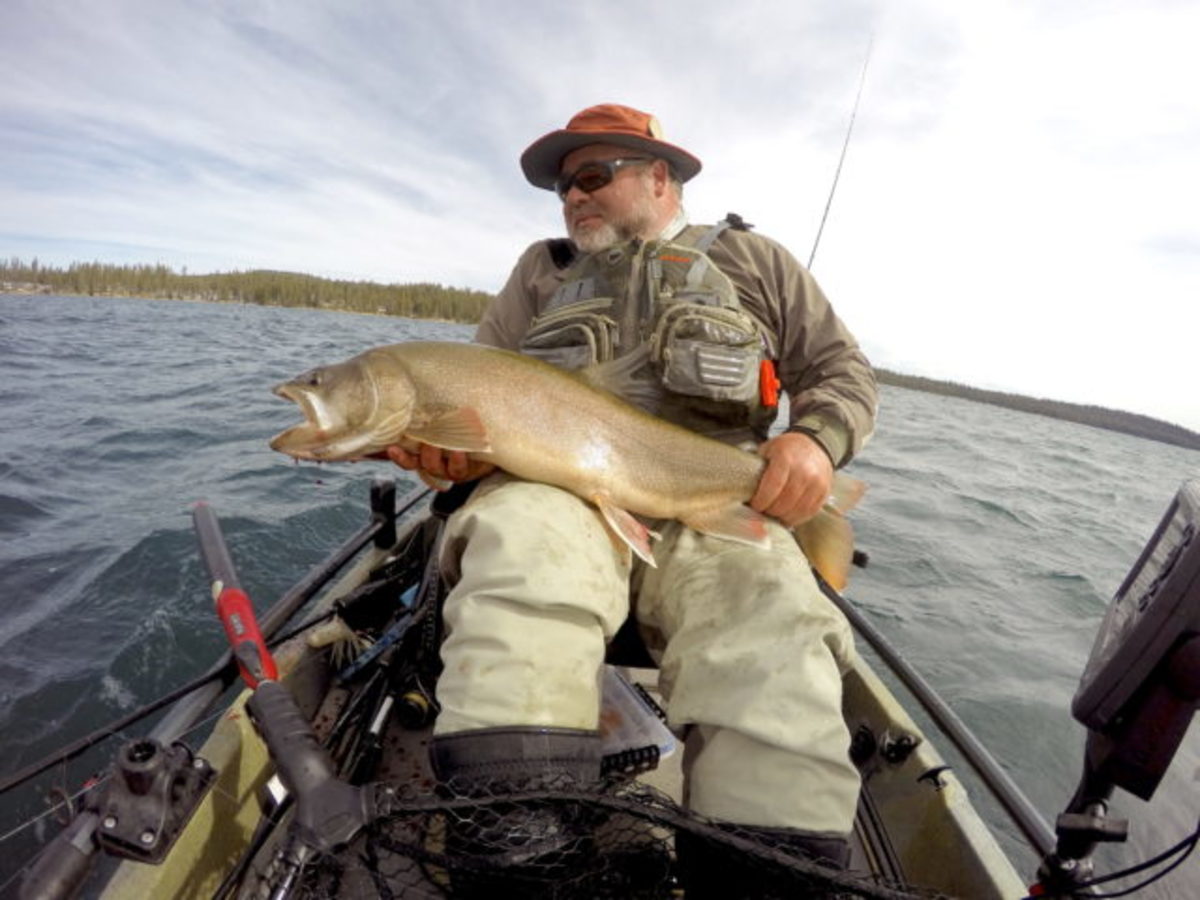 Crescent Lake sits nestled in the mountains between Klamath Falls and Bend Oregon. Anglers from around the region flock to the lake year round for Crescent's popular Kokanee Salmon fishery. But anglers aren't the only ones feeding on those delicious Kokanee. Crescent's population of trophy Mackinaw Lake Trout are often overlooked and under fished due partly because they spend the majority of their time laying on the bottom in 100 to 175 feet of water.
Having read and seen several photos of fish in the 15 to 20-pound range showing up online, Lake Crescent was definitely topping my list of lakes to visit. With an early March trip to Lake Shasta to fish a Hobie Worlds Qualifier for bass, Crescent Lake would be an easy stop on the long 10 hour drive back. It wasn't too hard to convince my travel partner to make the stop having put in several days of landing 13 to 17 inch spotted bass.
On the Move
We hit the road early leaving Redding, California at 4:30am. The four hour trip was only 30 minutes out of our way and close to the halfway point to returning to Seattle. We arrived at Lake Crescent to sunny skies and a thin layer of ice that separated the boat launch to the open waters of the lake. Thankfully, a couple of Kokanee Angler Boats had done the hard work of punching through the ice for us making an easy journey to deeper water.
We unloaded our Hobie kayaks, zipped up our dry suits and PFDs and broke through the crusty top layer like two mini ice breakers. A good fish finder was essential for marking fish just off the bottom. Mackinaw will sometimes arch if moving or be a straight line a few feet off the bottom when they aren't moving.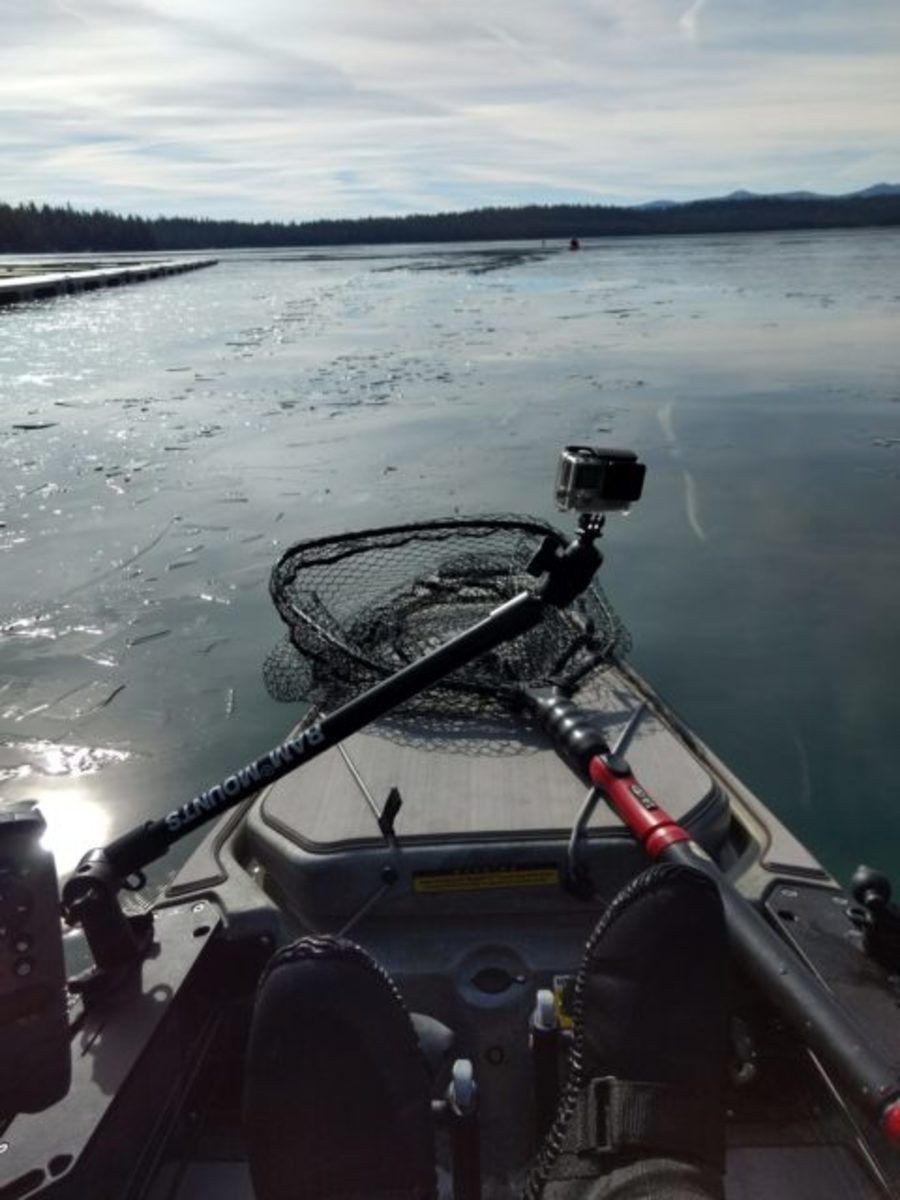 Getting Rigged & Hooking Up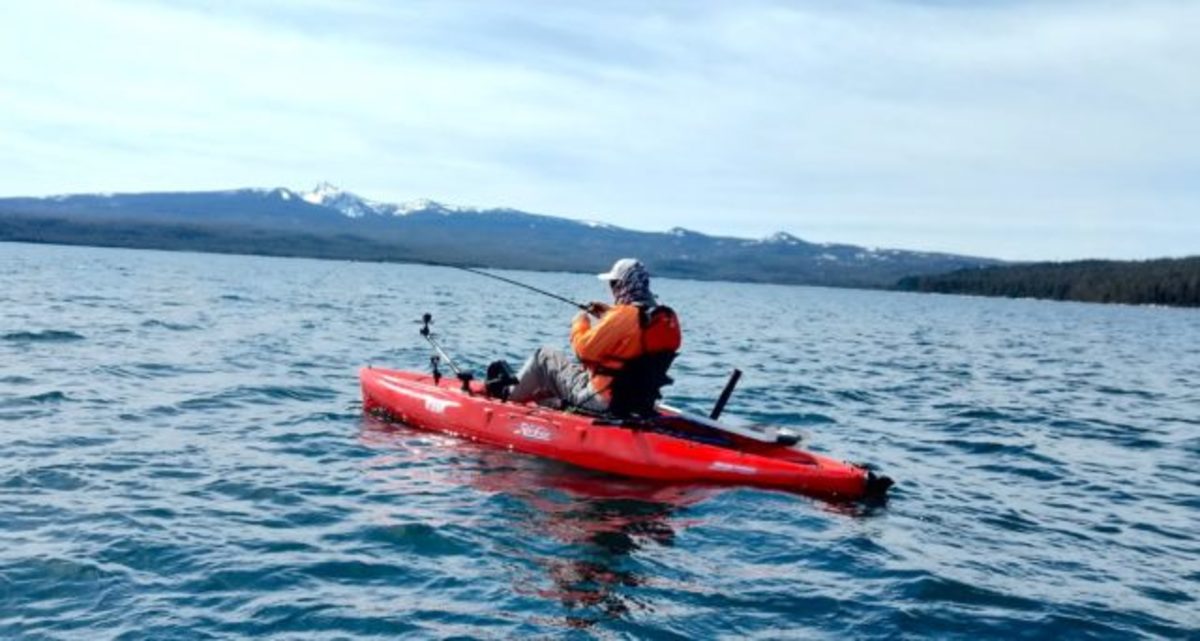 We skipped the heavy downrigger trolling method and instead used 3 oz jigging spoons that would drop fast in 130 to 170 feet of water. Each of us used 20 to 30 lb braided line and medium weight spinning rods to drop jigs just over the fish and swiftly jerking the spoon back up in one motion. The slightest breeze could mean drifting over the fish and missing them completely. The advantage of Hobie's Mirage Drive 180 made it much easier to flutter kick back and forth staying right on top of the school.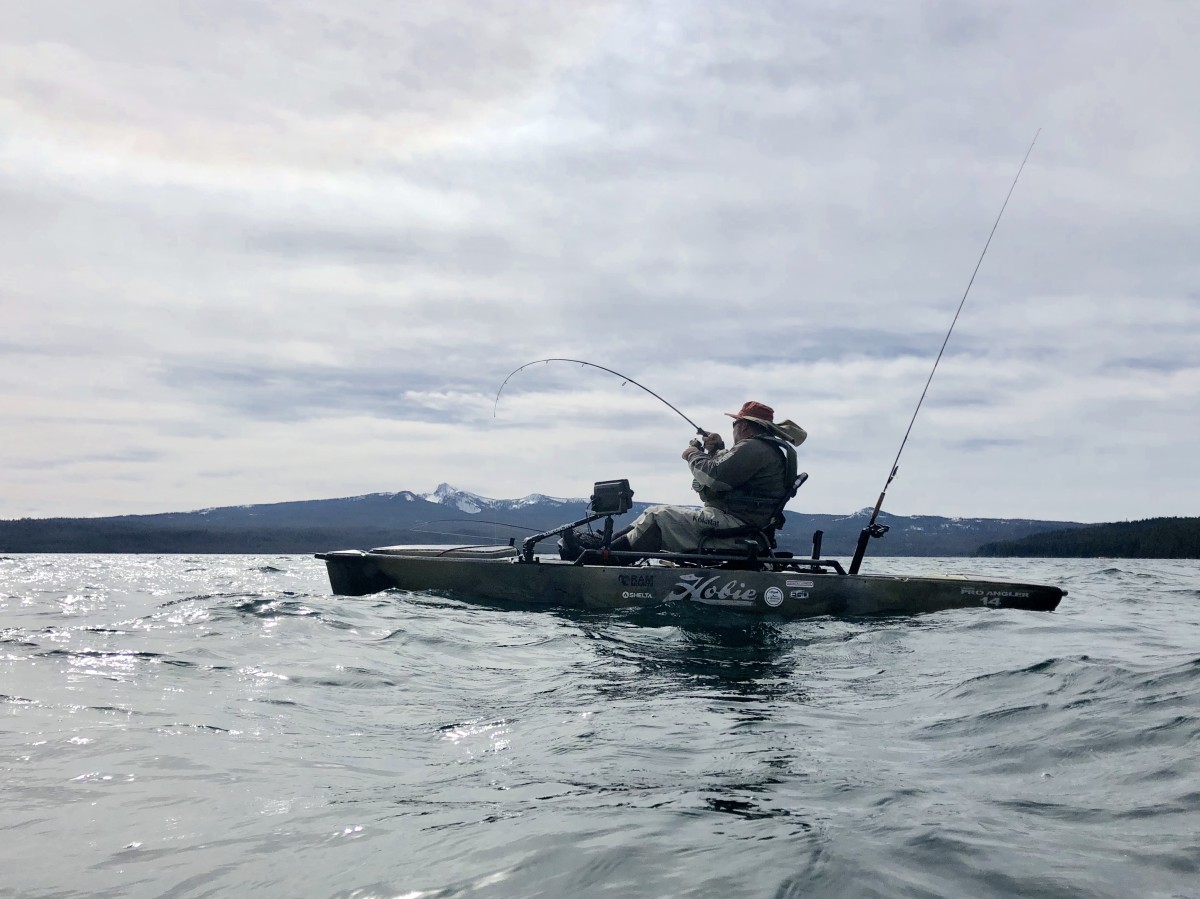 An hour would pass before my buddy made contact with his first fish. That fish only held on for a couple of minutes before shaking loose. A few minutes of repositioning his kayak and he was able to drop the jig back down and get back on top of them. A swift straight up and down jigging action from the 9 o'clock to 12 o'clock position with the fish grabbing it on the fall. I heard a yell…
"Fish On"
I frantically reeled up and made my way towards my buddy. We only had one large net to share between the two of us. I watched on as the Mackinaw jerked and peeled drag for every few feet he had reeled up. After a ten minute battle of runs and head jerks, my buddy finally gained ground on the fish. Within moments we could see color. My eyes were pie shaped seeing this monster from the deep surface.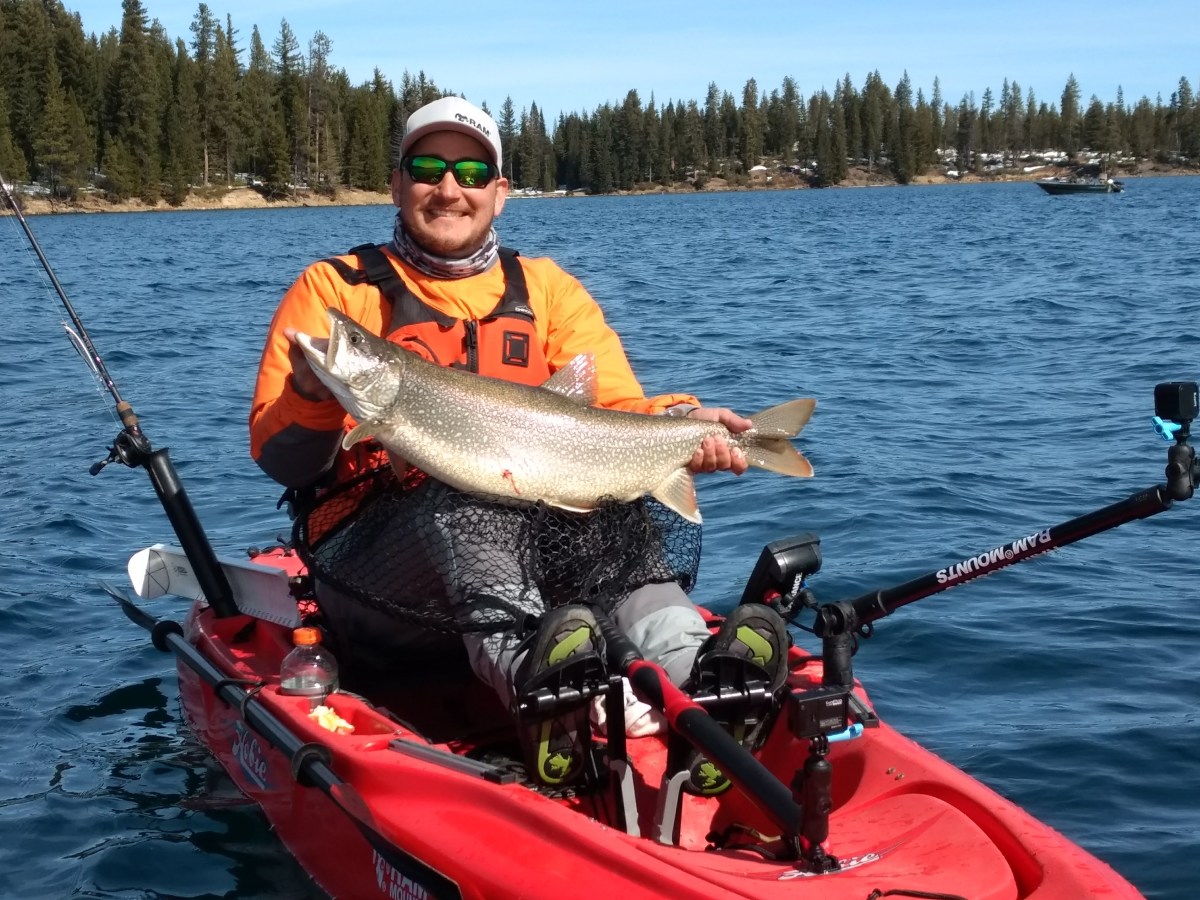 A quick measure on the Hawg Trough, a photo and back she went. I too, would get my turn to battle one of these great Mackinaw. The two of us landing our personal best fish in the 32 to 33 inch (estimated 18 to 20 lbs).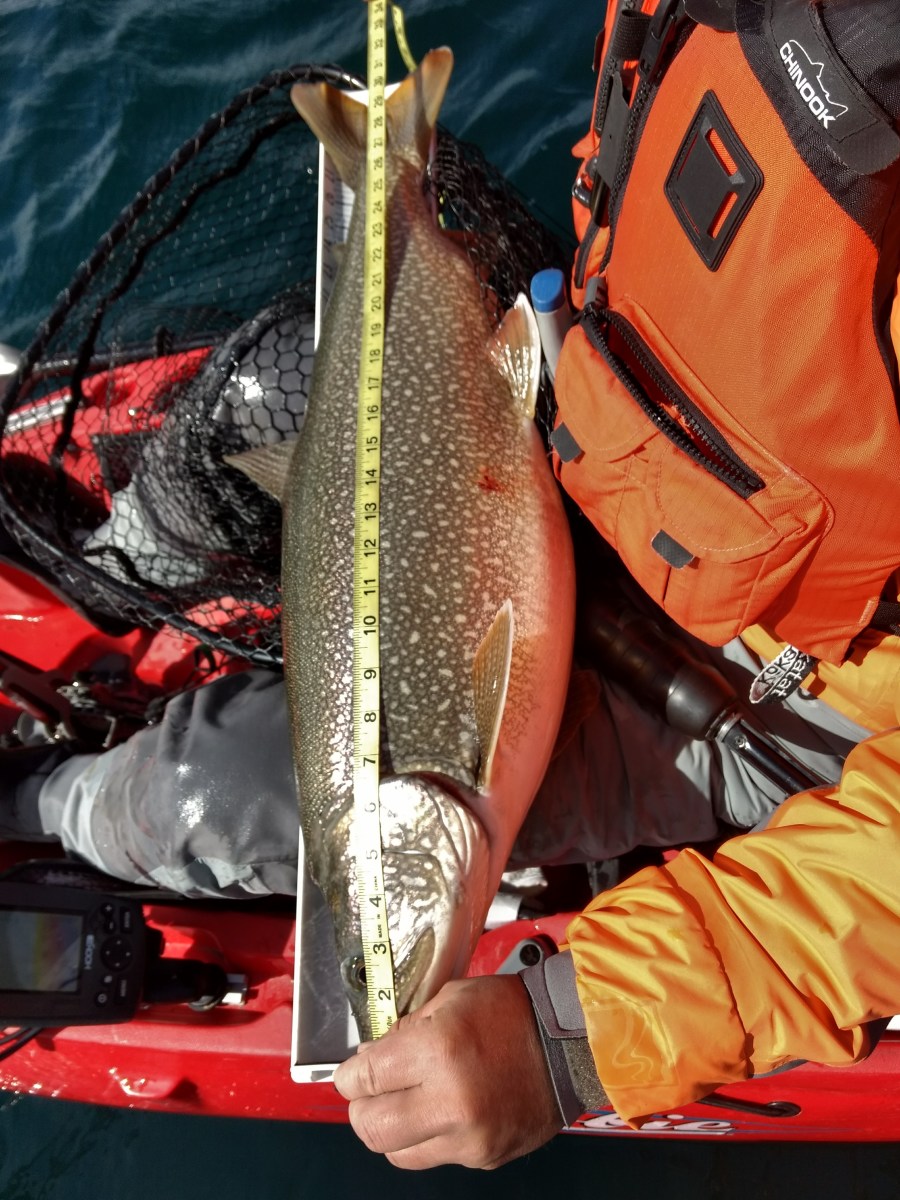 ---
More On: Brad Hole Kayak Fishing Washington
More On: Tricking Trout in Colorado
The article was originally published on Kayak Fish
For access to exclusive gear videos, celebrity interviews, and more, subscribe on YouTube!