By Norm Miller
Kris Laurie, a former Peace Corps volunteer and National Park Service ranger, quietly completed a source-to-sea descent of the Missouri-Mississippi river system worth a longer look. Between April 29 and October 23, 2016, Laurie paddled and portaged his 16-foot Mad River Explorer from the Missouri's utmost source at Brower's Spring in the Centennial Mountains of Montana to the Gulf of Mexico. After completing nearly 3,800 miles in 177 days, Laurie became the first person to descend this route by canoe (all previous six descents were by kayaks).
Equipped with snowshoes rather than paddles, Laurie and his cousin Andy Wirsing ascended Hellroaring Creek to Brower's Spring. They arrived that same day, April 29 at 3 pm. Brower's Spring was under several feet of snow. Only a slight depression and the GPS pinpointed the exact location of the source. Laurie and Wirsing turned back to make their descent. Following the creek to the valley floor, they arrived by 9:30 pm for a 13-and-a-half-hour day.
For the next few days, Laurie would find himself portaging his Mad River via wheeled cart around Red Rock Lakes and the Red Rock River. The tiny stream had an insufficient amount of water to paddle that time of year. Finally on May 5, he arrived at Clark Canyon Reservoir where he would have enough water to paddle onward down the Beaverhead and Jefferson rivers before reaching the Missouri a week later.
Though he recorded much of his expedition on Avoidingbarges.com, we caught up with Laurie after all was said and done to find out where his journey took him after such a remarkable launch.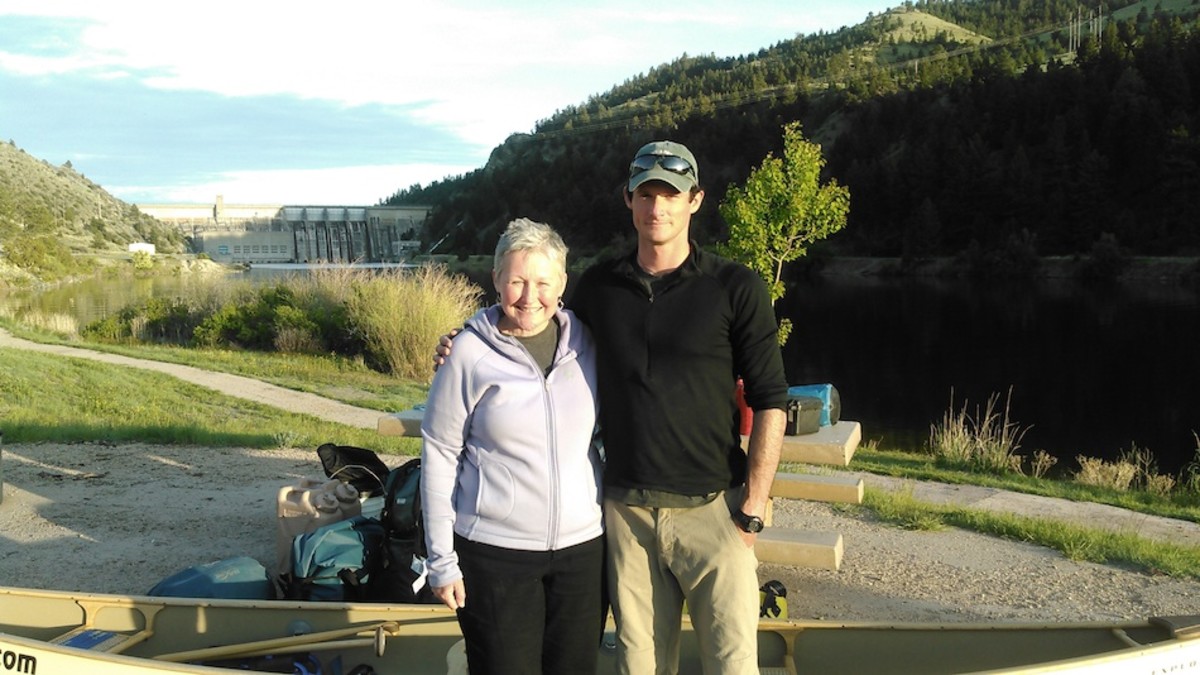 CanoeKayak.com: Why did you decide to embark on this journey?
Kris Laurie: After my mother's grim prognosis of bladder cancer in early 2015, I asked if she was interested in a big paddling trip as a means to keep her active and engaged. I had in mind the Mississippi or Missouri. While healthy and cancer-free now, at the time we believed she was on her way out. She said yes, and that's the beginning of this trip. By November 2015 I had committed to quitting my job and at the end of April 2016 the journey was underway.
What were the main challenges on a trip like this?
My girlfriend and I found a soggy body floating down the river near Atchison, Kansas. The wood trim on my boat insisted on rotting. Accessing Brower's Spring was logistically and physically difficult. At times, trespassing was impossible to avoid. The weather was fickle. The lakes are huge.
But really, that stuff is easy next to screaming toddlers, or putting a new roof on your house, or taking a new job. It was just life, and in most ways the challenges presented by the river are easier than the challenges presented by so-called real life.
Did you do it all solo?
No way. It was a community that saw this trip through.
What was the hardest/worst part of the trip?
The lakes on the upper Missouri are miserably difficult in an open canoe. Oftentimes those lakes require immense patience and a sober judgment of weather, waves, boat limitations, and paddler limitations. I was caught by a storm on Lake Oahe in South Dakota that destroyed my tent and left me lying on a muddy ground, soaked to the bone, waiting to be struck by lightning. A storm on Lake Sakakawea caved in my tent during a hail storm with 50+mph winds. While infrequent, these were hard days.
Why did you name your expedition Avoiding Barges?
I struggled long and hard to find a name for my website. I settled on Avoiding Barges because it's easy, short, memorable, and, once on the Mississippi, it reflects an accurate concern. It was comical how often people gave me advice about barges because of the name. AvoidingBarges.com printed down the side of my boat was a magnet for unsolicited advice, whether or not there was a barge in 500 miles.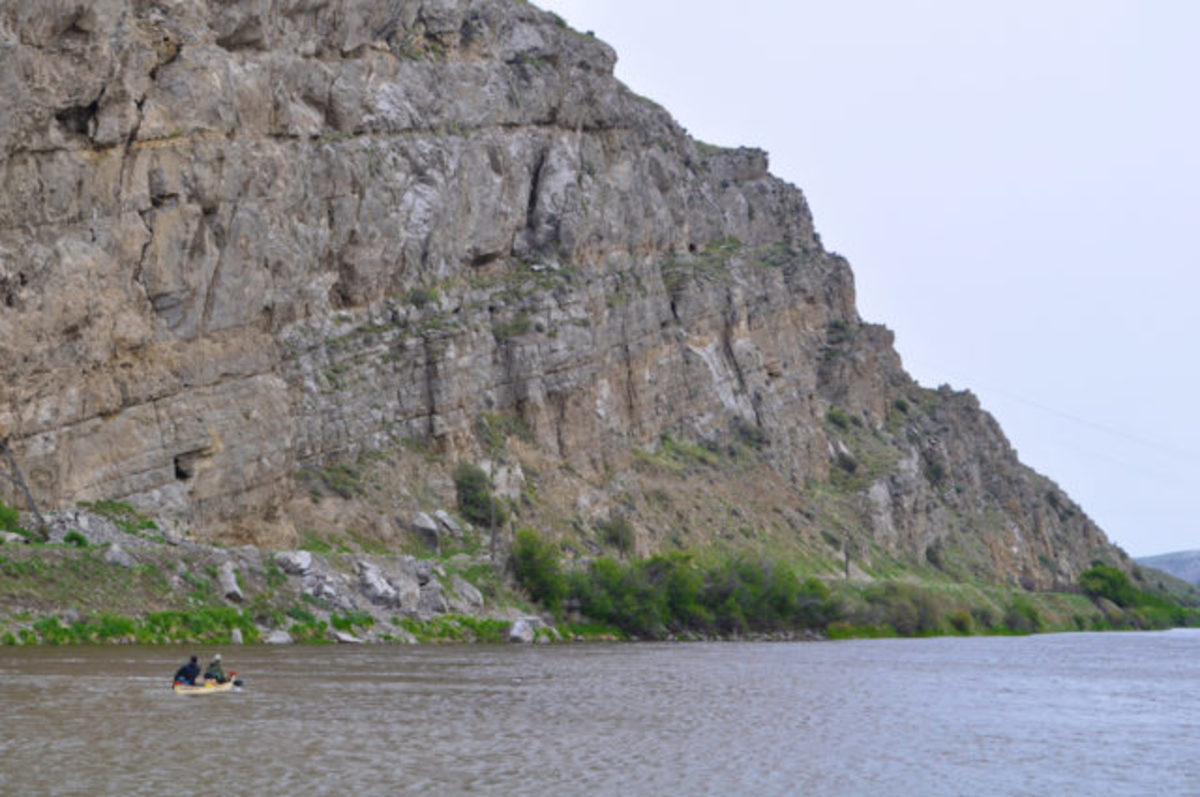 You collected water samples for Adventurers and Scientists for Conservation (ASC), what was that all about?
ASC is a nonprofit that links the outdoor community with a network of scientists – the former collecting data for the latter. I collected water samples for ASC as I descended the river from Montana. These samples were shipped off to Maine to be analyzed for microplastics – a pollutant. Unfortunately, my last collected sample was not far north of Memphis; the water below that carried too much sediment for good samples.
Did anyone paddle with you and whom?
Eleven people joined me on this trip, my mother joining me for the longest stretch from Helena, Mont., to Fort Peck, Mont. – nearly 500 miles. My brother and his son paddled with me for a long stretch, as did my father, girlfriend, cousin, friends, and even an intrepid Kansas City journalist. Approximately one-third of the time out there someone else was paddling with me.
At the end of your trip you auctioned off your canoe to the highest bidder, why?
The canoe was auctioned for $1,500 to St. Louis's best canoe/kayak guiding service, Big Muddy Adventures. All the proceeds went to bladder cancer research at Memorial Sloan Kettering Cancer Center, where my mother has received exceptional treatment for her illness. During this trip, Mom was able to raise $3,800 to donate to this cutting-edge cancer center, one dollar for every mile of river I paddled.
What's next?
Grad school 2018. Or stockpiling ammo and canned goods in a remote cabin – but probably grad school.
Scope out more from Kris Laurie on the Avoiding Barges Facebook and Instagram pages.
More From C&K
First American source to sea of Missouri-Mississippi River complex
Paddle the Parks: Missouri National Recreational River
Why Paddle the Mississippi River
Five reasons First Descents is paddling's best charity
The article was originally published on Canoe & Kayak
For access to exclusive gear videos, celebrity interviews, and more, subscribe on YouTube!