As one of the most accomplished freeride mountain bikers in the world, Darren Berrecloth is always looking for new places to ride. For his most recent project, North of Nightfall, from Red Bull Media House, Berrecloth found a place that no other human being had ever ridden before: Axel Heiberg Island in the Canadian Arctic.
"It's all about experiencing new things in life, and traveling is one of the easiest and best ways to get out of your comfort zone," Berrecloth told Men's Journal. "I'm always looking for the biggest lines and biggest rides I can find, and this place fits that. It's an adventure, and there's always that desire to explore."
Along with riders Carson Storch, Cam Zink, and Tom Van Steenbergen, Berrecloth ventured to the island to ride on glaciers and mountains that reached over 2,000 feet. With the island being so close to the North Pole, it goes through a nine-month winter.
That left Berrecloth and his crew only a one-month stretch of the year when the island had no snow, was warm enough to ride in, and enough light to do it. In fact, there was plenty of light—during the time the crew was there, the sun never set. The wild conditions and remote nature of the island is what drew in Berrecloth: "My goal is to always find almost impossible places to ride, and then ride them," he said.
Berrecloth, who started riding a bike when he was 10, has seen his career evolve from competing in events like Red Bull Joyride and Red Bull Rampage to taking on bigger adventures like North of Nightfall and Where the Trail Ends, which saw the crew travel to Nepal to ride. Berrecloth has also seen the sport evolve and grow.
"It's been pretty wild ride to go from a punk little kid riding bikes and getting dirty and no one really giving me a crap and standing on the side of the Slopestyle course at Red Bull Joyride at Crankworx at Whistler Mountain with 30,000 fans," said Berrecloth. "It's been crazy to see it go from a grassroots event with a couple thousand to what it's become now. All of a sudden it became almost like a Super Bowl for the sport."
(You can watch full replays and highlights from Red Bull Joyride on Red Bull TV, which broadcasts the entire Crankworx series throughout the summer.)
Berrecloth spoke with Men's Journal about his worst injuries, riding bikes in the most remote places around the world, keeping a healthy diet, and his memories of Red Bull Joyride.
Men's Journal: What was it like riding on Axel Heiberg Island and traveling somewhere so remote?
Berrecloth: It was an incredible experience. These were some of the biggest mountain bike lines I've ever seen. We went and traveled over a year before to find the right place to do this, and once we found Axel Heiberg Island, we knew it was where it had to be. We were the only people to ever ride there. We had to take like seven different plane rides to get there, and if you got hurt, it was like a 12 hour ride to the nearest hospital—and that was if the plane was already with us. Red Bull is always great with this stuff, if you say, "Hey, I got this wild idea to ride mountains in the Arctic," they're immediate reaction is to say yes and support it.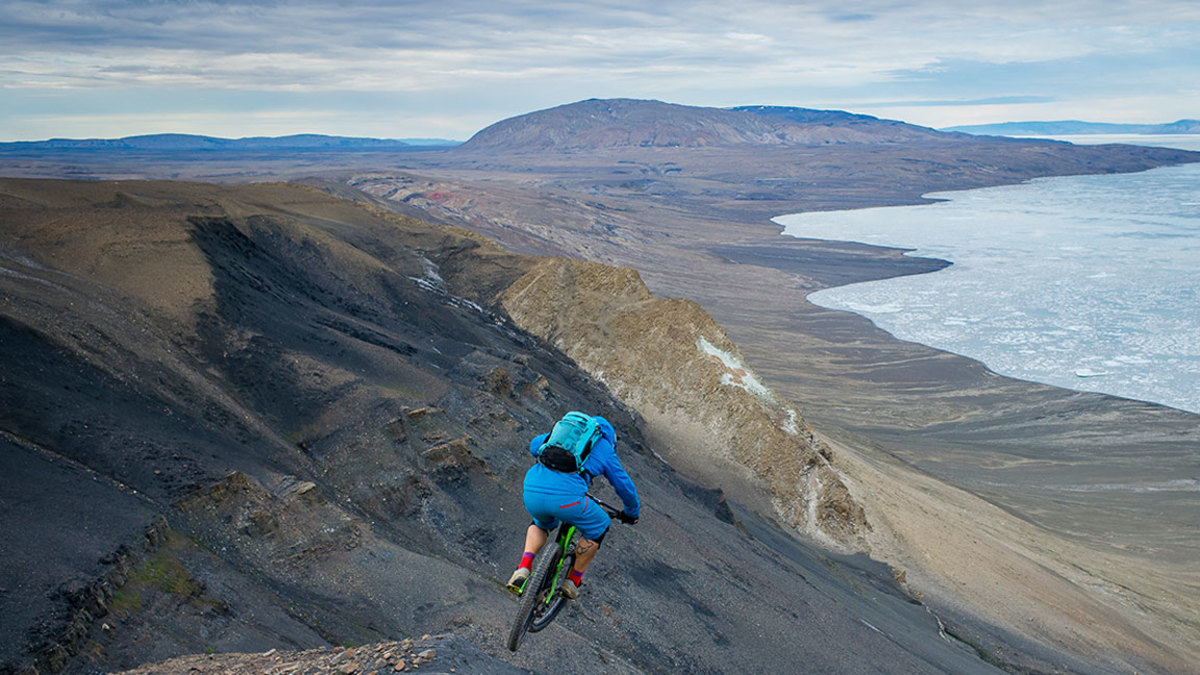 You've been able to travel to some amazing places to ride in your career. What's your favorite?
One of my favorite spots was when we were in Nepal for "Where the Trail Ends." We were in the Mustang Valley on the Annapurna Circuit, which goes up and out through the Himalayas and goes into Tibet. So this area, there are no roads or hiking trails and the area had been closed to foreigners forever, and it had only opened up a couple years before we went. The first time I was in Nepal I saw that area and wanted to go, but our guide was like "No, you can't go there," and then lo and behold, it opened up and when we went back it was still basically untouched.
It's funny, for being in the middle of nowhere, they still have an ATM where you can take out cash and you can buy a Coca-Cola, so that just gives you an example of how remote and yet also how connected things can be. The more we were hiking and biking and the deeper we got, the magic started to unfold. One day we rolled into this amazing village, and all these kids came up to me and were amazed, because they had never seen a bike like the mountain bike I had. Civilization hadn't quite touched this place yet, and for me, I like going out and really being disconnected. That's how the Arctic was, you want to get an authentic experience and be off the grid.
You've done film projects in Nepal, the Gobi Desert, and in the Canadian Arctic. What's the next big travel project for you?
The next film project I have is called "Chasing the Yeti," and it's in Bhutan, and basically the country set aside a park area for the wildlife in the area—and the Yeti, if it exists, they sort of believe in it—and it has some of the sickest trail riding on the planet. You go from the high Alpine in the Himalayas, then down into the jungle type terrain, and then back up again. It's this crazy transition, and it's so great for riding. We're putting that together for a full feature, and that's coming after North of Nightfall. We were there in the spring, which is the best time to ride there, it was incredible.
When did you first start biking and competing professionally?
I was 10 when I really started riding around the street, and when I was 12 I was BMX racing and from then on I was jumping between mountain biking and BMX. I was about 18 or 19 when I started to ride professionally, and I competed in all types of competitions. I used to do cross-country racing, a little downhill racing, but my strength was Slopestyle and big mountain riding, like Red Bull Rampage and Red Bull Joyride.
As a native Canadian, what was it like for you to be at Red Bull Joyride at Whistler Mountain? What's it been like watching the sport grow and evolve?
This is definitely my backyard and feels that way to me. The one thing that you can never dispute is the energy at this place and about Whistler in general. Then you add Crankworx Festival overall and the collaboration of amazing people coming together, that dynamic is pretty insane. I remember this one time a while back, we were in about to start one of the events and one of the organizers told us that the Sea-to-Sky Highway was backed up basically all the way to Vancouver. So many people wanted to drive up to the event for the day, and we were looking at the crowds and it really doubled in size, it was just incredible.
It's the nature of the business to get banged up and suffer injuries. What are some of the notable and memorable injuries you've dealt with?
At the end of the day mountain biking is a very rough sport, and dirt hurts [laughs]. If you push your limits long enough you're you're going to get hurt. For me, I definitely was not fortunate and didn't get unscathed. I would usually have a broken bone every year. Some of my injuries, well I've had ankles, legs, shoulders, and later in my career, I fell and broke my vertebrae falling flat on my back. I've done that like three times. There's always lots of leg strains, and bruises are pretty much constant.
You follow a pretty strict diet. How did that develop for you and have you always kept a focus on your nutrition?
When you're younger you kind of can do whatever you want and still ride. It was kind of crazy, like when I got to 30 years old—and I'm sure a lot of Men's Journal readers can relate to this—when I hit that age, my body really started to talk to me, and it was starting to get harder to recover from injuries and my training sessions. Sometimes it was twice as long. The first thing I did to help that out was start an Alkaline Diet. I had been an athlete for over a dozen years, had won a bunch of competitions, but I had no clue about an Alkaline Diet. That was my first step into overhauling my nutrition, and it really made a difference in my body. Once I started delving into my nutrition, there was no going back. Now, I'm a health nut.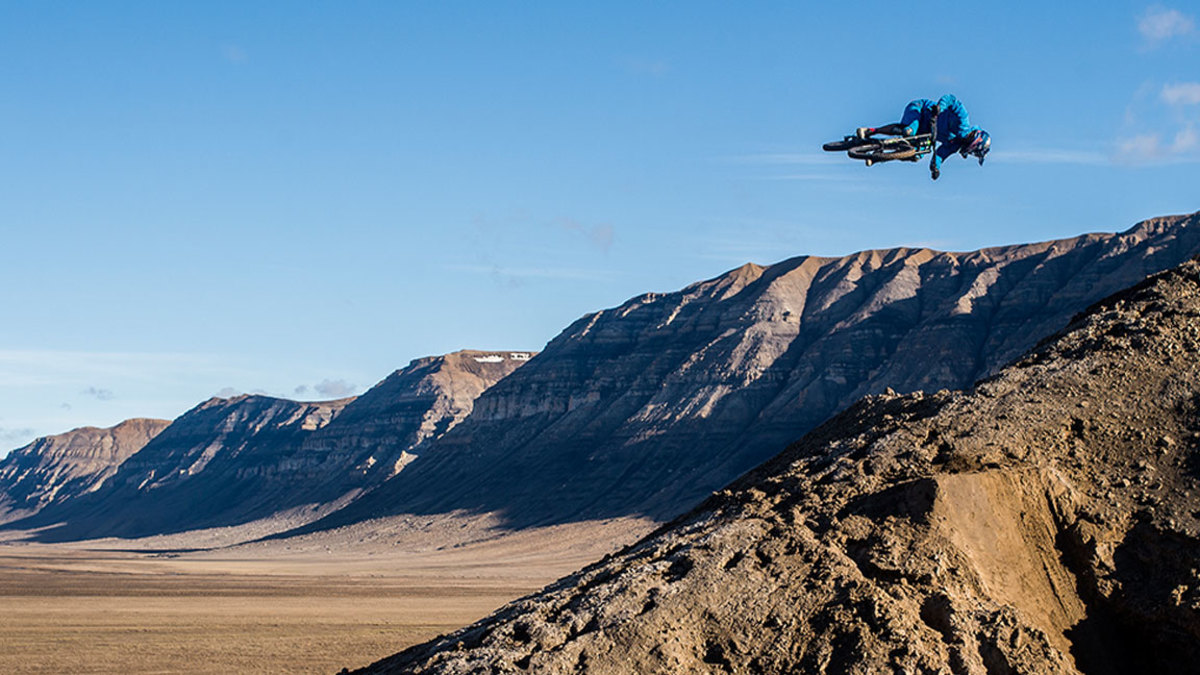 What's a training program like for a mountain biker like yourself?
For the most part, a lot of the Slopestyle and freeride bikers don't really have a big training routine that they use. A lot of them just rely on riding their bike all day, and while that is a workout in itself, once you start getting injured, you have to do more training and more rehab to get back on track. In my younger years I never did that, because I could just bounce back faster and just go back riding the next day, but as I got older I really needed to add more of a training routine.
Apart from biking, what are some of the other outdoor and adventurous activities you enjoy?
This kind of plays into my nutrition actually, because I really like to hunt and fish, I do spearfishing and stuff like that. I'm very fortunate to live in a place where I can hunt and fish, and I stock my fridge with the meat that I get myself and use that in my diet. One of my passions is getting in touch with nature, and when you're hunting, you're doing something that's really unique and you're immersed in nature. Like when was the last time you were so quiet that a squirrel ran over your foot, or a deer came up to you and kind of sniffed you? I think people should get in touch with nature more, and you appreciate it in such a different way, and I love that about being out there.
For access to exclusive gear videos, celebrity interviews, and more, subscribe on YouTube!