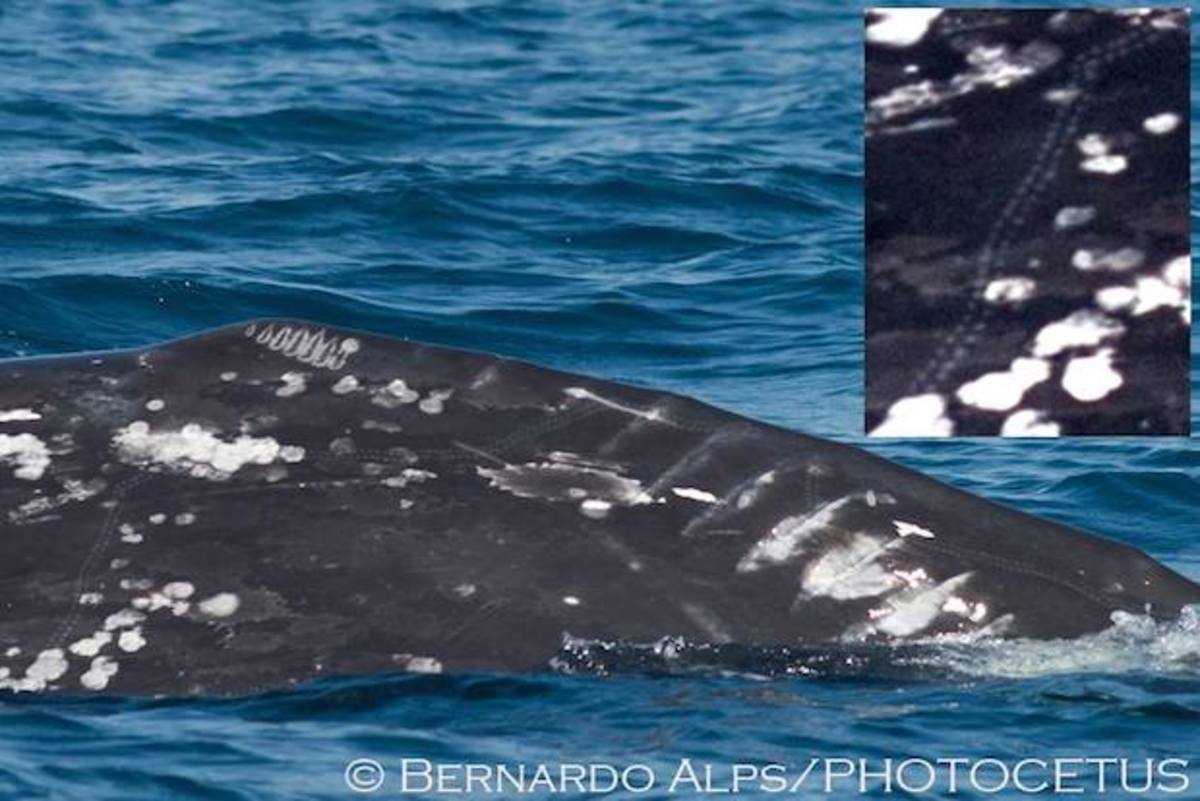 If gray whales could share stories about their migration from Arctic waters to Mexico and back, they'd probably have us on the edge of our seats.
But we can learn a lot from the scars on their bodies, and this week a very distinct-looking gray whale, photographed Saturday off Los Angeles, is being widely discussed because of scars that can be easily identified, and very mysterious markings that experts have not seen before.
The accompanying images, by Bernardo Alps and Alisa Schulman-Janiger, were captured just off Point Vicente on the Palos Verdes Peninsula during an American Cetacean Society-Los Angeles Chapter all-day whale-watching voyage.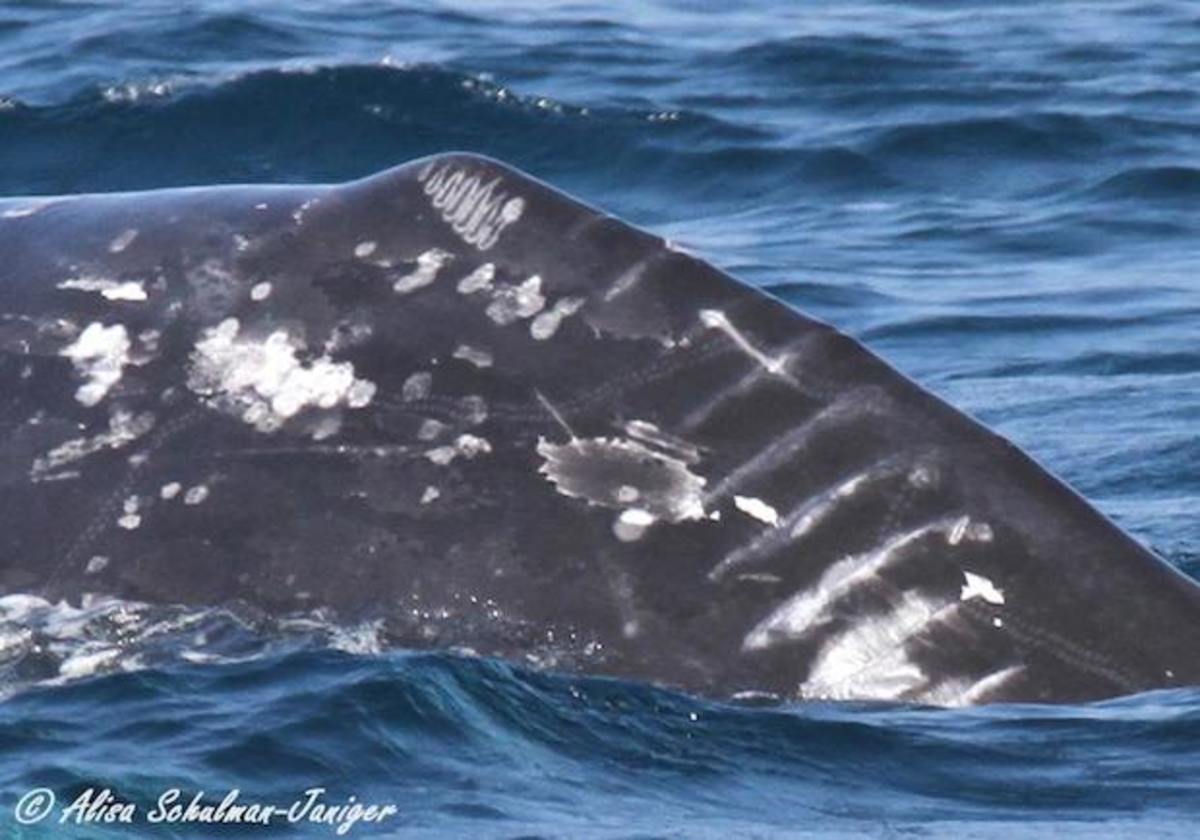 The whale is a an adult female, measuring 40-plus feet, migrating to the north with a calf.
According to Schulman-Janiger, a whale researcher, the images reveal at least 11 vertical scars caused by a boat propeller, and seven rake marks caused by killer whale teeth. The killer whale scars are visible on the first "knuckle," or bump, and easy to spot in the images.
But this whale also boasts narrow parallel tracks that meander along its back, and look as though they might have been caused either by a rope or some type of fishing gear; by suckers on the tentacles of a squid, or perhaps the stinging tentacles of a jellyfish.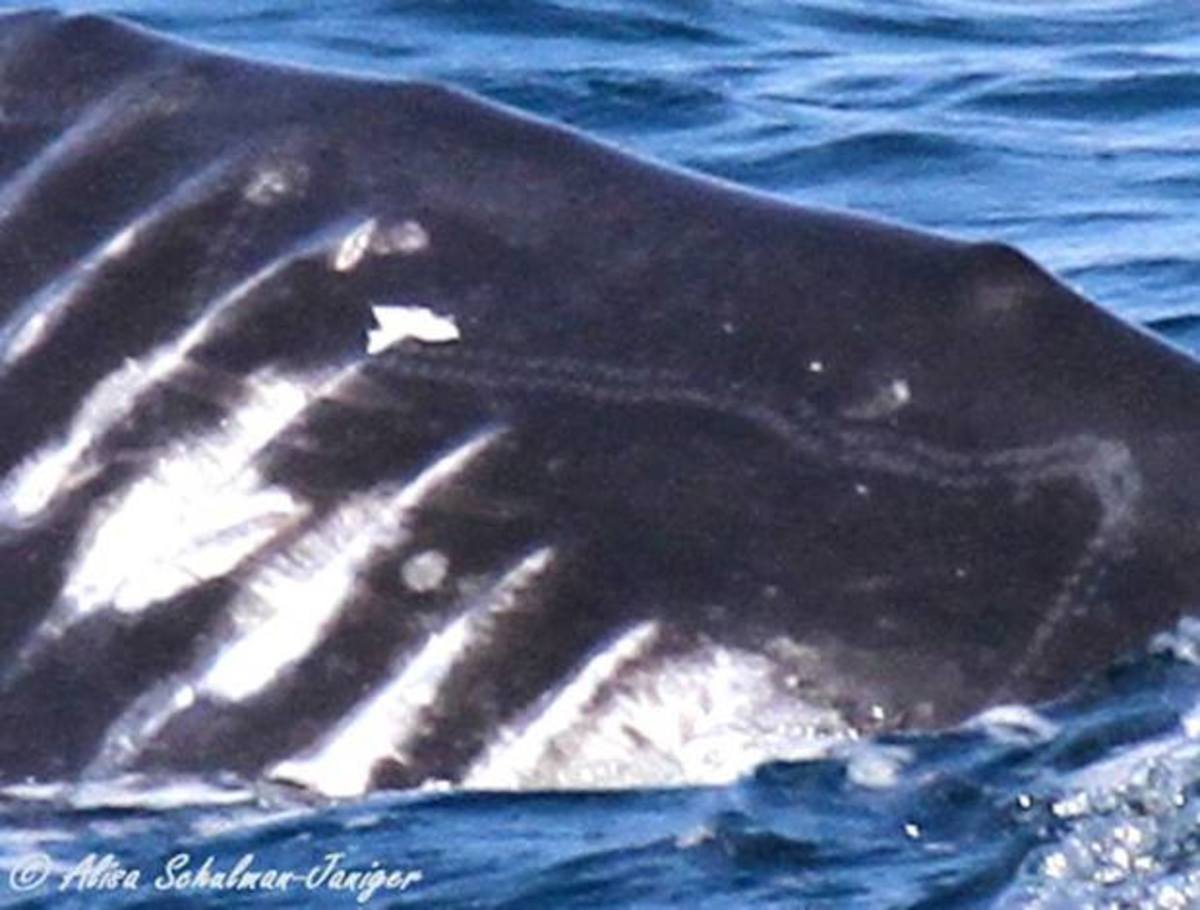 Alps, president of ACS-LA, described the markings as "looking like a set of tracks that a beetle would leave on a soft surface."
In a Facebook post, Alps added: "I am fascinated with with gray whale skin patterns and have examined thousands of gray whales closely. Not only have I never seen anything like it, but I am at a loss to what might have caused this, short of theories involving space aliens and technologies not yet available to the human race."
Alps also reached out to notable whale researchers, who likewise had never seen these types of markings.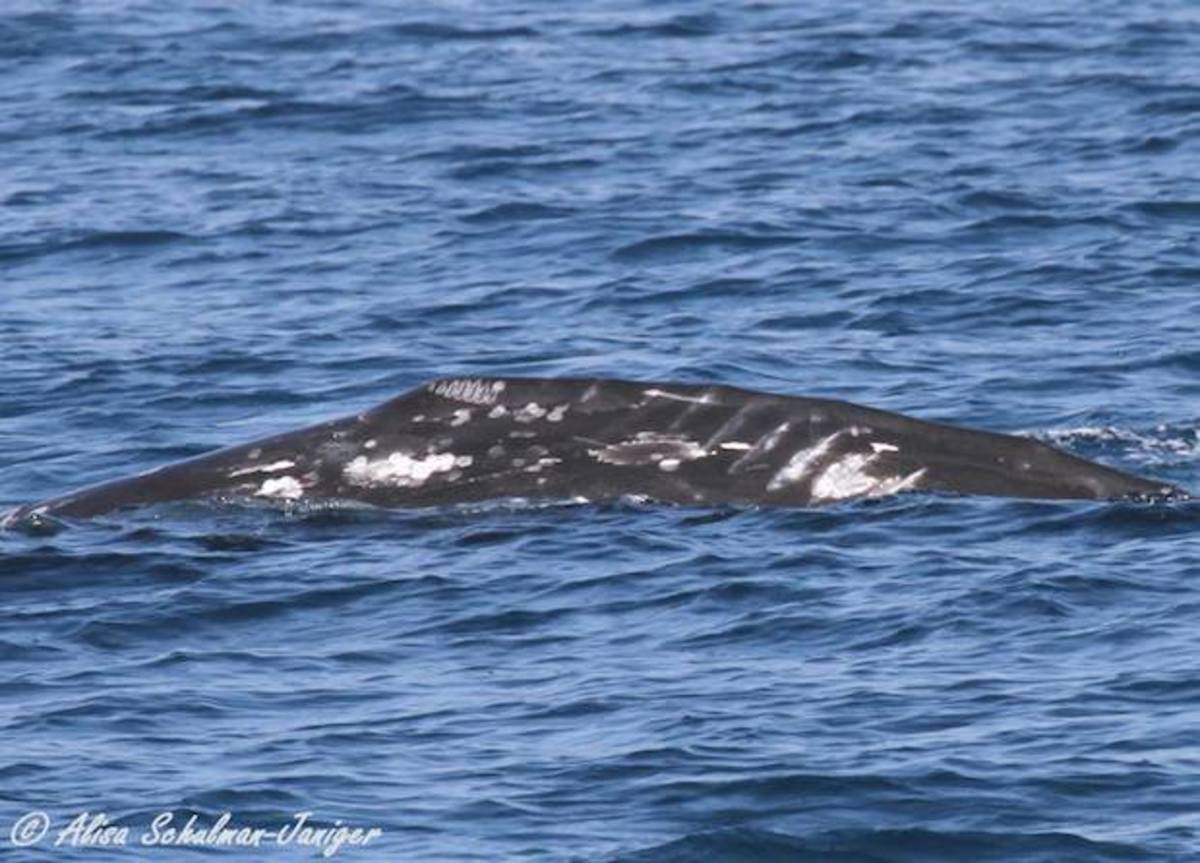 Various types of squid inhabit waters along the gray whales' migration route, including the legendary giant squid and the far more aggressive Humboldt squid.
Giant squid, which can reach lengths of about 40 feet, reside at great depths and are sometimes preyed upon by sperm whales. Much smaller Humboldt squid also inhabit deep waters, but will rise toward the surface at night to feed.
Humboldt squid, in fact, are voracious creatures that have caused damage to fisheries and even attacked scuba divers. They've been slowly expanding their range and now can be found from South America to Alaska.
However, the squid theory was ruled out Tuesday afternoon by scientists at the Monterey Bay Aquarium Research Institute, which offered no alternative theories.
Meanwhile, whale experts are revealing plenty. The scarred gray whale is part of a group of about 200 gray whales that feeds between Northern California and Southeast Alaska, well south of the main feeding area in and near the Bering Sea.
According to John Calambokidis and the Cascadia Research Collective, the whale was first documented in 1997, between California and Alaska. According to Schulman-Janiger the last known sighting was in late January, in Scammon's Lagoon in Baja California.
It did not boast these unusual markings in January, so the scarring occurred somewhere between Baja California and Southern California.
The mystery, it seems, will never be solved.
–Follow Pete Thomas on Facebook and Twitter
More from GrindTV
'Whale without a tail' seems to be doing fine
Shark shocks fisherman, steals fish at boat
False killer whales 'swarm' boaters on dinghy
For access to exclusive gear videos, celebrity interviews, and more, subscribe on YouTube!