Nahanni River, A Story (and photos) by Luc Bedard
A cold, gray dawn greets me as I crawl reluctantly out of my tent. It poured rain all last night and this cold Arctic front, with it's low cloud ceiling, doesn't help the growing sense of apprehension gnawing at my gut. After weeks of preparation and a 2000 km drive, I stand on the threshhold of realizing a longstanding dream: paddling the Nahanni River solo.
The pilot's arrival at the float plane base at Watson lake sends me into a flurry of activity. We silently load his Cessna 185 with my 125lbs of gear and lash my 16 ft Royalex canoe to one of the plane's pontoons ready for takeoff. Our destination is the Moose Ponds, the headwaters of the South Nahanni River. From the ponds near the Yukon border, the South Nahanni River flows eastward through the Northwest Territories to the Liard river 600 kms downstream.
Dark, billowing storm clouds rush down to meet us as the plane takes off from Watson lake. As we glide over this vast expanse of boreal forest with its stunted trees and endless marshland, my anxiety turns to worry- "Maybe I should have taken a personal locator beacon along after all". I obsessively go over the gear, afraid that I've forgotten a critical piece of equipment. Finally, my spirits flagging, I resort to questioning the soundness of doing such an isolated trip solo.
A thin blue line appears on the distant horizon. As the plane drones northwest towards our destination, the dark storm clouds recede to reveal a cloudless blue sky beyond. By the time we make our final approach around Mt Wilson, standing like a lone sentinel over the ponds, the green marshland below is bathed in warm sunlight and all fears and doubts fall away. I make a mental note to remain aware, in the weeks to come, of the profound effect the weather has on my state of mind.
We land on the upper pond as two trumpeter swans, spooked by the arriving aircraft, take off in slow motion grace. Their gleaming white wings contrast sharply against the lush green vegetation. The pilot quickly helps me unload the canoe and gear and within minutes I am alone, watching the plane disappear over the horizon.
"I'm committed". The words resonate in my head as the silence of the immense landscape envelopes me. The only way out is a 600 km paddle down one of North America's greatest rivers. I have been dreaming about this trip for years and now here, on the brink of fulfilling my dream, the prospect is at once exciting and frightening.
The next day I set out in the chilly morning air under clear blue skies. A good omen. The creek leading out of the ponds is barely a trickle here and I push and pull my canoe through a half day of narrow meanders. It is difficult to imagine the mighty Nahanni River having such a humble beginning but I appreciate the gentleness of its waters as it eases me slowly towards the bigger white water that lies ahead.
---
NAHANNI RIVER: FACT FILE
Getting there: The most practical entry point for the South Nahanni River is via Fort Simpson in the Northwest Territories. By road: there are two possible routes to follow. Whichever route you choose, expect two long days driving from major centres of population. The Alaska Highway (Hwy 97), accessible from Calgary/Edmonton, Vancouver, Prince George, Whitehorse and Fairbanks, accesses Fort Nelson. To get to Fort Simpson, turn off just west of Fort Nelson and take the Liard Highway (#77 in BC, #7 in NWT). By air: If you are flying into Canada from the US or from overseas, you will most likely arrive at Vancouver, British Columbia or Calgary or Edmonton, Alberta. From these cities Air Canada and Canadian Airlines both fly to Yellowknife, Northwest Territories. From Yellowknife, NWT Air flies regularly scheduled service to Fort Simpson. From Fort Simpson, there are a number of air charter companies to choose from that will fly you to your departure point on the river.
For more information: Reservation and registration is required to paddle the South Nahanni river. Contact the Nahanni National Park Reserve at (403) 695-3151 for up-to-date information about the river and the requirements that apply to a river trip in the park. The Park office also has the names, addresses and telephone numbers of the air charter companies operating out of Fort Simpson.
---
The "Rock Gardens" as it is commonly called, is a 50 km stretch of continuous class II and III+ whitewater that usually takes between 4 to 5 days to complete. This section of the river is strewn with large boulders and gravel bars. I have little difficulty running the rapids in my skirted canoe but nevertheless spend an inordinate amount of time bailing the water that insists on finding it's way in. Numerous adjustments to the spray skirt are to no avail and finally, at the end of the second day, I am forced to investigate . After removing the floatation bag from the bow, I stare down in disbelief at an ugly 40 cm gash right through the nose and skid plate! In my determination to paddle the Nahanni this year, I foolishly bought the used canoe, sight unseen, and the purchase has proved to be a very poor investment indeed. I spend the next 24 hrs making a major epoxy/kevlar repair, all the while praying that I will not be left up the proverbial creek without a canoe! A short test paddle the next day shows the repair to be holding well and I resume paddling in a much drier boat.
I have now been paddling for 9 days without any sign of human presence. The days melt into one another and I rapidly lose track of time, a phenomenon accentuated by the 24 hr daylight which prevails at this time of year. As I paddle quietly along every day, my mind, unaccustomed to the silence grasps obsessively at images and thoughts in an attempt to anchor itself. People's faces pop into my mind unexpectedly and I experience them more as a ghostly presence than a memory. For a split second, they are a part of me. I also catch myself singing the same verse from a song over and over. And why I am I counting paddle strokes?
The river, which up until now has been flowing at 7 to 10 kms/hr, slows down to 3 kms/hr as it flows past Rabbit Kettle lake on it's way to Virginia Falls, 2 days paddle down river. I take advantage of the slower current to lie on my spray cover and watch the world drift by.
Virginia Falls tumbles some 90 meters in a boiling mass of foaming water into the non-glaciated canyons below. I spend the day exploring this spectacular site. In the morning, a cold front moves in and I wake up to snow on top of Sunblood mountain. By early afternoon, I've completed the 1.2 km portage on a well maintained boardwalked trail. A rocky switchback leads down the steep embankment to the river below the falls where I don my drysuit and prepare the canoe for what is possibly the most interesting section of the river, the four canyons.
Fourth canyon (the numbering starts at first canyon further downstream), as with 2 of the other 3 canyons, is characterized by definite entrances-sheer cliff walls rise dramatically hundreds of meters from the water on either side of the river. Once inside these immense canyons, I am dwarfed and humbled by the mystery and magic of this wild and magnificent place. The canyons owe their unique beauty to the fact that they escaped the full force of the last glaciation, which ended about 10 to 12,000 years ago.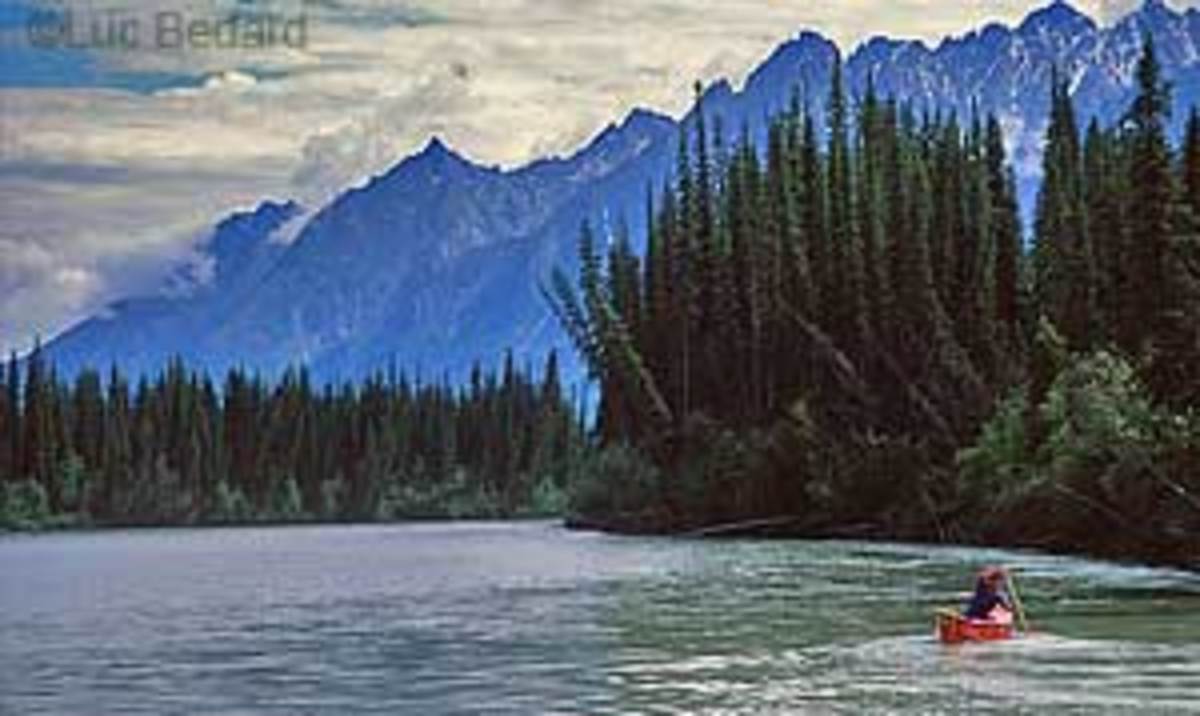 At this water level, there are few difficult white water sections and I am able to sit back and enjoy nature's exuberant display of color, lines, shapes and textures. Sedimentary layers have been heaved up into every conceivable angle and curve from horizontal to nearly vertical. In my exalted frame of mind, these fantastic rock formations are strangely reminiscent of ancient archeological sites I have explored in the past. One moment I am immersed in the overgrown jungle temples of Tikal in Guatemala and the next I am surrounded by the mysterious Buddhist temples of Borabodour in Indonesia. Round and round I rotate the canoe in an effort to take it all in.
As the last warm rays of evening light fade on the canyon walls behind me, I turn my gaze towards the sprawling plains of Deadman's Valley stretching out before me and I feel a tinge of regret at having to leave this magical place. For I know that the plains will bring me back to the world of man.
On cue, as if nature could sense my mood, it begins to rain. I paddle on into the late evening as there is nowhere to camp on this grassy shoreline. With each paddle stroke the rain gets heavier and heavier until it is pouring off the edge of my rainhood visor in steady rivulets. It is now the third week of July and the failing light of dusk comes much earlier. I am forced to camp on the first available semi-level site I can find.
As I hastily put up my tent on the muddy gravel bar, just centimeters from the river's strong current, I am reminded of an entry in one of the park's registry books: "The river rose by several meters in just a few hours last night, in these heavy rains." As I contemplate this ominous possibility, I am assaulted by an army of mosquitoes that are relentless in their single minded pursuit of my blood. I am almost driven to a frenzy as I frantically crawl into my tent and out of the elements.
A low pressure system has moved in and I paddle the next four days under gray skies and intermittent rain. I am now accompanied by a group from Whitehorse and I enjoy their lively camaraderie as we paddle steadily in these dismal conditions. The mosquitoes are now a nightmare and it becomes increasingly difficult to prepare meals at camp as their squirming bodies become stuck in my food and drinks. In exasperation, I resort to mixing them in my meals, as it is impossible to pick them all out.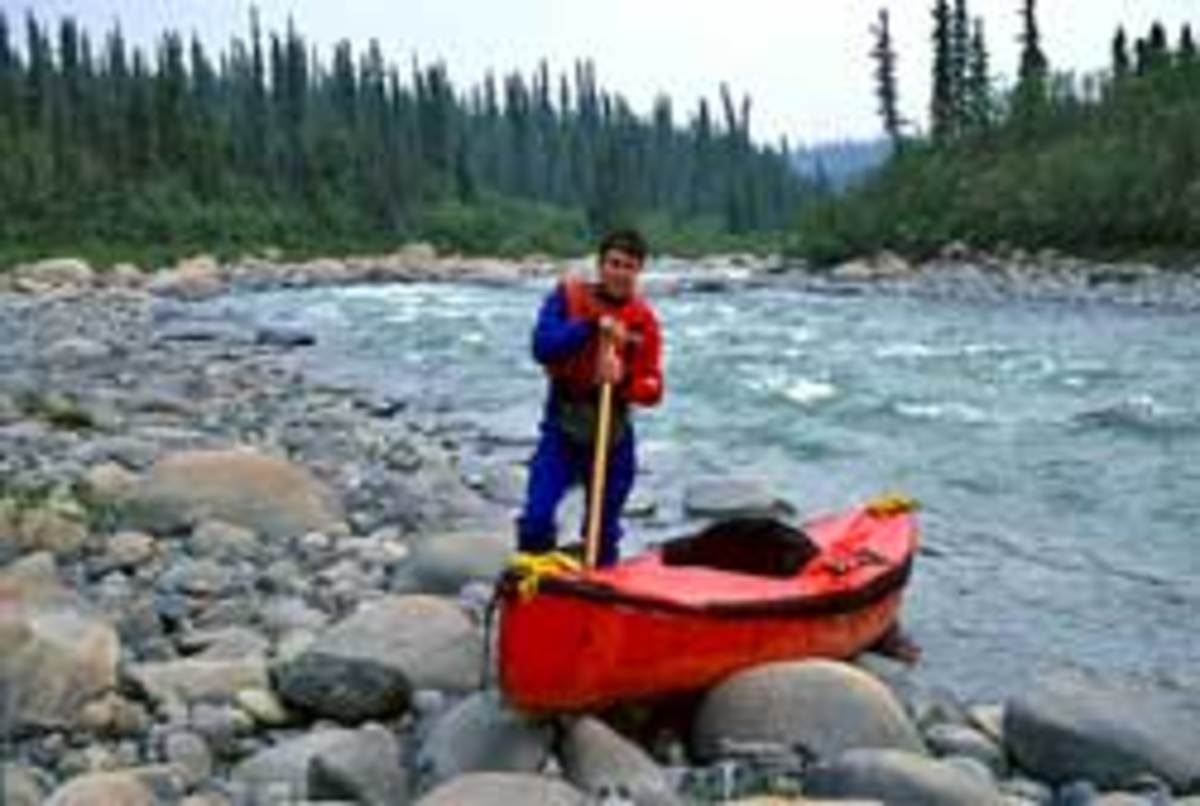 At Nahanni Butte, a native settlement at the confluence of the Nahanni and the Liard river and a day's paddle upstream from the take out, we are offered accommodation and a hot shower and I rejoice at not having to deal with the elements. My first hot shower in 25 days! It seems so incongruous to be enjoying these modern amenities in such a remote area but I am thankful.
At Blackstone Territorial Park and the end of the journey the next evening I deregister at the park office. The next morning I set off with two paddling companions from the last days of the trip, for the drive back to Watson Lake to pick up my vehicle. During the almost 900km drive I share numerous river stories with them. Theirs drift naturally towards the wonderful moments they shared as a group. Mine are quieter, more pensive moments. When I reflect back on the trip, what stands out in my mind is less the excitement of running the whitewater than the experience of being totally immersed in this magical landscape. The profound inner peace and the commune I experienced with this great river will live on in my heart and keep me coming back to paddle these remote rivers solo.
Luc Bedard resides in Vanouver, BC, Canada when he is not solo paddling wild Alaskan rivers. He has been paddling for over 25 years all over Canada and the U.S.
The article was originally published on Canoe & Kayak
For access to exclusive gear videos, celebrity interviews, and more, subscribe on YouTube!