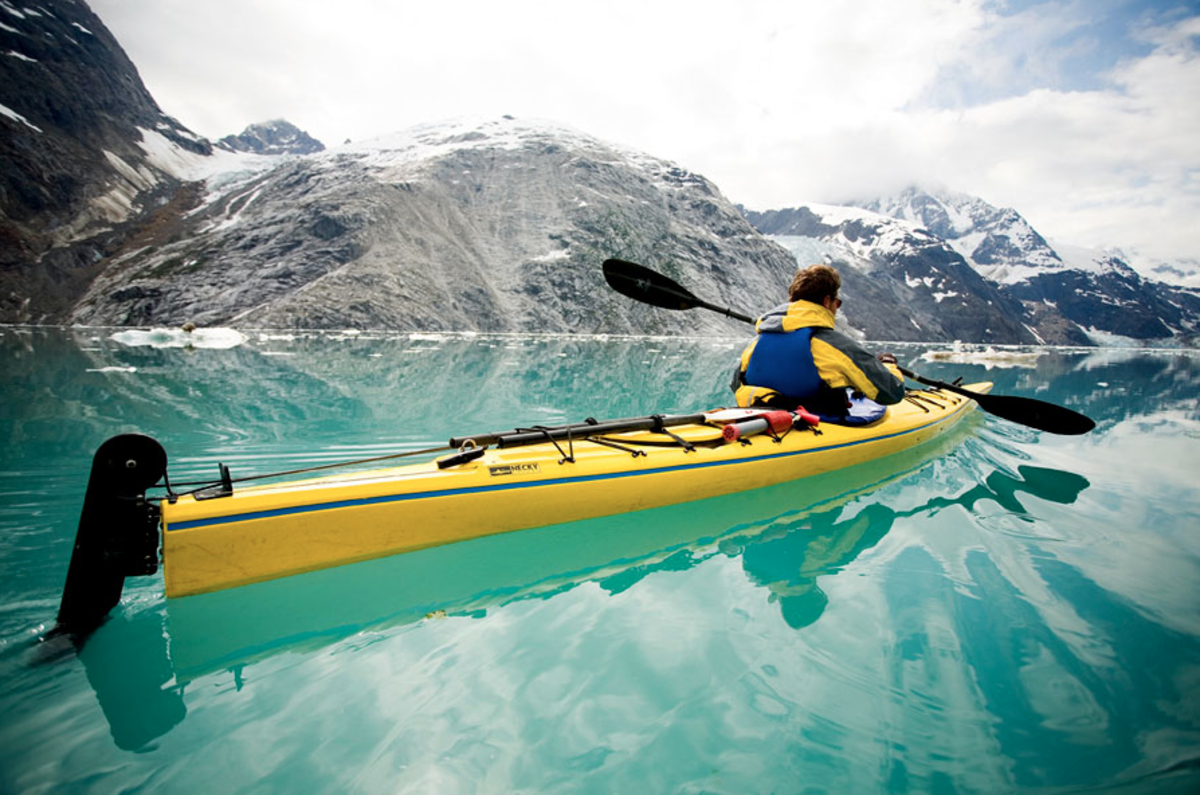 As the national park system approaches its 100th birthday in 2016, the following is an alphabetized list of the top national parks for dipping a blade, whether it's from a canoe, kayak or raft.
Acadia National Park: Canoeing or sea kayaking, Maine's Acadia National Park offers it all. Sea kayak Frenchman or Western Bay, or canoe in Somes Sound, Eagle Lake, Echo Lake, Hadlock Pond, Jordan Pond, Long Pond or Seal Cove Pond. [Read more about paddling through Acadia NP on the Maine Island Trail.]
Big Bend National Park: Forming the border of the U.S. and Mexico, the Rio Grande is a raft or canoe trip you'll never forget, with a variety of different wilderness sections for different uses. [See a photo gallery from the canyons of Big Bend.]
Big South Fork National River and Recreation Area: Bordering Tennessee and Kentucky, this 125,000-acre park highlights the Big South Fork of the Cumberland River and all its paddling options, from easy meandering sections to harder whitewater.
Buffalo National River: Our country's first national river offers 135 miles of Ozark paddling, from Class I day trips to longer wilderness excursions. Best times are late spring and early summer, and be prepared to changing water levels. [Read more.]
Canyonlands National Park: Canyonlands offers multi-day canoe trips through the heart of canyon country on both the Colorado and Green rivers, which meet right before Class IV (V at high water) Cataract Canyon. Flatwater paddlers often paddle one arm and then get zipped back upstream by a jetboat meeting them at the confluence. [Read more.]

Cape Cod National Seashore: Cape Cod's inland waterways offer prime paddling on a variety of sloughs, ponds and marshes. Sea kayakers can also tackle Cape Cod Bay. Other popular paddling areas include Salt Pond, Gut of Great Island and the Pamet River.
Channel Islands National Park: This California gem offers hundreds of sea caves to explore on the north side of Santa Cruz Island, complete with grottoes, blowholes, arches and more (Hint: bring a helmet and headlamp). Popular paddles include a 4-mile jaunt from Potato Harbor to Cavern Point. [Read a Q&A with Channel Islands guide Tony Chapman.]
Congaree National Park: South Carolina's 16-mile-long Cedar Creek Canoe Trail is a great two-day trip that lets you canoe or sea kayak through swampland that includes some of the oldest trees in the country. [Watch a video about paddling in Congaree NP.]
Dinosaur National Monument: It's all about fossils, floating and petroglyphs in Dinosaur National Monument. Permits are required year-round for multi-day trips down the Yampa and Green rivers, with day permits available on a call-in basis for a day trip down Split Mountain. During low water, the Yampa also makes a great canoe trip (word of warning: new rockfall in August 2012 altered Warm Springs rapid significantly).
Everglades National Park: The Everglades offers a never-ending option of paddling. Hotspots include Flamingo, Florida Bay, the Turner River and Halfway Creek for canoeing and sea kayaking through mangrove swamps, and the Nine Mile Pond Canoe Trail is a great outing for canoeists. Expect to see everything from alligators and crocodiles to dolphins and manatees. [Read more.]
Glacier Bay National Park: While this one takes some travel time to get to (reach it from Gustavus, Alaska), Glacier Bay offers some of the best tidewater glacier sea kayaking in the world. Most parties shuttle up the West Arm via boat from Glacier Bay Lodge and get picked up whenever they want to after exploring the park's 16 tidewater glaciers, including the granddaddy Muir. [Read more.]
Glacier National Park: Not to be confused with its Alaskan cousin, Glacier lets you canoe among towering peaks on such waterways as Swiftcurrent Lake, Lake McDonald, St. Mary Lake, Lower Two Medicine Lake, Sherburne Lake, Bowman Lake and Kintla Lake. Or, if you start in Waterton Lakes National Park in Alberta, you can paddle into Glacier on either Cameron or Waterton lakes. The Flathead River along the park's west and south boundaries makes a great multi-day rafting option. [Read more.]
Grand Canyon National Park: Put this on your bucket list, now. You can run it privately with a permit, or commercially with an outfitter. While many shorten the trip by hiking in or out of Phantom Ranch, try to do the entire 226-mile stretch. You'll be glad you did. [Read C&K's guide to understanding Grand Canyon permitting.]
Grand Teton National Park: Canoe or sea kayak against the grandeur of the Teton range on either the winding Oxbow Bend section of Snake River, or such canoe-friendly lakes as Jackson, Jenny, String or Leigh. On each you're likely to see moose, elk, bear, bison, eagles, osprey and more. Hint: beware afternoon winds, and pack a fishing rod.
Isle Royale National Park: Sprinkled with islands, bays and coves and islands, Isle Royale is one of the best inland sea kayaking haunts in the country. Just be wary of changing weather and water conditions on Lake Superior (remember the song, Edmund Fitzgerald?) [Read more.]
New River Gorge National River: One of the oldest rivers in the country (contrary to its name), this West Virginia waterway that originates in North Carolina is for whitewater purists, plain and simple. The New is a whitewater gem for rafters and kayakers, and can be paddled in one or two days. If you're experienced you can tackle it on our own; otherwise go with a licensed outfitter.
Olympic National Park: This park in the heart of the Northwest offers prime paddling for canoeists and sea kayakers on Lake Ozette and Lake Crescent. Hint: bring your rain jackets. [Watch a film on the Elwha River in Olympic NP.]
Ozark National Scenic Riverways: Springs feed Missouri's Jacks Fork and Current rivers, offering more than 134 miles of flatwater canoeing in the heart of the Ozarks. Paddlers often put-in at Rymers for a two-day trip to Powder Mill Spring. Rent a canoe nearby, bring your own or go with an outfitter. Hint: Save time to tour one of the area's many limestone karst caves.
Point Reyes National Seashore: For a dose of paddling Pacific-style, head here with your sea kayak. Hotspots include Tomales Bay, as well as Drakes and Limantour Estuaries. Expect kelp beds, seals, and more. [Read about a sea kayaking lodge near Point Reyes.]
Pictured Rocks National Lakeshore: Michigan's Pictured Rocks along the Hiawatha Water Trail serve up a 15-mile-long swath of 200-foot-high, 500-million-year-old lakeside cliffs painted a variety of pastels by seeping water. The view doesn't get any better than from the cockpit of a kayak. For extended stays, access it from one of five put-ins that have seven backcountry campsites along the 40-mile water trail.
St. Croix National Scenic Riverway: Make fresh blueberry pancakes every morning along the St. Croix and Namekagon rivers in eastern Minnesota and northwestern Wisconsin. Together these rivers serve up 255 miles of prime wilderness canoeing, accessed from a variety of put-ins and take-outs.
Wrangell-St. Elias National Park and Preserve: For big country paddling, it doesn't get any bigger than the Wrangell-St. Elias Range in Alaska, which offers floats on the Copper, Nizina, Kennicott, Chitina and other rivers. While access can be tough (most are accessed by charter plane), it's well worth the effort.
Yellowstone National Park: While Teton National Park to the south offers Jackson and Jenny lakes, Yellowstone offers its own paddling options on Lewis, Shoshone and Yellowstone lakes. Hint: get your paddle out of the way early as high winds often whip up in the afternoons.
Yosemite National Park: Marvel at cascading waterfalls and the geologic wonders of Yosemite's massive cliffs from the seat of a paddlecraft in the Merced River, which takes you through the heart of Yosemite Valley. Another paddling option is Tenaya Lake off the Tioga Road. [Read about recent changes in paddling options in Yosemite.]
The article was originally published on Canoe & Kayak
For access to exclusive gear videos, celebrity interviews, and more, subscribe on YouTube!