"The look on people's faces was total panic," says American helicopter pilot Aaron Mauck. "You could see it in their eyes." Mauck, who works for the Nepalese company Air Dynasty, had been dispatched to rescue trekkers stranded at High Camp, a small cluster of stone lodges below Nepal's 17,769-foot Thorong La Pass, the highest point on the popular Annapurna Circuit. The group had survived the initial blast from cyclone Hudhud in October, a Category 4 storm that dumped more than five feet of snow in the mountains. But now, two days later, the trekkers were exhausted and stranded in the deep snow. The helicopter was their only way out.
As Mauck set the chopper down, a strong downdraft and unstable snowpack made it too risky to power down, so with the blades still whirring, the survivors started piling in. Mauck worried that a panicked trekker might rush headlong into his main rotor.
Because of the altitude — 17,000 feet — Mauck's helicopter could carry only three passengers, half its normal capacity, and Mauck yelled at those climbing in over the thump of the rotors: "You need to get out! We're not going to be able to do this!" As soon as two exited, two more would climb in. It took several minutes to convince the trekkers to wait their turn. Mauck lifted off, shuttling the survivors to a small village nearby, then returned for more.
Hudhud killed more than 50 people, with 400 others requiring rescue by helicopter. It was Nepal's worst-ever trekking disaster. But in a country with no 911 service and a crumbling road network, Hudhud also illustrated one thing: Nepal's privately owned, high-performance helicopters have become a critical rescue tool in the most mountainous country on Earth — one that is faced with more rescue calls every year.
"We've just scratched the surface of heli-operations in Nepal," says 39-year-old Siddartha Jang Gurung, chief pilot and operations manager at Simrik Air, one of seven air companies in the country. "People don't even understand yet what we can do."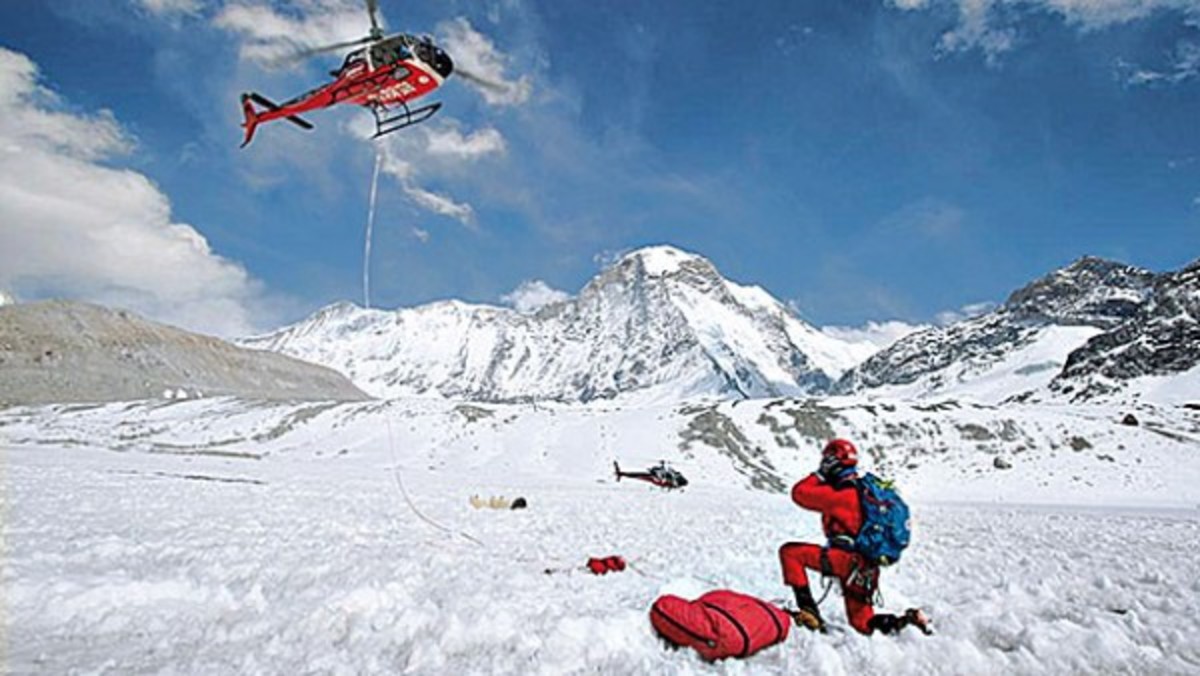 The new-generation B3 helicopter can fly 3,000 feet higher than other models. Below: Simrik pilot Siddartha Gurung. 
Helicopters have been used for decades in mountains around the world, most notably in the Alps. In Nepal they've become standard tools for a host of jobs, from sightseeing tours to transporting supplies for heavy-duty infrastructure projects like hydroelectric plants. There have even been reports of wealthy Everest climbers using helicopters to fly back to Kathmandu from Base Camp after they've acclimated, in order to spend a few nights in a nice hotel before their final ascent. But the aircraft's greatest impact is in search and rescue. For years the Himalayas' extremely thin air limited its use in high-altitude situations, but that changed with the debut of the B3, a high-performance chopper. Since the first B3 arrived in Nepal, in 2009, they've been used on hundreds of missions, plucking injured climbers from altitudes where previous heli-rescue seemed impossible.
The Airbus AS350 B3, as it is formally known, has an official ceiling of 23,000 feet, but it's capable of flying much higher, something French test pilot Didier Delsalle proved when he landed a stripped–down version of the aircraft on the summit of 29,029-foot Everest in 2005. In 2013, Italian pilot Maurizio Folini used a B3 and a longline — a rope that lets a pilot extract victims on steep terrain while keeping the rotors a safe distance from the slope — to save an injured Everest climber at 25,590 feet. It was a record for the highest heli-rescue.
The feat garnered headlines around the world, but many found it self-serving. "That was a stunt," says Russell Brice, the owner of Himalayan Experience, the largest guiding company on Everest, pointing to the fact that the victim, once deposited safely on the helipad, walked away without seeking medical assistance. Whatever the reaction, the incident demonstrated just how powerful the helicopters could be in the right hands.
Currently there are eight B3s based in Kathmandu. The aircraft cost more than $2 million apiece, so their owners use them as often as possible, and there's heavy incentive to push the limits of aircraft durability, pilot skill, and weather conditions. Because the companies are private, they often compete for jobs. Anyone can charter an aircraft, even during emergencies. Mauck's flights in the wake of Hudhud, for example, were paid for by the Israeli government, which had hired Air Dynasty to evacuate its citizens from the disaster zone. More troubling, if a victim has no way of guaranteeing payment (flights can cost upwards of $2,500 per hour), a helicopter might never be sent or an individual could decline rescue based on cost. Simrik pilot Bibek Khadka, for one, recalls a trekker who, not having insurance or cash on hand, insisted he could walk out instead. "The next day, the embassy paid for us to go get his body," Khadka says.
Not surprisingly, flying helicopters in the Himalayas is extremely dicey. According to the Aviation Safety Network website, there have been 24 accidents involving helicopters between 2001 and October 2014 — including a 2002 incident when a chopper flying near Makalu vanished and still hasn't been found.
"Most crashes are a combination of weather, terrain, and pilot inexperience," says Kunda Dixit, editor-publisher of the Nepali Times and a longtime observer of the industry. "Add one other factor to the mix — an overloaded plane, poor maintenance, improper communication — and then it gets truly dangerous."
Leading the push to make the industry safer is Siddartha Gurung, one of Nepal's most experienced helicopter captains. Gurung trained for two years with Switzerland-based Air Zermatt and now, at Simrik Air, organizes training programs for pilots and rescuers, no matter what company they work for.
"Part of the problem in Nepal is that nobody works with each other," says Brice. "Siddartha's one of the only guys who's trying to pull people together."
Gurung is also part of an effort to start a nationwide emergency-response service to coordinate rescues.
"You can have the best pilot," says Gurung, "but if you have bad operations, bad management, it will get you in trouble."
To illustrate, Gurung points to a former colleague, Nepali pilot Sabin Basnyat, who died in a 2010 crash while attempting to rescue a pair of alpinists at 21,000 feet. Basnyat and Gurung had recently returned from training in Switzerland and had been urged to proceed cautiously, in part because they didn't have proper communications equipment. But Basnyat, at the behest of his company, took on the job. He had just picked up one climber from the slope when his B3's main rotor clipped the ridge. In an instant the blade disintegrated, and the machine tumbled down the slope. It was Gurung who flew Basnyat's body off the mountain, then went back to rescue the remaining climber.
ALSO: Training Syria's Elite Rescue Force

Gurung blames his friend's death in part on lax oversight and pressure from management to perform. "They said, 'Go and do it,' " he says, reflecting. "They put something they should not have in front of him."
The accident quickly raised questions about how and when the aircraft should be deployed. It also brought up concerns about climbers' risk assessment, with many believing that some climbers have become reckless, knowing that a rescue is only a flight away.
"There should be some places, like above 23,000 feet, where we do not go," Gurung says. "It needs to be up to climbers to get themselves down."
Despite concerns, it's clear that helicopters aren't going anywhere. After an avalanche last spring on Everest killed 16 Sherpas (Simrik flew the dead and injured off the mountain), the discussion turned to whether helicopters should be used even more, to shuttle gear past the Khumbu icefall, where the avalanche hit, essentially trading one risk for another.
Overlooked in the tragedy was Simrik, which quietly went on to perform eight high-altitude longline operations. The most challenging involved plucking a climber with altitude sickness from a small crevasse at 21,000 feet on Ama Dablam. "We were only able to do this because we were ready," Gurung says. "Before, we were not ready. If you try to do something prematurely with helicopters, it won't work."
For access to exclusive gear videos, celebrity interviews, and more, subscribe on YouTube!