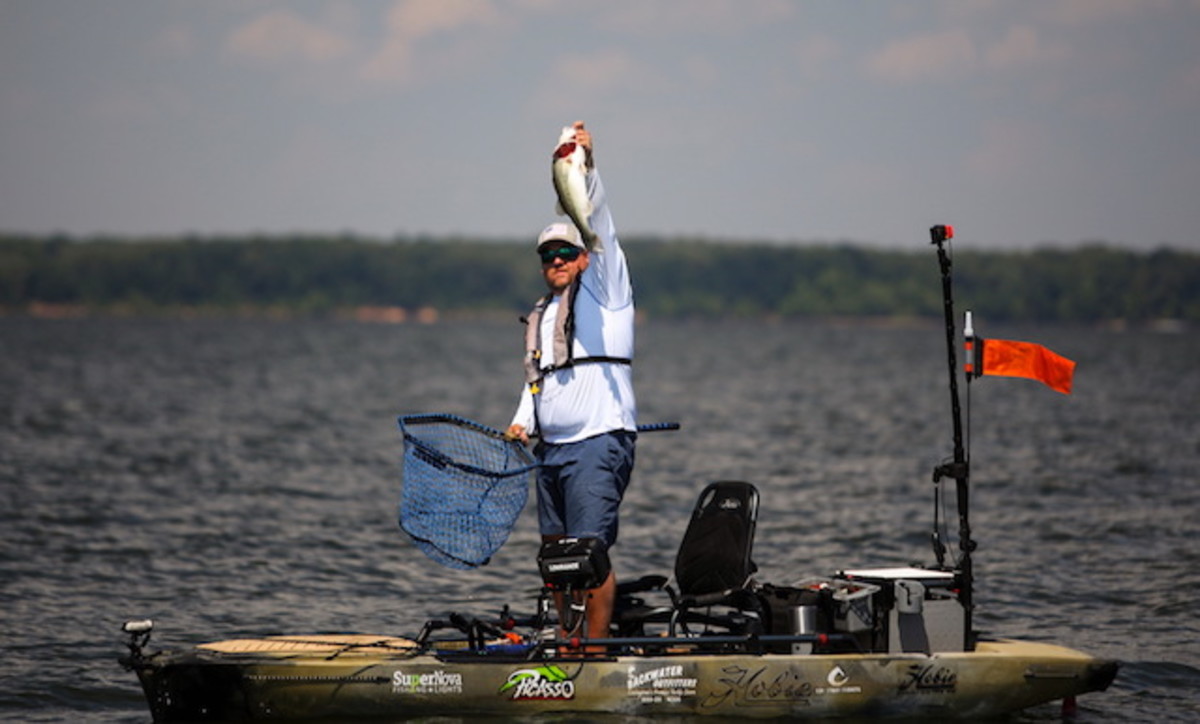 The one that got away didn't and the third time was the charm for Jay Wallen of Lexington, Kentucky, who, after finishing third the past two years, battled through to take the Hobie Bass Open win. This was year four of the tournament that took place on Kentucky Lake in Marshall County, Kentucky, June 10-11.
"I'm so happy I pulled it off so I can go to the Hobie Worlds 7," commented Jay. "That's what this whole thing is about. I just couldn't be happier."
Wallen went into the final day of the two-day Catch, Photograph, Release kayak fishing tournament with a one-inch lead. A crowd of top kayakers was close behind and he felt the pressure. Changing up from day one, Jay hunted his fish on a ledge farther north, closer to the dam where he'd finished the first day on a furious flurry. However, on the final day the bite proved to be a grinder. Still, Wallen averaged one fish every two hours, and they were good ones.
The Big One That Almost Wasn't
Wallen's three-fish daily limit was backstopped by a 20-inch largemouth that he said he probably should not have caught. The jig pulled right at the boat, and Jay just got the net under the fish before it hit the water.
"That's when I knew I had a chance. I didn't think I had it won but I had a chance," he said.
Wallen fished clean, converting all his bites and it proved essential. With just 30 minutes of fishing time left, he culled an 18 incher, giving him a daily total of 56.75 inches. It was just enough. His two-day total of 115.5 inches narrowly beat his closest challenger.
"The biggest thing about this tournament is you compete against your peers and some of the best kayak anglers out there," he went on to say. "That's what makes it special. You do this in front of all your peers and a lot of them are happy for you. We're all for the most part friends."
While the win earned Wallen a check for $4,000, it was the trip to the Hobie Fishing World Championship 7 that has him most excited. The World's destination is expected to be announced in July. Wallen is ready, wherever it winds up. "You could put it on the moon for all I care! I'm ready to go, to represent team USA," he said.
Joshua Stewart of Waverly, Tennessee nearly matched Wallen inch for inch, but ultimately finished second with a total of 114.25 inches. He fished a jig in shallow water in the New Johnsonville area of Kentucky Lake. Stewart earned $2,500 and an invitation to the Hobie Fishing Worlds 7. "This is the biggest one, the most meaningful finish of my kayak fishing career," he said.
Drew Russell of Louisville, Kentucky rounded out the top three. He earned $1,700. "I was shooting for a top ten finish so I'm thrilled with third. I'll be back. We'll get it next year," he said of just missing the Hobie Worlds. Russell fished worms and jigs on ledges and points.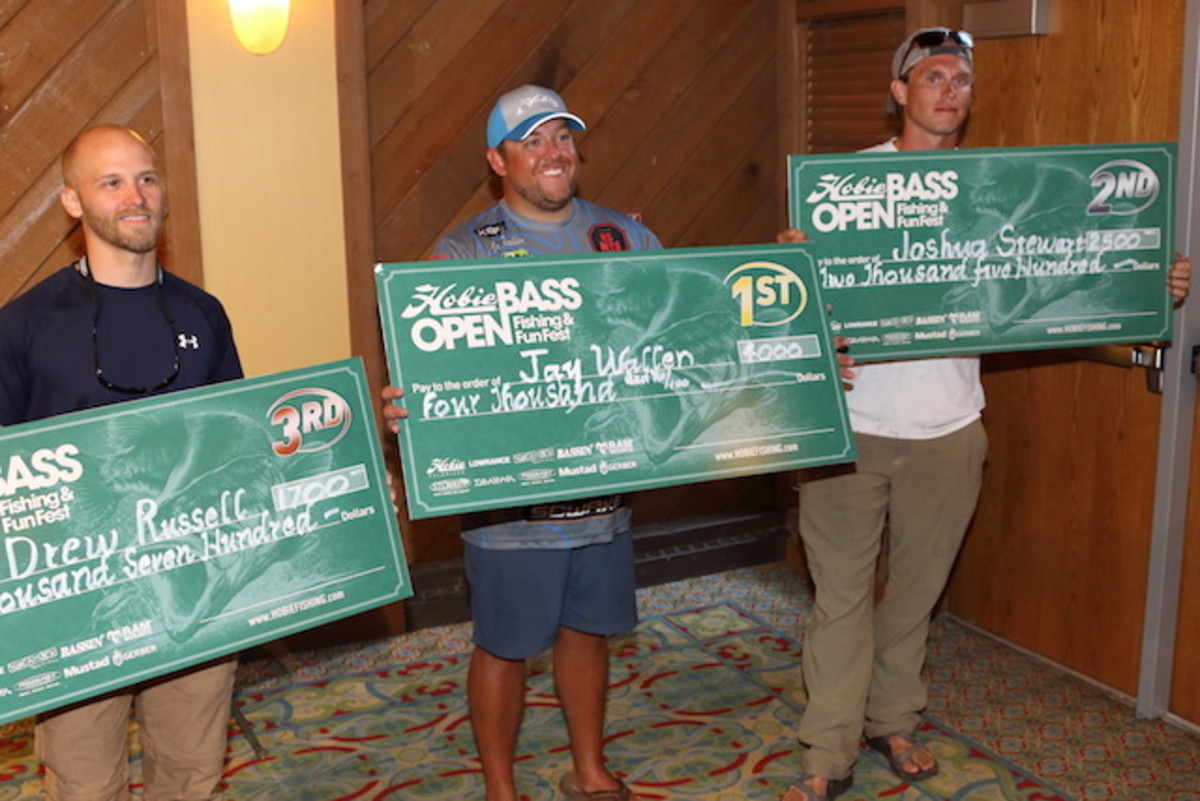 The Hobie Bass Open paid out twelve places. There is always a 100% pay out of angler entry fees in this competition and this year 115 anglers fished the adult division.
The youth division was won by Jaxton Orr, who compiled an impressive two-day total of 102.25 inches. He was followed by Will Stumbo (95.5 inches) and Cole Kleffman (83.75 inches)
Kentucky Lake Convention and Visitors Bureau and Hobie Worldwide sponsored the first-place finisher's entry to the Hobie Worlds. Additional sponsors included lodging host Kentucky Lake Dam Village State Resort Park, the host city of Calvert, Hobie Polarized, Lowrance, YakAttack, Bassin' Magazine, RAM Mounts, St. Croix, Daiwa, Power-Pole, Mustad and Gerber.
This year there are two new Hobie Fishing World Championship 7 US and Canadian qualifying events: the Shasta Bass Kayak Classic and the 2nd Annual IKE Foundation Celebrity Pro Am Tournament Kayak Division hosted by Hobie's own Mike "Ike" Iaconelli. Ike's event will be special, a star-studded occasion contested on the non-tidal sections of the Delaware River and includes dinner on the illustrious battleship USS New Jersey.
The full Hobie Fishing Worlds 7 North American qualifying event schedule is as follows:
The Shasta Bass Kayak Classic, March 25-26 – 1 qualifying spot, Naoaki "Uminchu" Ikemiyagi
The Jamaica Bay Kayak Fishing Classic, May 18-21 – 1 qualifying spot
The Hobie Bass Open, June 9-11 – 2 qualifying spots
The Border City Classic, June 24-25 – 2 qualifying spots
The 2nd Annual IKE Foundation Celebrity Pro Am Tournament Kayak Division, July 7-8 – 1 qualifying spot
The article was originally published on Kayak Fish
For access to exclusive gear videos, celebrity interviews, and more, subscribe on YouTube!