For those of us who live in snow country, there are times every winter when the restlessness to be on the water rises up like a melt-water creek. The urgency to hold a paddle, feel current under a hull, the swoop of river going around a bend, reaches a crescendo. And so, you find yourself putting in on the Brule River in northern Wisconsin one warm weekend in February. Or slipping onto an open stretch of the upper Connecticut some March afternoon in northern New England. Or, if you're me, sliding down between icy banks through Paradise Valley on the Yellowstone, or returning to that stretch of the East Gallatin, full of spring creeks, that tends to stay ice-free all winter long. Or, on a recent weekend at the end of January, paddling the lower Gallatin through white-topped gravel bars with the snow-brilliant Bridger Mountains for a backdrop.
As the saying goes, "There is no such thing as bad weather, only bad gear." With a few critical pieces of equipment on lock-down, those mid-winter outings, alone on the river in snow country, are pretty damn nice.
START WITH THE FEET: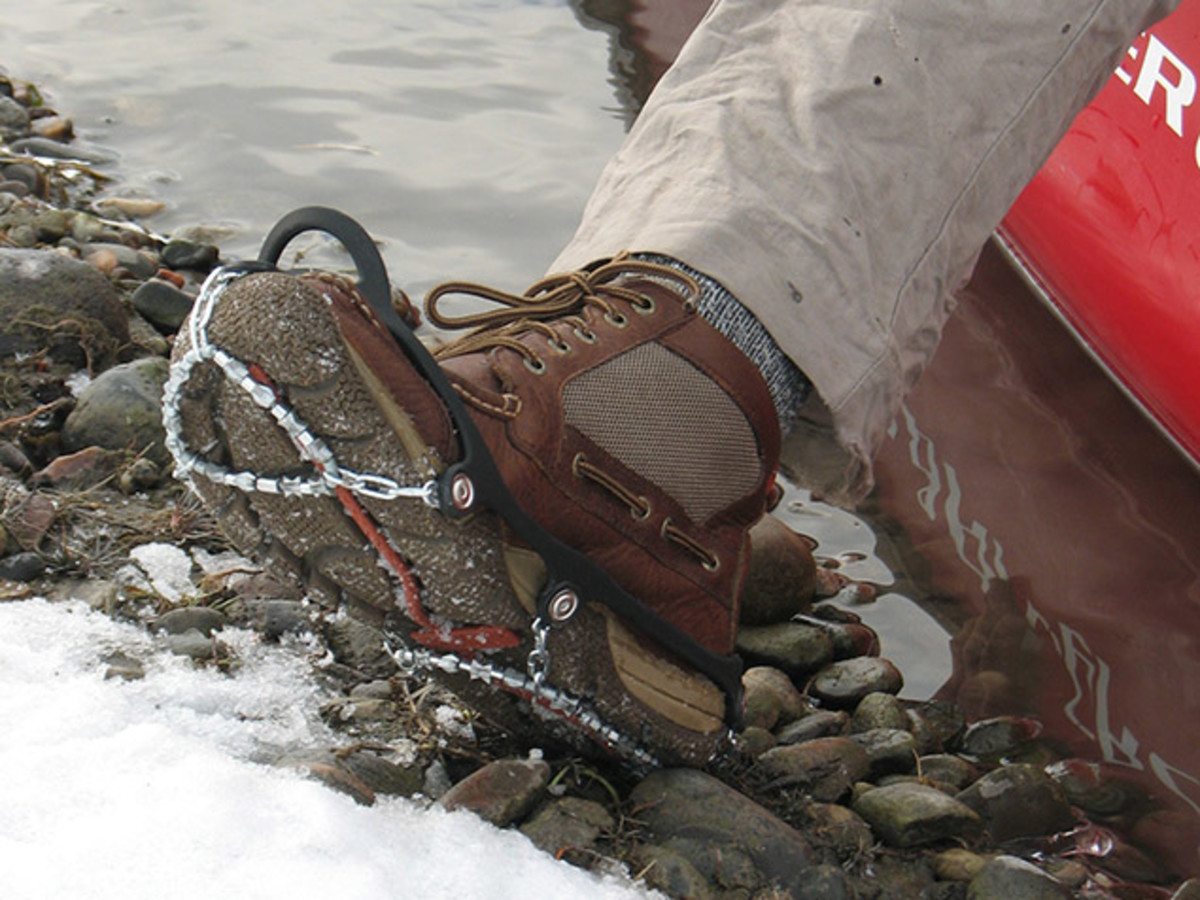 STREAMtrekkers: You do not want to fall down walking an icy shoreline, or bringing your boat through shallows. The STREAMtrekker traction system fits snugly over shoes or boots to give bomber security on slimy, icy cobbles and on shorefast ice. Diamond bead design gives purchase on all sides and the combination of steel cable, grommets, and heavy-gauge rubber makes for a stout, long-lasting product. My only caveat, don't keep them on inside the boat – the hull won't like it – but stash them close to hand.
— Intel: $45; www.icetrekkers.com.
Boatyard Chukka Boot by Sperry: I recently upgraded from my old rubber boots to the Chukka. Why? They are warmer, more comfortable, and have better traction on slippery cobbles. They don't give me that knee-deep waterproof invulnerability, but the uppers are waterproof leather/mesh for protection in shallows, and they offer superior comfort as well as warmth all day long.
— Intel: $140; www.sperry.com.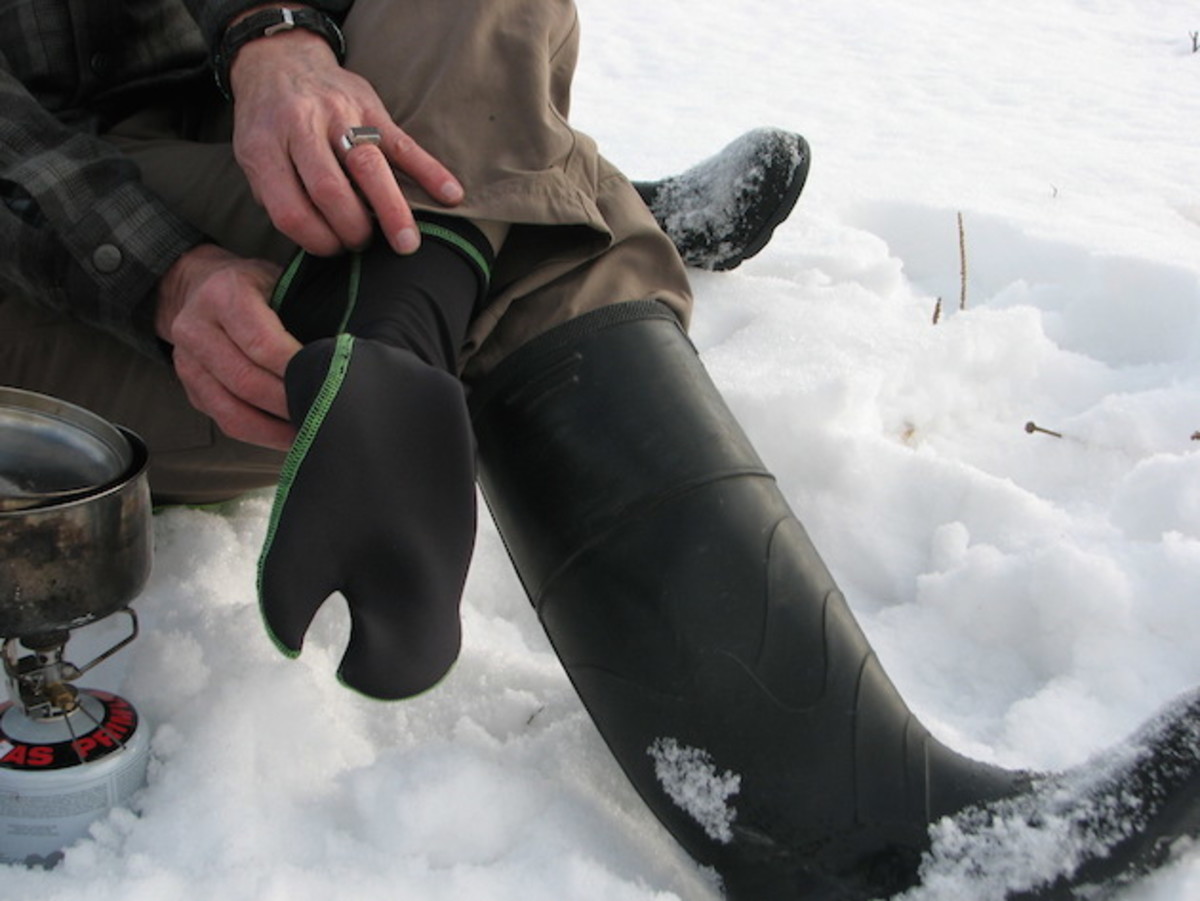 Wetsox Originals and Therms: What Wetsox products give you is a combination of warmth and insulation, combined with fabric that makes it easy to get gear on and off. The originals are a thin layer of poly/spandex fabric with split-toe design that slips right into boots or neoprene, and which allows for passage of water so feet stay warm even when wet. The heavier Therms have identical features, with 1 mm. of extra insulation for colder conditions.
— Intel: Original – $25; Therms – $33; www.wetsox.com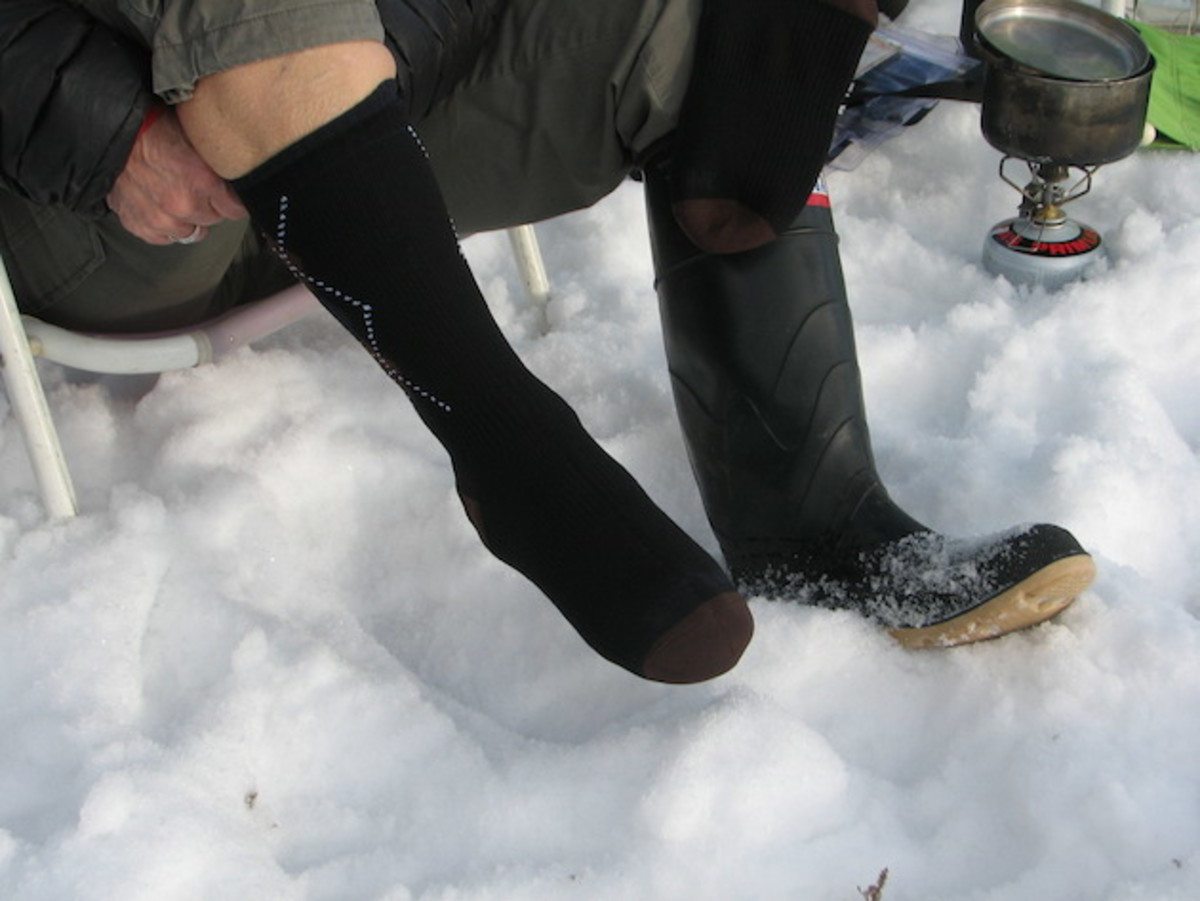 Sea Eagle Socks by Sealskinz: You haven't experienced socks until you put on a pair of Sealskinz. The mid-length, mid-weight Sea Eagle is what I wear with my rubber boots. Merino wool for warmth and comfort, hydrophilic technology for a waterproof/breathable layer, snug fit, and total protection from wind. These socks are the toughest, most comfortable, and driest foot protection I've ever pulled on.
— Intel: $50; www.sealskinz.com

PROTECT THE BASE: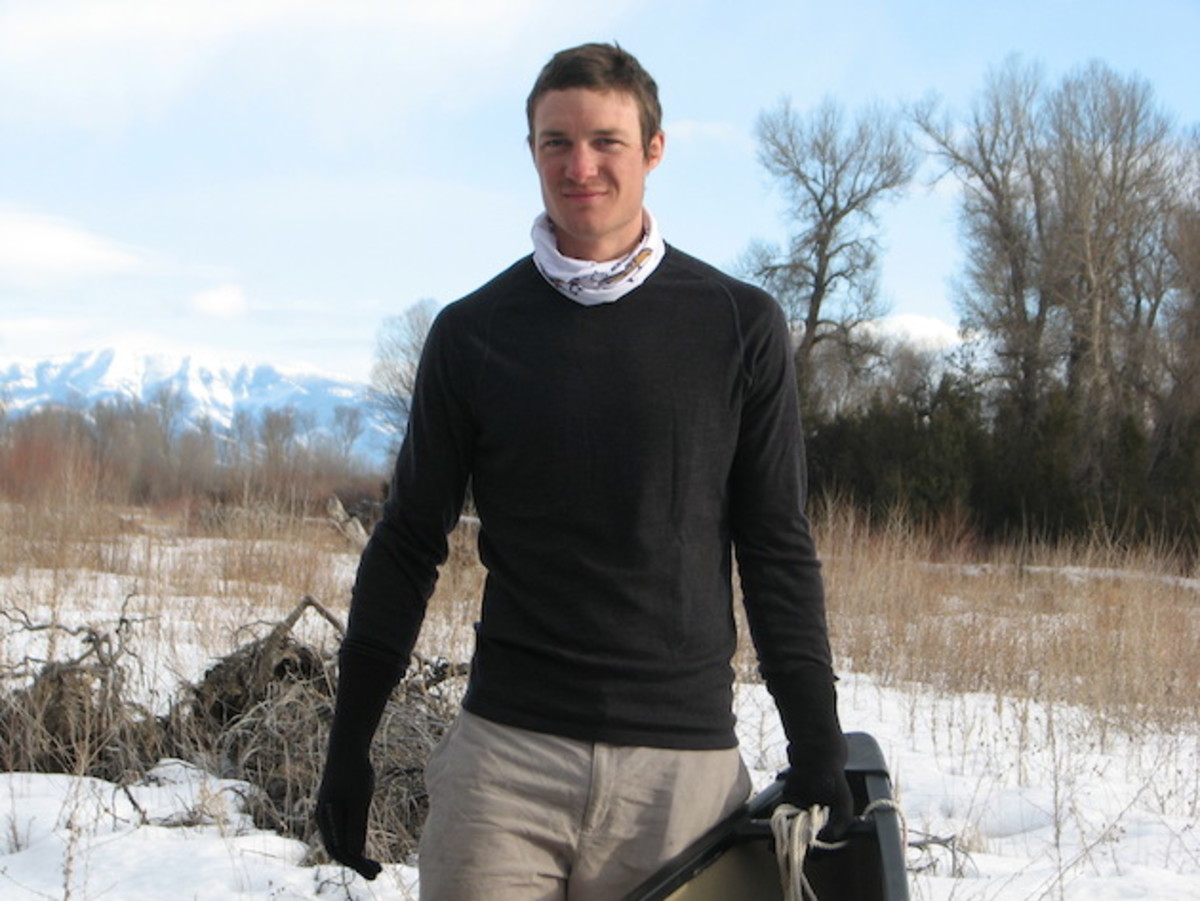 NTS Mid 250 Baselayer by Smartwool: Honestly, I don't always put on the long underwear, especially the bottoms. But they always come along, because when I need that layer, nothing else will do. It stays either next to my skin, or in the dry bag with the extra clothes. I like merino wool for its comfort, for its natural moisture-wicking qualities, and because it doesn't develop that weird stink of the synthetics. The heavier protection of the 250 series works well for winter outings and relatively non-aerobic paddling activity. Even when I'm not wearing it, I'm comforted knowing I have it along.
— Intel: Tops/Bottoms – $95 ea.; www.smartwool.com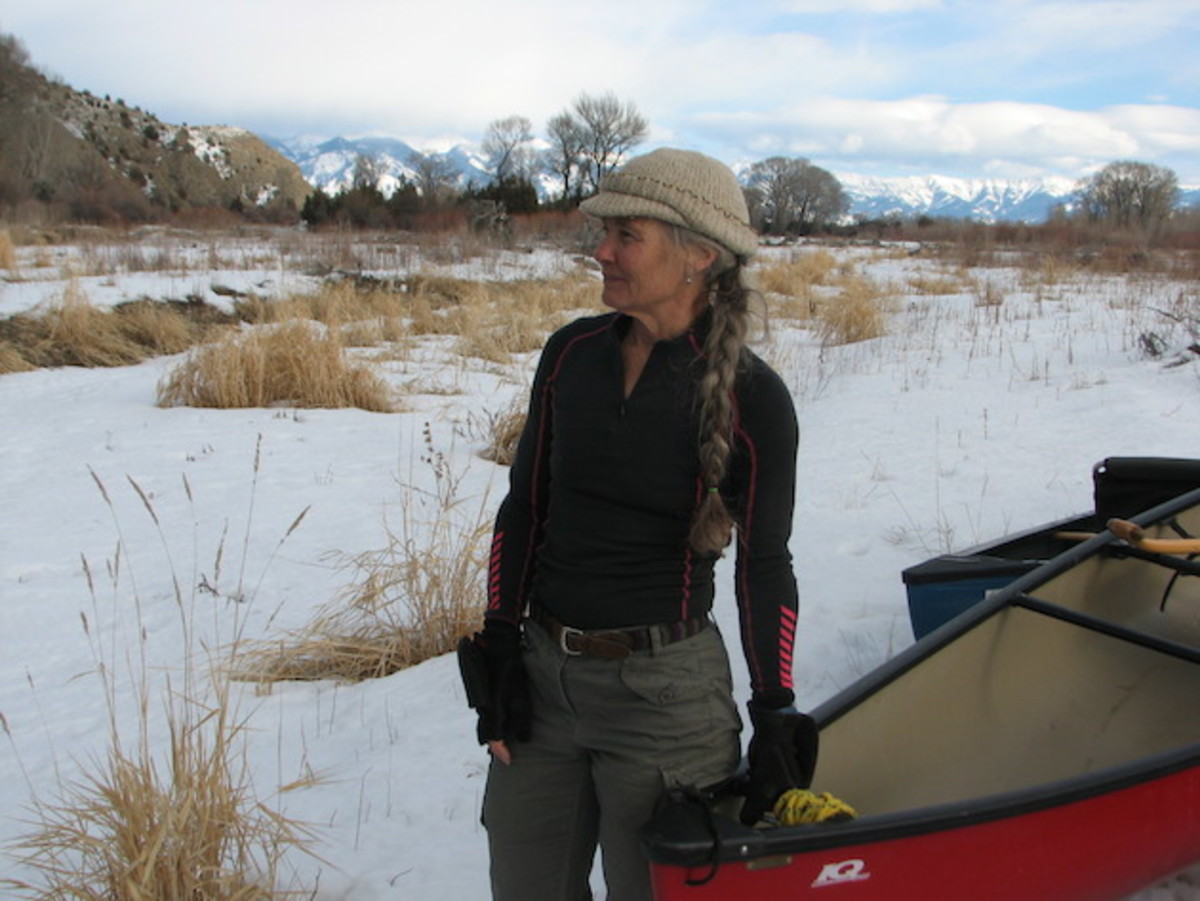 Women's Warm Freeze ½ Zip from Helly Hansen: HH combines the warm comfort of merino wool with Lifa fiber for enhanced moisture wicking in this popular baselayer top for women. My wife and winter paddling partner is a convert. She loves the long-sleeved snug fit and versatility of the partial zipper front. For her, it's the first thing to go on and the last thing to take off.
— Intel: $95; www.hellyhansen.com
TORSO WARMTH: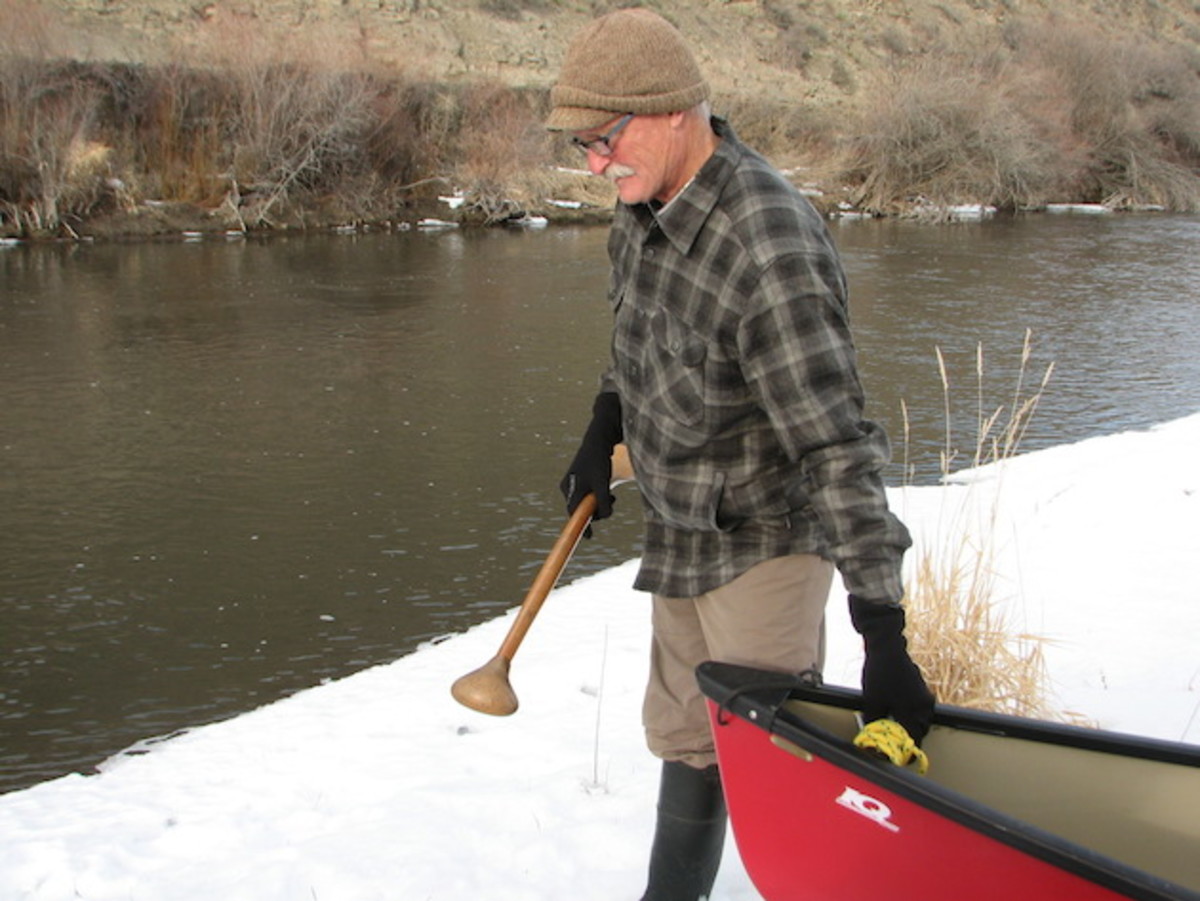 Shop Jack by Royal Robbins: Okay, call me a traditionalist. Guilty. Yes, I have been known to bring along the hatchet. But I also notice the envious looks I get from fellow cold-weather paddlers when I'm wearing the quilted Shop Jack overshirt. It features meticulous attention to detail, snap closures, great pockets and that quality rugged look achieved with a durable blend of acrylic and wool. There are layers I take along in case, and the Shop Jack, which stays on for the whole ride.
— Intel: $99; www.royalrobbins.com
Helly Hansen's Women's Propile Hybrid Insulator: The insulator is a solid mid-weight layer which is usually warm enough on its own. If it's truly frigid, a shell on top ratchets it up. The unique combination of primaloft insulation around the torso, and pile fleece on the arms, coupled with well-located pockets and a front zip, make this an easy, warm extra layer that covers the spectrum from brisk to pretty damn cold.
— Intel: $140; www.hellyhansen.com
EXTREMITIES:
Ultra Grip Gauntlet by Sealskinz: Nothing kills a mid-winter outing like frozen hands. And paddling tends to be damp if not downright wet. Solid gloves/mitts are key, and Sealskinz has the technology down for stretch fit, waterproof, and windproof products. The gloves incorporate sticky dots on the palm for no-slip grip, and extra long gauntlet cuffs that extend well up the wrist. Always in the pack, or on the hands.
— Intel: $60; www.sealskinz.com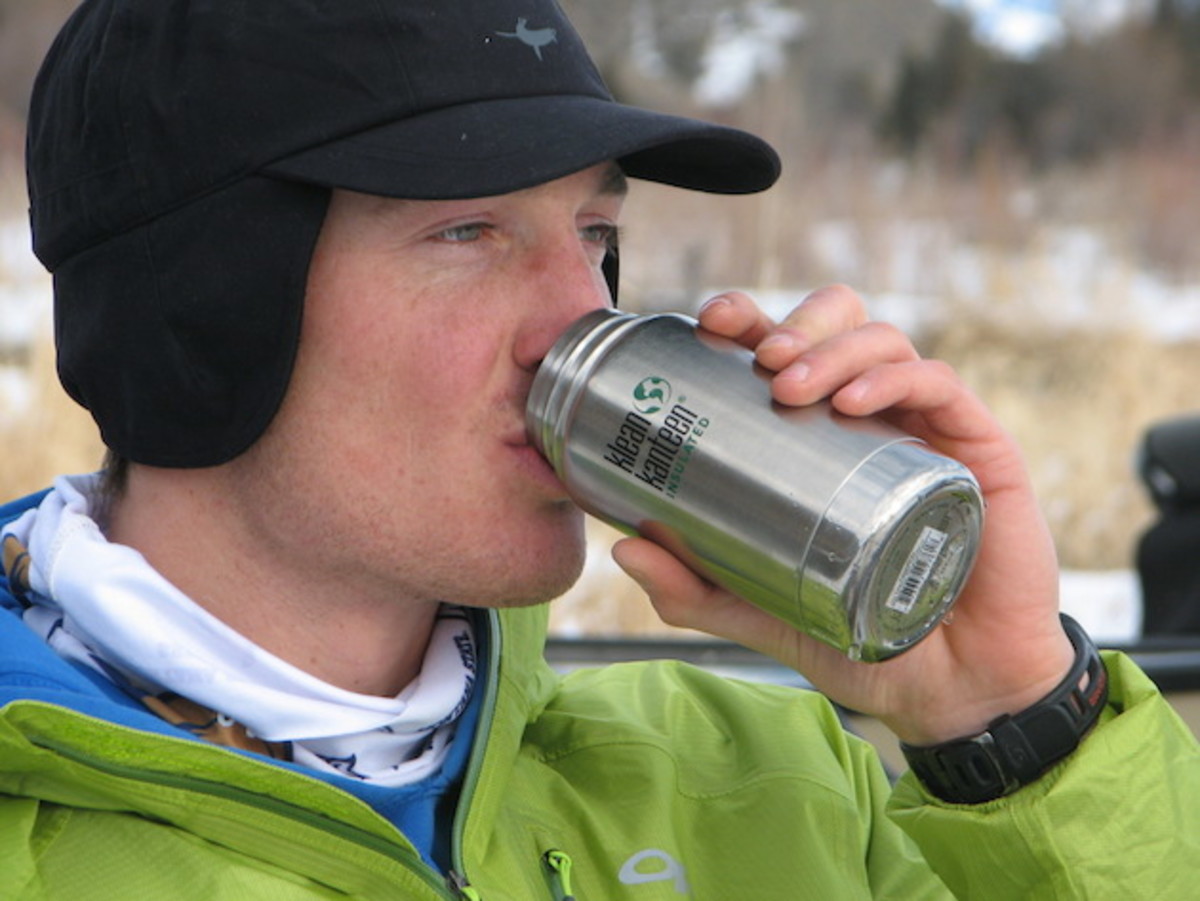 Thermal Waterproof Cap by Sealskinz: Don't lose all that heat through the lid. The thermal cap by Sealskinz keeps it in with a breathable/waterproof shell, stiff bill, and micro-fleece lining. Earflaps may seem goofy, but man do they feel good on a blustery February day. The usual attention to detail I've come to expect from Sealskinz and another product proving that they have cold, damp conditions covered like no other.
— Intel: $55; www.sealskinz.com
SQUALL ZONE:
Helium II Jacket by Outdoor Research: Okay, this is the one piece of gear I hope not to wear. It goes along for the same reason those long-underwear bottoms go along, because when conditions warrant, it's irreplaceable and invaluable. The Helium II maximizes weather protection in a package so lightweight you really can't resent packing it. Waterproof pertex/nylon fabric, waterlock zipper, adjustable hood with visor, accessory pocket. When the death-star storm cloud looms, this is the layer I'm scrabbling for.
— Intel: $159; 6.4 oz., www.outdoorresearch.com
STORAGE AND ACCESSORIES: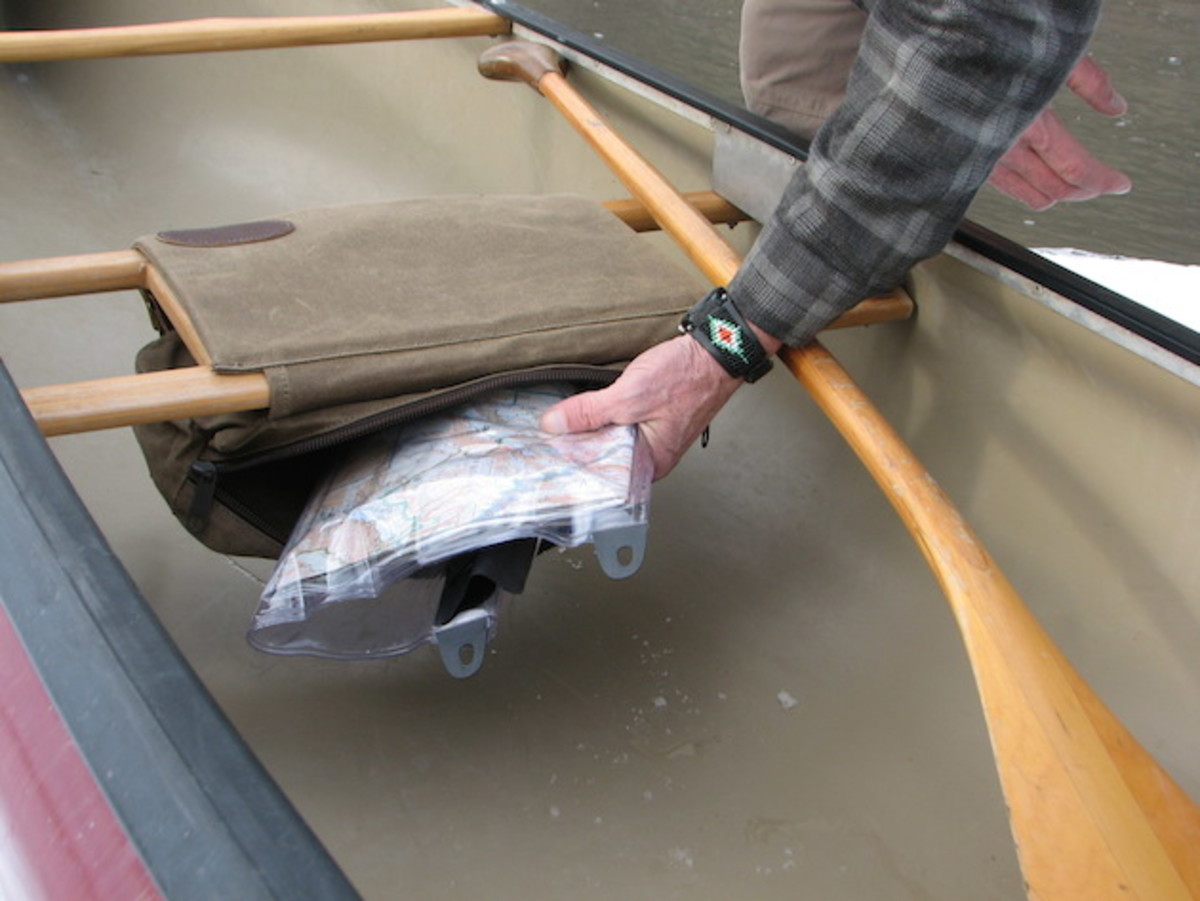 Canoe Accessory Bags by Frost River: The waxed canvas, waterproof bags designed by Frost River are products my grandmother would have called, 'cunning'. The Thwart Bag, the Seat Pad/Bag, and the Bow Bag all keep the little essentials easily available. Stow your insulated bottles, your ice grippers, your map, a few snacks where you can get at them without rocking the boat. The coated canvas is solidly waterproof. Large size zippers are easy to handle with gloves on. Traditional-style construction is really durable. Pick the style that works, hang it in the boat. You won't regret it.
— Intel: Seat Pad/Bag – $90; Thwart Bag – $85; Bow Bag – $70; www.frostriver.com
High-Performance Map Case by SealLine: Maps may be on the way out, but not in my boat. Being able to refer to the map is a staple on an outing, and the waterproof cases by SealLine allow for wearing them around the neck or storing them on board for easy reference. Roll-top/Velcro closure keeps the charts dry, and lash points allow for strapping to the load in the durable urethane pouch.
— Intel: S, M, Lg. sizes from $27.95 – $45; www.cascadedesigns.com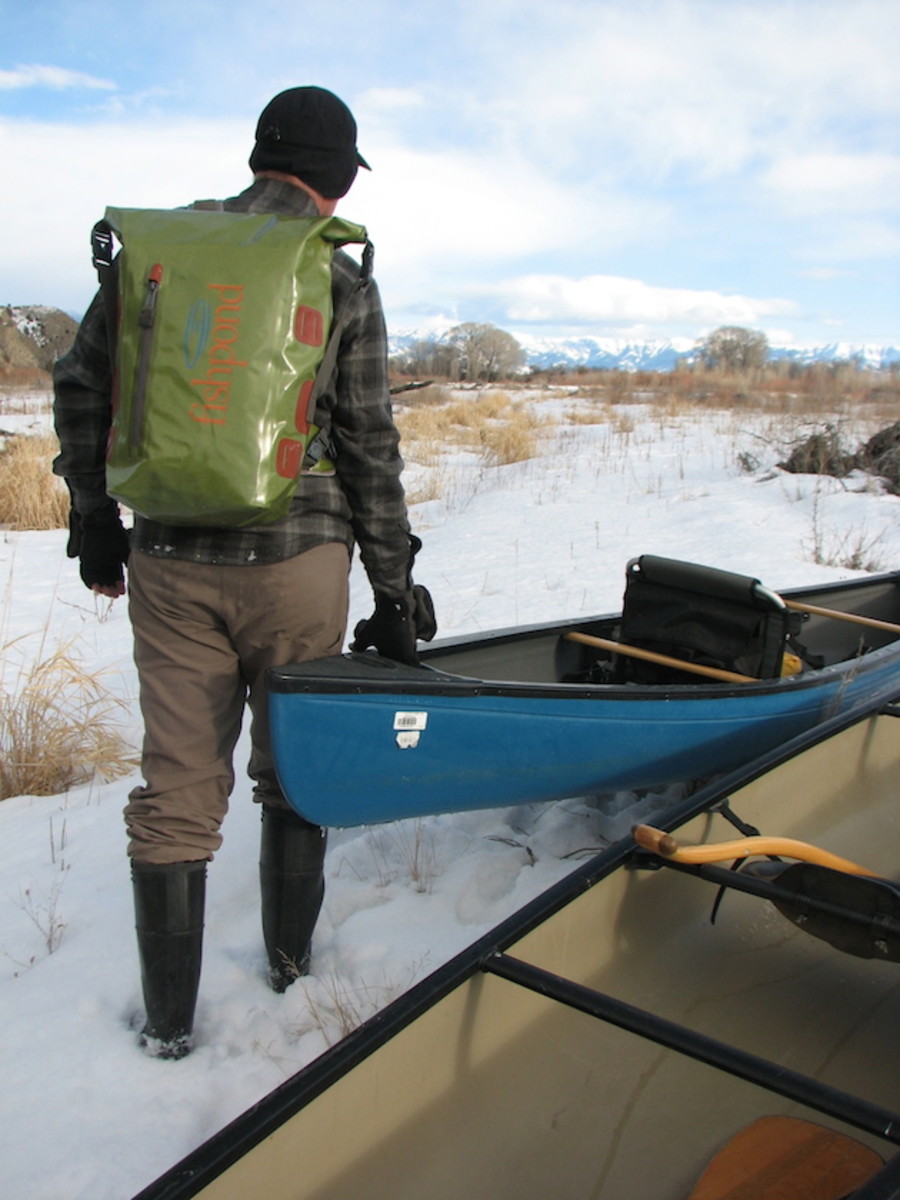 Fishpond's Westwater Rolltop Pack: The dry bag on a winter outing is like the safety deposit box at the bank – where you put the true valuables. When you get wet, when the weather comes in, when the unexpected is knocking down the door, that pack will save the day. That's where I keep those long underwear bottoms, the stove and pot, the extra coat, first aid kit. The Westwater Rolltop holds 2,074 cubic inches, comes with a water-resistant exterior pocket, and stays dry fully submerged. The pack also sports the full component of shoulder, sternum, and waist straps for a comfortable carry.
— Intel: $150; www.fishpondusa.com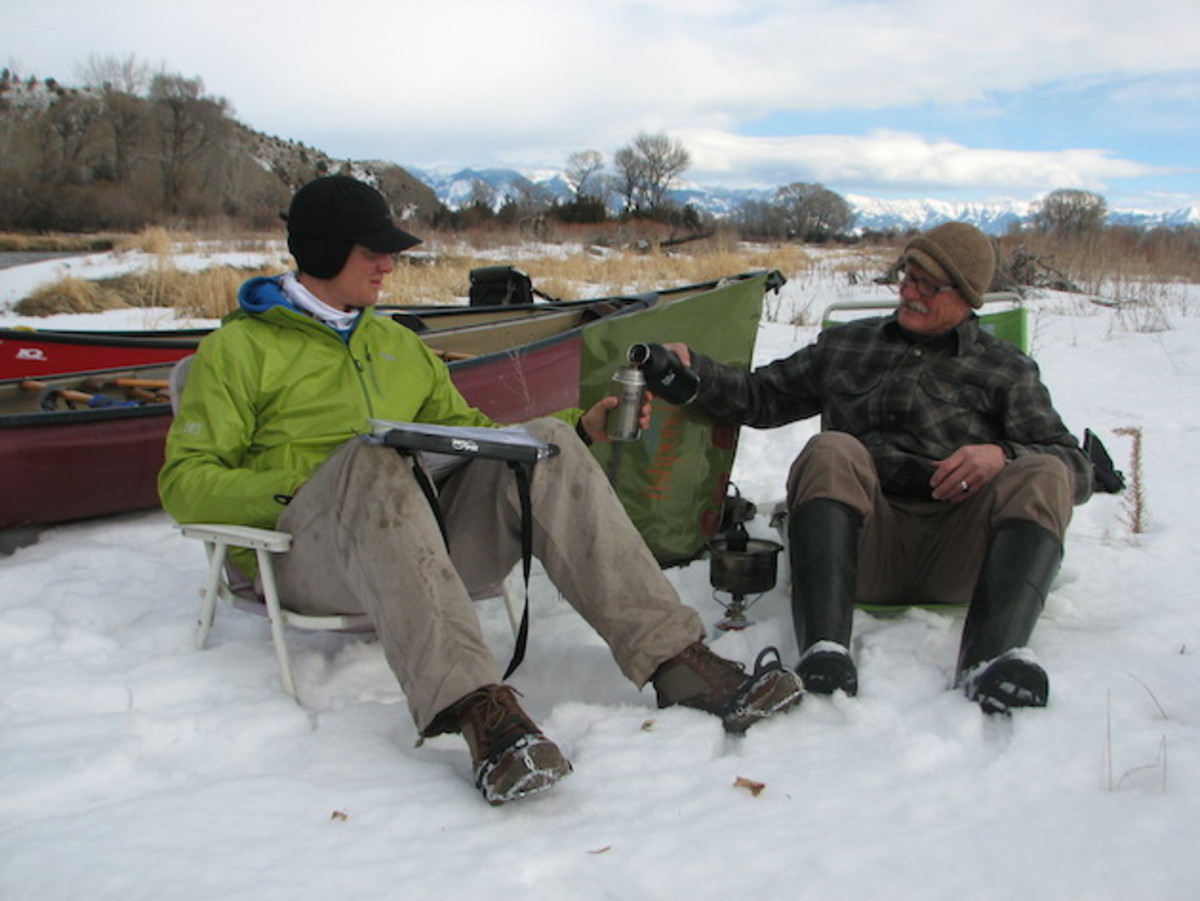 Klean Kanteen Insulated Bottles: Gotta have the hot drinks on board, especially in January. Klean Kanteen covers the spectrum from single serving to half-gallon bottles. And they are effective. The 32 oz., double-walled stainless steel bottle is my favorite size. It will keep the cocoa/tea/coffee piping hot for 12 hours. Wide mouth style is easy to pour and clean. Sport cap with spout available separately.
— Intel: 32 oz. Insulated Bottle – $37; www.kleankanteen.com
— See more GEAR reviews, tips and previews on CanoeKayak.com
The article was originally published on Canoe & Kayak
For access to exclusive gear videos, celebrity interviews, and more, subscribe on YouTube!