In the world of heavy wave surfing, New England is little more than an afterthought. Sure, Rhode Island's point break known as Ruggles has been known to hold 20-foot faces, but it's a different animal than Pipeline's heaving barrels. While the Hawaiian and Californian waves get most of the attention, there are a number of small, dedicated stormchasers from the Mid-Atlantic to Nova Scotia who navigate the land of lobsterman during North Atlantic storms — patiently looking for the rare, hard-to-find surge. "We've been skunked 90,000 times," says Sam Hammer who has spent much of the last decade in the Northeast with fellow surfer and New Jersey native Mike Gleason and photographer Brian Nevins. "We've put in our time. Sometimes we just drive for days and never score. We get into arguments. A lot of the time we don't even talk on the ride back to New Jersey."
While summers in the northeast are relatively waveless, hurricane season offers an opportunity to score without winter's winds, abbreviated daylight, and the need for thick rubber. But finding the best swell from distant hurricanes is not an easy task. Stormchasers need to have intimate knowledge of the coast including swell directions, reefs, and offshore bathymetry, understanding how breaks work on groundswells (and windswells), as well as the ability to read meteorological charts to gauge the swell size, direction, and wind. It's grueling work, but the payoff, as we found on September 17, can be big.
We embedded with Hammer, Gleason, and Red Bull's Ian Walsh for a chunk of September, waiting for a worthy storm. Since August, the team has been evaluating each low-pressure system to come off Africa, where they either come raging across the ocean or get unceremoniously sheared apart. They watched several tropical depressions fizzle out. Then, on September 7, they found the answer in Hurricane Edouard, rapidly intensifying from a tropical disturbance to a major hurricane. Photographer Brian Nevins made the call, and the chase was on. Nobody on the team knew what epic wave lay in wait. 
Sunday, September 7
11:00 p.m.
Just prior to the historic height of the Atlantic Hurricane Season when daunting Cape Verde storms push across the Atlantic Ocean, a motley showing of clouds and thunderstorms known as "91L," comes off the coast of sub-Saharan Africa. Aside from meteorologists, a handful of basement weather nerds, and East Coast surfers in the know, no one pays attention. 
Wednesday, September 9

6:00 p.m.
Ian Walsh, fresh off discovering a giant wave off west Africa and competing at a man-eating ledge in Australia, emails his Red Bull support team in New York (who later bring Hammer and Gleason on board). He's tracking the storm from Barcelona and begins rerouting travel plans.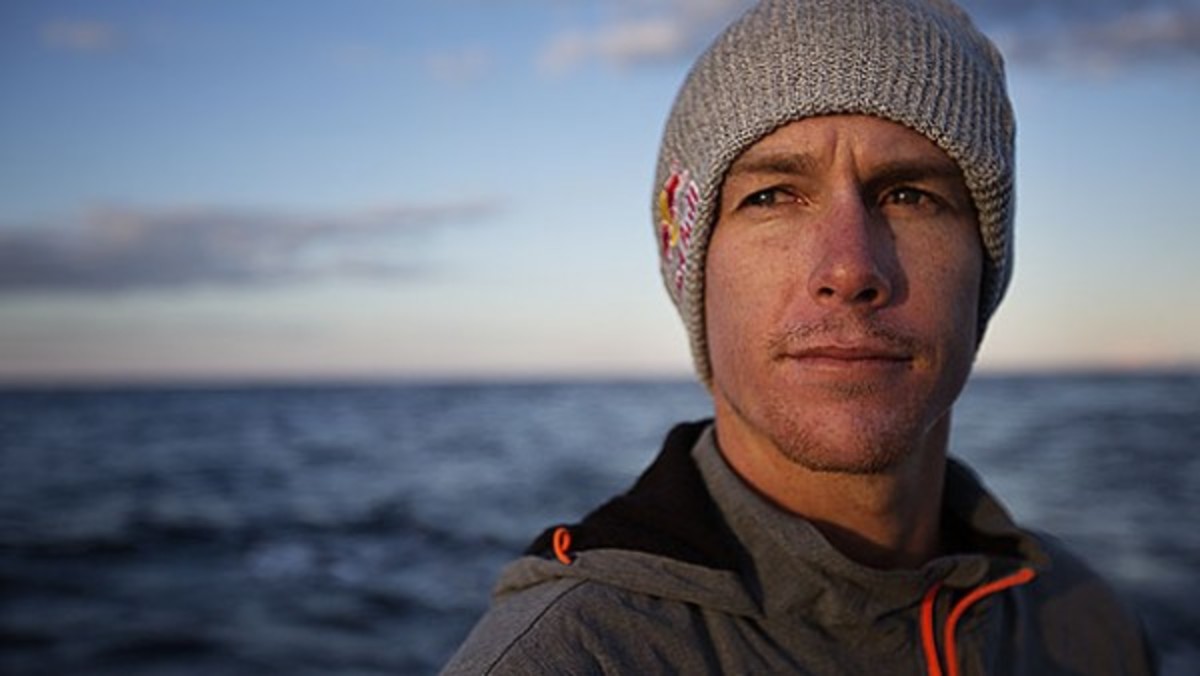 (Surfer Ian Walsh)
 
Thursday September 11

9:00 p.m.
91L officially becomes Tropical Storm Edouard with a forecast to stay east of Bermuda, posing no threat to land.
 
Tuesday, September 16

11:00 a.m.
The National Hurricane Center classifies Hurricane Edouard as Category 3, with maximum sustained winds of 115 mph, the first major hurricane in the Atlantic since Superstorm Sandy of 2012.
 
11:30 p.m.
The Walsh boys — Ian and his younger twin brothers DK and Shaun, arrive at Logan International in Boston and drive to the New England, where Walsh was born. "We moved from Rhode Island when I was eight. The twins were just babies," says Walsh. "When I did come back, I had all these visions from when I was a little kid. "It's a special place – the entire Northeast. I feel an immediate sense of comfort any time I come back here."
 
Wednesday, September 17

10:20 a.m.
Photographer Brian Nevins shuffles down to the commercial docks of a quaint New England Harbor. He's trying to find the charter boat that is taking he and the crew to surf a storied ledge with a mythical wave, miles out to sea. Judging by his newish flannel and lack of beard, the harbormaster assumes he's no lobsterman.
"I'm just meeting a friend here and hopping onboard his boat," says Nevins.
"Oh no, yaw fackin nawt!"
No passenger pickups allowed. The surfers and support crew instead all convene at the nearby public boat ramp.
10:40 a.m.
The crew loads the Jah Reel, a 34-foot fishing charter with Captain Aaron and first mate, Chainsaw. Aaron and Chainsaw chase huge tuna through the summer and fall, and snowboard New Hampshire's White Mountains in the winter. Familiar with the ledge, they are visibly excited.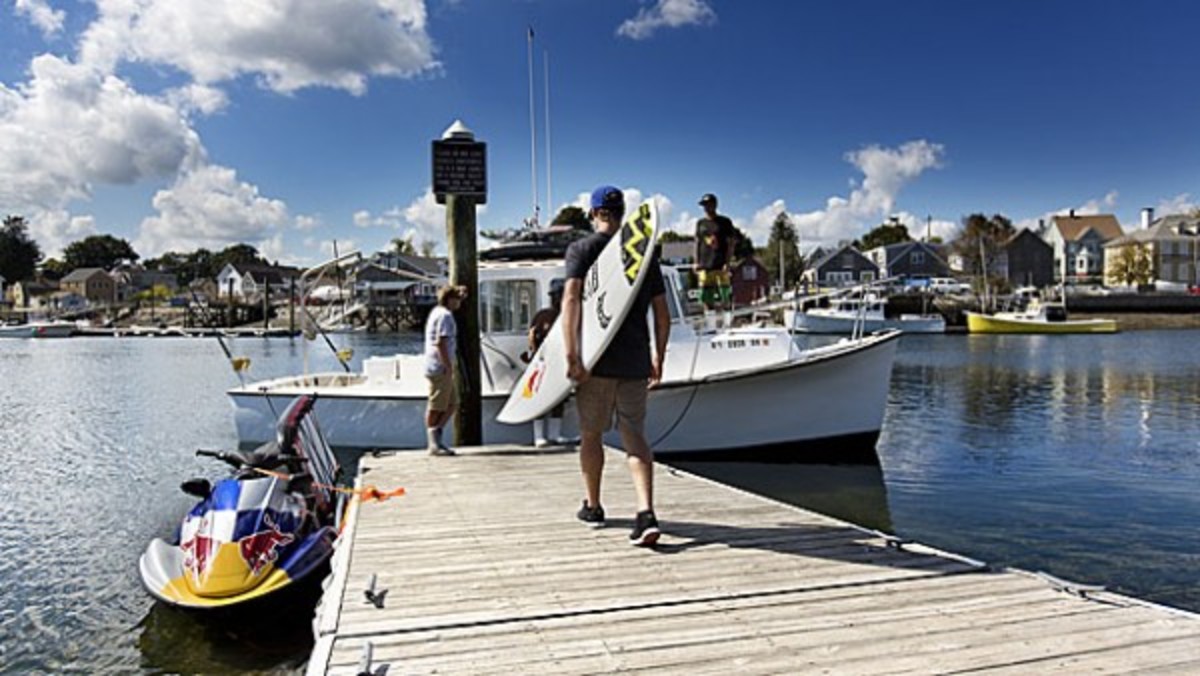 (Boarding the Jah Reel.)  

11:40 p.m.
Steaming through open ocean, accompanied by three Red Bull Honda jet skis, the southeast wind stays light. Discussion turns to the nature of the swell. The local storms that normally build waves here are windswells — short interval, punchy waves at six or seven seconds, normally the East Coast's saving grace. But this trip is dependent on long-period groundswell from Edouard over 1,300 miles away. The buoys are reading 3 foot at 13 seconds and the reports from the inshore beaches are chest to shoulder high. The swell is small, but showing. But will it be enough for this ledge? 
 
12:30 p.m.
First sight of the ledge. It's difficult to gauge at first, but as Captain Aaron brings the Jah Reel closer there's a dramatic wave unloading on a horseshoe-shaped rock reef. Scouts on the jetskis report that it's overhead (at least 6 feet tall).
 
1:00 p.m.
The swell is now coming out of 260 feet of water and an entire stretch of ocean violently unloads onto a three-foot-deep shelf. With barely a breath of wind and bluebird skies, Ian Walsh scrapes into the first wave. He air drops down the face, which is well overhead, screaming through the barrel. His run verifies that this is a legitimate slab wave 12 miles off the coast of New England.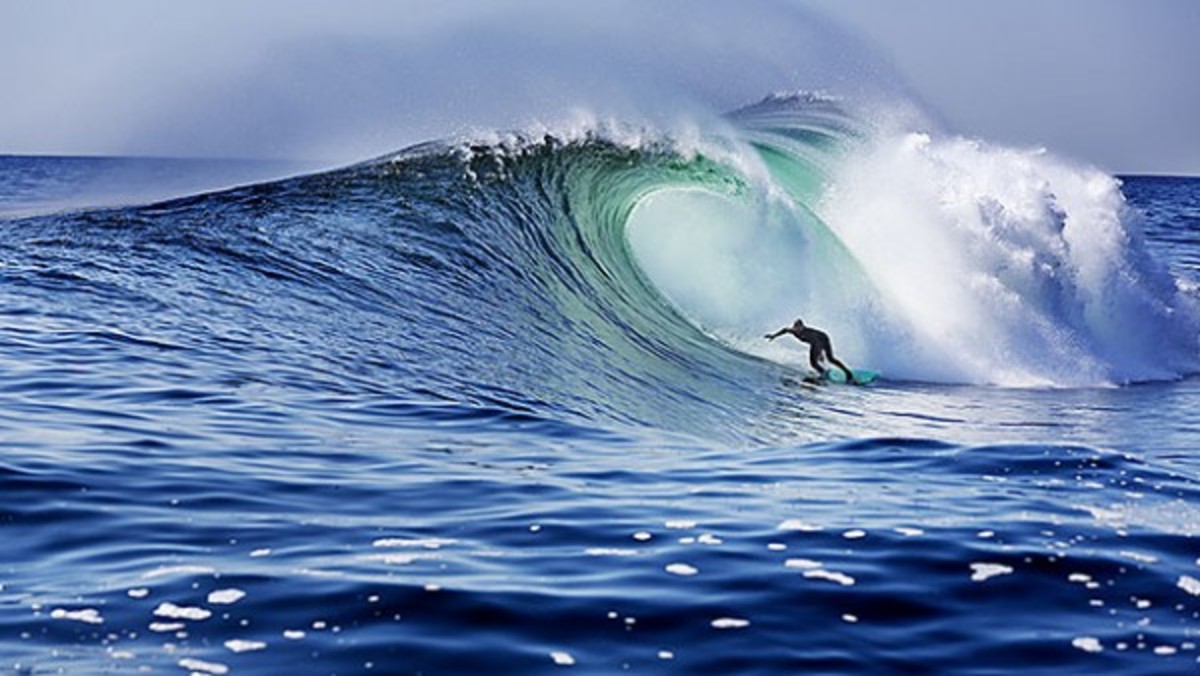 Soon after, Gleason strokes into a square peak and comes through the first barrel of the session. Hoots ensue from the boat. Beers are cracked. Hammer follows with another barrel.
(Gleason makes a late drop into a square peak, 12 miles off the New England Coast)  
 
3:40 p.m.
As Hammer, Gleason, and Walsh make the most of the swell, Chef Natty takes out his knives and starts whipping up fresh pico de gallo and guacamole on the high seas. Shaun, fishing off one of the skis, pulls in a nice Atlantic Pollock, but as he raises it in triumph, it falls back into the ocean.
 
5:00 p.m.
DK delivers Ian back to the boat. "It's a lot like a wave in Southwest Australia called 'The Right'" he says. "It had so much raw energy and force. I don't even think we have a wave on Maui that can compare, slab-wise, to that." Hammer and Gleason return soon after, minds similarly blown.
 
7:20 p.m.
Back at the dock, boards are left strapped to the roof of the cabin and an exhausted crew stumbles off into the night. Chainsaw heads to a strip club. By this point, Hurricane Edouard has curved out to sea and been downgraded, but the swell is forecasted to peak locally during the night.

Thursday, September 18

4:50 a.m.
Nevins walks down the commercial dock again. There's no sign of the harbormaster as the lobstermen load up gear. The Walsh boys are seemingly unaffected, ready to make it to the ledge in time for sunrise while Hammer and Gleason sleep through their alarm. As they shove off, there's a palpable swell rolling under the boat. The sun cracks the horizon and Hammer and Gleason are dealing with the rougher waters as they catch up on the jetskis.
 
7:00 a.m.
At the ledge, there's another boat of locals anchored north of the wave. They found this spot, have studied it, and are hoping to capitalize on the offshore winds today. The swell is considerably bigger — double overhead sets. After waiting on the tide, DK whips Walsh into the first wave with the ski. The bottom drops out and he disappears below sea level, before charging through the vortex and getting spit out. "It was a gamble, but far and away, we scored," says Walsh. "A lot of the time when you expect stuff, you're let down. But if you just wake up in the morning and take the day for what it is, you can't be disappointed."
 
8:00 a.m.
Chainsaw cracks the first beer
(Walsh hanging out with deckhand "Chainsaw")
10:00 a.m.
It's turning out to be another perfect day of blue skies and the boys are paddling in. Hammer takes a serious beating, but is back on it within minutes. "That was as hollow as anything I've ever seen on the East Coast, but I don't think anyone has found a wave with more energy," says Hammer. "The New England crew was telling us to go. And having the Hawaiians here was the perfect scenario for everybody. We have three of the best watermen in the world right here. How could you not feel safe?"
 
11:20 a.m.
A massive three-wave set looms and Gleason and Hammer both take off under the lip, travel through a blue-green cavern — a novelty for East Coasters — and get spit out. Walsh watches and then puts himself deeper for the third one. "That canvas-like texture, drawing up and bending down the reef, that's all you ever look for," says Walsh.
 
12:30 p.m.
The local boys take off on a few. They've surfed this wave before, but not like this. The door has now been broken down for progression of a world-class slab right in their own backyard.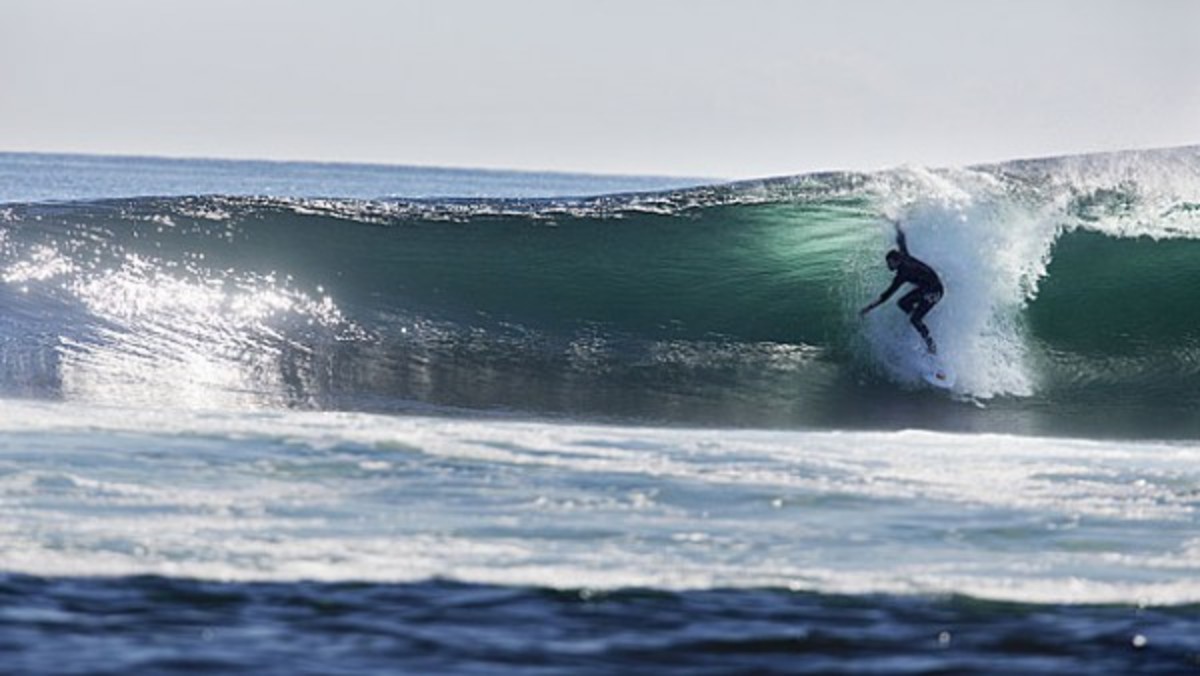 1:30 p.m.
After a historic session, a hopped up Gleason jumps on the back of a ski. "That was the craziest tube I've ever pulled into on the East Coast, by far. You could have driven that boat right through it. I felt like I was at Off the Wall."
 
2:30 p.m.
It's decided that the tide and wind are no longer favorable. Before steaming back, Captain Aaron borrows a board. With Chainsaw driving and everyone egging him on, he wake surfs behind the Jah Reel.
 
6:50 p.m.
The group convenes on a windy bluff, as Natty pulls a dozen lobsters out of a pot, laid out out with fresh Ipswich clams, corn, potatoes and skewers off the grill. "All the conditions go straight into the notebook, so when it starts to happen again, we can compare it to what we had today," said Walsh. "I knew we would find a wave like this. I didn't think it would take this long," admitted Gleason, "This is ten years in the making. We've surfed some really good waves, they're just not as close to anything as heavy as that."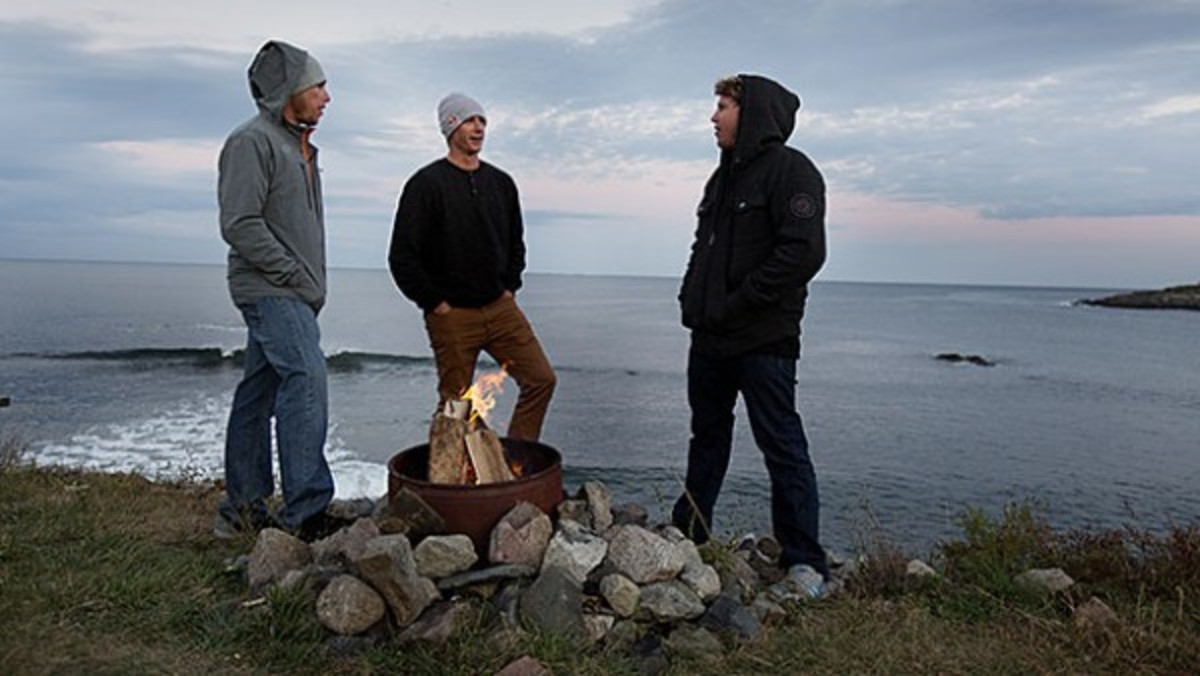 (Walsh, Hammer, and Gleason in the aftermath.)
 
Friday, September 19
8:10 a.m.
Surf is back to one foot.
For access to exclusive gear videos, celebrity interviews, and more, subscribe on YouTube!