The curtains came off a slew of new products at this year's Paddlesports Retailer trade show in downtown Oklahoma City, and C&K was there in force to sniff out the latest and greatest. Following are a few highlights to put on your radar.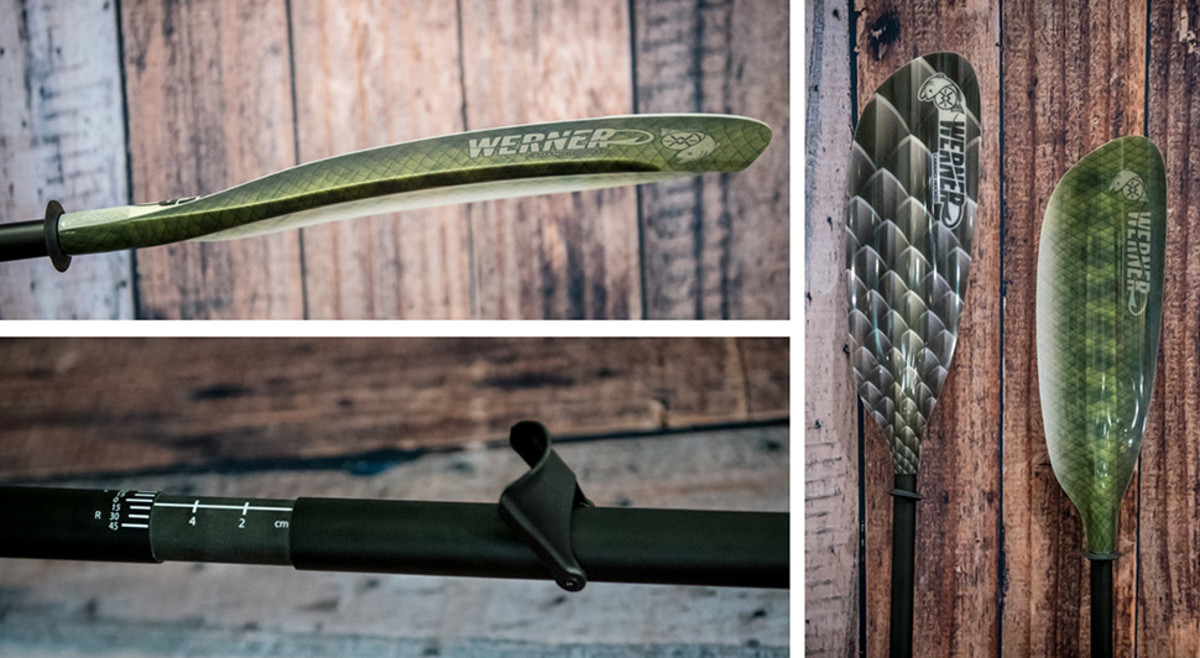 Werner Camano Hooked Paddle
Werner lures anglers with its new Camano Hooked paddle, featuring an eye-catching bass-skin graphic and 20 cm's of adjustability thanks to its new LeverLock (it's offered in two ranges: 220-240cm and 240-260cm). On the SUP front, it unleashes its new Apex, a "rec/racing" standup paddle with a new "power pocket" in the blade's power face that's built for power. The slight, rectangular-shaped depression increases performance and efficiency with every stroke. "It's a pretty cool enhancement, offering a better catch phase of the stroke," says Werner's Nick Hinds.
---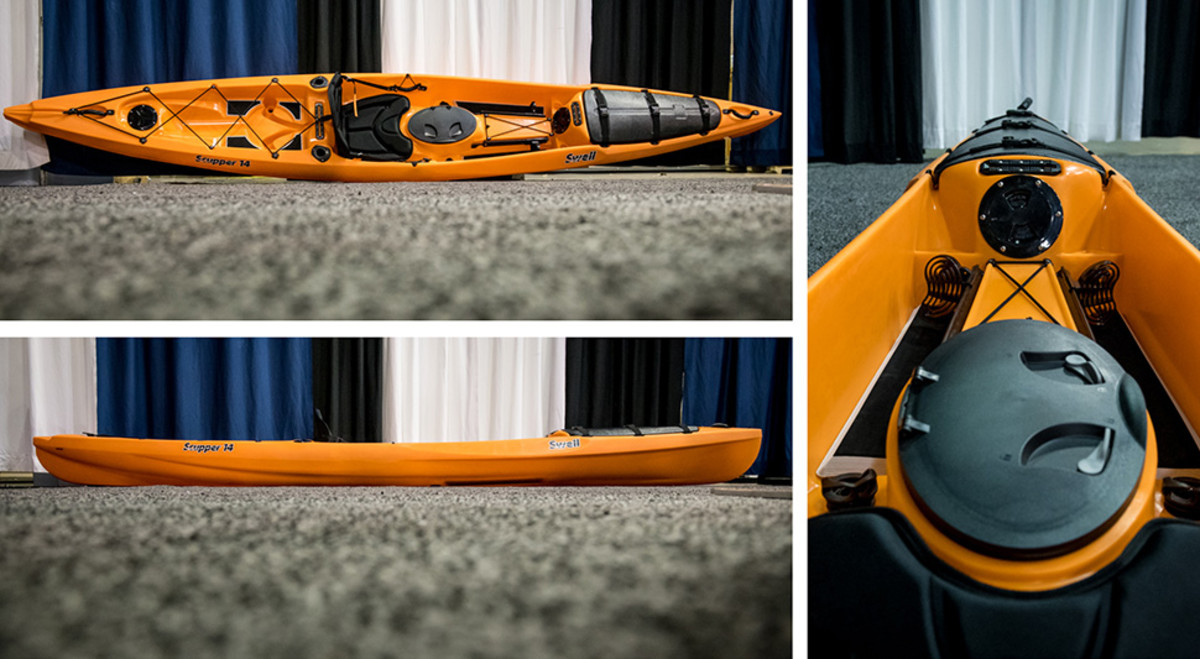 Swell Scupper 14
Former Canoe & Kayak magazine publisher Jim Marsh ventures from periodicals into paddling with the release of the Swell Scupper 14, co-designed by original Scupper-maker Tim Niemier. Going deeper instead of wider, it combines speed, comfort and stability in sit-on-top with foot wells below the waterline and an ergo-friendly lower seating position. "It paddles like a sit-inside and is super stable, while also being fast, because of its lower center of gravity," says Marsh, adding new Smart Valves feature a ball that dampens the amount of backfill—push down to activate draining then start paddling. "It's the narrowest plastic sit-on-top we know of, yet still super hard to tip over." Available in grey, green, orange and white, it also comes with rear, livebait tankwell and large bow hatch. Specs — Length: 14'4"; Width: 25.5"; Weight: 68 lbs.; Max Capacity: 375 lbs.
---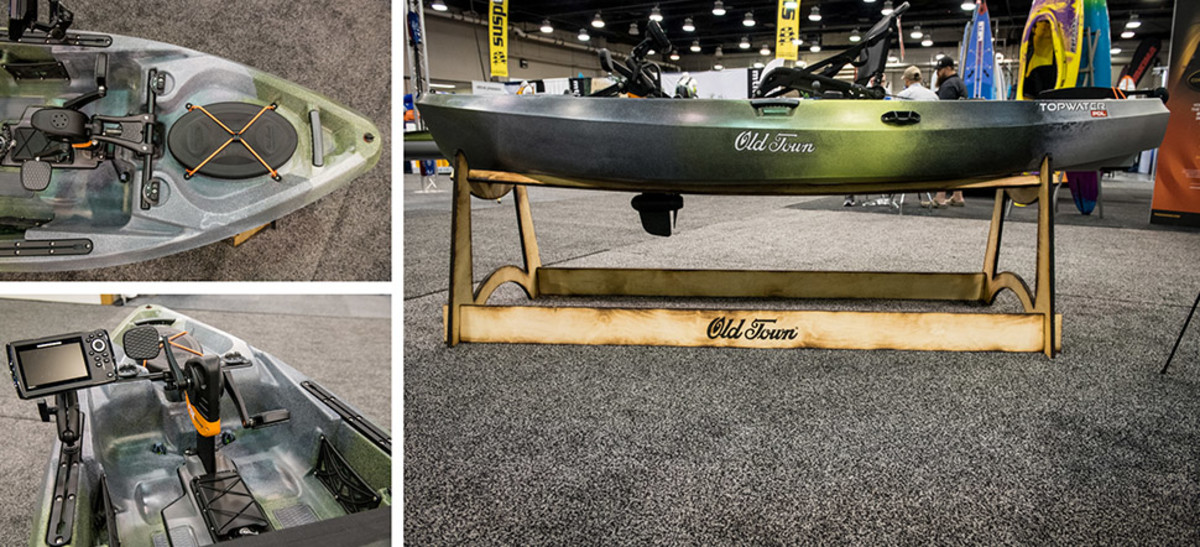 Old Town Topwater
Available in three versions — the 106,120 and 106 PDL — Old Town's new Topwater series touts price point, stability and transport ease. All three carry Old Town's smooth-sailing Double U Hull, and are lightweight and easy to maneuver, thanks to a short waterline, and store (they're "stackable," says the company's Dave Hadden). Other features include a bow indention for horizontal rod storage, a "forward-facing" rod holder for quick egress and foam padding on the deck for standing and dampening sound. Fish with the seat in the high position or standup and sight-cast, says Hadden. They also come with a big tankwell for crates and coolers and transducer scupper for electronics. Bonus: the high-back seat fits their new Lure Angler PFD like a glove. Of special note is that the Topwater 106 PDL comes in at the user-friendly price point of $1,999, one of the only sub-$2,000 pedal craft on the market. (The paddle versions retail for $899).
---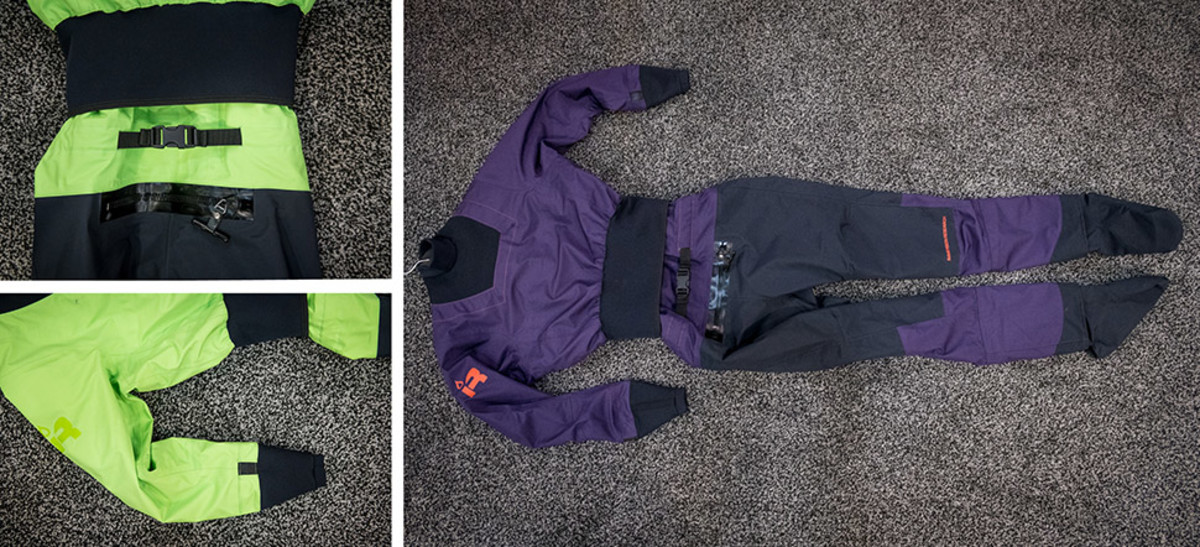 Immersion Research 7 Figure Drysuit
IR gets techy and even drier with its new 7 Figure drysuit, which is re-designed with a more athletic fit, especially for larger paddlers. "The larger versions don't billow up around the torso," says company president John Weld. Available in two colorways, purple and green, it also comes in a new polyester shell fabric instead of nylon, which is more hydrophobic and holds its color better, says Weld, who is soon moving a portion of the company to Hood River, Oregon. It retails for $1,099.
---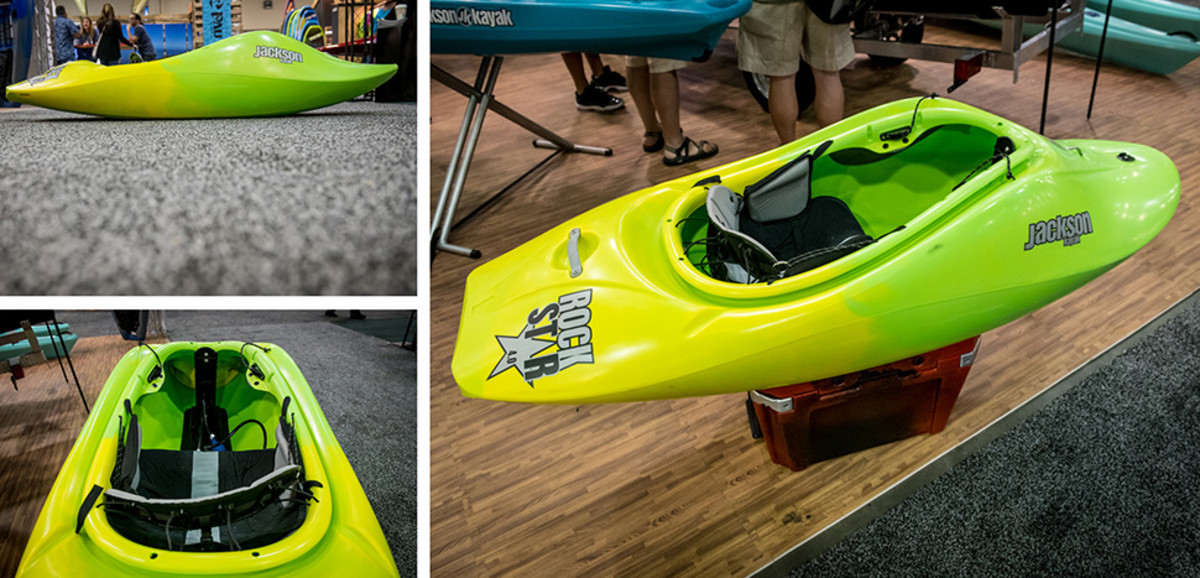 Jackson RockStar
Jackson has unveiled "one of the biggest re-designs we've done yet since its inception" to its popular RockStar playboat, says the company's Nick Troutman. Changes, on full massive-aerial display from Jackson paddlers at the trade show's whitewater demo day, include bigger volume and increased length in all three models, as well as "wedging out the ends for cartwheels," says Troutman. "Paddlers will feel more amplitude." All three models in the line have been scaled up about a half-size each, he adds, and feature narrower and faster hulls.
---
Confluence Creations
There was plenty new to see in the Confluence booth, with its marquee brands unveiling a variety of innovations.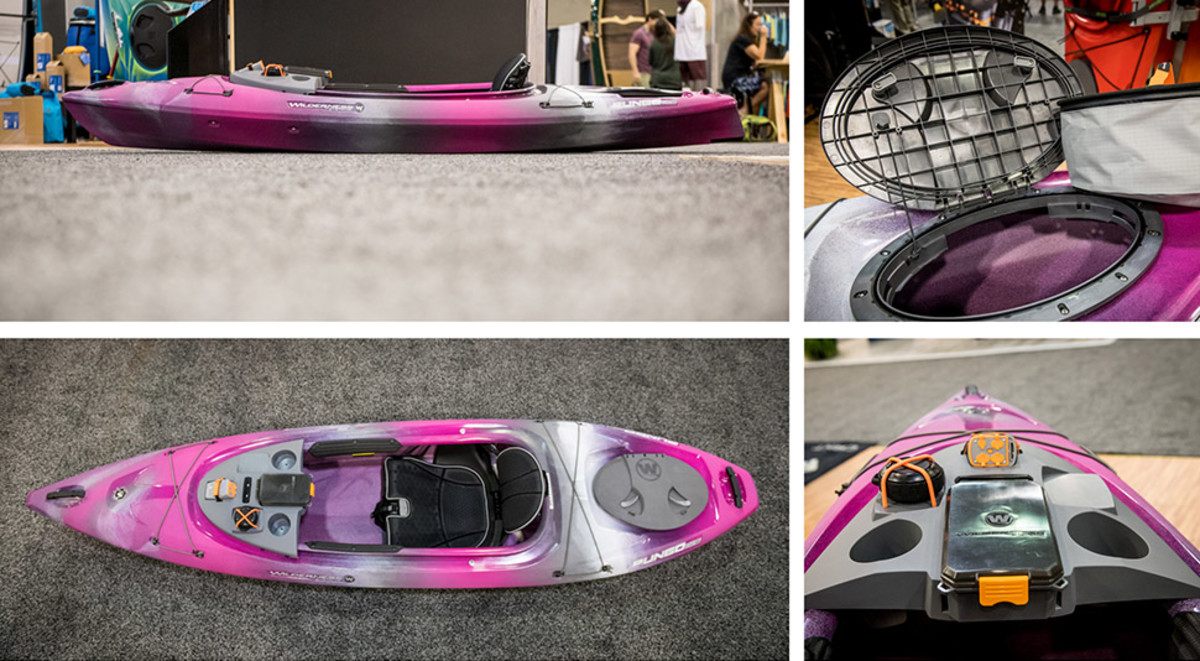 Wilderness Systems Pungo
Wildy has completely redesigned its popular Pungo, changing its sizing to a 105, 120 and 125 while tweaking the tri-V hull to make a smoother transition in the chine area. "It was time for a facelift," says the company's Steven Augustine. It also upgraded the gear-gobbling dashboard attachment, which attaches to the front of the cockpit, with a removable drybox and new battery console.

Dagger Stratos 12.5
Designed to excel in surf, rock gardens and open-water paddling, but best at home on tidal estuaries and meandering rivers, Dagger has added another model, the 12.5 ($1,249), to its popular Stratos, which, like the original 14.5, is the perfect balance of tracking, maneuverability and forgiveness. The new version also comes with a new whitewater bulkhead as well as Dagger's all-too-comfy outfitting.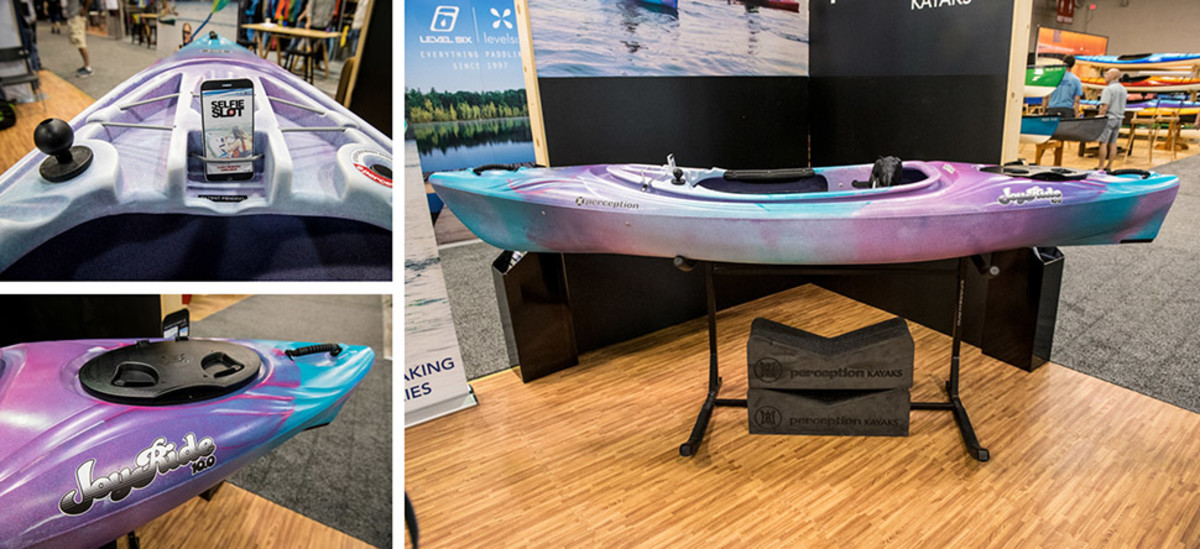 Perception JoyRide
Perception takes joy in introducing the Joy Ride, a new rec kayak available in 10- ($599) and 12-foot ($749) models. "They're for easy access and fun," says the company's Evan Lyendecker. "We're combatting kayak intimidation." The boats have a forgiving, stable hull, great outfitting, and come with a solo mount and, wait for it … new "selfie" slot in front of the cockpit to all those watch-me-paddle social posts.
---
Hobie Outback
Hobie has re-designed its popular Outback ($2,799) pedalcraft with a new hull and such angler enhancements as bungees for pliers and such, and a new 12-sided H-Rail for attaching other angling accessories. The hull is quieter and more stable (like the Pro Angler), and increases the carrying capacity from 400 to 425 lbs. Other niche/cool features include a bottle opener in the hatch lid between the legs (though you really should be drinking from cans); a brace bar you can lean into when standing; dual steering knobs for the rudder (one on each side); and an inch-and-a-half wider Vantage seat.
---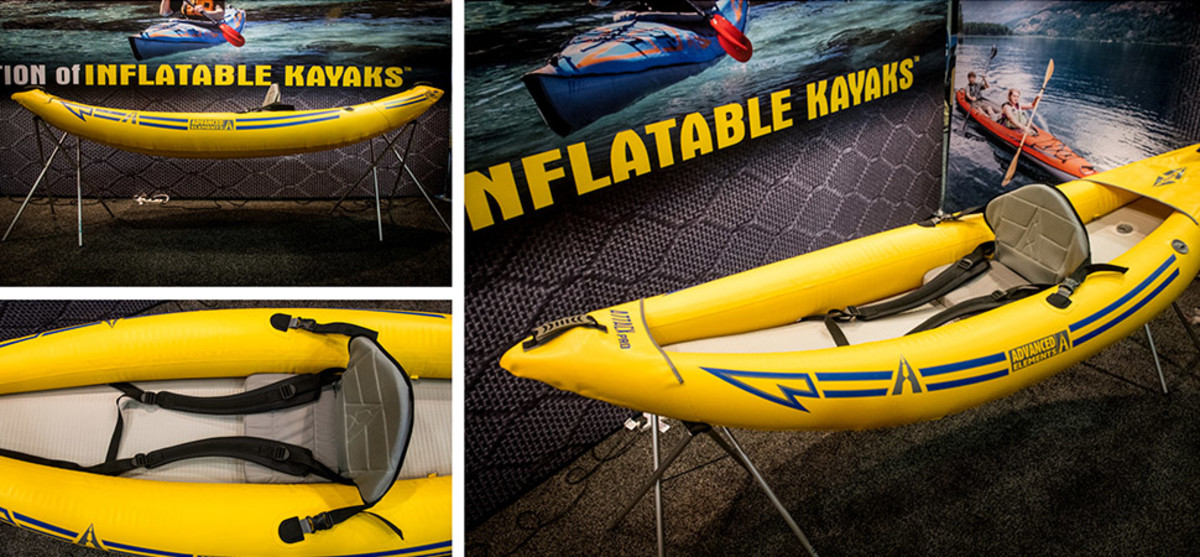 Advanced Elements Attack
Coming in at 9-foot-9, with a 35-inch-wide beam, Advanced Elements has enhanced its popular Attach IK with a new rockered, drop-stich floor. While it adds $100 to its price (it's now $700), it also adds ever-crucial rigidity and performance to the 25.5-lb. craft. The boat carries 12 inches of rocker to carry it up and over waves, and has a capacity of 225 lbs. For proof of its handling, look no further than how it sliced and diced its way through the Class III-IV whitewater of trade show demo day's RiverSports whitewater park.
---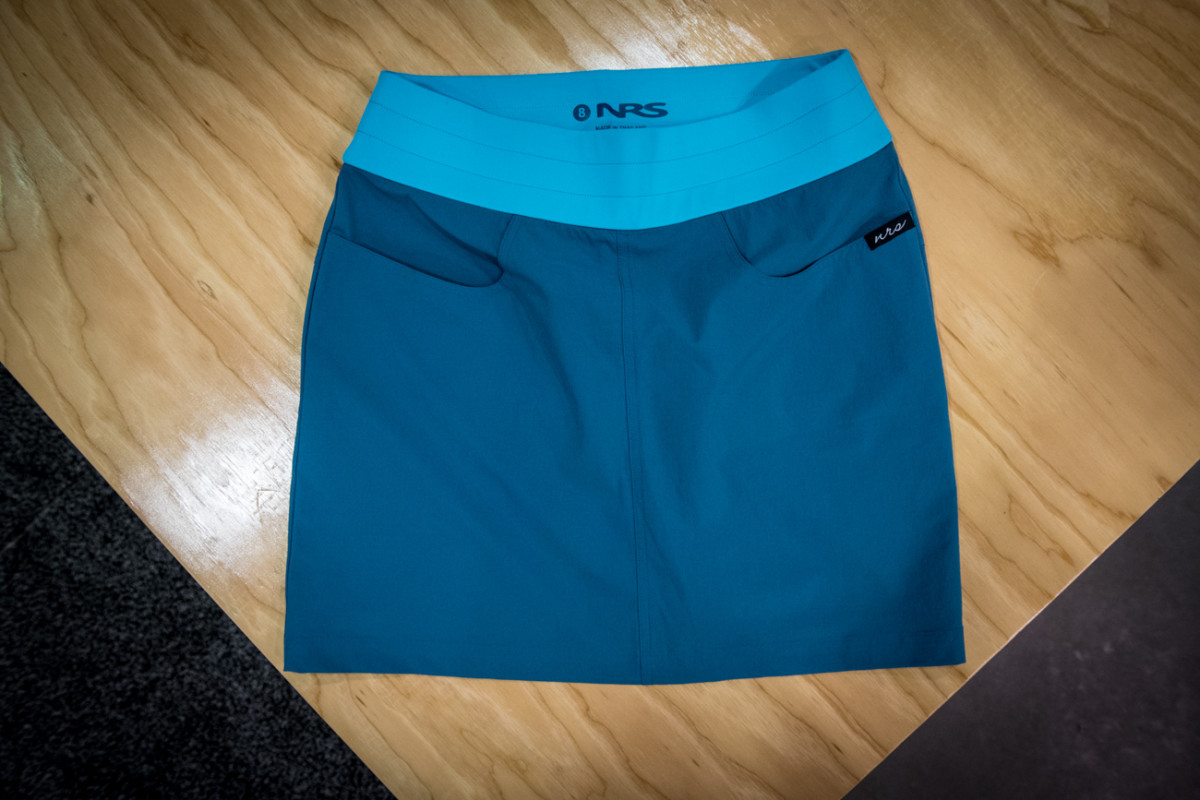 NRS Lolo Short and Skort, Shenook PFD
NRS hits the angling apparel ground running with its new Lolo Guide shorts ($75) and shirt; as well as a new Skort ($59) for women and open-to-new-ideas men. All are made from a new, quick-drying nylon-Spandex blend, and are moving off the shelves like trout on a salmonfly hatch. It also debuts its new silkweight Varial fishing shirt ($69) in both hooded and hoodless versions with a built-in, sun-shading neck gaiter (the Baja; $59).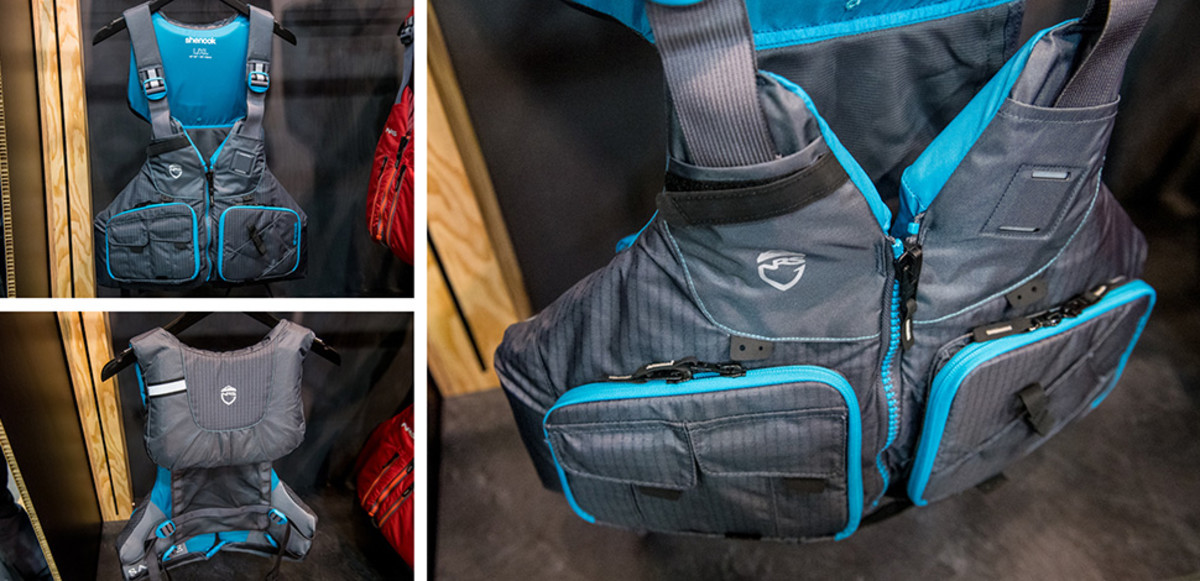 On the PFD front, NRS has upgraded its best-selling Chinook lifejacket with enhanced mesh backing, more reflective accents and a better, more pliable foam. It adds to the line a new Chinook OS (Offhore) PFD with radio pocket and even more reflective accents, as well as a new women's version called the Shenook. Other NRS news includes the successful integration of the PVC-based Star inflatable line, giving it a price-point offering below its conventional NRS line of inflatables, and updating its sup fleet with new purge-relief valves to combat over inflating and a new 14-foot size of its popular Escape.
---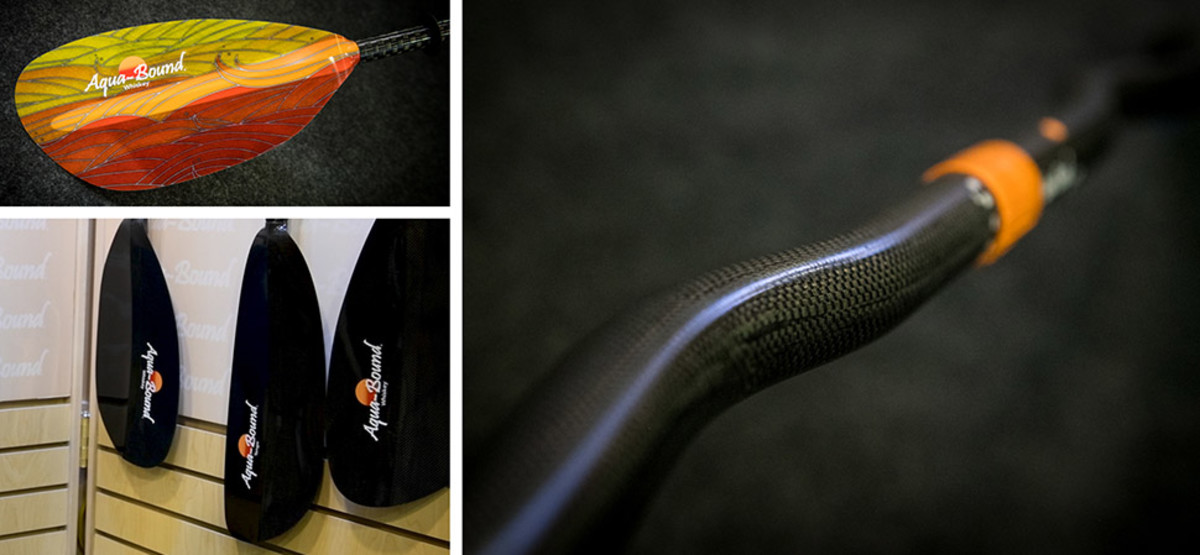 Aqua-Bound Whiskey and Tango
Aqua-Bound updated its performance touring blades to now be available in a strain-reducing bent shaft and four-piece breakdown option. The compression-molded blades come in fiberglass and carbon, with the Whiskey designed for high-angle paddlers commanding power and the Tango blade designed for minimal effort. The carbon model clocks in at a paltry 25 ounces, with the laminated glass blade weighing 28 ounces. Both are also available in a four-piece breakdown version, with carbon Posi-Lok ferrule. (Tango Carbon bent: $474; Fiberglass bent: $399. Whiskey: Carbon 4pc: $449; Fiberglass 4pc: $339; bent shaft: $399)
---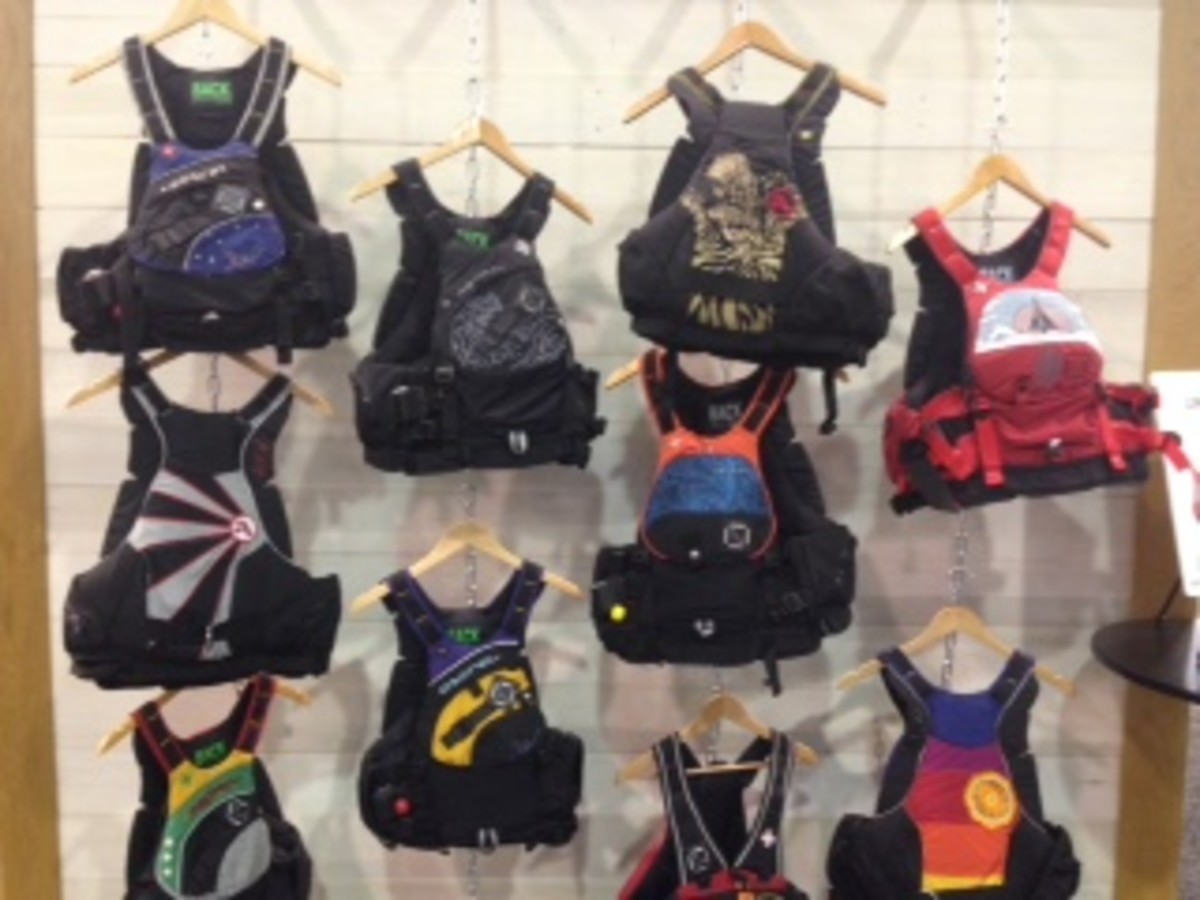 Astral
Astral celebrates the 10th anniversary of its popular Limited Edition line with the LE 10 Green Jacket, an all-red collaboration with Rush Sturges and his River Roots production company. The design features a tribute to the Hood River area and White Salmon River, with the River Roots logo up front and center complementing the silk-screened and embroidered design art. It also unveils its first Limited Edition river shoe along the same vein, called the Rudy Red Rassler 2.0.
---
Offering one of the industry's best price points for a pedal craft in the business, Evoke, by Hemisphere Design Works, rolls out the PDX Pedal Kayak at just $1,299. The 12'6″ craft offers a multi-channel hull for stability, four Glide-N-Use mounting rails, Elite Seat and anti-slip StandStill foam pads for standing. With a capacity of 475 lbs. and weighing 109 lbs. with pedal console, it also comes with a rectangular hatch for accessories, front compartment and rear well for additional storage, front and back bungees and two flush-mount rod holders. That's a lot for a price point pedal craft package.
— Want to see more new gear for the year ahead? Check out a few more eye-catchers from July's Outdoor Retailer summer market show in Denver.
The article was originally published on Canoe & Kayak
For access to exclusive gear videos, celebrity interviews, and more, subscribe on YouTube!