Adaptive Paddling: Part 1 | A Mission to Standup for Others
One company's quest to build the ultimate adaptive SUP rig
It's another beautiful day at Cardiff reef.
Surf is a steady three to four feet with bigger sets. Conditions are clean and I am stoked there have been a few double-ups ledging on the reef with the incoming tide. That last wave was pretty sick and as I am paddling back out I look over just in time to see a guy on a surfski go over the falls on a clean, hollow right. Based on the size and weight of that board I'm thinking to myself, "That's gonna leave a mark."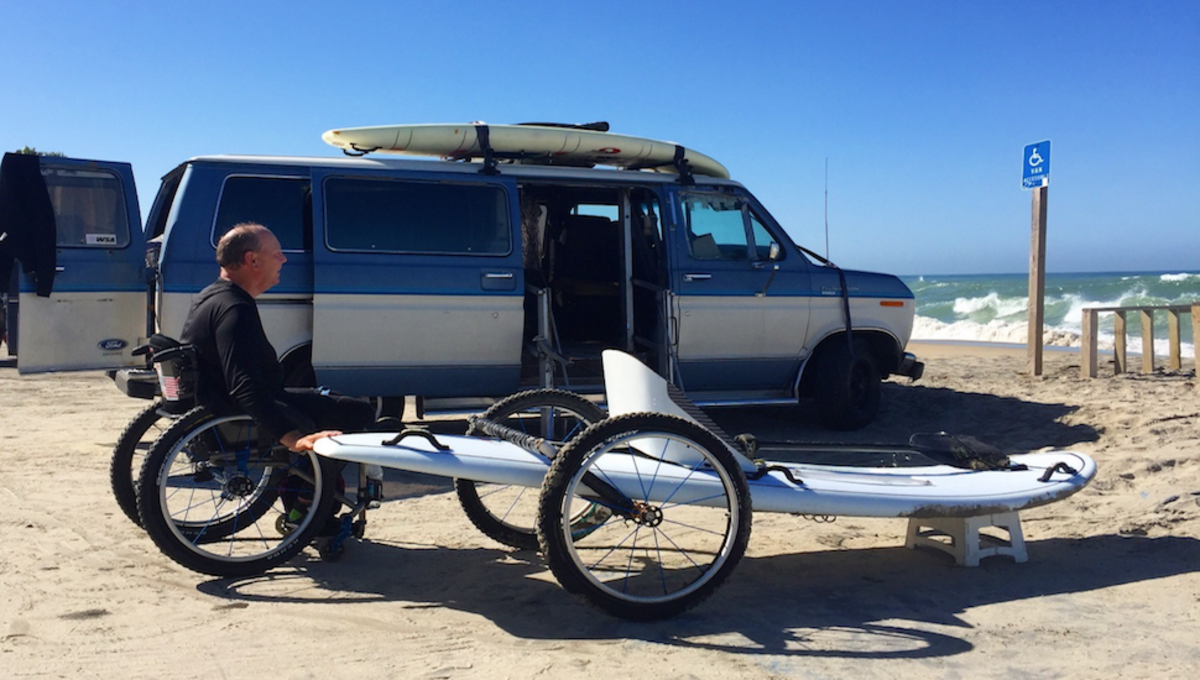 I return my attention to the incoming sets and after a moment I realize the guy on the ski still hasn't surfaced. With my eyes pealed I finally see that this surfer is slowly drifting out of the impact zone, but appears to be struggling to remount his board. As he takes the next two waves on the head my concerns elevate and I paddle over to assist him. It looks like he needs some help.
Within moments, I've descended on the paddler trying not to get entwined in what appears to be a slew of equipment: leash, board and a paddle attached to his board with another leash. 'Is all this gear necessary?' I'm thinking to myself as I try to assess whether this guy's troubles resulted from getting hit by his board.
Upon closer inspection he appears coherent and happy to see that help has arrived. I ask him, 'You OK man?' but before he can say a thing, we collectively brace for another wave of whitewater. As we emerge he says, "I'm OK. I could use some help getting back on my board though."
I'm happy to assist in stabilizing his board as he begins to pull himself up and get situated. What I expected to be a quick mount becomes a 30-second endeavor. During the process, it becomes obvious that this guy does not have use of his legs and was mustering all his upper-body strength to compensate.
"Wow," I think to myself – this guy has a lot of balls being out here, competing in decent-sized surf on what appears to be a pretty antiquated craft.
"My name's Mark, what's yours?" he says.
"Aubrey," I respond with a new found respect. "Thanks a lot!" Mark says as we disengage. As he starts to paddle back into the lineup, I realize he didn't really need my help. Although I'd seen him in the water before, I never knew he was an adaptive surfer.
Who would have known, that this encounter would draw me deep into the daily struggles that adaptive surfers like Mark face; not only in the water but in merely getting to and from the beach.
Over the next several months, every time I saw Mark in his van in the parking lot, I'd give up a good chunk of my surf time to assist him: riding his wheelchair lift up to the roof to get his board down, waiting to assist him with his wetsuit or board preparation, transporting him to the water while on his board using a trailer device, and giving him a well-timed water launch to beat the next set.
Although Mark never showed any signs of discouragement being an adaptive surfer, I couldn't help but picture myself in his situation. Considering what changes I would have to make in order to maintain the same sense of freedom and enjoyment that surfing has provided me for more than 40 years.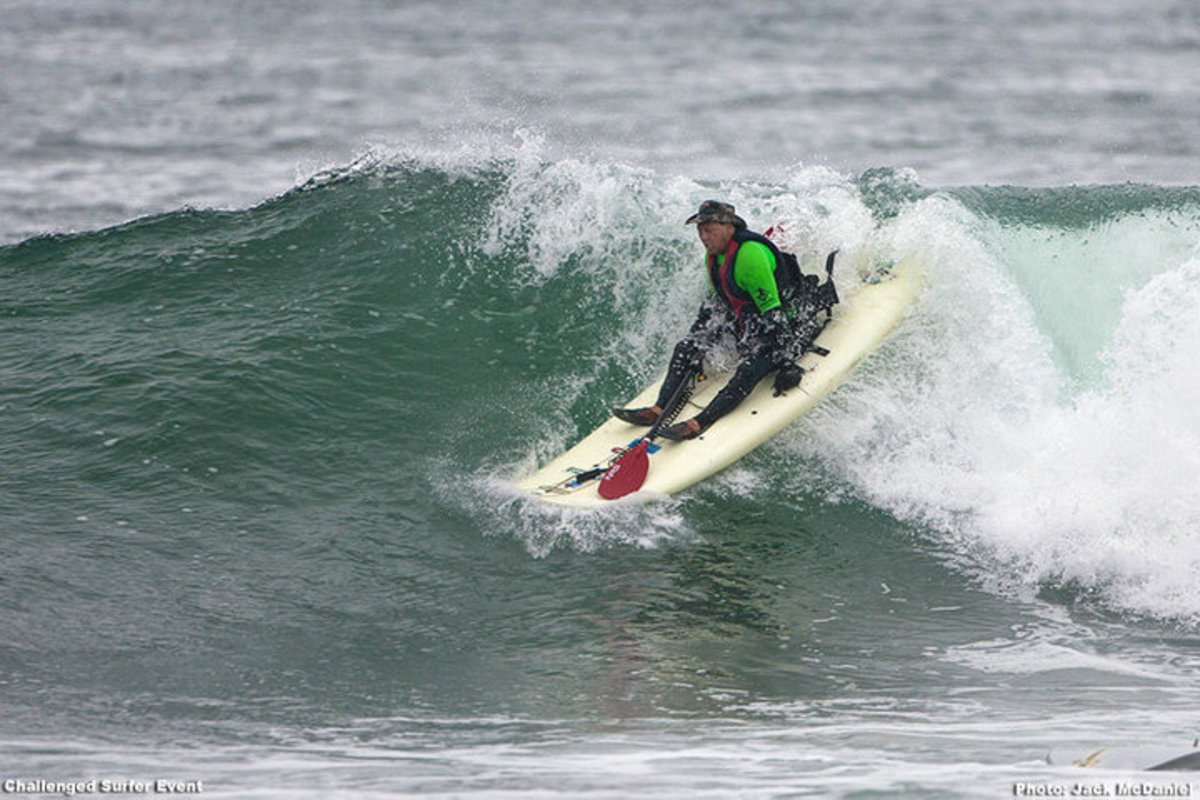 Needless to say, the thoughts I had were none too positive and after considering the tools that Mark was working with–dilapidated van, worn out wheel chair, etc.–it moved me to a point where I decided some action needed to be taken. I wanted to help enable any adaptive surfer with the ability to be independent in their pursuit of surfing, an ability other surfers take for granted on a daily basis.
Although Cobian has been providing quality sandals and casual footwear for more than 20 years, it was formed by John Cobian as a platform to serve others less fortunate. So not surprisingly, after sharing this initiative with our project team, it took all of about one second for the team to give resounding thumbs up.
Our goal is to work with a variety of adaptive surfers at the forefront of the sport, to identify needs related to their surf vehicles–including associated accessories, devices, surf equipment–in an effort to design and manufacture the Ultimate Adaptive Surf Vehicle.
If successful, this project would enable our participating athletes to demo the effectiveness of the UASV project and hopefully inspire other adaptive athletes to join the adaptive surfing movement and community.
At the end of the day, it is our hope that this project will enable all adaptive surfers to be as autonomous as possible in their pursuit of catching waves–providing them with a stoke that can only come from the ocean.
This is the first installment in of SUP magazine's six-part Adaptive Paddling series.
Related
More feel-good stories about paddlers helping others.
One adaptive paddler's mission to never give up.
The article was originally published on Standup Paddling
For access to exclusive gear videos, celebrity interviews, and more, subscribe on YouTube!