Crowdfunding has officially come to kayaking. That's the take-home of late, as more and more paddling companies—both existing and new–are turning their backs on banks and turning toward the social side of financing to bring new products to market.
"Crowdfunding has some real advantages for a new product line or brand," says Joe Pulliam, a former banker and founder of Dagger Kayaks. "From a marketing standpoint, Kickstarter, Indiegogo and the like reach an audience that more traditional marketing methods used by kayak companies may never reach. So crowdfunding can really help jump-start a model or brand that's a bit out of the norm."
In the past two months, crowdfunding giant Kickstarter saw three new campaigns come on line, including Jackson Kayak's launch of a new fish kayak through Blue Sky Boatworks with former Wilderness Systems founder Andy Zimmerman; packraft upstart Kokopelli launching its new Rogue-lite series; and PakaYak debuting a 14-foot packable kayak, with 497 backers pledging $546,000 to bring the project to life. Portable, skin-on-frame touring kayak company TRAK also used Kickstarter to launch its new carbon-fiber TRAK 2.0, and Oru Kayaks just tapped Indiegogo for its new Coast XT kayak, marking its third foray into crowdfunding waters.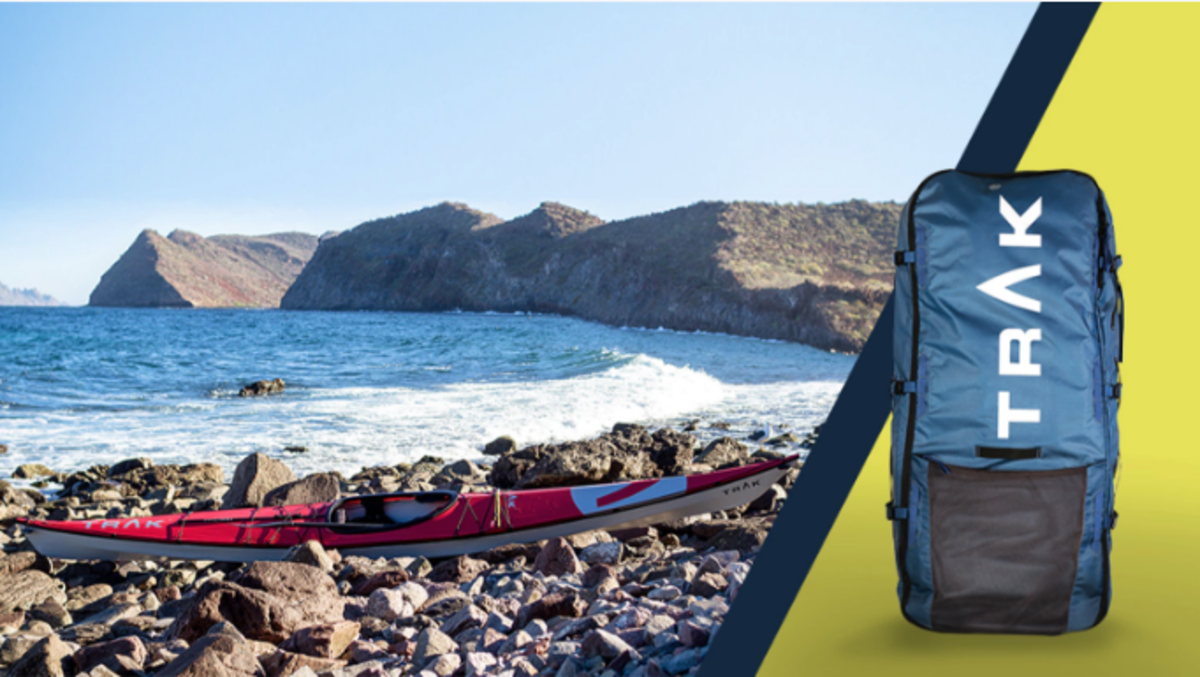 "It will help carry us into 2018 by adding such innovations as adjustable rocker on the fly, polyurethane hull and deck, and fabric welding," says TRAK founder Nolin Veillard.
In an industry like paddling, crowdfunding's benefits are many. "It can be a tool that helps determine likelihood of a new brand or product's success," says Pulliam. "We've seen some crowdfunding proposals do well and come to market, while others have gained little interest and therefore further investment into a losing project was averted."
Indeed, not all campaigns are successful — last summer, Swell Watercraft, founded by former C&K publisher Jim Marsh, fell short in its fundraising goal to produce the 14-foot Scupper, a sit-on-top with lowered footwells designed by Ocean Kayak founder Tim Niemier. Nevertheless, it's clear that sourcing from 'the crowd' is becoming a financial campaign model of choice in the paddling world.
"A big advantage is that crowdfunding can raise cash in a short time, cash that is much needed for investment into design and tooling," says Pulliam. "Going through normal dealer channels means you're often not paid for the first products sold for months after you've made them. With crowdfunding, you're paid before you ever make the first one, so there's a huge advantage cash flow-wise. With the seasonality and low margins in the kayak business, cash flow is always a big challenge, and crowdfunding, while it introduces new challenges, provides a new source of working capital."
The following are rundowns of a few recent campaigns:
Oru at It Again
The creators of the original folding kayak have returned to California crowdfunding neighbor Indiegogo to help launch its new Signature Edition Robert Lange Coast XT kayak. In the first two weeks of its 30-day campaign it already raised $46,000, well above its $25,000 goal. "When the world's best product validation platform is run in your backyard, you at least have to kick the tires," says COO Roberto Gutierrez.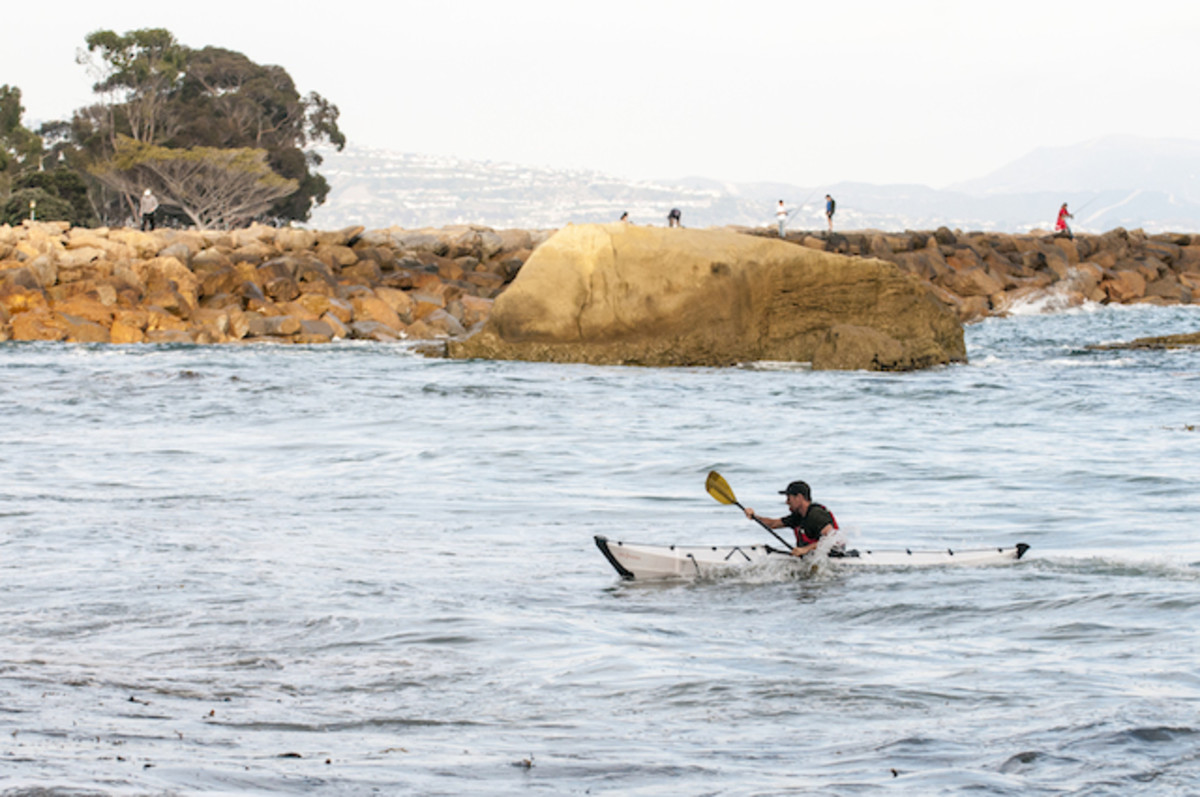 Oru, which introduced its original 12-foot origami kayak in 2012 with the most successful Kickstarter campaign in paddling history, raised $444,000 from 730 backers in its initial campaign and a 2013 appearance on ABC's Shark Tank led to another investment. In 2016, Oru launched another Kickstarter campaign with a pair of 16-foot models, the Coast and Oru Coast+. In that campaign, 238 backers pledged $356,000, again surpassing their goal. In all, it raised nearly $800,000 in its first two crowdfunding crusades. Now, it's already ahead of its third goal.
Gutierrez adds that Oru has used crowdfunding since its inception, an integral part to helping it get off the ground. "Oru was originally launched on Kickstarter, and since then we've built a great community of people who care about our brand through our various crowdfunding campaigns. We've seen massive support from our existing community with each crowdfunding project we've run, and it also allows us to expose the brand to new audiences easily. People are intrigued by the kayak's innovations, and connect with our boats' unique versatility and packability in a way that's really conducive to crowdfunding"
The company calls its new 16-foot, 34-pound 2018 Coast XT Robert Lange Signature Edition its most sophisticated boat ever, with a custom graphic inspired by Lange's folding patterns; improvements to the assembly process, comfort and fit; and new safety features.
"Its size and form are inspired by traditional Arctic kayaks, giving it superb speed and handling," adds spokesman Cy Whitling. "It's capable of serious expeditions and pro-level performance, with extra deck straps and lines let you store gear, and assist with rescues; and adjustable thigh braces for control and comfort. Together, they add up to a kayak that's as beautiful to look at as it is to paddle."
Jackson Launches Blue Sky Boatworks
After teasing the market for several months with glimpses of their new design, Jackson Kayak–and a new team led by industry veteran Andy Zimmerman–has officially turned to Kickstarter to back its new Blue Sky Boatworks fishing kayak, the Angler 360.
"We invited fishing professionals and avid outdoors people to test late-stage prototypes to get their feedback, and the response was tremendous," says Jackson president Eric Jackson. "They've given us great reviews and some terrific feedback. All that's left now is to put the final finishes on the boat and get it into production for an early summer delivery."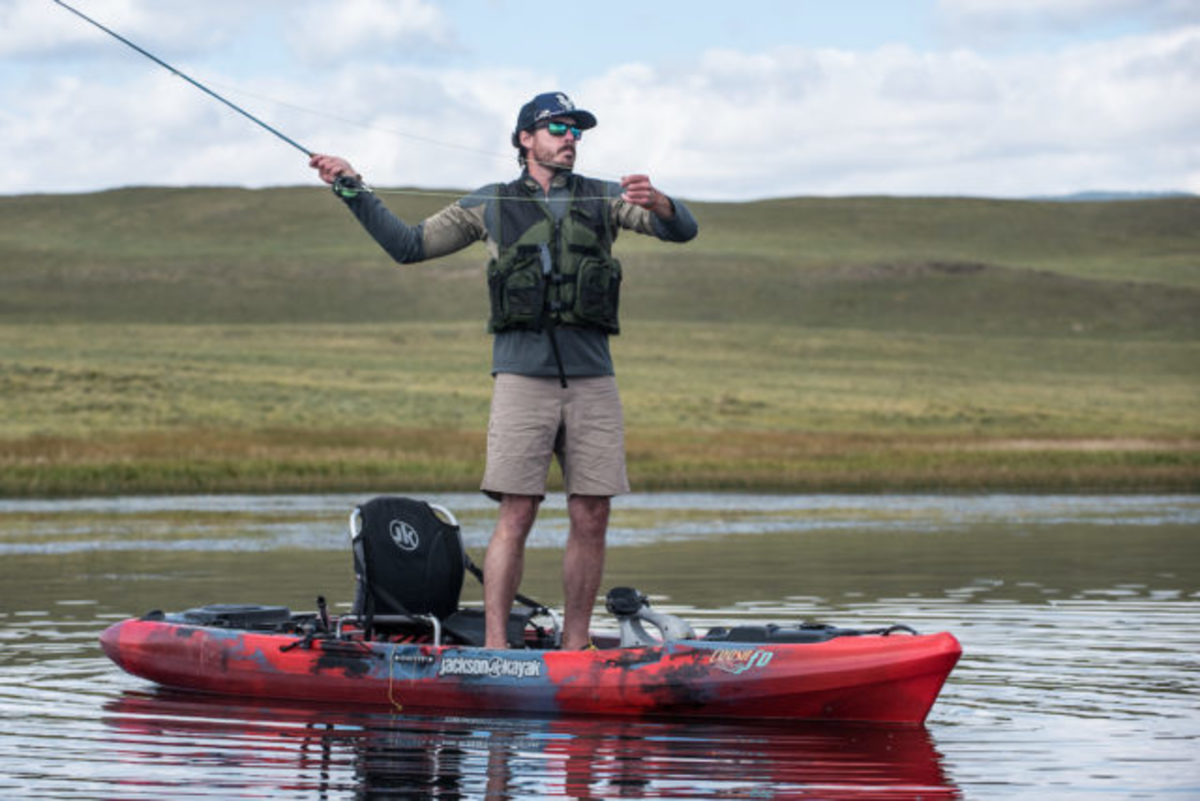 For them, crowdfunding was a natural solution. "In the midst of our typical design-to-production mode, capital investment in new development is always taxing," says marketing director James McBeath. "This project dropped into our laps as a really amazing opportunity that needs an extra shot in the arm to bring to fruition. We are still releasing our typical handful of new whitewater and fishing kayaks this year, but with the addition of such an ambitious project like Blue Sky Boatworks we are looking to this crowdfunding process so that the development process through to delivery is accelerated.  Due to Kickstarter, we aim at an early summer production launch, which we never would have been able to achieve before."
The campaign launched just the second week of March for Advanced Notice subscribers and was 100 percent funded in 40 minutes and is currently sitting at four times its goal.
With its funding, says Jackson, the development team can accelerate boat production while completing the Blue Sky E-Drive electric motor. Final boats will begin delivering in June and July, Jackson says, with the E-Drive ready by November.
"All Blue Sky boats come standard with our FlexDrive propulsion," Jackson says. "The E-Drive is an add-on. It's powered by a lithium ion battery, switches out with the pedal unit in seconds and it will amaze you how quickly it moves the boat. Kickstarter supporters will be first in line to receive boats, and will also be getting significant discounts of more than 30 percent off."
​With the boats built at Jackson Kayak's plant in Sparta, Tenn., Blue Sky Boatworks launches this year with two models — the 360° Angler and 360° Escape — both of which ride on sleek twin hulls and feature a patent-pending, full-turning luxury seat, Flex Drive pedal-drive system (with lithium ion-powered E-Drive option) and a generous platform for full-circle casting from any angle.
Pakayak
In 2016, Pakayak–a labor of love since 2011 for company founders Doug Mackro, Zinelle Mackro, Dayan Moore and Phil Miller—finished designing a packable plastic kayak that utilizes watertight patented clamps to connect the pieces of the hull, letting it pack down to just three and a half feet. They launched their Kickstarter campaign on June 16, 2016, with a crowdfunding goal of $427,325.
It was designed as more of a pre-sale than a simple fundraiser, letting donors preorder the craft at about $550, which is discounted substantially off the predicted retail price. They surpassed their goal with a little more than one day left in their campaign. "The amount of support and encouragement we received throughout this process was amazing," says CEO and co-founder Mackro. "We are so happy and humbled to have our product embraced by so many people, from all over the world. We want to thank all of our backers and everyone who has helped us along the way."
Pakayak began shipping its signature model, the Bluefin 14, just this March. New orders are available at full retail price and will be fulfilled in the order in which they are placed, after the Kickstarter pre-orders have been shipped.
"We think that kayaking is one of the best things you can do in your free time," says Mackro. "Six inches off the shore and you are on an instant vacation. Unfortunately, it's nearly impossible to get your kayak to and from the water without a pickup truck, or a roof rack and a buddy to help you carry and lift your kayak. That's where this comes in."
Kokopelli
After more than a year of designing and testing, Kokopelli Packraft also officially launched its Rogue Series Kickstarter campaign this spring. The two-model series (consisting of the Rogue and Rogue-Lite) features a first-in-class Kevlar reinforced floor, double-layer seam tape and V-tape floor construction. The result: a compact, high-performing inflatable kayak that's easy to set-up, weighs under five pounds and packs small. The Colorado manufacturer says the campaign will allow it to get the Rogue Series into full production and out on the water this summer.
So far, the campaign has well surpassed their expectations. As of March 16, the company has raised $118,000 on a goal of $30,000, helping its Rogue series join the company's Castaway, Nirvana and Horney-Lite models.
"This campaign will allow us to get the Rogue Series packraft into full production and out on the water," says company founder Kelley Smith, adding that supporters will receive a variety of rewards, as well as first dibs on the new model.
Folding Boat Co.'s Butterfly K-Pak
It started with a duck hunting trip, a borrowed, old canoe, and minor scratches and dents to a friend's vehicle. It will end—hopefully–with a fully-funded Kickstarter for the Butterfly K-PAK, the newest design from North Carolina's Folding Boat Co.
The creation of ex-U.S. Navy Quartermaster Pete Flood, the Butterfly K-PAK features a 'pop open' design allowing complete portability of the full-sized kayak boat in its own comfortable backpack. Its Kickstarter campaign launched March 6 with a target of $60,000, with such incentives as Early Bird specials and apparel to backers.
"This is the boat we've been waiting for. It's been a long journey, but we're really excited to finally launch our first Kickstarter for its debut," says Flood. "There are other folding boats out there, but nothing as technically brilliant as ours."
The Butterfly K-PAK is a 21-pound, skin-on-frame boat that folds up neatly into a backpack. Assembly is reduced to just three to four minutes because the aluminum frame is inside the boat skin. The boat features a tough, light urethane fabric, waterproof welded seams, and a plush, comfortable seat.
"I did some research and found there are other folding boats out there, but they're all very expensive and not always the easiest to assemble," Flood adds. "I needed an affordable folding boat you could have with you all the time, and take anywhere."
The boat measures 9'3"x30" and uses a 'butterfly' aluminum frame that pops open in seconds. The lower portion of the frame is attached to four independent airtubes that run the length of the boat. When the included air pump is attached, each tube fills simultaneously which allows the boat to fill symmetrically, compressing the frame to the skin, for a perfect paddle, every time.
Outcast
Built by Up the Creek Paddleworks–a partnership between Michael Duffy, Craig Lockwood, and Cathy Fleischer; and a marriage between paddle manufacturer Lendal North America and 3D modeling/design firm LM Design–the new Kickstarter-funded OutCast is designed so fishermen don't need to choose between speed, maneuverability and stability. With the first prototype coming out in 2016, and having undergone five different renditions, the boats have an estimated delivery in April, with a $50,000 campaign goal. Aiding their Kickstarter campaign are agreements already in place with accessory-makers Scotty and Douglas Outdoors.
"We wanted a boat that was so light that anyone could load it on their car by themselves and get on the water," says Duffy. "We're a company of world-class engineers and material scientists who also happen to be die-hard fishermen. We bring the experience and manufacturing expertise to deliver our KickStarter boats not just on time but boats that will set a new standard in performance and build quality."
Built in a state-of-the-art manufacturing facility in Rochester, N.Y., the kayak measures 12'6" long and 29.5 inches wide, with the Innegra fiberglass model weighing 40 pounds and the Innegra/Carbon weighing under 30 pounds. Duffy adds that backers need only look at Lendal's worldwide paddle reputation and distribution to gain peace of mind about investing. Backers receive discounts on various models.
"It eliminates the need for expensive trailers, trailer licenses, pickup trucks or friends to help you load the boat onto your car roof," he says, touting the uber-light aerospace materials used in its construction. "It's the only composite fishing kayak made today, and is designed to get out and fish, no strings attached. allows fishing and paddling enthusiasts of all genders, shapes and sizes to get from their home to the water as quickly and as easily as possible."
The article was originally published on Canoe & Kayak
For access to exclusive gear videos, celebrity interviews, and more, subscribe on YouTube!