While wetsuits themselves are nothing new—the concept of a neoprene body suit was first pioneered by Jack O'Neill in 1952—any surfer can tell you that there's always room for improvement. The market has seen steady advances in materials, stitching, taping, and design, yet one of the most critical aspects of wetsuit performance, the fit, has largely been neglected. This is mostly due to large volume manufacturers being wary of the effort and cost required to custom fit their product. Enter Los Angeles' Alex Wang and his new wetsuit company: Carapace.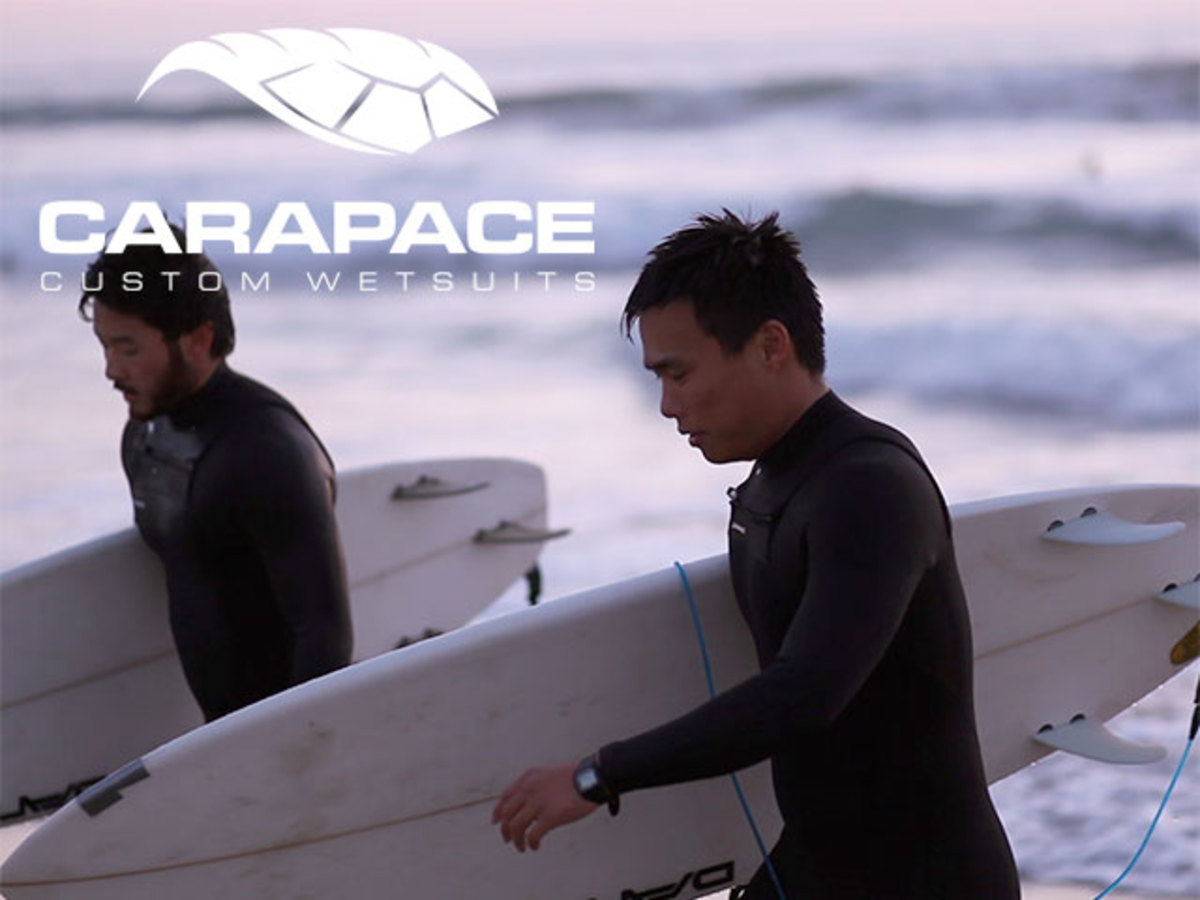 From an early age, Alex had an entrepreneurial spirit. "I did the whole lemonade stand thing, except it was chicken sandwiches, music CDs in elementary school, then it was belts in middle school, then commercial real estate after college, and now … wetsuits. Carapace Wetsuits is really a manifestation of all my experiences and passions—surfing, international business, and technology."
Not exactly the background that you'd expect from a surf wetsuit manufacturer, but maybe that's what a bro-bro industry like surfing needs—someone with the brains and background to think outside the box.
To get the inside scoop on Alex's new project, GrindTV sat down with him, and he talked to us about his vision for the future of wetsuits. According to Alex, the future holds many exciting possibilities, mainly the ability to custom fit your own suit, and eventually it could include customizable color schemes.
Read our interview with Alex below, watch Carapace's video below, and head over here to see Alex and Carapace's Kickstarter page. If you have some spare money lying around, you can help get this business off the ground. Who knows, soon you could be paddling out in the best fitting wetsuit you've ever put on.
Hey Alex, can you tell us a little about the company?
Absolutely. I approached my partner on this a couple years back after realizing it was a pain trying to purchase a wetsuit that actually fit correctly. I began obsessing over ways we could improve the wetsuit, through fit and quality. We realized that we needed to understand wetsuits on a very intimate level and build our own, but it was insanely hard sourcing all of the threads, glues, materials, etc. The wetsuit industry is pretty closed off, but we were really lucky to find a mentor like Mark Malinski (formerly of Body Glove Wetsuits). Anyway, we started hand building each wetsuit one by one, nights and weekends. I'm pretty proud of my partner because he learned how to operate a very special blind-stitching sewing machine. It took months. Each suit took us up to seven hours to build; we've given up our fair share of Friday nights to learn how to do this, but it was all worth it. We learned a ton.
What's behind the name Carapace?
The dictionary definition of "carapace" is an exoskeleton of a crustacean or turtle. We liked that it related to the sea and we wanted people to see our suits as more than just a suit, but really an extension of themselves. Plus, everyone loves turtles, right? Each suit is custom fit to approximately 15 measurements, so it's more than something you just buy off the shelf and put on; it's made specifically to fit you. Every suit is different, unique, and a work of art. Just like a carapace.
Explain how you came up with the sizing system.
I can say with confidence that no one in the world has used this technology and applied it to wetsuits before. I personally think it's because the big guys are uninterested in making wetsuits one by one and the smaller shops are not really that tech savvy. There are wetsuit companies that use "CAD" technology to create suits, but just not in the way that we do. Let's just say that there was a lot of trial and error—a lot of it. Can't say much more than that!
What can we expect in terms of pricing?
Around $380 for the performance-grade suit and $480 for the premium line. For both lines of our wetsuits, if you look at comparable wetsuits (ours are fully taped), we already beat them on price, and we're offering custom fit. I think this is huge.
Explain your distribution. Is it going to be just web or also retail?
For now it's just web; however, we're open to exploring opportunities in retail. I think it would be cool to drive traffic to local surf shops if they have someone on staff who is willing to take measurements. That way people can touch and feel the wetsuit.
Why use Kickstarter to fund your business?
Crowd funding is changing the start-up game, and I feel Kickstarter is at the forefront. They funded something like $319 million worth of projects last year, or I should say their 2.2 million "backers" did. There are other crowd funding sites out there, but we feel that Kickstarter is one of the strongest brands in the space right now. In a broader sense, Kickstarter, and crowd funding in general, allows us to accomplish multiple things. We can validate our business, raise capital, reach customers, and gain exposure. Of course the downside is if we are not successful, it's a public failure. There's a lot of pressure and unfortunately one's project is on Kickstarter forever, whether it's funded or not.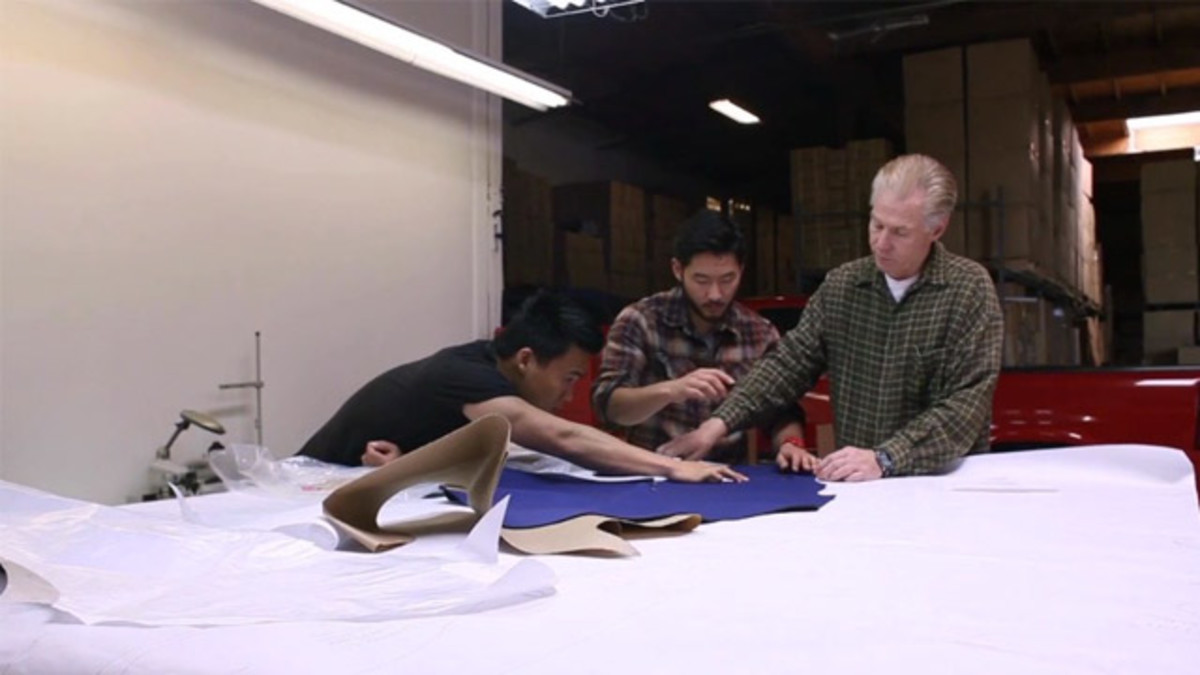 When do you think you'll be able to start filling orders?
We are aiming for September or October. It's a long time away, but we are fanatical about the quality of our suits and fine-tuning the technology. We definitely want to make sure we have everything in line and perfected before it's released to the public.
For access to exclusive gear videos, celebrity interviews, and more, subscribe on YouTube!