The canoes of the Suquamish people plied these waterways, followed by the rowboats of white settlers transporting goods to Pike Place market in downtown Seattle. Then fleets of steamships carried freight and passengers to hundreds of docks in and around Puget Sound. Today, I look out of the window from the passenger ferry from Seattle to Bremerton at the culmination of this water-centric history: public beaches, water access points, and waterfront businesses. The captain comes on the loud speaker, "Ladies and gentlemen, please return to your cars on the lower deck. We are now approaching paddling heaven!" My eyes widen with excitement as passengers scurry down to their cars, many sporting bikes and kayaks on top.
"People have always paddled here," explains John Kuntz, President of Olympic Outdoor Center. "But thanks to the water trail, recreation is more accessible to the novice, not just the experienced paddler." The Kitsap Water Trail he speaks of is the first saltwater trail to receive a National Water Trail designation. It consists of 361 miles of shoreline for both adventurous paddlers and families to explore. With over 200 possible stops along the water trail, it is hard to know where to start your adventure. One good option is Poulsbo, Washington: a booming tourist town and a gateway to the expansive Kitsap Water Trail, and just a hop and a skip away from the Seattle metropolis.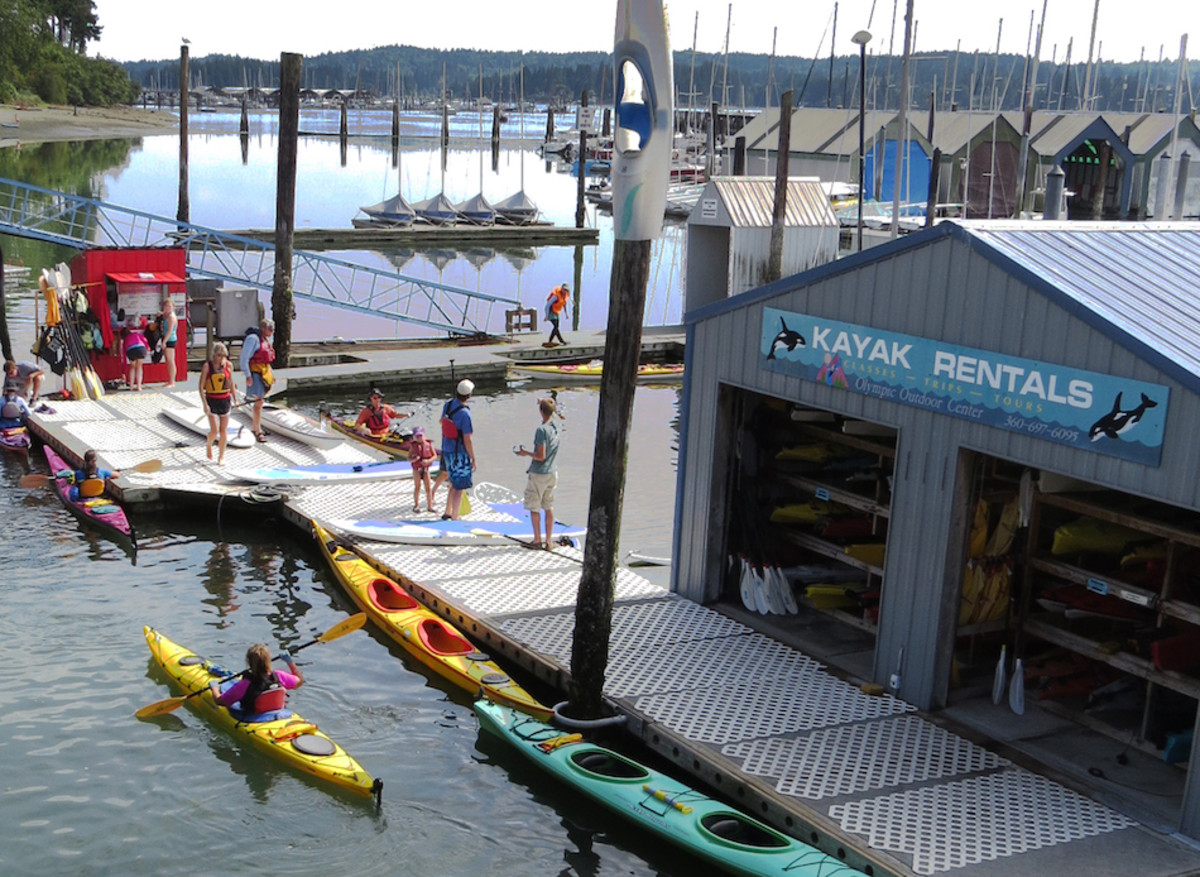 Start your morning in Poulsbo with a donut from the famous Sluys Poulsbo Bakery. Remember, calories don't count on a paddling day! Whether you have your own kayak or rent a kayak from Olympic Outdoors, put in at the marina in Poulsbo and choose your own adventure. Putz around the bay, paddle two and a half miles to Keyport, or paddle six miles to Old Man House Park for a more challenging stretch. Whichever way you go, there are access points, dining, and lodging in all the waterfront communities. You may even have unexpected company on your journey — Poulsbo has the highest concentration of harbor seals on the Kitsap Peninsula. "Two years ago we even had a pod of orca whales near Poulsbo chomp on a few seals," Kuntz noted. "They follow the salmon migration."

The seals follow the salmon migration, the whales follow the seals, and we humans can follow the whales via the Orca Network, a Facebook page that tracks orcas. Beyond orcas, this part of the world is alive with wildlife like sea lions, porpoises, gray and humpback whales, eagles, and salmon. "If you are paddling sometime in mid-October to the end of November just get out on the water and the salmon are right there jumping close to you!" exclaimed Patty Graf-Hoke, Director of Visit Kitsap Peninsula.
While a jaunt over to the Kitsap Peninsula from Seattle is an easy day-trip, this paddling heaven extends well beyond the Poulsbo horizon. Visitors in the area for a few days or more can explore the paddling opportunities in the South and North Sound, and even brave the more scenic, multi-day adventure on Hood Canal. The Hood Canal provides 60 miles of beautiful scenery and open water for overnight trips with an average of three to four hours of paddling in between campsites. Ten miles down Hood Canal is the Bangor Submarine Base, where you'll have to keep your eyes peeled for more than just whales and porpoises in the water.
It would be difficult to find a weekend on the Kitsap Peninsula without a festival or event. Festivals pair well with wine, beer, art, and paddling. Ride the Tide is the most popular annual paddling event, where participants of all experience levels paddle the incoming tide for five miles from Bremerton to Silverdale.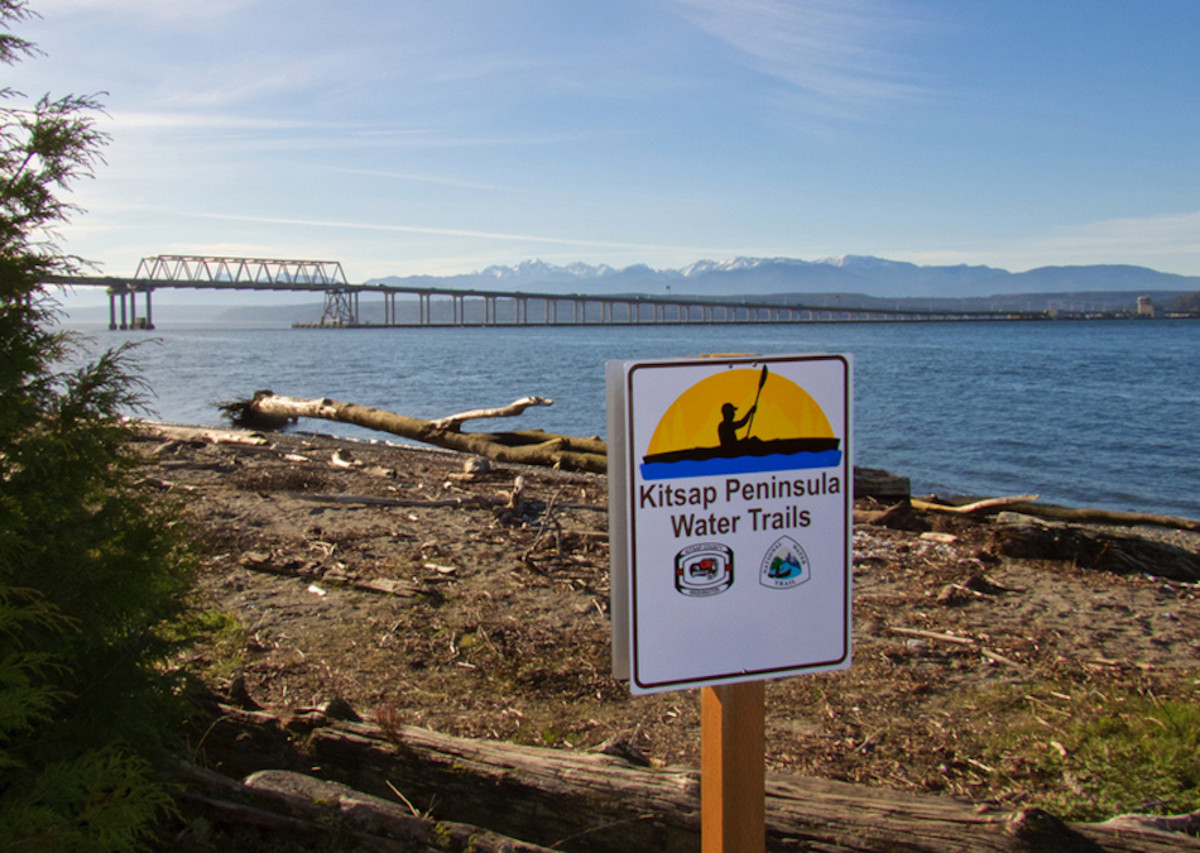 So, what's next for Poulsbo and the Kitsap Peninsula? With such a vast expanse of water, there is always a need for more signage and increased paddler amenities. Access points have almost tripled in the past few years. There are now 200 places to stop along the 361-mile water trail, and more access points are on the way. Officials installed the first kayak rack to give paddlers a place to store their boats while they walk into town. This water trail is unique because it was created with a focus on tourism and amenities; unlike many water trails, which are born from an environmental need and then slowly evolve into tourist destinations. The Kitsap Water Trail has tourism at its core, which means that people are working hard to make sure paddling is accessible, activities are easy to plan, and dining and lodging opportunities are closely tied to the water trail. Whether you are looking for a local escape for an extended vacation, make your way to Kitsap Peninsula to ride the tide and jump with the salmon!
More of North America's (Next) Best Paddling Towns:
— 37 miles of managed water trail on the New River near Pembroke, VA.
— Explore the country's second largest delta near Mobile, Ala.
— Lively access to the Kansas River National Water Trail in Lawrence, Kan.
— Paddle downstream, both ways, on the Waccamaw River in Conway, S.C.
— A bayou tour through Cajun country in Breaux Bridge, La.
— Mid-Atlantic rivers and bays in Snow Hill, Maryland
— A range of paddling options along the Huron River in Ann Arbor, Michigan
— Check out C&K's full list of North America's Top Paddling Towns
The article was originally published on Canoe & Kayak
For access to exclusive gear videos, celebrity interviews, and more, subscribe on YouTube!