Update: USA Track and Field announced that American 800-meter runner Nick Symmonds will be replaced at the 2015 World Championships in Beijing later this month after he refused to sign the organization's statement of conditions by Sunday's noon deadline. "Two years' worth of work to try to win another medal for my country are now down the drain," Symmonds told ESPN. "Is it frustrating? Of course. But no part of me regrets doing this." 
In June, at the USA Track and Field Outdoor Championship, Nick Symmonds's running brilliance was on full display. Trailing the field in his signature event, the 800 meter, by five meters after 20 seconds, the two-time Olympian held steady for most of the race, then unleashed a brutal finishing kick on the final lap, overtaking the leaders as they faded down the home stretch. The only question left in the final strides: "How am I going to celebrate?" quips Symmonds. "With 10 meters to go, I knew I was going to win."
He celebrated as he typically does, by wagging his tongue in the air and flexing his biceps for the adoring crowd. The event qualified the 31-year-old for the IAAF World Championships in Beijing, in August, and he looks to be a surefire medal contender. There's only one problem: he may not be going. With two weeks until the championships, Symmonds is locked in a standoff with USA Track and Field over athlete sponsorship rights, an impasse that threatens to shake up the sport — and leave one of its most well-known stars at home.
"I'm fed up," Symmonds says. "USATF is stealing rights from the athletes, and I won't be a part of that. I'm not going to cave in."
Symmonds's showdown with USATF began only hours after his 800-meter triumph, as he snaked through a series of team processing stations at the Hilton hotel's conference room. It's normally a dry bureaucratic affair, with athletes applying for visas, booking flights, and fitting uniforms en route to the final administrative hurdle: signing USATF's "statement of conditions."
Among other terms, the statement of conditions requires athletes to wear Nike's team-issued clothing and gear during all official functions at the world championships. Symmonds had no reason to challenge the agreement during his seven years with Nike, from 2006 to 2013, but now he's sponsored by Brooks, and in Beijing he wants the right to wear Brooks apparel whenever he's not competing. Without that freedom, Symmonds says companies like Brooks, Saucony, and Adidas are less inclined to sponsor elite runners, strengthening Nike's near-monopoly and undercutting athletes' already tenuous bargaining power.
"I want athletes who come after me to have a fair and profitable playing field," he says. "My golden rule is to leave the campsite better than you found it, and right now the campsite is full of dog shit."
That's why Symmonds stood defiantly at the team processing station, sparring with USATF officials as he refused to sign their paperwork. According to Symmonds, the scene became heated when a high-ranking USATF administrator walked over and took him by the shoulder. "Son, if you don't sign this agreement," the official warned, "you won't be going to Beijing."
His response: "Try to stop me."
"I won't be bullied," Symmonds says now, nearly three weeks later, from his home in Seattle. "If they try to leave me off the team, I'll absolutely bring a lawsuit against them. But I honestly can't see them making that mistake."
That bravado — and his dominating wins — is classic Symmonds. In ten years, the Idaho native has won six U.S. titles, competed in two Olympic Games, and now ranks as the third fastest 800-meter runner in American history, thrilling fans with his daring, come-from-behind style and finish-line theatrics. He's also been aggressive (some would say obnoxious) in creating buzz for the Nick Symmonds brand, inventing ever more creative ways to land in the headlines. He's had a much-publicized date with Paris Hilton. He's trained for a world-record attempt in the beer mile (four laps, four beers — and no vomiting allowed). And he's auctioned off space on his body for a temporary sponsor tattoo at the 2012 Olympics. When critics blast the stunts as self-promotion, Symmonds offers no apologies. "Isn't that my job?" he says. "The whole enterprise revolves around selling products, so I'm going to try to sell products."
In a sport troubled by sinking popularity in the U.S. — and marred globally by drug scandals and administrative corruption — Symmonds is the kind of charismatic, talented, and irreverent personality that could make people care about the sport again. So will he really be left out of the sport's biggest competition of the year? Even Symmonds isn't entirely sure.
With his stock soaring following the U.S. Championships, Symmonds assumed USATF would quietly let the unsigned contract slide — an expectation that seemed validated last month when USATF mailed him a Team USA uniform and a letter of congratulations. But the battle lines hardened again earlier this week when the governing body issued Symmonds a final ultimatum. "Nick, you are required to sign the Statement of Conditions," general counsel Norman Wain wrote in an email to the runner. "If USATF does not have the signed form by August 9, 2015 (12:00pm EST), you will not be on the team." (*The USATF held good on their promise to ban Symmonds, stating that the policies have been in place for years. And while officials at the organization admit that the policies "are very worthy of discussion and examination," many believe those conversations should take place at the annual meeting in December.)
Symmonds says he won't yield to USATF's demands, a hard-line stance that could either cost him the chance to defend his silver medal at the world championships or give him a landmark victory in his ongoing struggle against USATF to expand athlete rights.
That feud first hit red alert four years ago, when Symmonds confronted USATF officials and shoe-company representatives about the sport's draconian sponsorship rules. Under the previous guidelines, athletes were only permitted to display a single apparel company's logo on their uniforms and bodies — the equivalent of racecars zooming around a track with nothing more than Chevy logos on their fenders. It was a sweet deal for Nike and a handful of other major apparel sponsors, but not for American runners, jumpers, and throwers, who are among the lowest-paid athletes in sports. (One study in 2012 found that 50 percent of athletes with top-10 U.S. rankings were making less than $15,000 a year from track and field, forcing many to take second jobs just to sustain their Olympic dreams.)
When Symmonds and his ally David Greifinger, a California-based attorney and sports agent, pressed USATF on the issue at its annual meeting in 2011, the governing body agreed to loosen the sponsorship restrictions. At this year's U.S. Championships, that meant Symmonds could tattoo the logo of his business venture, Run Gum, onto his biceps during competition — as well as dole out Run Gum sponsorships to athletes who needed extra support.
The progress qualified as a modest victory, but Symmonds isn't interested in tweaking the sport. He wants to overhaul it, starting from the very top. In order for more athletes to make a living wage, Symmonds says they'll need to break ranks from track and field's established powers — the International Association of Athletics Federations (IAAF) and the International Olympic Committee (IOC) in particular — that currently govern the sport internationally. Symmonds and Greifinger accuse IAAF, IOC, and the other organizations of absorbing nearly all of the money generated by multi-million dollar TV licensing agreements and corporate sponsorships, "By the time the money has gone through that sieve," Greifinger says, "there's not much left for the athletes."
The most brazen culprit is the IOC, which pays out no prize money to medalists, despite bringing in about $3.4 billion from the 2012 London Games. It's justified by appeals to the traditional Olympic ideal of amateurism, but Symmonds isn't buying that. "People at the IOC are getting filthy stinking rich, sponsors are getting rich, vendors are getting rich," he says. "And for some reason people think the athletes are just supposed to do all this for free. That's absurd to me."
Until this week, Symmonds had pushed for reform while staying inside the lines. But this time, he says, he was forced into a harder stance. If Symmonds were to sign the statement of conditions, he could use his platform in Beijing to advocate for changes to the sport, without jeopardizing his opportunity to become the first American world or Olympic 800-meter champion in 43 years. Instead, Symmonds is doubling down, gambling that his status will trump the governing body's resolve. But USATF spokesperson Jill Geer says there's no chance of that happening.
"The statement of conditions is part of our bylaws, and no individual, including the CEO, has the power to make exceptions to those bylaws," says Geer, adding that mandatory uniform and apparel restrictions are not unique to track and field. "Nick is a great athlete with a lot of fans, and we'd love to have him on the team. If that doesn't happen, we'll wish him well and move forward."
But if any athlete has the sway to send the sport's leaders scrambling for a last-minute compromise, it's Symmonds, whose popularity in the sport should make him hard to ignore. When news of USATF's ultimatum broke on Thursday, many of his 52,000 Twitter followers rushed to defend him on social media, adopting #LetNickRun as their rallying cry.
"I have a team USA Olympic shirt," one fan tweeted. "I'll wear it with tape over the Nike logo in solidarity with athletes fighting the good fight. #letNickrun"
Added another: "Leave it to @usatf to attempt to ruin the most exciting moment in sports and try to leave @NickSymmonds at home #LetNickRun"
Jeremy Wariner, a three-time Olympic gold medalist now running for Adidas, also joined the chorus of support. "I agree with you 100%" he tweeted. "Been dealing with it since 2005."
Symmonds has until Sunday at noon to make his final decision: either sign the statement of conduct, or risk being left out from the world championships in Beijing. For Symmonds, neither option is a good one. But if there's any weakness in his resolve to take on USATF over its "bullshit" contract, he isn't sharing.
"I earned my spot on the team, and I'm training my ass off to represent my country," he says. "But I'm not going to give ground. The best-case scenario is for USATF to realize they're wrong."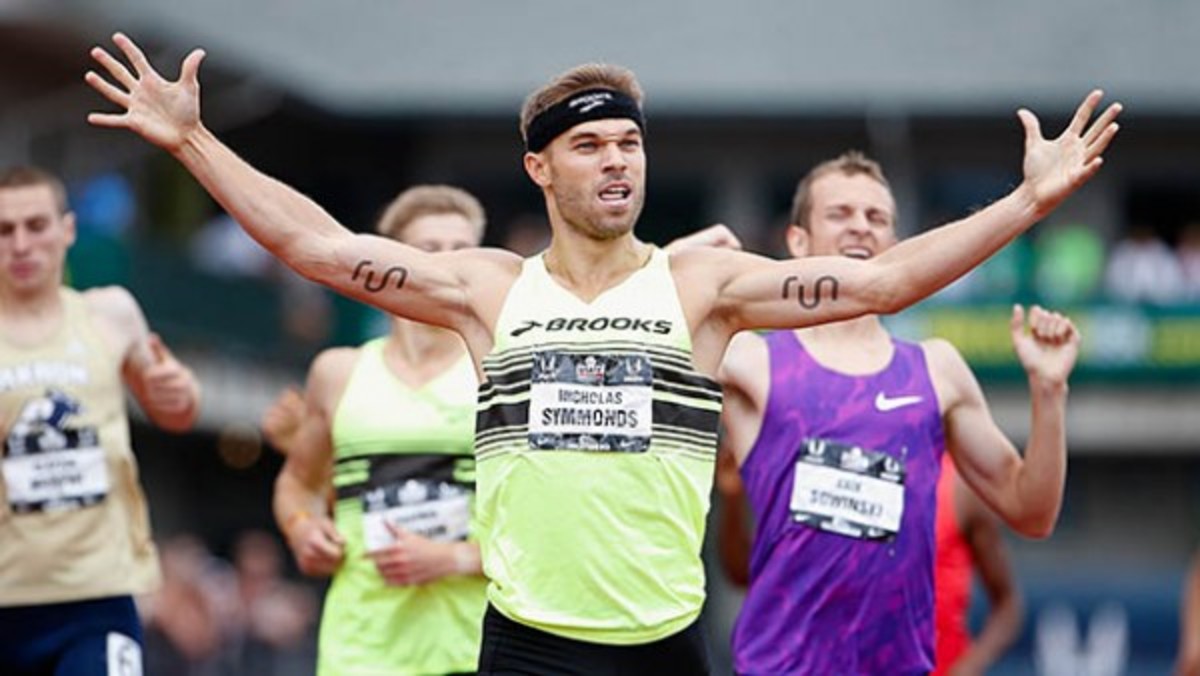 Christian Petersen / Getty Images
For access to exclusive gear videos, celebrity interviews, and more, subscribe on YouTube!