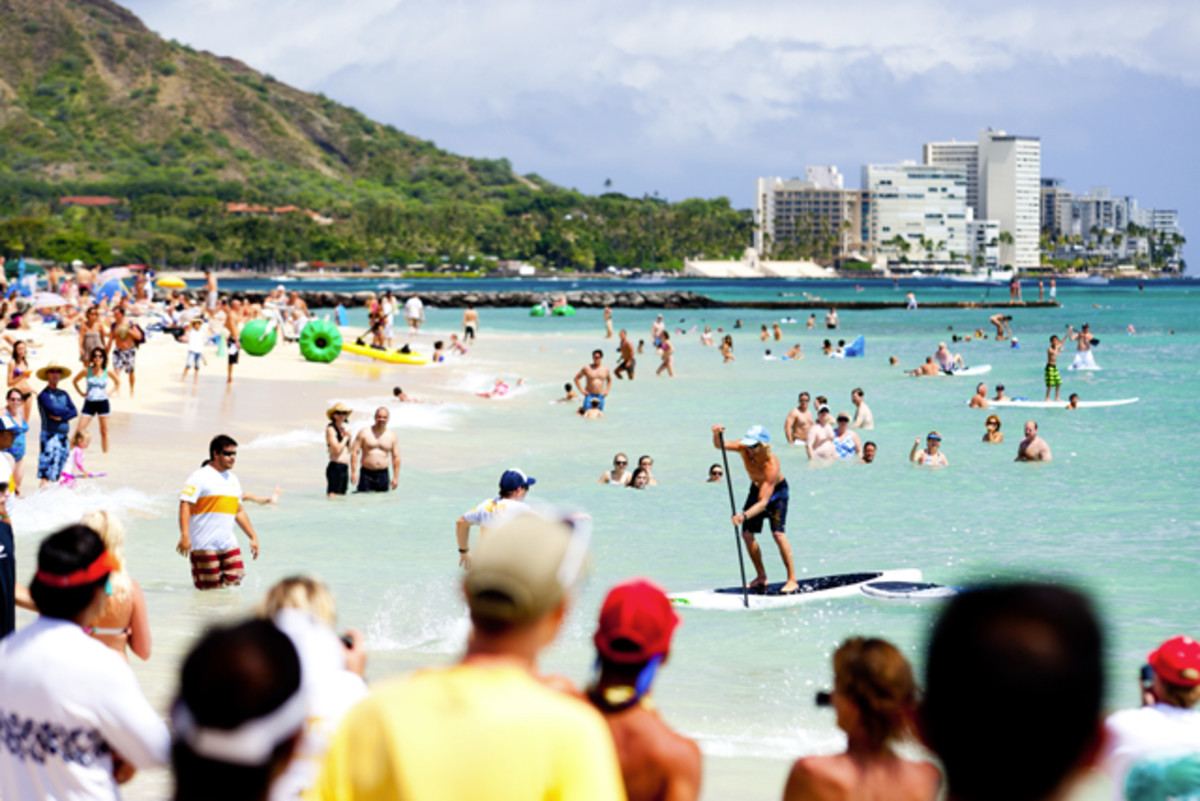 Paddle Town Profile: Honolulu, Hawaii
Think your hometown has what it takes to win the 2018 Paddle Town Battle? Vote for your favorite paddling town and it could receive a feature profile in our upcoming Summer Issue!
Standup paddling started here. Uncle Bobby Ah Choy took pictures of tourists as a Waikiki Beach Boy standing up with a paddle. I remember being a little kid surfing Canoes and he'd be taking pictures of tourists and us kids. When I think of my childhood, I think of him standup paddling. Now, when you look at Waikiki, SUPs are everywhere. It's part of the culture.
We use SUP for everything here: fitness, fishing, diving, exercise, surfing. We're really fortunate because no matter where you live you're 15 minutes away from the water. It's really accessible. Standups are simple, light and now you see tons of women doing it too. I think there are definitely more women here paddling than other places. There are aunties, grandmas, grandpas and toddlers out there on stand ups!
Ala Moana is one of the calm, safe beaches where people can go paddle for the first time. On the weekend we have hundreds of people doing just that. I think SUP courses are even bigger than surf lessons now. Then you can move outside the reef when you're ready to surf. Back to Waikiki you've got Canoes, Queens, Pops for easy waves. There are so many places to paddle in Waikiki and Ala Moana. When you're paddling off the coast you look to your right and see Diamond Head and the mountains and when you look straight you see a big city. Having real life right across the street from our ocean—filled with turtles and dolphins—is really special.
The community is pretty interesting. You have guys that are doing the long distance downwind run from Hawaii Kai to Waikiki on the regular. Then you have the hardcore surf guys. A lot of us just squeeze it in where we can between work and our families. Some guys walk to the water from their apartments, paddle, shower then get into their suits and BMWs and head to work. There's a little something for everyone here.
–Jenny "Waikikilove" Lee is one of Honolulu's greatest purveyors of stoke, just check out her noserides.



The Paddle Town Battle was simple in concept: pick the 16 best standup towns in world and let you, dear readers, vote to decide the ultimate SUP city.
But what makes a good place to live and paddle? Is it access to the water? Is it a nice place to live? Is it the people? We debated. There were so many questions to answer that we formed categories: proximity to types of paddling (ocean surfing, whitewater, flatwater, downwind, river surfing), community (races, shops, people), off-the-water amenities (breweries, eateries, yoga studios) and influence (what role this place has played in the sport). If you think your town has what it takes, submit it here for a chance to win the Paddle Town Battle!
The article was originally published on Standup Paddling
For access to exclusive gear videos, celebrity interviews, and more, subscribe on YouTube!