The North Forest Canoe Trail is a 740-mile water trail that follows Native American travel routes from Old Forge, New York, across Vermont, Qubec and New Hampshire, to Fort Kent, Maine. In addition to being a paddling route, the Trail celebrates the history of the Northern Forest.
According to Jon Bowermaster the best way to see America's longest water trail is one piece at a time.
MISSISQUOI, VERMONT
I'm paddling against a slow current, moving easily up the wide delta and into the 6,600-acre Missisquoi National Wildlife Refuge. A 500-nest heron rookery is here, sheltered amidst the reeds and tall grass. Migratory blue heron come and go, ignoring me. Mergansers, Canada geese, and kingfishers head south in big V's. The winter ice is still a couple months away.
I feel myself starting to unwind.
Under the front bungee is a laminated map of this stretch of the Northern Forest Canoe Trail. Map #4 (of 13) guides users along the 63 miles from Champlain to Enosburg Falls, Vermont. Since I'm alone I'll do a five-hour up-and-back route. If I had a week I'd be more than content to follow the water trail as it meanders through Vermont, across northern New Hampshire, and slices briefly into Quebec before paralleling the Maine/Canada border on its way northeast.
Over the past five years I've paddled sections of the 740-mile NFCT in each of the four states. I keep coming back to it for exactly the reasons its founders envisioned, treating it like a waterborne Appalachian Trail. I'm never going to take on its full length in one swoop; that's for others (about 12 people to date). I prefer to bite off a chunk here, a segment there—to drop in each year and see something new. The big new signs marking the start of many trail segments make this approach easy, as does the series of maps, perhaps the best in all my outdoor experience. Each map is a trove of interesting and essential information—how long each portage should take, where to find the lean-tos, an accounting of the animals that inhabit the woods and water, a brief history of the first people here and the lives they led.
The trail makes changing moods and attitudes easy. Which is exactly why I've come this day. Looking for easy.
OLD FORGE, NEW YORK
The NFCT officially begins at a nondescript dock behind the Chamber of Commerce parking lot in Old Forge Pond, New York. I launch there for a paddle in 2005 along the Fulton Chain—eight contiguous lakes named without breaking any pencil lead (First, Second, Third, etc.). This is the most populated part of the trail. For several hours each day I paddle past small cabins and elegant homes, all surrounded by a landscape of tall pine, hemlock, beech, and birch forests. These rivers were once major "timber highways," used to float logs to mills in the St. Lawrence and Champlain valleys. It's amazing to think that just 100 years ago all of this land was clear-cut. Now it is again covered in thick forest, and paddling this section through the 2-million-acre Adirondack Park is to bear witness to one of America's greatest environmental renovations.
One thing I love about this part of the country is the history that is all around. Native Americans left their names, if not their mark. Allagash, Mollidgewock, Saranac, Androscoggin, Mooselookmeguntic, Penobscot, Umbazooksus are all poignant reminders of who was here first. Timber magnates followed, as well as personages like Benedict Arnold and Henry David Thoreau.
Prefer the history of rivers to man? The Northern Forest is more than 10 times larger than Yellowstone National Park, and contains the headwaters of every major waterway in New England and New York, including the Connecticut, St. John, Penobscot, and Hudson rivers. Within its boundaries run 30,000 miles of brooks and streams.
Passing First and Second lakes, the human population winnows, then disappears. Connected by short water passageways, one lake spills easily into the next, until Fifth and Sixth, which require short overland portages. On the two-mile Brown's Tract Inlet, a curving brown stream created by beaver dams, I am quickly beyond sight or sound of man for an hour … until emerging to a cacophony of both on the southern end of Raquette Lake, where a renovated steam ship is filling with weekenders out for a white shoe booze cruise.
The next night it dumps buckets of rain, which I hope will help ease the August heat. I choose a spot in tall grass near the end of Brown's Tract and fall asleep, lulled by the pattering rain on my tent roof and flashing glow of a neon Rolling Rock sign in a nearby tavern window. I feel strangely at home.
After a short visit, I'm ready to float. Sliding my 42-pound Kevlar kayak onto the Androscoggin just beneath the bridge, I turn southwest. The river is wide and mostly flat, running past a wayside park where I pitch my tent. While tourism is the main draw today, it's not hard to imagine the scene here a century before, when all of these northern rivers were choked with logs. The Androscoggin, like the nearby Connecticut, used to run so thick with cut trees that you couldn't even see the water. Lively river towns boomed, hard-living loggers flocked to the region, and signs on the doors of the numerous taverns cautioned the lumberjacks to remove their spiked boots before entering. Today, I line my tent up alongside a rowdy group of college students tossing a Frisbee, out for a weekend paddle.
LONG LAKE, NEW YORK
My first trip on the NFCT, in the fall of 2002, I put in an hour's drive north of Old Forge. I'd been invited by two of the trail's biggest promoters, Rob Center and Kay Henry, to join a small group for a weekend paddle.
Answer your questions on paddling the NFCT at their website –
Our second night's camp is alongside Raquette Falls, requiring one of the more difficult portages on the trail. Though just 1.3 miles along a good path, the first quarter-mile leads straight up a steep incline. The last 100 yards is, thankfully, a gentle downhill, and our camp is marked by an Igloo cooler filled with icy beers we feel we've well earned.
The camp cook during this trip turns out to be one of the NFCT's founders. On a rainy morning alongside the Raquette River, his graying ponytail tucked into the back of his rain jacket, Maine guide Mike Krepner tells me his story over coffee and pancakes.
The idea of re-creating a water trail linking the old trading routes that cut across the Northern Forest originated in 1990, when Krepner and a pair of college friends, Ron Canter and Randy Mardres, realized that nearly all of the Northern Forest could be traversed the old way, by canoe. Krepner took the lead and began scouting the carries and connections in northwestern Maine, and then talking up the idea with local representatives of the National Park Service, through its Rivers and Trails Conservation Assistance Program. Soon he had mapped and blazed a 50-mile section in Maine, from Rangeley through the Richardson Lakes and down the Androscoggin River to a campsite called Mollidgewock.
Using colonial records and maps, spurred on by reading Eric Morse's 1969 Fur Trade Routes of Canada, Then and Now, the trio dubbed their idea simply Native Trails, a kind of waterborne trail that people could follow by canoe and kayak, a modern linkage of thousand-year-old travel routes faded to obscurity when roads and railroads replaced water as passageway. "It may have seemed illogical to others, to try and recreate something that had always been there," says Krepner. "But to us it was the most logical thing of all."
In the late 1990s, Krepner passed the organizational torch to former Mad River canoe execs Center and Henry, who capitalized on decades of business relationships to marshal scores of volunteers across all four states. Although the waterways are all public, many of the access points, portages, and campsites along the trail are privately held. In a six-year effort, Center, Henry, and coordinators for each of the 13 regions visited civic organizations, land trusts, municipalities and even family farms to secure access and campsites. Organizers erected more than 200 signs along the route, and with an "if-it's-in-writing-it-must-be-true" strategy, they printed maps detailing the route. At last, on June 4, 2005, (National Trail Day) the NFCT officially opened.
"Our goal now, our challenge," says Center as we paddle up the Raquette under a light drizzle, "is to go back to these communities, whether it's Inlet, New York or Eustis, Maine, and try and coordinate efforts among B&B's, inns, outfitters, restaurants, canoe and kayak rental companies." The idea, he says, is that people coming up from, say, New York City for a four-day weekend can easily access those resources. These days, the NFCT Web site is a virtual travel directory for paddlers. With a few clicks you can book a boat rental, a night's stay, and even find out where to check your email along the route.
Our takeout on a Sunday morning comes just before the entrance to the sprawling Saranac Lakes system. Before pulling our boats up a graveled ramp at Axton Landing we are surprised on river left by the appearance of one of the region's most prolific but clandestine citizens: A sizable moose munches grass as we float quietly by.
ERROLL, NEW HAMPSHIRE
The further north and east you get along the trail, the more wild and unpopulated it gets. The section in New Hampshire dips south from North Stratford before bottoming out along the Upper Ammonoosuc River and then heading north up the Androscoggin River towards Errol. The scenery along these big, once-heavily industrial rivers is equal part New England charm (read: bed and breakfasts with year-round wreaths on the door) and abandonment (tumbling wooden barns next to double-wides next to corn fields). The paddling is easy because you are mostly going with the current. It leads through big state parks and protected watersheds, including the beautiful, 20,500-acre Lake Umbagog National Wildlife Refuge. Any western-biased Americans out there with the impression that the only wild places left in the States are on the far side of the Mississippi deserve to come east for a couple weeks, with canoe or kayak, and have a peek.
Errol sits near the northeastern corner of the tall, narrow state. The put-in on the Androscoggin River flows beneath Route 26 and in the summer of 2005 I pull over at a picnic table above the beautiful, wide river. As I spread lunch out on the table, Ned McSherry sits down across from me, taking a break. He'd picked this spot for one of his small sales-and-rental shops on purpose: Marked by small riffles, this has been a perfect spot for whitewater rafters and kayakers for a couple of decades.
After a short visit, I'm ready to float. Sliding my 42-pound Kevlar kayak onto the Androscoggin just beneath the bridge, I turn southwest. The river is wide and mostly flat, running past a wayside park where I pitch my tent. While tourism is the main draw today, it's not hard to imagine the scene here a century before, when all of these northern rivers were choked with logs. The Androscoggin, like the nearby Connecticut, used to run so thick with cut trees that you couldn't even see the water. Lively river towns boomed, hard-living loggers flocked to the region, and signs on the doors of the numerous taverns cautioned the lumberjacks to remove their spiked boots before entering. Today, I line my tent up alongside a rowdy group of college students tossing a Frisbee, out for a weekend paddle.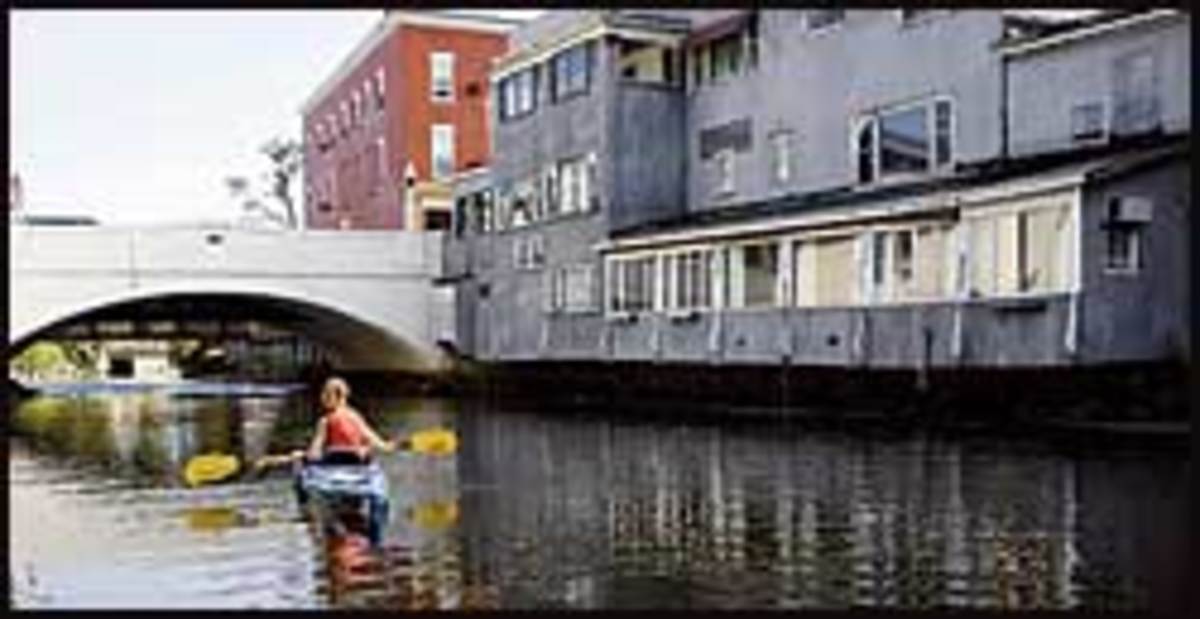 DEAD RIVER, MAINE
The next morning I'm back in the Land Cruiser, crossing into Maine at the southern edge of Umbagog Lake, where the scenery grows wilder with each mile and "Moose Crossing" signs begin.
Mid-afternoon I am standing in my kind of church—the 250-acre Cathedral Pines campground, surrounded by towering, 100-foot-plus old growth red pines. There are scores of them, rising high, their shadows falling over man-made Flagstaff Lake. As the sun sets I paddle peacefully down the Dead River and onto the reservoir. Other than a few bank fishermen, I don't see anyone during a two-hour stretch. Once through Flagstaff Lake, the Dead picks up again and drops in a dramatic falls near the Old Dead River Dam, a definite portage.
This is the "other" Maine. Most tourists—thus most tourist money—end up on the Atlantic coastline. Here the summer season is short, just eight weeks, and tour operators of all kinds need to hustle to make 70 percent of their annual money in those two months. Seemingly every pickup truck has a canoe on its rack.
The following day I drive to Moosehead Lake, the biggest in Maine. A spur trail from the town of Greenville at the south end joins the main trail at the Kineo Peninsula about halfway up the lake, near the site of the Mount Kineo Hotel, which burned down five different times over the years.
John Willard, 56, is almost a true Mainer, having lived on Moosehead Lake since he was 18. In 1969, his father bought The Birches, a rustic 12-cabin lodge on the lakeshore, and John now runs it. A former raft guide, he's spent weeks and months on the back roads and rivers of these woods; today he owns 15,000 acres of forest, with an eye on both future development and conservation. He is on the board of directors and an enthusiastic promoter of the NFCT.
"It was the canoe trail that reopened my eyes to just how beautiful, and just how connected, these wildernesses are," he says. "By tracing sections of this wilderness, by staying on the water, it has reminded me—though I've lived here for nearly four decades—just how spectacular this part of the world is."
During the course of two days spent exploring by canoe and small plane, Willard keeps returning to his own surprise, sometimes sounding almost bewildered by the spectacularness all around. "Can you believe how beautiful this is?" he shouts from the stern of our canoe.
The scene takes us back to Henry David Thoreau, who tramped these woods and rivers for years. "Perhaps I most fully realized that this was primeval, untamed and forever untamable Nature, or whatever else men call it," Thoreau wrote more than a century ago. "Nature here can be something savage and awful, though unbelievably beautiful."
MISSISQUOI, VERMONT
At the end of my five-hour paddle, dark clouds gather and begin to spit rain, but now I could care less if the sky is blue or grey. My hands are stiff from the cold water, my face is sunburned; I'm good-tired and happy as I slide the kayak onto the top of the car. Starting the engine, I let it run for a few minutes as I tighten cam straps, letting the heat inside ratchet up. Home is just two hours away.
As I cinch down the kayak I'm already thinking about which chunk of the NFCT I'll bite off next. Reaching into the Land Cruiser I get out the NFCT's map #6—the section of the trail that slices briefly into Quebec—and lay it across the hood. Next weekend? Why not Lake Memphremagog, which looks both unpronounceable and very, very tempting?
Can the NFCT Save Northern Forest Economies?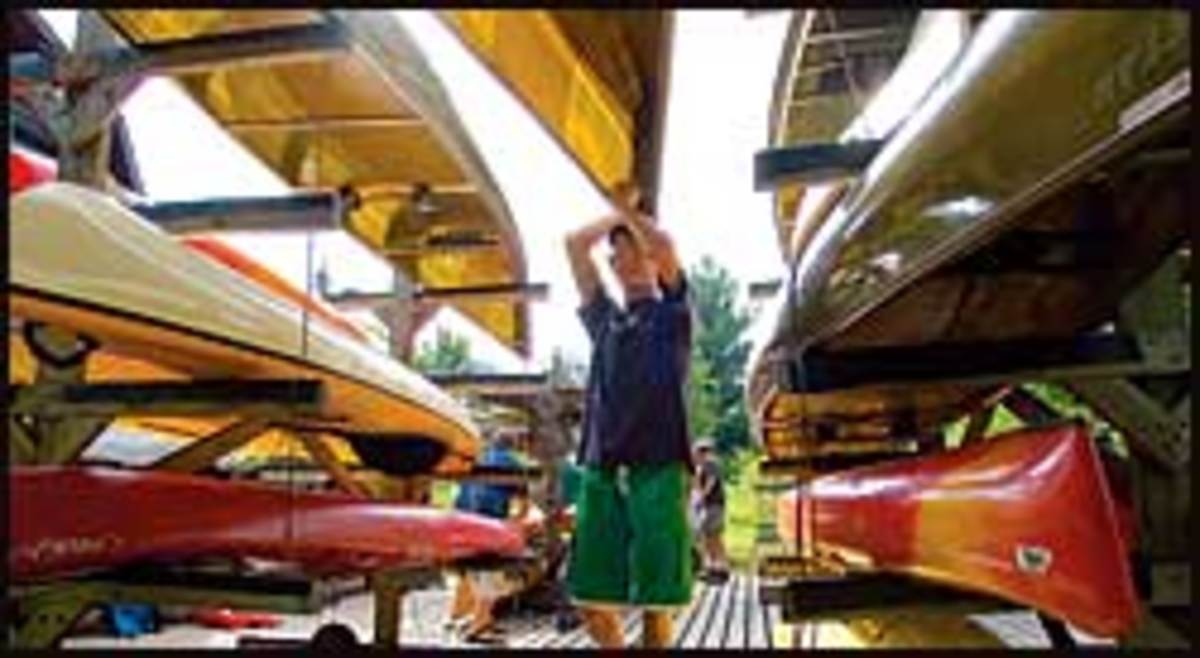 by Ed Winchester

In the fall of 1949, Central Maine Power diverted the swift-moving Dead River to satisfy the state's growing appetite for electrical power. Progress, however, is seldom painless. Rising waters from the Long Falls Dam swallowed the town of Flagstaff, displacing residents and transforming its eponymous pond into the largest man-made lake in the state.
Today, paddlers on Flagstaff Lake can still make out the otherworldly sight of chimneys and foundations lurking beneath the surface. It may not be Lake Mead, but for Northern Forest Canoe Trail co-founder Rob Center, this shallow, 30-mile-long body of water in Maine's rugged western mountains region represents the water trail's vast potential as both a model for local stewardship and an engine of economic development. The 740-mile trail passes above the submerged frontier town creating a potent confluence of history and recreation that Center hopes will inject much-needed economic activity into the region.
"People think of themselves as living in tiny community north of where anyone is," says Center, who founded the trail with wife Kay Henry. "They don't realize what they have."
Just as communities in the Northeast benefit by their proximity to ski areas, national forests, and other recreation hotspots, NFCT organizers envision a cash influx to communities along the route as out-of-town paddlers open their wallets for food, guide services, and gear. Communities throughout the Northern Forest, reeling from the collapse of the timber industry, have put their faith in similar models of sustainable economic development, with varying degrees of success.
Towns like Bethel, Maine—home to Sunday River Ski area—have made the transition, while those such as Berlin, New Hampshire have seen tourism-based hopes falter. But there are signs the NFCT's blue-sky scenarios may not be so farfetched.
A 2006 University of Vermont-led study estimated total NFCT paddler expenditures at $12 million, based on 90,000 paddler visitors at six sites along the route. The net effect of this economic activity works out to $4.1 million in personal income and upwards of 280 jobs in rural communities. Even better, those doing the spending aren't locals; boaters from away counted for 80 percent of total sales. Center expects this number to grow as the water trail's promotional apparatus matures. "We are debunking the myth that paddlers don't spend any money," he says.
The stewardship piece is harder to quantify. The NFCT travels through some of the most spectacular landscape in the Northeast—and some of the most threatened. A quarter of the U.S. population lives within a day's drive of the 26-million-acre Northern Forest, the largest remaining contiguous forest in the Northeast. A shift from traditional land ownership to investor-owned lands in the region has unearthed a host of environmental concerns, from forest fragmentation and loss of habitat to the decline of forest-based economies. In Maine, the unremitting pace of development threatens to undermine the state's remote character. Plum Creek, the nation's largest private landowner, owns nearly 1 million acres of forestland in the state. Its plans call for the development of hundreds of house lots in the region, many along shorelines of Maine's isolated lakes. For the conservation-minded, the stakes have never been higher.
The NFCT's approach to stewardship is simple: Turn local communities on to the natural resources running through their backyards, and those communities will want to take care of them. Conservation organizations throughout the Northeast pursue similar models, but the NFCT's decentralized structure allows for greater local participation.
NFCT organizers also learned from the Appalachian Trail's painful and protracted land acquisition process. The National Park Service exercised eminent-domain authority to force private landowners to sell lands for an expanded AT corridor. In contrast, the NFCT is almost entirely dependent upon the goodwill of local landowners for access to campsites and portages. Ninety percent of the land the water trail passes through is privately held.
Center places this firmly in the win column. But these are still early days for the water trail. With much of the infrastructure in place, the focus now shifts to strengthening relationships with local entrepreneurs, chambers of commerce, and tourism associations to help elevate the NFCT into one of the nation's premier water trail destinations. "Appealing to paddlers about the opportunities to rediscover America's frontier and the connections between people and place," says Center, "this is where it will make a difference."
The article was originally published on Canoe & Kayak
For access to exclusive gear videos, celebrity interviews, and more, subscribe on YouTube!