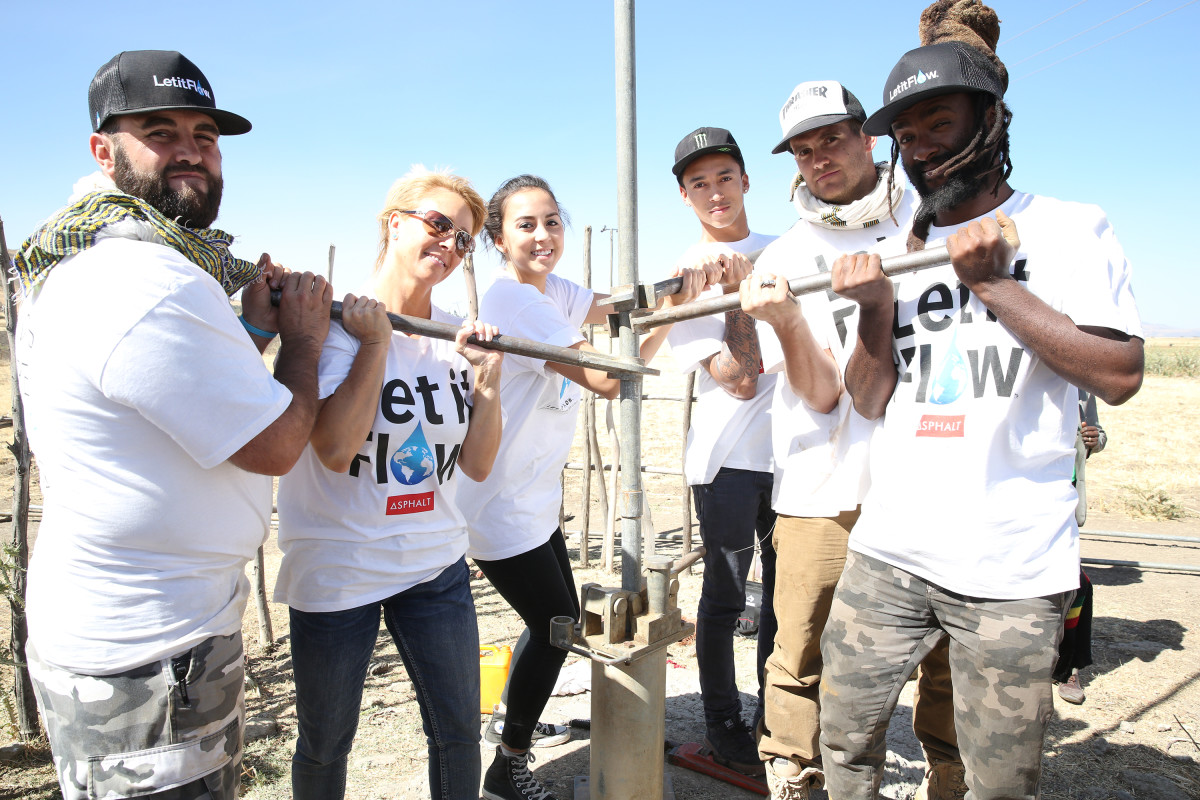 With a staggering number of championships (including nine X Games medals) to his name, in addition to a healthy roster of lucrative sponsorships,
Nyjah Huston
has made a comfortable living at 20 years old. But things weren't always so easy for the prolific skateboarder.
"When I was 13 years old, my family and I lived on a farm in Puerto Rico that didn't have clean, running water all the time," Huston has said. "So my brothers and I would have to walk to the river to get the water we needed for the day … wash clothes, dishes. And water is not the easiest thing to carry when you're a little kid for miles and miles."
It was those trying times that inspired him to create the Let It Flow Foundation with his mother, Kelle.
The nonprofit aims to bring safe, sustainable water to the world's most vulnerable communities. As California and the surrounding region grapple with dire water shortages, it's certainly novel that Huston is working to bring running water to people who've never had it before.
"I consider myself really lucky to have had such a good life. Everything from my friends and family to my career have gone really well, and the next step in life is to do your best to help other people in every way possible," he said via Let It Flow. "Everyone should have the desire to. Drawing from personal experience and also knowing that so many people, kids, are still living without sanitary water … makes you want to make it easier for them."
The first water well was built in the Ethiopian village of Debra Brehan, which is home to about 900 people. Skate legend Tony Hawk, pro skaters Aaron "Jaws" Homoki and Derrick Wilson and Ethiopian youth skateboarding advocate Israel Dejene traveled with Huston in January to Ethiopia, where together they built and repaired water systems in several rural villages. The experience was documented on ABC's "World of X Games Presents Dream Big: Skateboarders in Ethiopia," which aired in July.
He calls his reaction to the kids seeing flowing water for the first time "absolutely amazing," and one that he won't soon forget. "We were fixing the wells, and when we were finally done and the wells started working, the kids ran up to the gushing water. They had never seen that before.
"The best part is seeing how happy you can make those kids over something so simple. It makes you think about life back at home and puts every single thing into perspective. We get mad over the smallest things, like traffic, or not getting phone service, and here these kids are with so little, yet they're so happy."
To learn how you can help support Let It Flow, visit letitflow.org.
More from GrindTV
Action-sports couple quits day jobs, pursues van life
Could a watch change how you spend your time?
Personal trainer rides Tour de France course on kid's bike for charity
For access to exclusive gear videos, celebrity interviews, and more, subscribe on YouTube!