"She put her nose right up to the bucket and said, 'It smells good,'" Leah Dawson tells ASN, laughing as she recounts her team member's reaction to picking up a bucket of food waste that had been amassing for the last week.
Dawson, 32, is a professional surfer as well as the co-founder and media director of the Changing Tides Foundation, which just launched the North Shore Community Compost Movement (NSCCM), a service that picks up food waste from people's homes on the North Shore of Oahu and transports it to local farms to be composted into soil.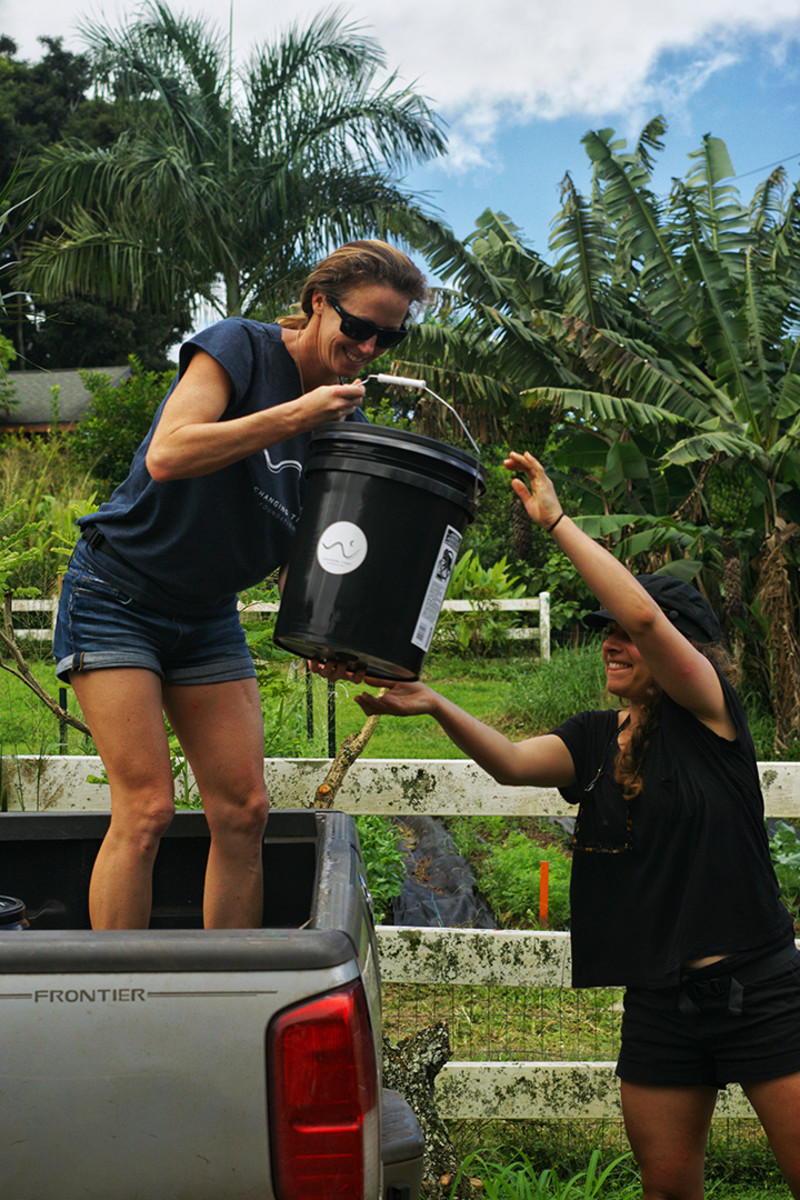 She's recounting last week's pickup, which began at 7 a.m. in Waialua on the western end of Oahu's North Shore. Danielle Marriot, the compost program's driver, collects the buckets from the doorsteps of people's homes and drives them to Waihuena Farm, a small, locally owned organic farm a short walk away from Pipeline.
There, Marriot inspects the buckets to make sure everything inside is compostable, then leaves the buckets to ferment for two weeks before adding them to compost piles, where they will decompose for another 4-6 weeks as they become soil that can be used by the farm.
The laborious process is worth it to the women of Changing Tides, as it diverts food waste that would otherwise end up in the landfill. Food waste is a global contributor to climate change, as decomposing food releases methane – a potent greenhouse gas – into the atmosphere. Forty percent of food produced in the U.S. goes uneaten, and the Environmental Protection Agency estimated that in 2015 in the U.S., "more food reached landfills and combustion facilities than any other single material in our everyday trash, at 22 percent of the amount landfilled."
Diverting these food scraps and turning them into compost, on the other hand, creates a mixture that is dense in nutrients and helps soil retain moisture, reducing the use of synthetic fertilizers or chemical pesticides, saving water and preventing soil degradation, all of which are themselves growing environmental challenges.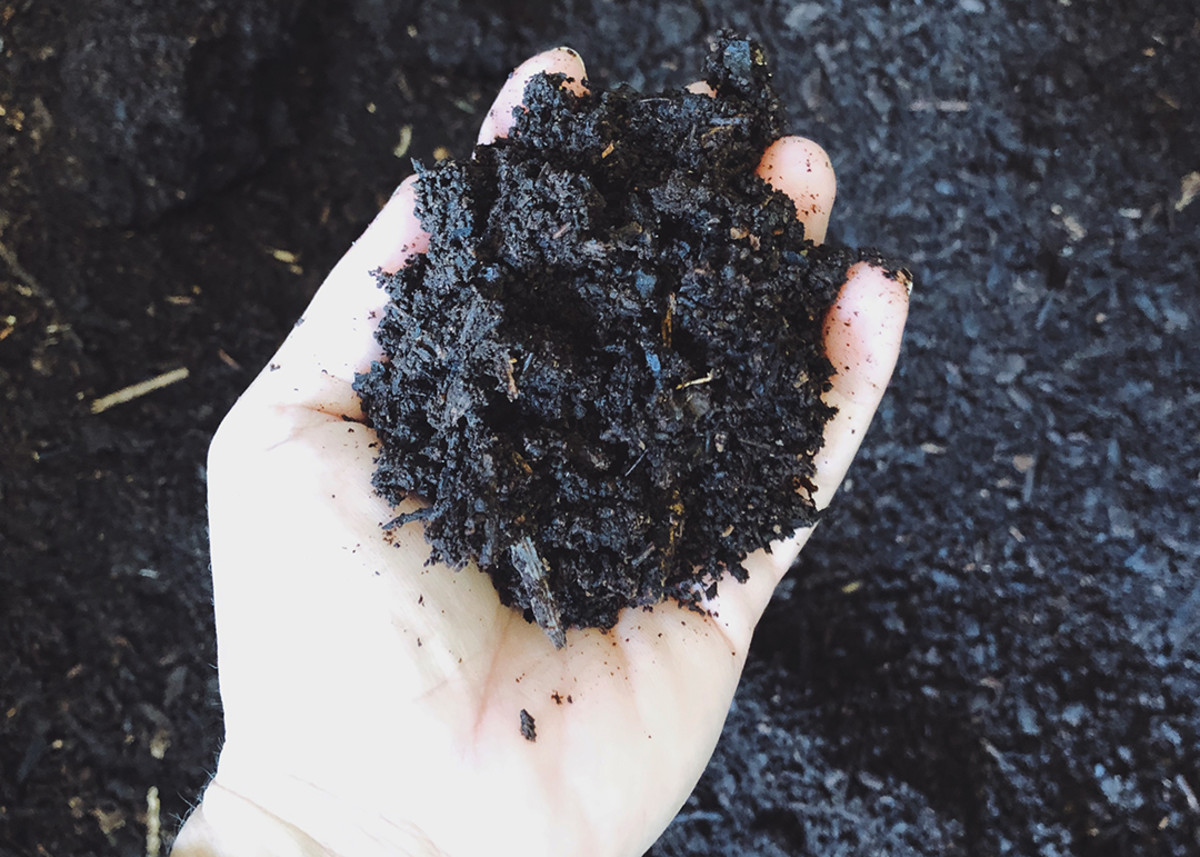 Changing Tides was founded by a group of water women and adventurers with a mission to solve social and environmental issues in the places they visit to pursue their passions. Their programs include launching anti-plastic social media campaigns, raising money for natural disaster relief and empowering young women in developing countries to surf.
While many of their programs reach across the world, the environmental challenge of food waste was a problem they realized needed tackling at home.
"Hawaii is a a very friendly place to compost compared to some other places – a lot of people have space in their yard to do their own composting – but daily life still gets in the way," says Dawson. "Many renters aren't allowed to compost because depending on the system it can attract rats and other animals."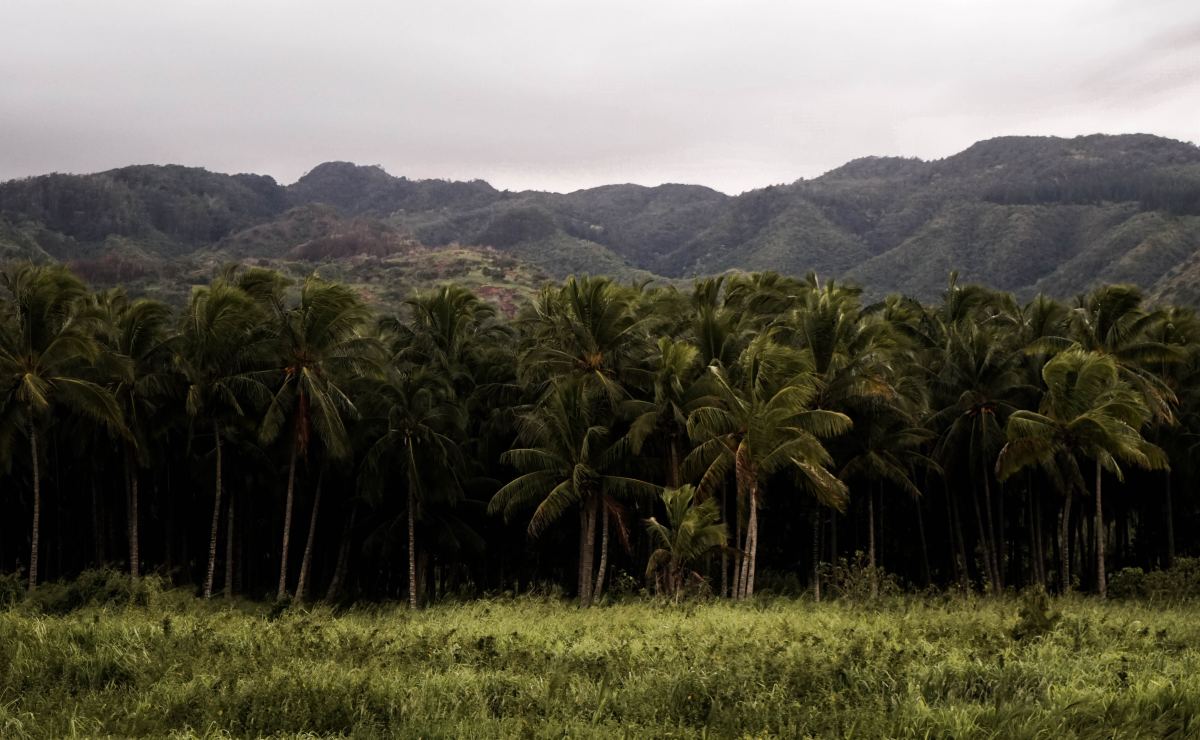 The North Shore, a mecca for surfers and ocean lovers, was a perfect place to experiment with a community composting model. "Surfers have that innate quality of connecting to the earth just based on our sport," says Dawson. "I believe surfers have to be leaders in the environmental revolution that we have to see on our planet."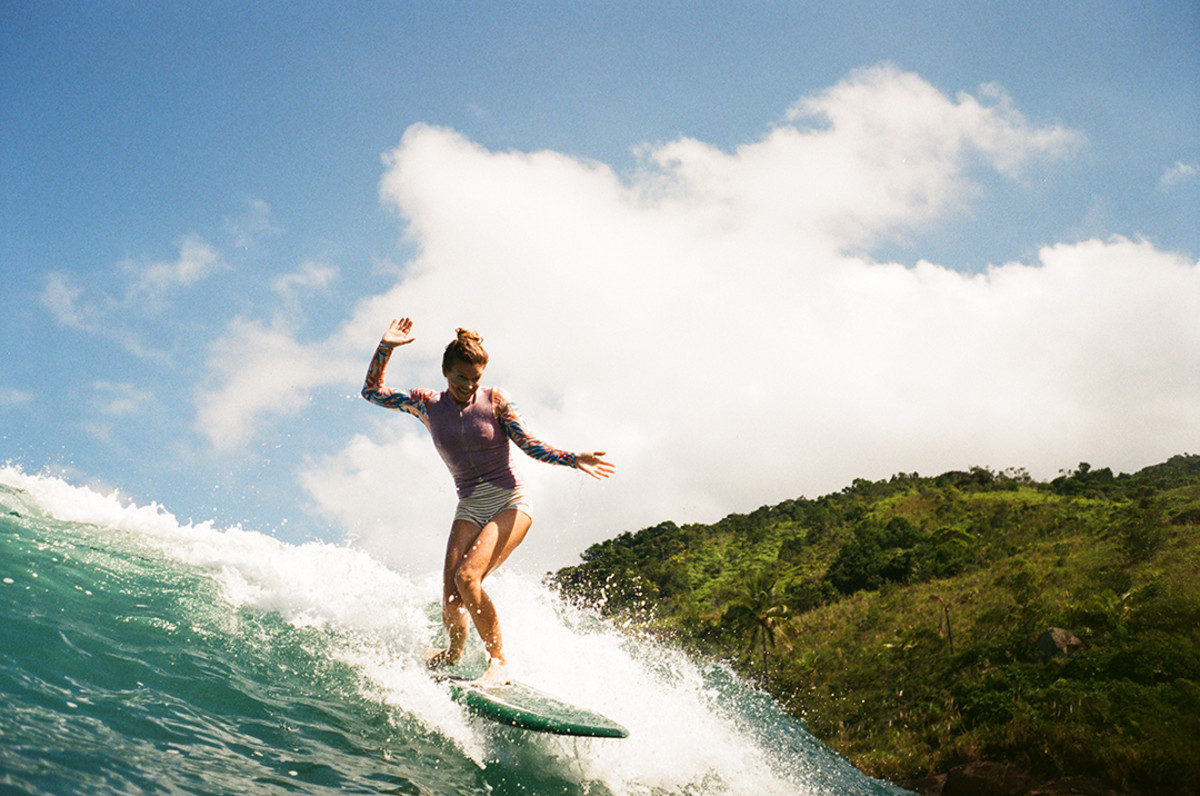 For the last seven years, Sustainable Coastlines Hawaii and Sustainable Surf have been diverting food waste from the Vans Triple Crown of Surfing and the Volcom Pipe Pro and turning it into compost at Waihuena Farm. But there was no program on the North Shore (or anywhere on Oahu, for that matter) for household composting.
In the summer of 2018, Changing Tides co-founder Leane Darling, a real estate agent, surfer, sailor and ex-competitive swimmer and paddler, started exploring ways to implement a program on the North Shore. It took months to build the network and establish the backend of the business, but on February 20, the program launched.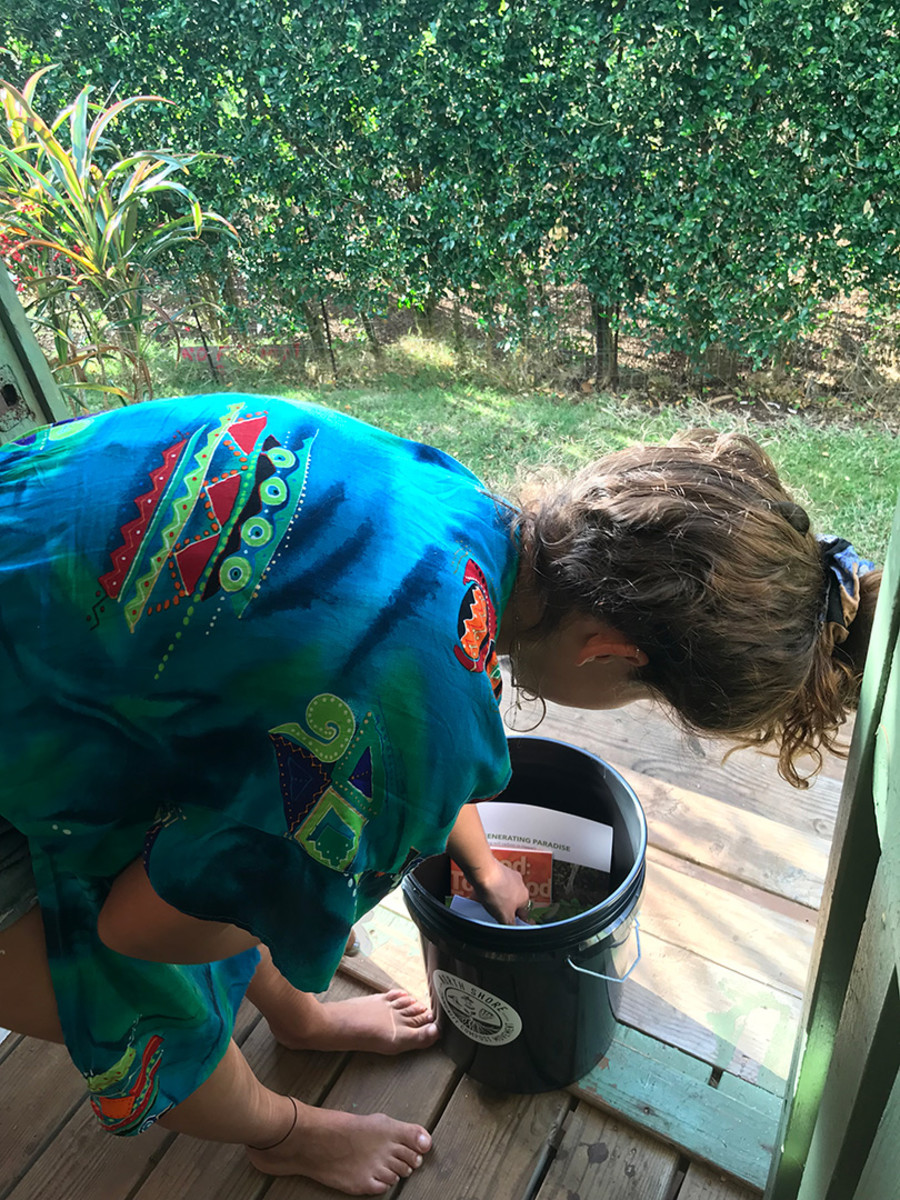 The NSCCM is a membership service. Upon signing up, customers receive a special food-scrap bucket, a guide to what scraps can and can't be added, and a bag of Bokashi. Bokashi is an additive that consists of wheat or rice bran and a microbial inoculant. Sprinkling the Bokashi mixture on top of the scraps and closing the lid to keep out air begins a fermentation process that takes about two weeks, creating a nutrient-dense soil amendment.
Dawson calls Bokashi a "game changer," because it allows for almost any food to be added, including meat and dairy, and eliminates stench from the fermenting food, which makes the process more palatable for household use and keeps animals away. After fermentation, the mixture is added to a compost pile, where after about 4-6 more weeks it has broken down enough to be used as soil.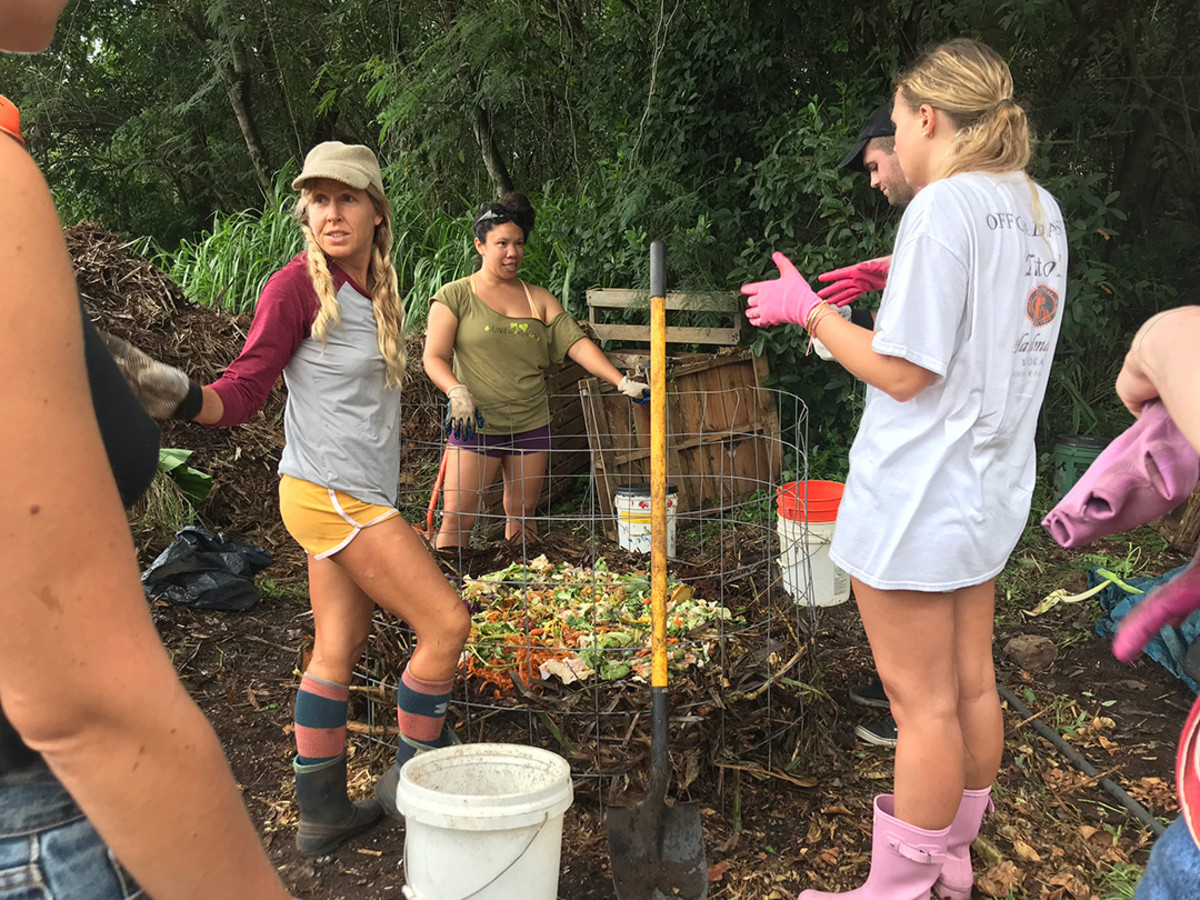 But NSCCM members don't have to partake in that process, because every Wednesday, their food scrap bucket is picked up from their doorstep and a clean bucket is left for the next week's scrap collection.
NSCCM takes it to the farm, where the composting process takes place and the soil is eventually used to grow food, which community members can purchase through a CSA or at the farmer's market. At the end of the year, members get a report of how much carbon they offset by diverting their food scraps, based on the weight of their weekly contribution.
"Getting people to collect their household food scraps increases their awareness of their food waste, but also makes them aware of their local farms and stimulates the connection between the two," says Dawson. "It allows them to become a part of their soil community.
"In Hawaii we import 80-90% of our food. We have to become more connected with our food and grow more food in case of a disaster, but also for our livelihood, for better health."
The service costs $30/month, and Dawson admits that in a state with the highest cost of living in the country, it's not always easy to convince the community to take on another expense.
"There is a lot of upfront cost to onboarding a member," says Dawson. "We have to have 4 buckets per household because the food waste has to sit in the bucket for 2 weeks fermenting, so we can't give them back the bucket they had the week prior. Plus paying a driver, and a compost manager. These people are doing it pro bono right now, but we want to pay them. We hope people grow that conscious awareness of why it's worth it to pay $1/day for this service."
Currently, Changing Tides Foundation makes no profit from the service, but whatever revenue is generated will go toward piloting more programs in other locations.
"If we do get the surf culture here on the North Shore engaged about a program like this, there's a really cool buzz that will take that voice far beyond the North Shore," says Dawson. "Surfers have the ability to inspire. If we can't make it happen here then we can't make it happen anywhere. We'll get the kinks figured out, but the overall goal is for this to be something that's replicable so that people in communities far and wide can do it in their own."
For access to exclusive gear videos, celebrity interviews, and more, subscribe on YouTube!