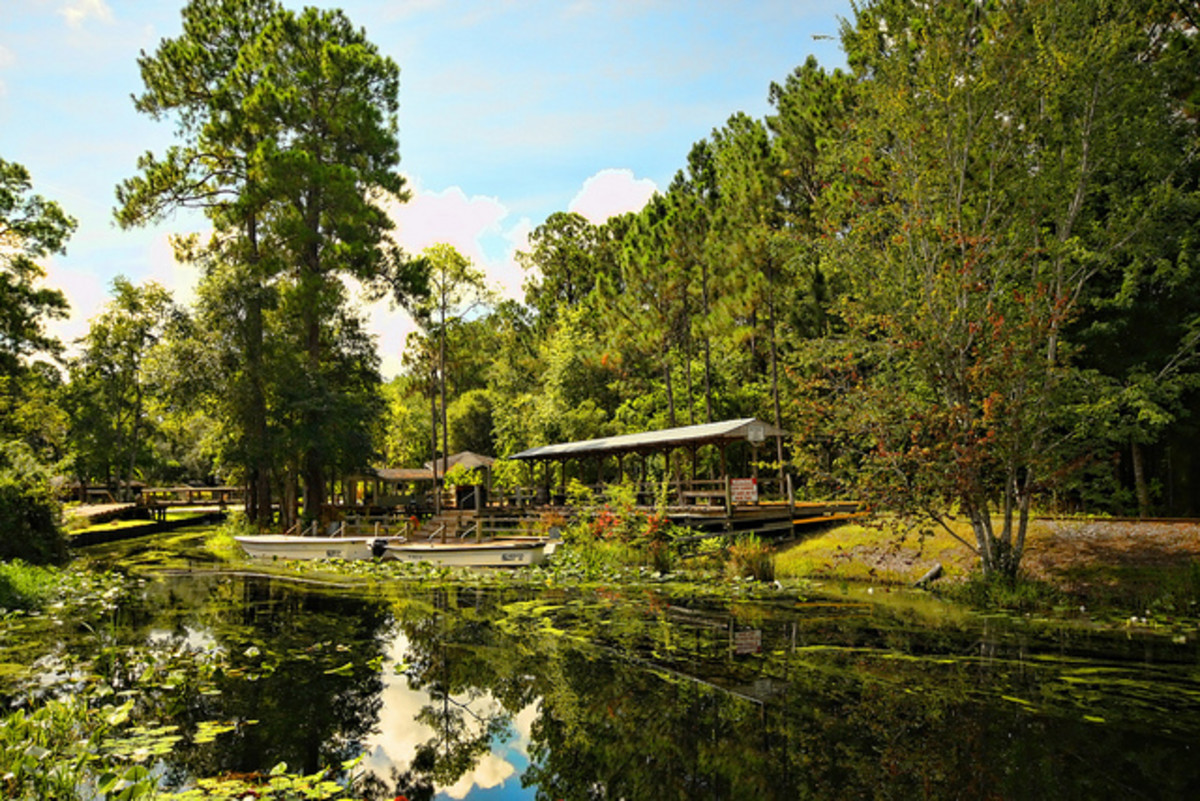 By Larry Rice
OKEFENOKEE SWAMP, GEORGIA: Covering approximately 680 square miles of southeastern Georgia and a corner of Florida, the Okefenokee Swamp is one of the oldest and most primitive swamps in America. About 80 percent of the swamp is included in the Okefenokee National Wildlife Refuge, an antediluvian place teeming with life spun from the ooze, moss, and slime. The unstable peat deposits that cover much of the area quake at a human footfall, a phenomenon that gave the swamp its Seminole Indian name: "Land of Trembling Earth."
Most of the swamp is a shallowly flooded forest of cypress, black gum, and bay, a dim and mysterious quagmire where you'll feel a thousand miles from civilization. But not all is dark and menacing. The swamp forests interweave with sunlit expanses of marsh called "prairies," covered with lily pads, grasses, and carnivorous plants growing in several feet of tannin-tinted blackwater.
Three modern visitor centers are situated at the edges of the refuge, but only by canoe can you explore the heart of the place. During a typical tour, you might see otters, deer, raccoons, opossums, and maybe even a bobcat or black bear. Alligators are frequently observed, not surprising since an estimated 15,000 of the big reptiles inhabit the Okefenokee. As for birds, there aren't too many places outside the Everglades where large flocks of white ibis mingle with sandhill cranes, herons, and egrets, in addition to waterfowl, ospreys, anhingas, and barred owls. Frog choruses give the wet place much of its incomparable nighttime atmosphere.
The swamp could be a bewildering place to navigate with its dense tangles and featureless terrain, but six color-marked canoe trails have been established within the Okefenokee's 353,981-acre national wilderness area. The shortest trip is 15 miles long and takes two days, while the longest (and my undisputed favorite) is 44 miles, taking five days. Overnighters camp on partly roofed wooden platforms or on designated island clearings thronged with pines. Be aware that paddling can be slow going and strenuous on shallow and/or narrow trails. You may have to get out of your canoe and push across peat blowups or shallow water.
March-April is the most popular time to visit the Okefenokee Swamp, when temperatures are mild, the water is high, and the wildflowers are in bloom. An equally fine time is from November through February, with few mosquitoes, cool days, cold nights, and migratory birds. Reservations for the popular canoe trail permits are taken up to two months in advance, and should be made early.
Contact: Okefenokee National Wildlife Refuge at (912) 496-7836 for more information on trail conditions, general information, and permits. For canoe rentals, shuttles, and related services, contact the Suwannee Canal Recreation Area at (912) 496-7156; or Stephen C. Foster State Park at (912) 637-5274. Necessary reading: Paddling Okefenokee National Wildlife Refuge (Falcon Publishing, 1998), the first and only guide to the refuge's canoeable waterways.
The article was originally published on Canoe & Kayak
For access to exclusive gear videos, celebrity interviews, and more, subscribe on YouTube!