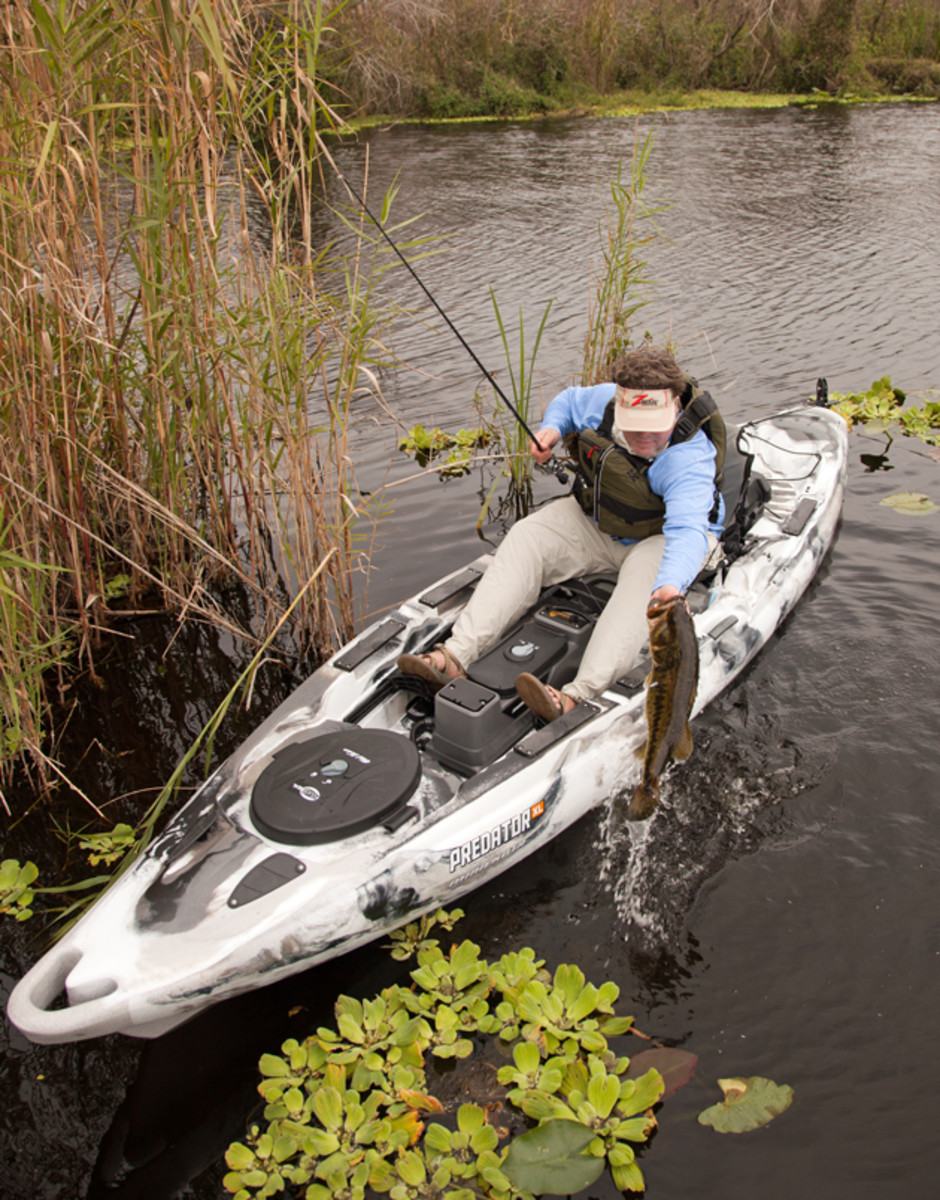 By Paul Lebowitz
The invitation was too enticing to pass up. "We've shipped the first two production model Predator XL Minn Kota hulls to Florida. We've been talking about fishing together for years. Fly on out and try them," David Hadden said on a welcome mid-December phone call.
A week later I met David in the unseasonably chilly 45 degree predawn air a stone's throw from the IGFA headquarters near Ft Lauderdale. David's cryptic title of Watercraft Brand Director for Johnson Outdoors Watercraft translates to highly placed Old Town and Ocean Kayak fishing honcho and industry veteran. The Predator family of kayaks is his team's baby.
Moments later charter captain and sometime fish model Troy Faletra (he's all over the AFTCO catalog, among others) rumbled up in his big red pickup, leading outdoor photog Jason Arnold in tow.
"Warm enough for you?" one of the Floridians cracked. "Did you see the surf report? The point break is going off at my place. The swells are over 20 feet," Troy said, shaking his head wistfully. Fishing the salt was obviously out.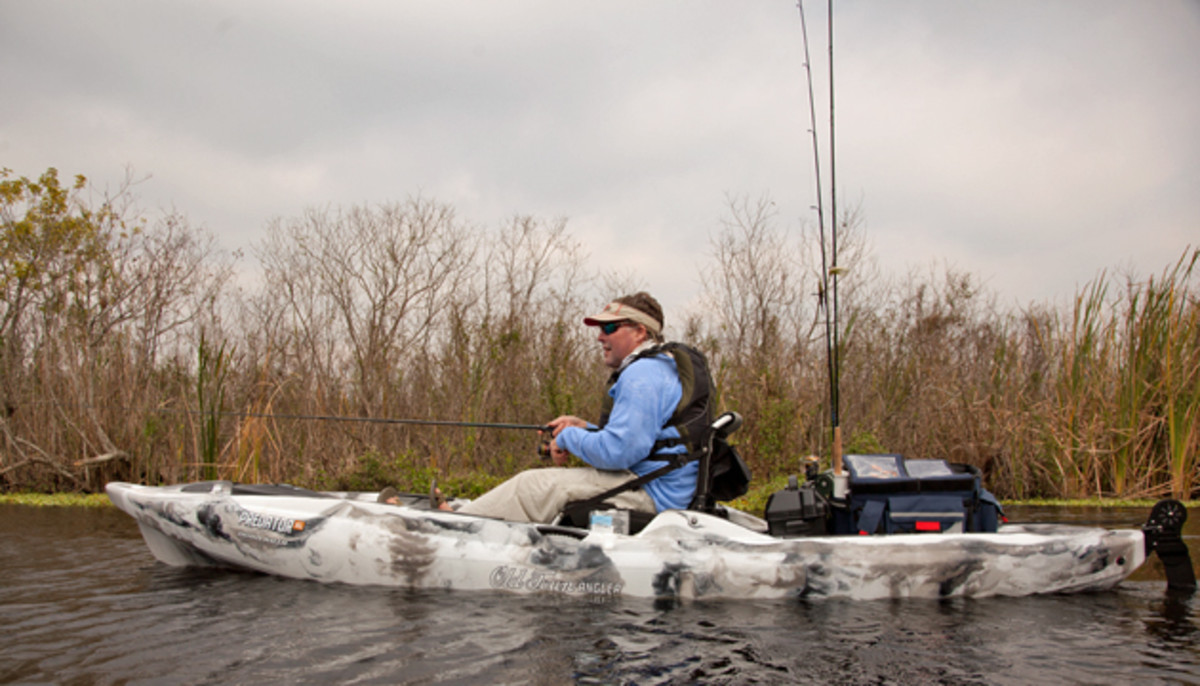 "We're going to Alligator Alley. Sit back and relax, we'll get there in an hour or so," Troy added, setting off west on I-75. We soon traded a landscape of pastel sprawl for an endless sea of grass cut by canals: the Everglades, or at least the somewhat civilized border of that wilderness. I scanned for big lizards as we flew along at 70 mph.
We pulled off the freeway into a rest stop complete with a boat ramp – Florida's anglers have it good – and unloaded a pair of Predators. The XL has an obvious family resemblance to the warmly received Predator 13 introduced the prior year, just a couple inches shorter and wider.
So much is the same: the excellent multi-position Element Seating System; high sides that make for a dry ride; removable mounting plates; the unique textured Exo-Ridge deck; a large bow hatch. In short, a full-featured fishing machine. One huge difference stood out, a slate grey pod that mounts in the center of the cockpit: the Minn Kota Console. (continued below)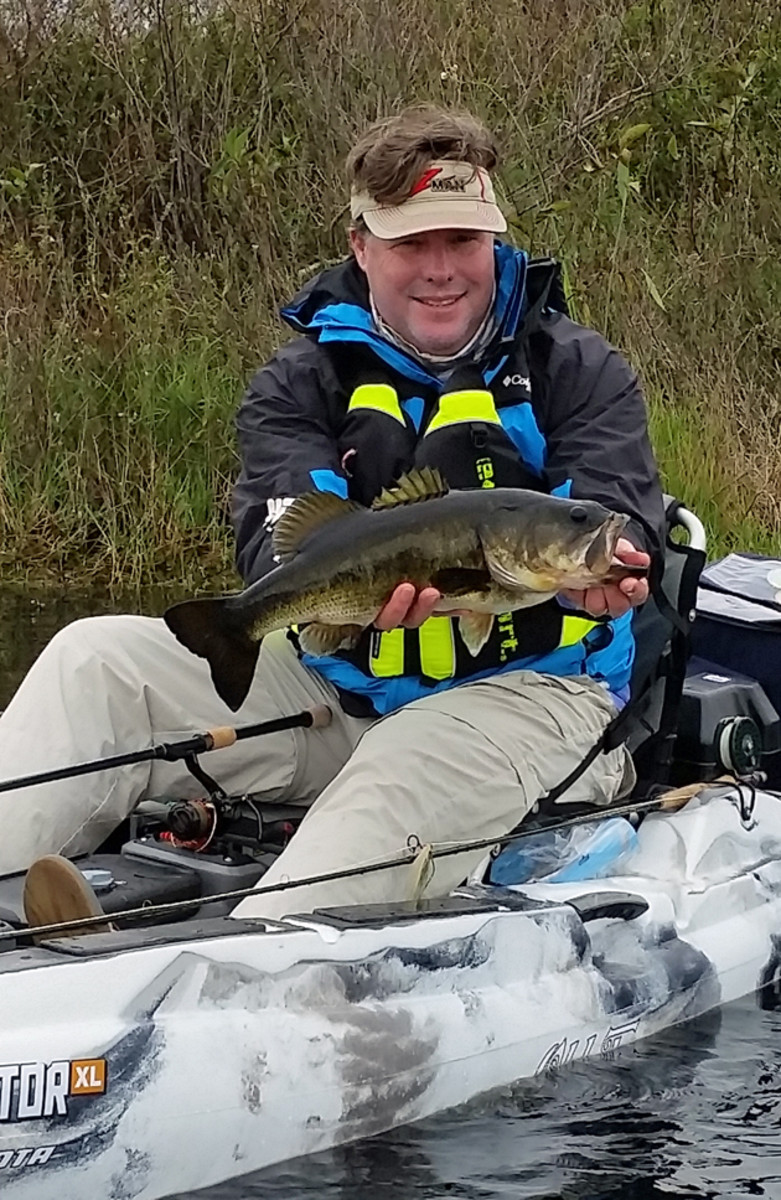 "Let's set it up and hit the water," David said, with no argument from me.
The top of the plug-in console projected a few inches above deck level. The prop unit below drafted about a foot. The front easily slid into pegs; a rotating disk locked the stern of the unit into place. A cable at the front plugged easily into a socket – everything is prewired. We attached the dual kill switches, and lashed down a battery box containing a standard 12V marine power cell behind the seat. After plugging in one more cable, we were done. No more than a minute or two had elapsed.
"The dial at the front of the console is the throttle. Turn it right to move forward; twist it left for reverse. The rudder is foot-controlled. You really never need to put down your rod," David said.
That was enough for me. I hopped aboard, pushed off and twisted the infinitely adjustable throttle. With a low hum and just a hint of vibration, I was cruising easily upstream. I couldn't resist. I dialed up full power.
The saltwater grade 45-pound thrust Minn Kota accelerated the XL quickly. In moments, the bank was flying by faster than I could paddle, easily 5 or 6 mph. I slowed to let David catch up on his own XL, with Jason and Troy following on a camera boat. "It seems a lot faster than the Ocean Kayak Torque, Minn Kota's first electric kayak. Is it?" I asked.
"Sure is. The Torque had a less powerful 36-pound thrust motor, but the XL's Minn Kota has advanced Digital Maximizer electronics for up to five times the run time. After a day of fishing, we usually have half a charge left on the battery," David said. An LED voltmeter next to the throttle acts like a gas gauge.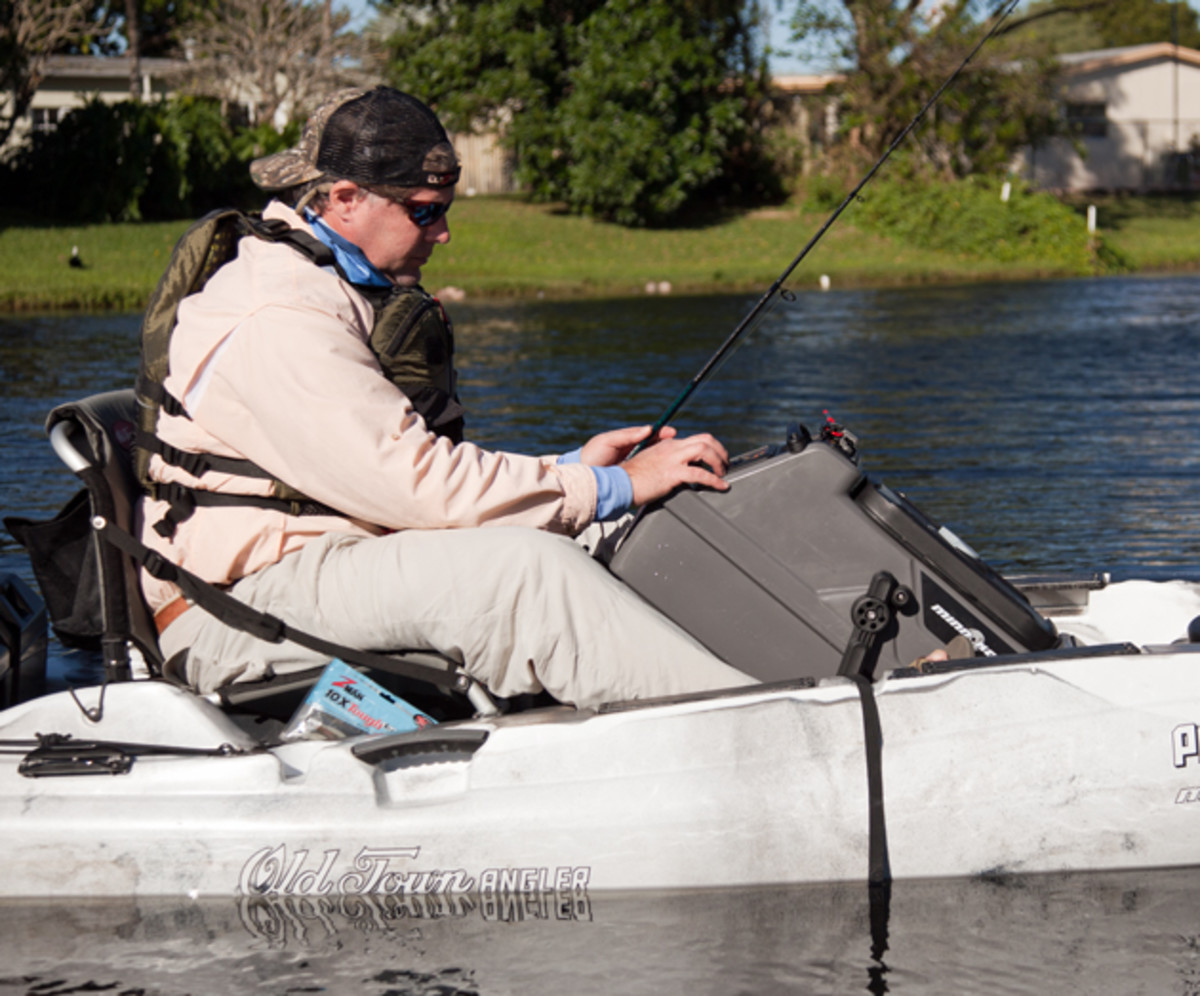 David peeled off and began to pummel the bank for bass, power fishing the whole way. I needed to know more about the new boat. It's a quiet ride on flat water (we never got it into chop or waves), with good maneuverability, but carving a course takes some planning as I was soon to find out. Wondering what would happen, I motored intentionally into a grass mat. The XL Minn Kota made it through thin weeds without any trouble, but the thick stuff eventually gummed up the prop.
It would have been a major nuisance on the old Torque, with its motor console back in the tankwell. On the XL, no problem. I just centered the throttle, unlocked and lifted the motor, and dropped the Quick-Stand on the right side. A minute later I'd easily pulled the weeds loose and was back in business. It would have been a good idea to pull one of the kill switches. When I accidentally nudged the throttle, the prop whirred, startling me. Better yet, I could have raised the motor and paddled through the thick weeds and avoided any bother.
And then there's reverse. So handy. Backing the throttle brings the XL to a quick stop. Turning while backing requires a little momentum build-up. With the rudder on the stern, the XL is more nimble moving forwards.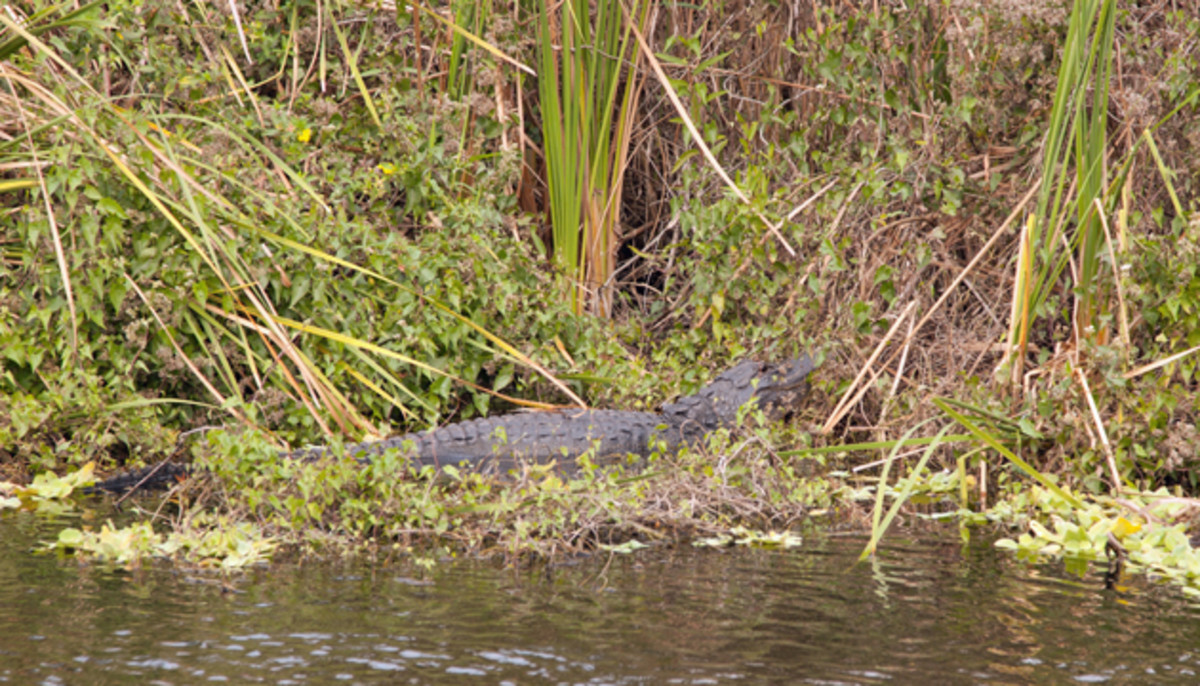 A quick access hatch on the top of the Minn Kota Console opens to reveal the wiring and a lot of extra storage space. There's plenty of room to mount a sonar on top, stash a second battery inside, and mount a transducer on the mounting plate below. There's space for tackle or – get this – a phone or camera plugged into the included USB charge port. It's a cool feature, one that juiced up my smart phone in an hour.
As I was testing the XL Minn Kota, David was busy catching a chunky largemouth in front of Jason's camera aboard Troy's bay boat. He was all smiles as we congratulated him on the first real fish on a production model Predator XL.
We moved farther up the canal, turning right at a fork leading deeper into the bush. The first gators appeared – one glided by eyeballing us before slowly sinking out.
I stood up to test the boat's stability. Rock solid, and I'm no lightweight at 6 feet and 210 pounds. The XL is rated to carry 600 pounds. I believe it. I was able to cast to all sides without a worry or a wiggle, and even broke out an expensive camera to catch David picking away at schoolie bass.
"Did you notice? The current is ripping. Someone must have opened a lock upstream," David pointed out. He was right. I hadn't – the Minn Kota makes travel effortless.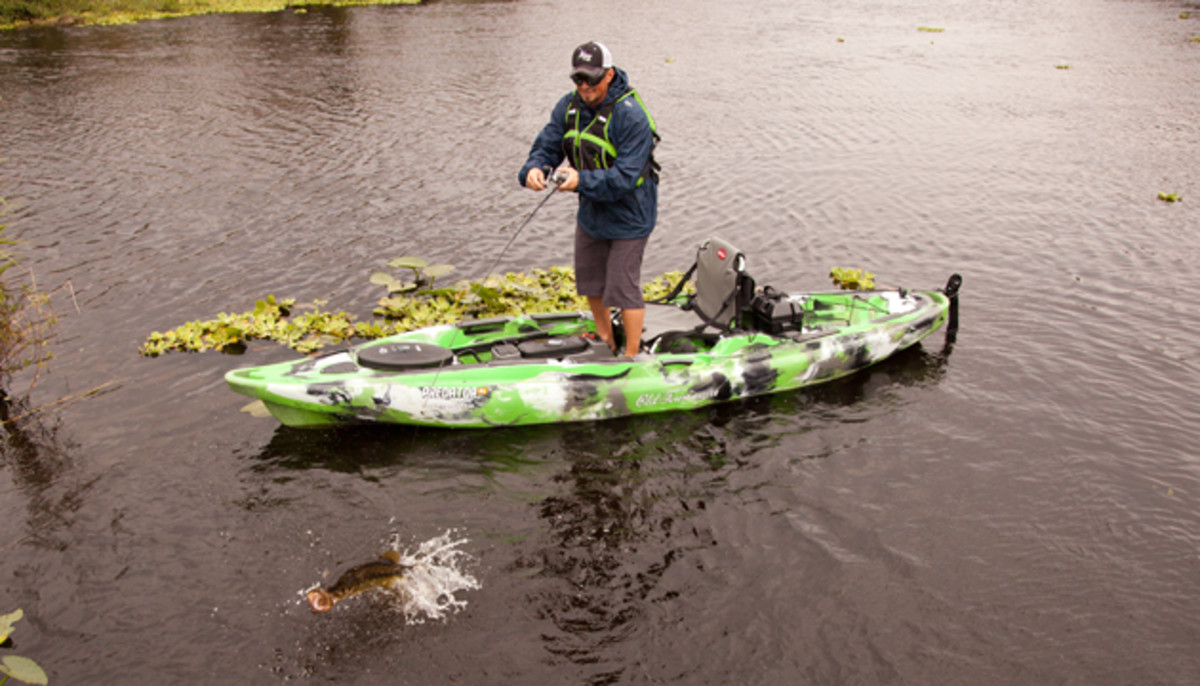 We spun around and headed back to the fork, where bass boiled in the eddy. David broke out his fly rod and went to town. For a while I forgot about testing the XL as a boat and focused on the fishing. This is one solid chariot, with excellent fishing ergonomics. Although my boat didn't have any rod holders installed on the mounting plates, I easily switched between two rods laying ready on the deck, nestled naturally in grooves on the hatch. The seat is all-day comfortable.
The bass frenzy went on and on. We all caught fish. Only as the sky darkened and we started to lose light did we stop for a few final photos before calling it a day, but not before Troy gave the XL a spin and played with a leaping bass. Jason had his photos, some of which will appear in our upcoming print review in the Spring 2015 issue.
"We're pricing our hands-free option at $2,699, lower than comparable pedal kayaks. What did you think of it?" David asked as we motored back to the launch. I didn't bother concealing my enthusiasm. "Very impressive, like the your earlier Predators. It's a vast improvement over the Torque, which I liked. It's an exciting new choice ideal for power fishing or trolling," I answered. Just before hitting the bank after some 8 hours on the water, I checked the LED charge indicator. Still a half charge left.
Later, as I flew back west, I jotted down a few notes. Old Town lists the Predator XL hull at 92 pounds without the console – typical for this class of heavy hauler. The Predator 13 is an efficient paddler for its size. If I'd had more time, I would have liked to spend a day paddling the XL. It's designed as a multi-mode platform, power and paddle. The Minn Kota Console is just one of three. The others are the Utility, a sonar management and tackle storage unit, and the Exo-Ridge, which creates a wide-open flat deck.
David didn't ask me if I thought fishing the Predator XL Minn Kota was still kayak fishing. I'd answer yes, the experience is the same, stealthy fish stalking minus much of the physical effort. If a workout is critically important to you, the Minn Kota option is probably not your thing. Anglers focused on power fishing will find the Minn Kota offers much of the benefits of a powerboat with a lighter hit on the wallet and maintenance budget.
The Old Town Predator XL: L 13′; W 36"; 92 lbs / 117 lbs with Minn Kota Console, battery extra; Cap. 600 lbs; $2,699 as tested with Minn Kota Console and rudder; Minn Kota Console add-on for Predator XL, $999. www.oldtowncanoe.com/kayaks/predator_family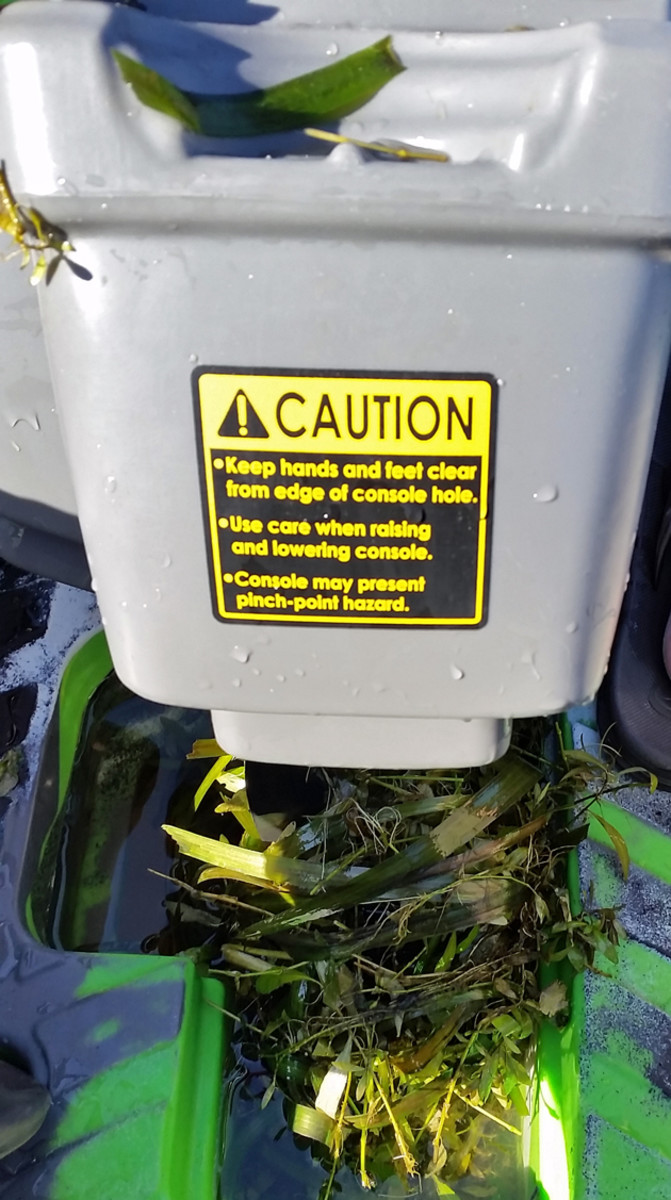 The article was originally published on Kayak Fish
For access to exclusive gear videos, celebrity interviews, and more, subscribe on YouTube!