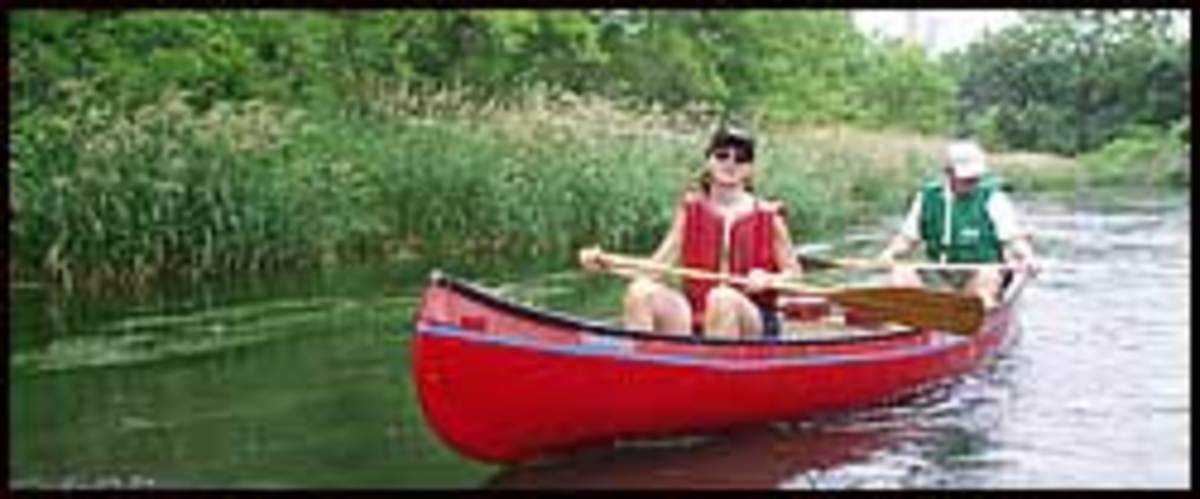 I've put more miles on Old Town tripper canoes than I can recall. Curious about the history of this grand old expedition boat, I did some research and came up with this fascinating story.
It was Dean Gray, former owner of Old Town Canoe Company, who thought up the Tripper idea. He and jack-of-all-trades employee Lew Gilman were observing whitewater canoe races around New England in the 1960's when wood/canvas Chestnut Prospectors were the most popular big water racing canoes. Why not design a competitive whitewater boat? Suggested Dean. Lew liked the 20 foot E.M. White (wood and canvas) and would have preferred to duplicate the big freighter, but deep down he knew a shorter canoe would be more popular, so he went right to work on a 17-footer.
The prototype was a high volume "banana" boat that would turn like crazy but wouldn't track on the flats. So Gilman took the rockered slalom shape and added a re-curved, vee-shaped bow and stern to improve directional control. He told Dean that the recurved bows would do nothing for performance except give the canoe a classic Rushton look. Dean said "If it looks good, put it on."
Lew built a fiberglass prototype and called the Old Town staff in for a look. The corporate opinion was unanimous: the boat was slab-sided, too big, and it "looked like hell." Why, it was nearly as ugly as the Chestnut (which in Lew's words "…was ugly enough")! Nope, it was out-of-style with the boats of the day; it would never sell. But Lew stuck to his guns and dryly affirmed that it would make "one hell of a white water canoe!" Then, with boat in tow, he proudly marched home to seek a second opinion. One look, and his daughter Laurie exclaimed: "Gee dad, it looks like a big tub!"
This was all the reinforcement Lew needed to polish his dream. He built a Royalex Tripper for Walter Abbott, a whitewater paddler who taught canoeing at the University of Maine. Walt put the new canoe through its paces, came back beaming, and told Lew it was the best whitewater canoe he'd ever used.
"That was the start of the Tripper," said Lew. "It just sold like a son-of-a-gun, though at first it was very hard to get. It was like Volkswagens…the longer you had to wait for one, the greater it was!"
Shortly after the Tripper hit the market (and tore the top off the sales chart) Dean Gray complimented Lew and told him that, after many years of losses, the company was now running in the black.
If there's a yankee definition of jack-of-all-trades, it's Lew Gilman. Chemical, mechanical, or impossible; Lew will do it!
"My dad was quite a guy", says Lew. He was very patient with everything, including me. He was the kind of guy who would start to fix a door and if he needed a hinge he'd say," 'Well, I'll be going downtown in a day or two; I can get it then. 'If I were fixing the door, I'd be running downtown for that hinge!"
There was a welding and repair shop down the road from Academy Hill, where Lew grew up. He went there every night, from the time he was 13, till he graduated from high school.
"They taught me a lot of the old trade secrets in metallurgy. I learned how to temper steel by eye and other things you just can't learn from a book."
Lew worked at the shop summers while he was in high school, and by the time he graduated, he had welded bridges and bulldozers. Then he went to work for the Air National Guard as a machinist, welder, and airframe repairman. "I could actually check the temperature of the annealing ovens by the color of the metal," said Lew.
His infatuation with the Air Guard ended abruptly after a conversation with a gruff Lt. Colonel. The outfit needed a sandblaster that would fit inside the maintenance shop, so Lew built one.
"Where'd you get that?" Said the Colonel, pointing to the hulking machine.
"I built it."
"How come?"
"I couldn't get one that would fit in this room."
"Jesus, that's a good job. What the hell is a guy like you doing working for the government? If I could do that I wouldn't be working for the damn government!"
The article was originally published on Canoe & Kayak
For access to exclusive gear videos, celebrity interviews, and more, subscribe on YouTube!