By David Spiegel
Jim Coffey shook up the whitewater scene last November when he paddled an open canoe over the edge of a 60-foot Mexican waterfall called Cascada Trunchas, breaking a world canoe waterfall record that had stood for 20 years.
Afterwards, Coffey told Canoe and Kayak magazine that he didn't expect his new record to last. "I don't think it's going to be another 20 years to see other similar feats like drops or rapids that traditionally hadn't been considered open-boat style runs," he said.
Coffey was right. His record lasted all of 16 weeks.
Inspired by a viral video of Coffey's Mexico huck, Brad McMillan ran 70-foot Desoto Falls in northern Alabama on April 8th. "It was cool to see that somebody had finally broken the old record, and that got me a bit fired up to go and up the ante a little bit more," McMillan said.
McMillan has been working up to this descent for years, running challenging rivers that are typically the domain of elite hard-shell kayakers. "Last summer, I really started pushing myself in OC1 on waterfalls. I took my open boat out to Washington and ran the Green Truss, Celestial Falls and Spirit falls on the Little White Salmon."
In early April, when flows rose to perfect levels at Desoto Falls, McMillan set out with a strong safety crew, determined to break Coffey's newly minted OC1 waterfall record. "Right after I got in my boat I cleared my mind, dropped into the water, and instinct kind of kicked in," he said.
"It was fun—it's a huge rush. When it all comes together and you have a good run, you can't compare that to anything. It's one of the best feelings in the world."
Like Coffey, McMillan doesn't think this is the end of the waterfall progression for open boaters. "I think the record that I set will be broken soon," he says. "There's a few guys that I know of who are looking at some even larger drops.
Both of these OC-1 hucksters agree that their achievements are made possible by the advent of innovative recent advances in the design and construction of OC1 boats. New open canoe designs and the use of more durable materials make the boats more versatile, maneuverable and sporty in whitewater.
BlackFly Canoe owner Jeremy Laucks has been a driving force in that evolution.
"I guess I started BlackFly because I didn't like any of the canoes that were out there for what I wanted to do with them," says Laucks, who built the BlackFly canoe that McMillan used in his world record descent.
"I think that everybody said that 'OC1 was a decreasing market' and I think that part of the reason for that was there was this ongoing stagnation in the designs," says Jeremy. "I wanted to see what would happen to the sport when we started pushing new designs. We've been going with shorter boats, and working with new materials has let us put edges on the boats like a river running kayak."
These improvements in design and construction have paved the way for the progression of open canoeing as a whitewater discipline, and McMillan feels that this progression could inspire more paddlers to take an interest in open boating. "This is the video age and everything is online so people can see that open canoes aren't just limited to class III and IV. You can run pretty much anything in an open canoe."
Though running big waterfalls in an open canoe strikes many as a dangerous and pointless stunt, to athletes such as Coffey and McMillan the risks are calculated. For them, it's about having fun.
"The idea of the world record for tallest waterfall isn't necessarily the driving force behind running big waterfalls, " Coffey said. "It's about finding a drop that you can look at and read and think it's good to go. It's about having the right crew, the right flows, and the desire and passion to send it. If it happens to be higher than what has been run before, then that's cool.
"But the cool part is running the waterfall, not walking away with the bragging rights."
CLICK HERE to read about 100-foot waterfall first descents.
CLICK HERE to read Waterfalls: Forbidden Fruit or Calculated Risk? 1979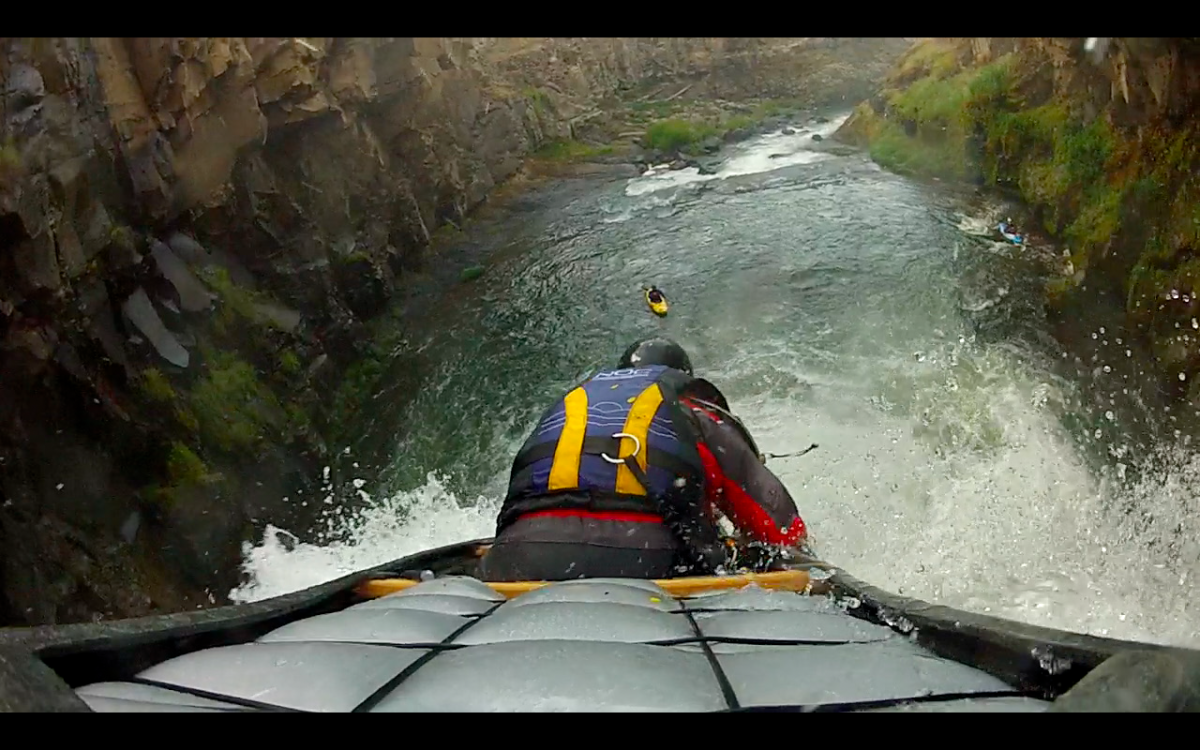 The article was originally published on Canoe & Kayak
For access to exclusive gear videos, celebrity interviews, and more, subscribe on YouTube!