In 1865, after fording the Owyhee and crossing the valley, Major G. Kimball wrote in his diary, "I was brought up to believe there is a Hell where all suffer for their sins. I now think there was one once, and the country over which I have just passed must have been the place it was located."
One hundred and forty years later, the Owyhee didn't seem so bad, at least to our group (one party the year before had spent a stormy two weeks in the canyon unpinning their raft which had pinned during high water). In fact, it's one of those gems that exerts what I call a "bungee effect." Once you experience it, the river keeps pulling you back for more.
The Owyhee River is a high-desert float, full of dark, sheer volcanic canyons, dry washes, hot springs, prickly landscapes, and rollicking rapids. Because it drains the parched landscape of Northern Nevada and Eastern Oregon, flows can be iffy year to year. It can fluctuate quickly and dramatically between 500 cfs and a gully-washing 50,000 cfs. Pretty beaches, dramatic cliffs, some sweet hiking trails, and heady whitewater make the Owyhee a compelling experience.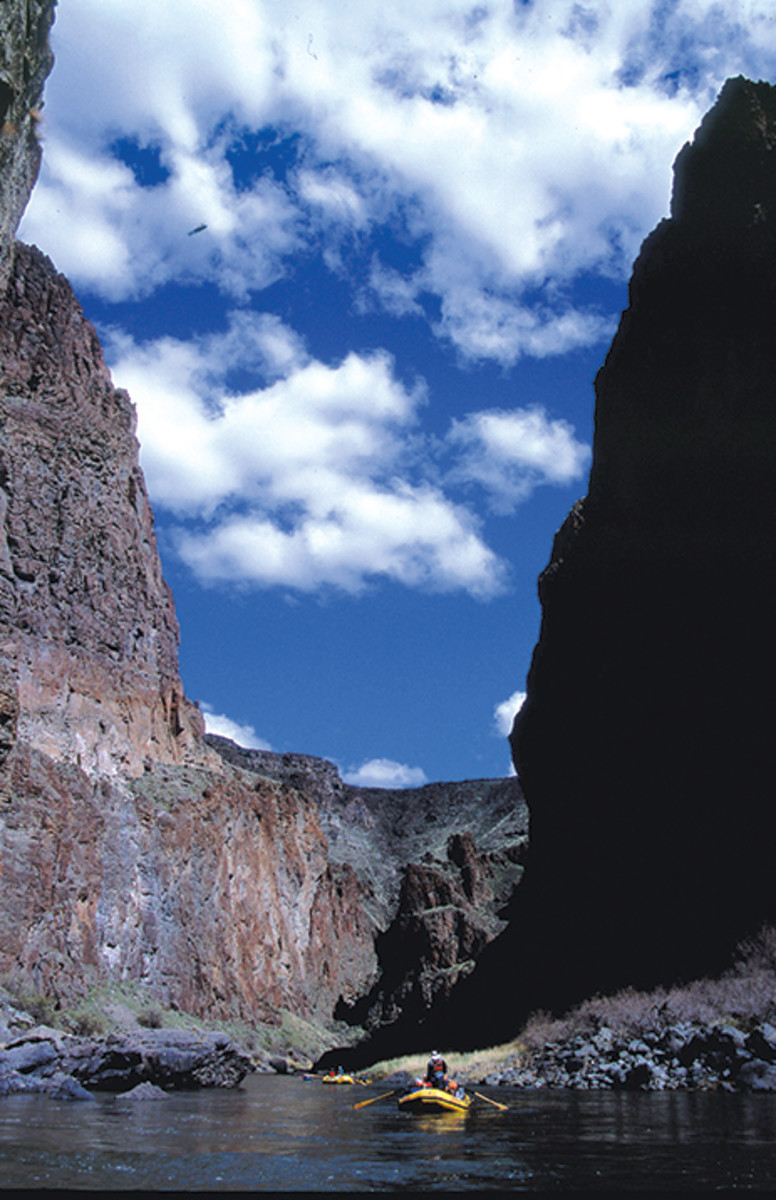 Where to Go
The standard Owyhee run begins near Rome and ends at either Birch Creek (50 miles) or Leslie Gulch (67 miles, including 10 to 12 miles of flatwater paddling across a reservoir). The trip can be done in three days, but four to five allows for some walking and time in the many scenic camps. Numerous Class II to III rapids punctuate the run, with a couple of Class IVs thrown in, depending on water levels. Most of the rapids are short pool-and-drop whitewater. Optimal flows are between 1,000 and 8,000 cfs. Below that the rapids get bony and technical, above that the hydraulics become pretty huge. Inflatable canoes are great fun, or kayaks, and some boaters paddle open canoes rigged with flotation. Several upstream sections and stretches of the south and east forks of the Owyhee are also possible, but they tend to be more remote, difficult trips.
If You Go
The Owyhee is non-permitted, but boaters must sign in at the launch, and porta-potties are required. If you want fires, you'll also need a fire pan. Group size limit is 20. There are plenty of campsites, many of which are marked on the maps, but you don't have to camp in designated spots. Although spring (March to June) has the best water levels, fall is a peaceful, quiet time for small boats willing to dodge through rock gardens. It may be desert, but conditions are frequently cold, wet, and windy. Go prepared to handle the whole gamut. You'll see flocks of chukars along the rocky shoreline, and you stand a good chance of coming across rattlesnakes. The Vale District BLM office (www.blm.gov, 541-473-3144) sells the Owyhee & Bruneau River Systems Boating Guide, replete with a highway map, mile-by-mile river description, shuttle contacts, and floating protocol. During the float season, you can also call the river ranger (541-586-2612) at the Rome launch for up-to-the-moment river and weather reports.
While You're There
Plan to camp one night in the spectacular Green Dragon Canyon (between miles 30 and 35). There is good hiking in Chalk Basin (mile 27) and Jackson Creek (mile 37). Near the end (mile 48), Pothole Arch is also worth the short scramble. Historic ruins and Native American sites are of interest along the river corridor. The hot springs around mile 24 make for a nice soak if the weather's cool.
OUTFITTERS
www.oars.com
www.rowadventures.com
–Check out more paddling destinations from C&K.
—This story first appeared in the March 2007 issue of Canoe & Kayak magazine.
The article was originally published on Canoe & Kayak
For access to exclusive gear videos, celebrity interviews, and more, subscribe on YouTube!