By Jeffrey Creamer
Red striped walls soar in nearly impossible shapes. Swirls of mud boil pale green here, light pink there, and brown a while later. Crisp tasting water spouts out of cracks. Rock towers stand shrouded in swirling fog. Smiling bearded people float by on multicolored balloons. How hard was I tripping last weekend you ask‽ Well, all five of us were tripping pretty hard inside a stone cold sober reality on our way down one of the most elusive desert rivers, the Paria. In this hyperactive winter storm season that the entire US Southwest has either been enjoying or suffering (depending who you ask), this typically dry river with a manic personality–usually way too crazy or way too subdued for boaters to consider–gave us a brief window of time this February to hop aboard.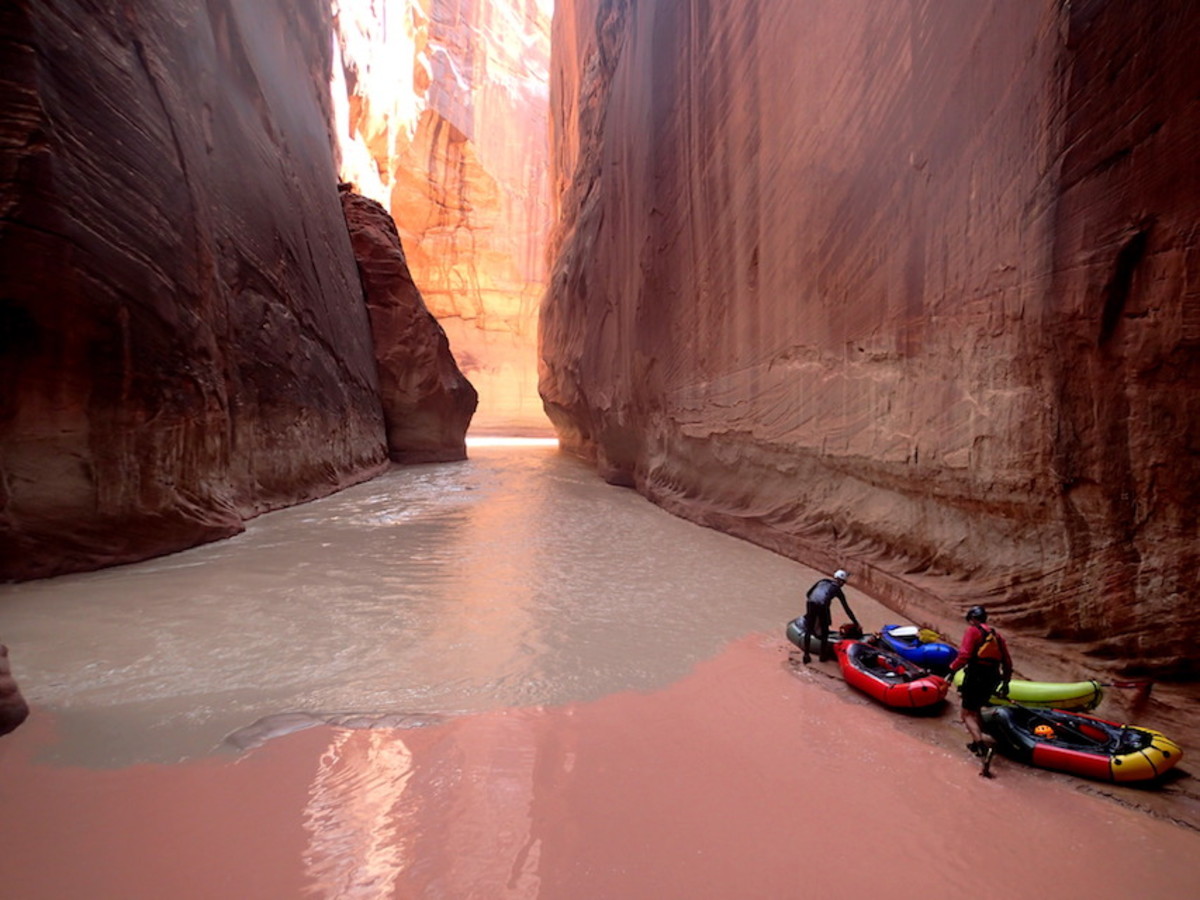 As is typical of our desert packraft creek outings, the trip began in a situation-room style approach studying flow gauges, snowpack data, weather forecasts, precipitation gauges and historical records. We were ready to gamble that a moderate rain-on-snow event could provide what we eagerly sought: A Paria River not too high, not too low. We needed it to be just right and for a long enough window. If we read the weather radar wrong, we faced the ugly prospect of being stranded halfway through the 39-mile canyon with only quicksand to look forward to on the hike out. It's happened before. Plunging thigh-deep into mud on failed adventures has been a very real and demoralizing outcome of other recent trips.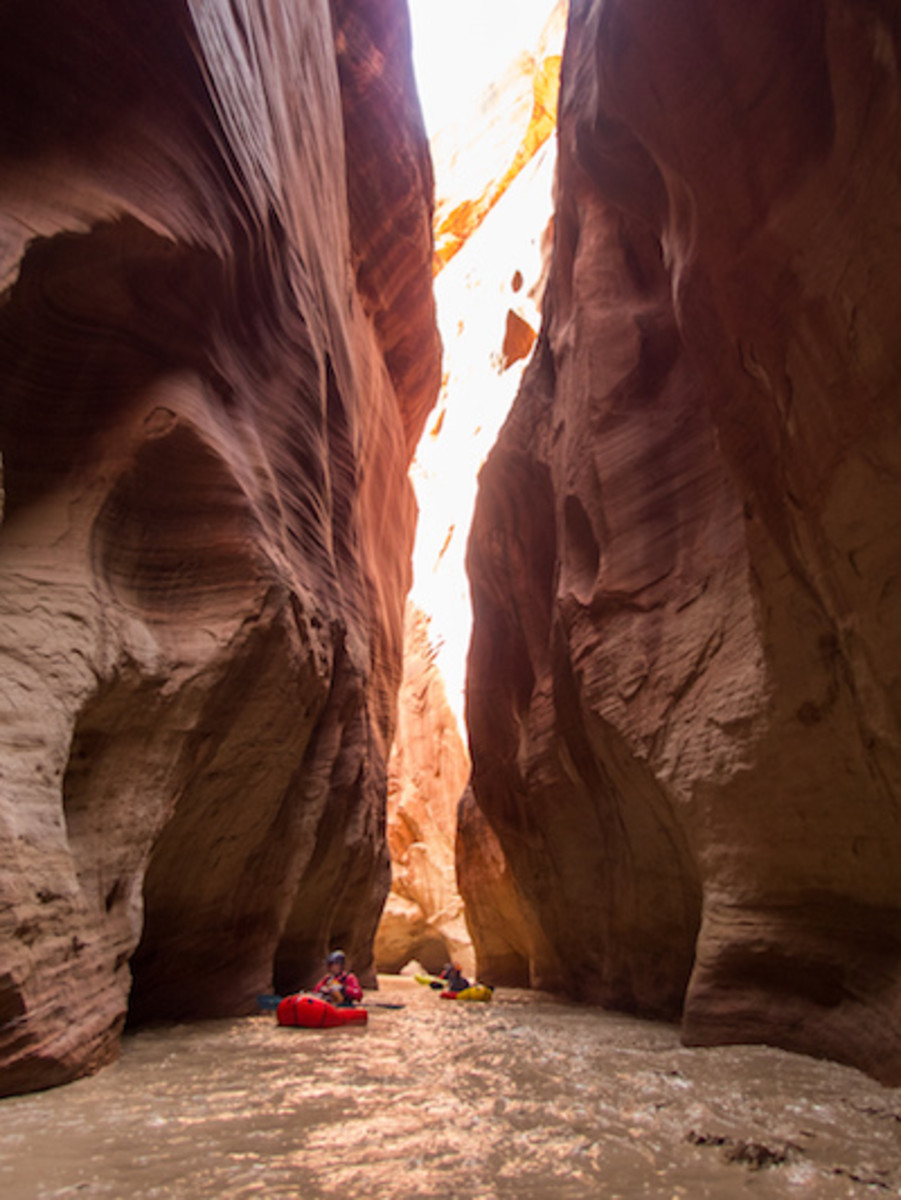 We arrived to the put-in at midnight under a full moon and scoped the trickle-status Paria River, a few inches deep amid moonlit and glistening mud flats. All we could do was wait until sunrise to see if the hybrid rain and snowmelt pulse would arrive at the right level and time for us. Just after the late winter dawn, it did indeed arrive, inflating the trickle to a flow over a foot deep in a matter of minutes. Maybe a little low, but you take what you can get in this country.
The reward for winning the Paria flow lottery? Pure uncut desert creek magic. Over twenty uninterrupted miles of Navajo sandstone narrows, sand waves, and wall-bang style turns followed by some low-gradient boulder gardens. These gardens build in frequency as the river cuts into deep layers of softer bedrock resulting in a higher gradient river in the lower canyon. The run culminates in a three-mile section of steep boulder garden chains where we portaged a few times.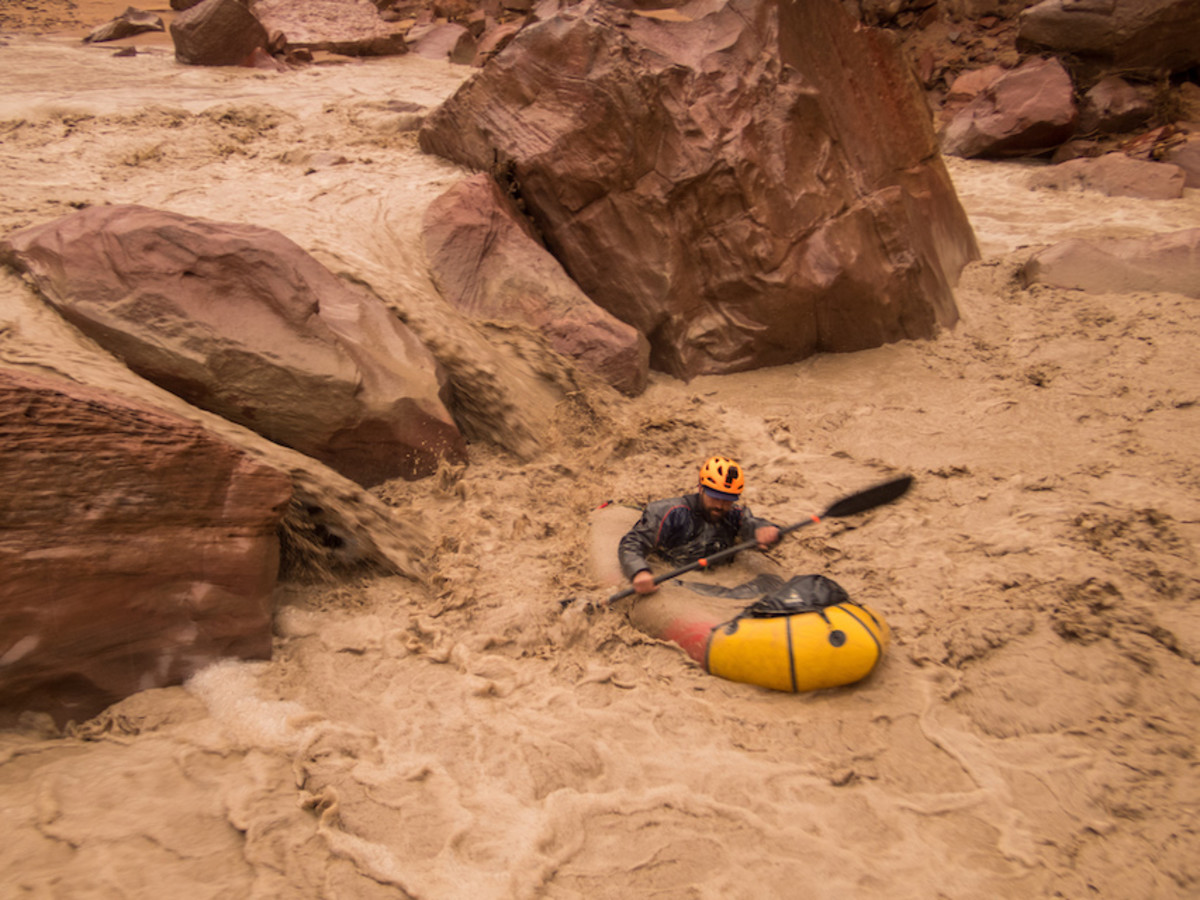 At our flow range of about 150-200 cfs, some sections were slightly boney even by packraft standards, but it was mostly fun low water paddling. Double the flow or even a bit more and this river would be perfect for packrafts. But if flows climb much higher, you run the risk of too much scouting instead of the read-and-run style required to keep up with the transient flow pulse. At 200 cfs, it takes a bit less than 12 hours for a pulse of water to traverse the entire length of the canyon from the White House Campground to the takeout at Lee's Ferry, so if it happens during daylight hours it may be possible to go in one push. Watch for a small number of sieved out gardens or ultra-retentive holes in the lower canyon (we portaged one of each). And always keep a mud-caked eye out for strainers. We had no trouble in that department; we counted the pieces of wood on one finger.
So, is the Paria better than the Zion Narrows? Better than Escalante or the Dirty Devil? These are very subjective questions of course, and the objective and truthful answer is yes. This desert river has everything to maximum degree, including its propensity to elude some of the best and most devoted river students.
— Jeffrey "Packraft Jeff" Creamer is geology professor at Fort Lewis College
The article was originally published on Canoe & Kayak
For access to exclusive gear videos, celebrity interviews, and more, subscribe on YouTube!