If kayaker Larry Merrill lived in Weeki Wachee, Florida, paddling for 303 consecutive months (i.e. a quarter century and change) would be somewhat impressive — or if Merrill had begun his span of paddling when he was a mere quarter century old, for that matter. Merrill, however, began his stretch of paddling when he was nearly 50. And he lives in Orrington, Maine, where water is hard for months, which requires either a hard-headed paddler or a paddler with a seriously soft spot for kayaking.
In Maine, just reaching the water can be problematic some months, for there can be three feet of crusted snow. With one step, you plunge into it and snow slips into your boots. With the next step, the ice holds your weight and you struggle to remain upright on that slick surface, all while pulling or carrying your boat and paddle.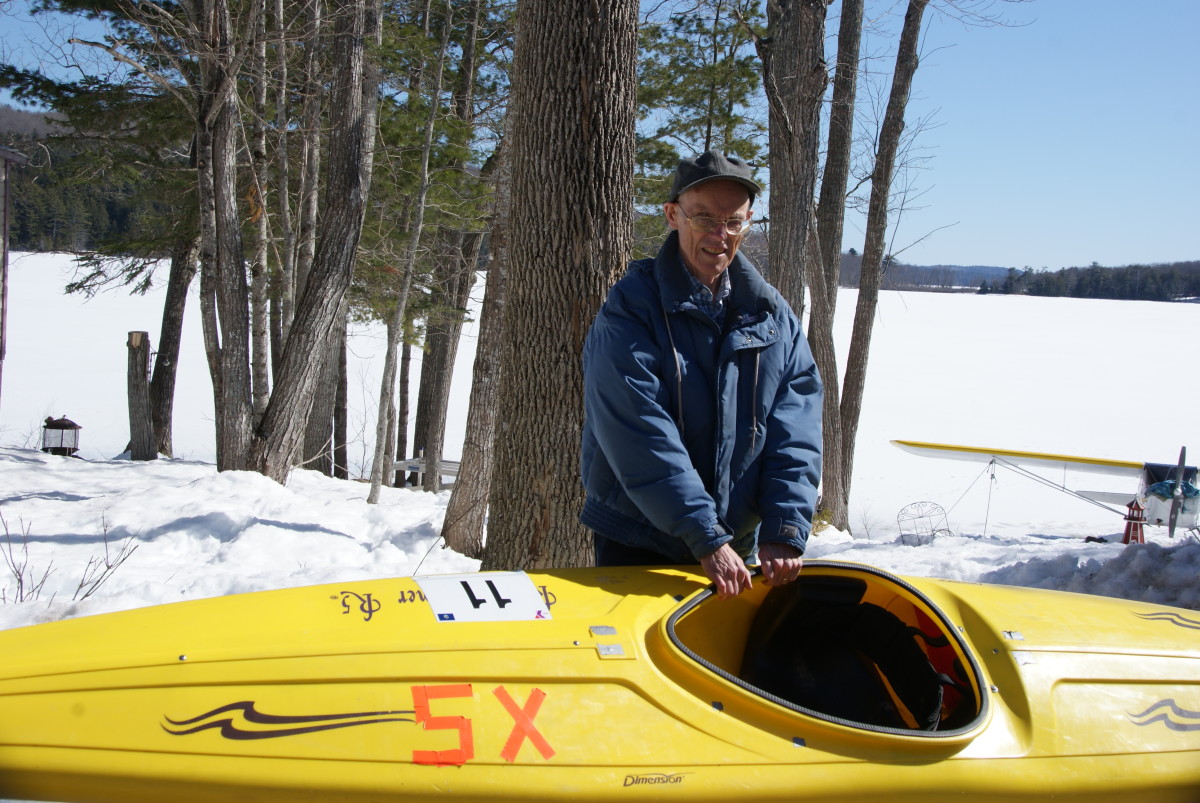 Meanwhile, water awaits that can strip you of coordination and strength in mere minutes if you tip and don't have a wet- or drysuit. Even in the right water-wear, if you capsize and can't regain your seat, climbing over stacked ice floes on the shoreline while towing your boat would challenge a Cirque du Soleil acrobat in balmy weather. Then there are the normal vicissitudes of life: flu, a cold, lawyering (Merrill is an attorney), trips that take you away from Maine, a creaky back, Superstorm Sandy, blizzards, black flies, ice clumping on your paddle's blades, the list goes on. Not to mention people wondering what exactly compelled such a streak.
Merrill started his string of paddling months in the most organic way. Whether racing or paddling for fun or to stay fit, he observed that he'd paddled at least once a month for five straight years. So, he made it a point to paddle every month, at least 20 minutes per outing, for a few more years. And then a few more and on and on, but he averages much more than a single outing most months.
"I'll be out half a dozen times in March, about 10 times in April, maybe 15 times in June," Merrill said, "but rarely more than three in January."
Merrill, 73, hopes to continue paddling into his 80s and 90s, both possibilities if the adage, "If you use it, you don't lose it," is right. What can break the string is a stretch of days that are problematic for paddling.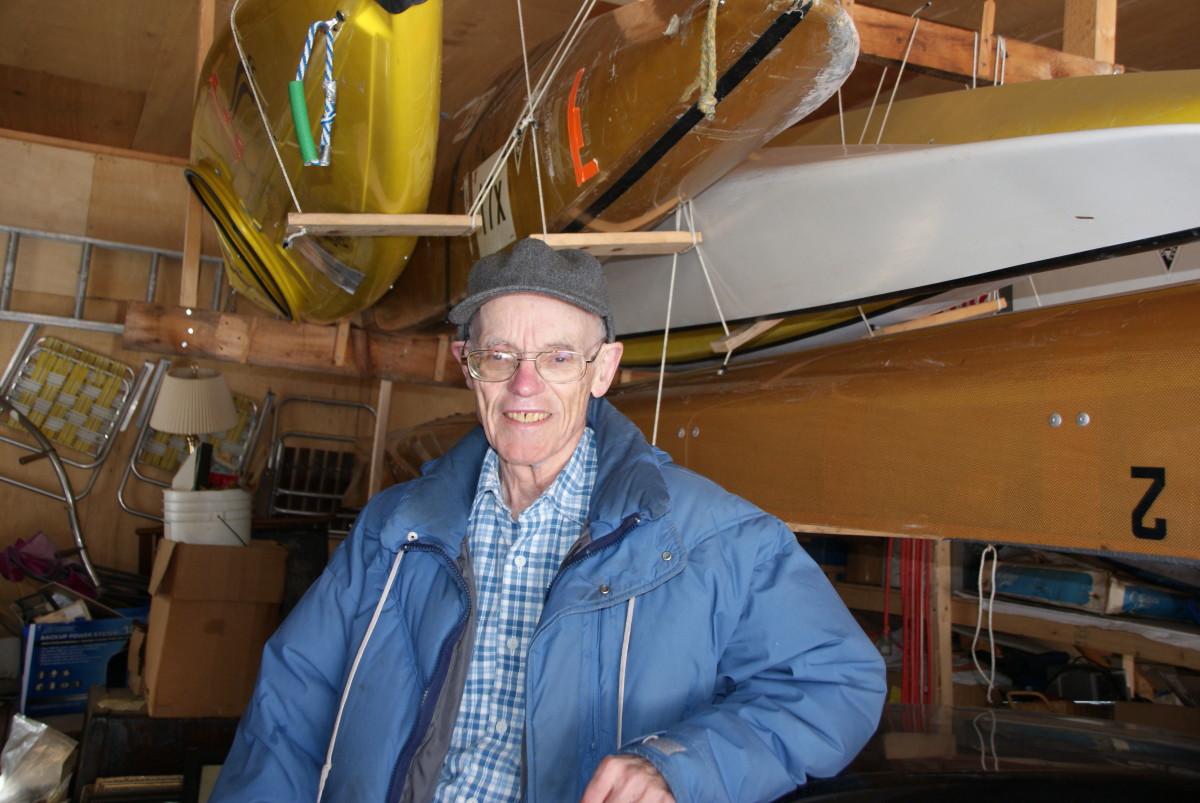 Nowadays, Merrill defines safe weather as above 20 degrees and "not too windy," remembering a day when it was neither:
"It was about 15 degrees and the wind was howling. There was no sunshine. I launched from Verona Island on the Penobscot River. It can get rough there and it was. I wondered what I was doing and was very happy when I put in my 20 minutes on the water."
Last February, there were only two days that met his safety criteria. Somedays, Merrill paddles quite close to his house.
"I live on Fields Pond and the stream that runs out of it stays open most of the time," he said. "I frequently drag the boat across the ice to launch there."
"Stays open" might mean something different to Merrill than a paddler of the same age down in a retiree community on the Gulf Coast.
"There can be a half-inch of ice on the stream, but I run up onto it and break through. I do the icebreaker thing. My weight cracks it."
Sometimes the shelf of ice extending from a river's shoreline is too thick to crack. That's OK by Merrill:
"I do a seal entry," he said. "I get into the boat and scooch ahead. If you thrust your bottom half-forward, it moves the boat with some vigor. You keep doing that and move four or five inches each thrust. Getting out is easier because I get a good head of steam and run up onto it."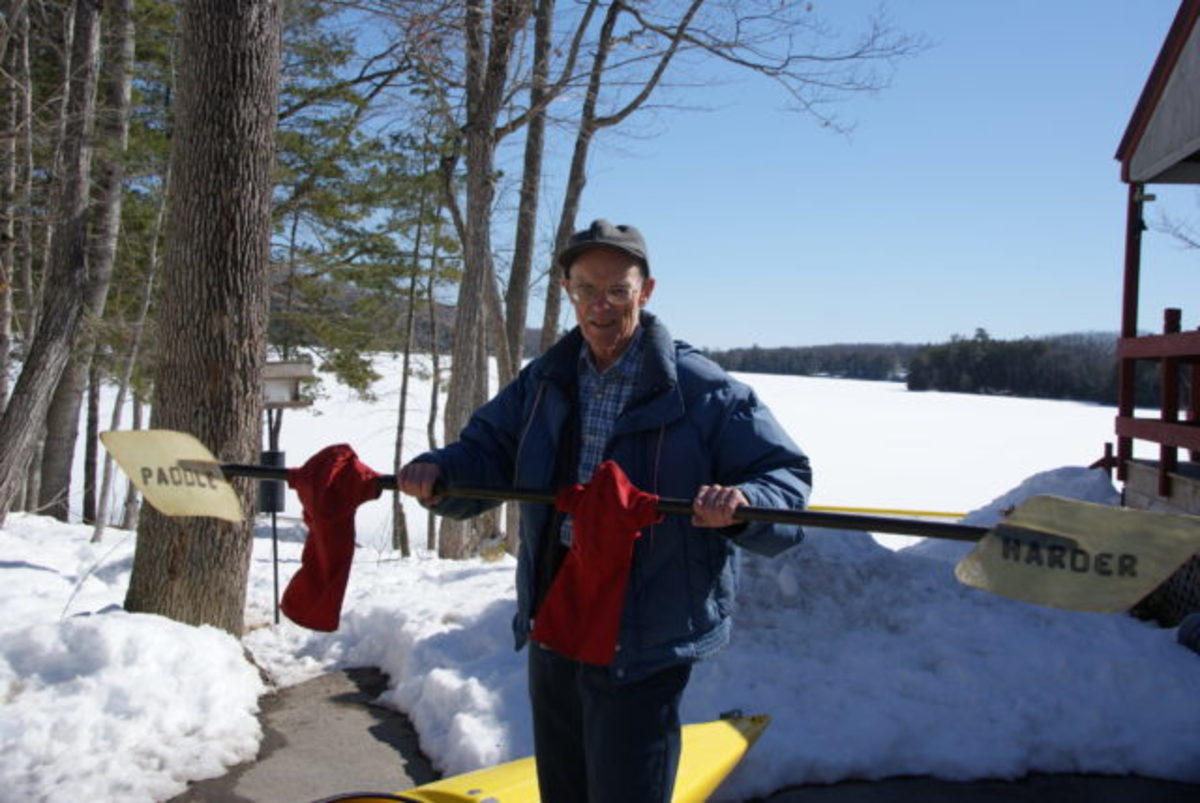 Merrill wears a wetsuit, but his hands still chill, which makes loading his kayaks when the paddling is done the most demanding part of his day.
"The most difficult thing is putting the boat back on the car when my hands are cold and the rope is frozen."
He's paddled about 20 different kayaks through his string, still owns 10, and his favorite is a 13-foot-2-inch Baldwin Downriver. All Merrill's kayaks have been closed boats.
"I don't like WBS: web butt syndrome."
Merrill also doesn't like too much freshly fallen snow.
"I've had to drag the boat through waist-level snow. The boat skims over the snow, but I sure don't."
Still, freshly fallen snow hushes the world and Merrill enjoys that "peace and quiet." One winter day, that quiet suddenly ended.
"There was a duck on the edge of the ice. It had been watching my approach, oblivious to an eagle that had been eyeing it. Well, the eagle dove for the duck just as the duck dove into the water to get away from me. That duck escaped because of me and I'm pretty sure that eagle gave me the evil eye."
Whereas Merrill enjoys the solitude and challenge of winter paddling, he misses some former paddling pals.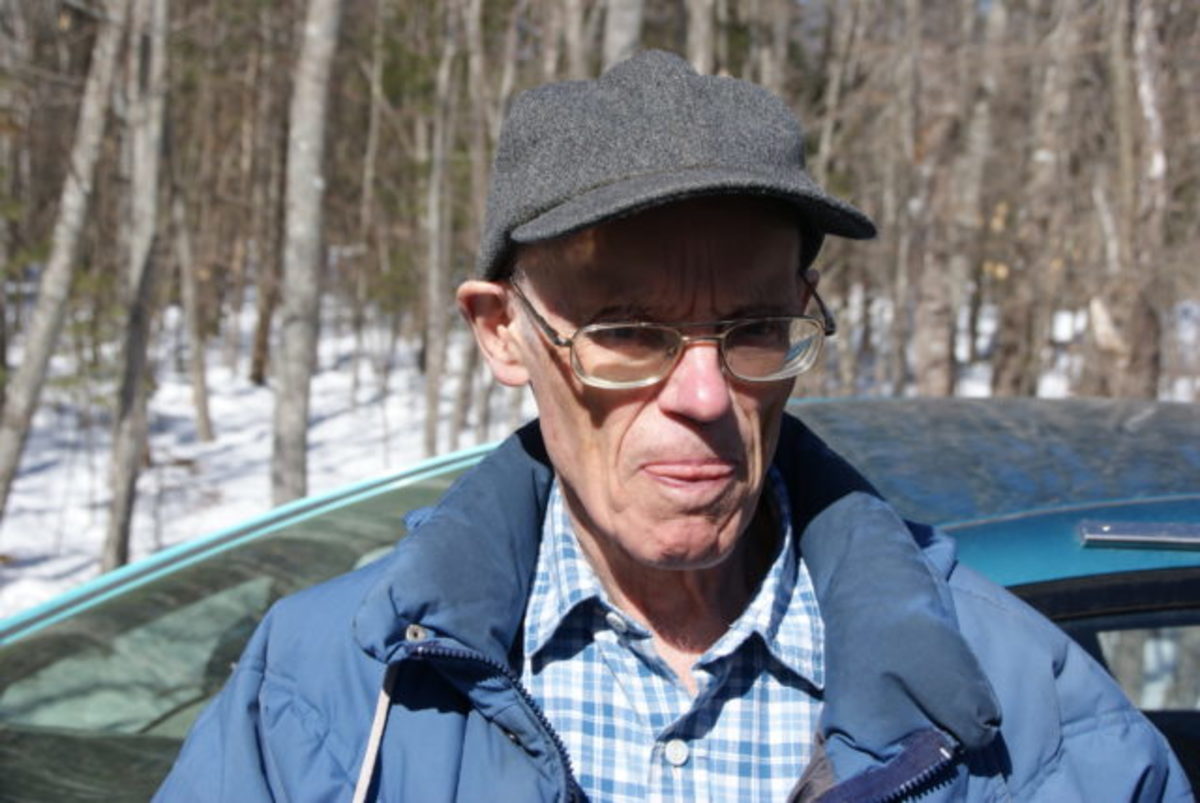 "A lot of my trips have been with other people. For several years, I'd paddle with friends every New Year's Day. The camaraderie and ritual was wonderful. One is deceased and another can no longer paddle, so I sure miss it."
Of course, there have countless pleasures beyond frosty New Year's Day paddling with pals. Merrill paddles through the golds, scarlets, and oranges of Maine falls, through misty summer mornings, and down rollicking streams each spring. People see him on the water, month after month and season after season and they tell him he's inspirational, but Merrill is skeptical.
"I'm not sure I believe that because I don't think I've inspired anyone to start their own streak."
But Merrill sees his streak as the way to a goal.
"I'd like to do the 16 and a half-mile Kenduskeag Stream Race, the biggest race in the state, when I'm 100."
So, Merrill wrote a little reminder for himself, a couple, waterproof Post-it notes of sorts. He made his kayak paddle and wrote "PADDLE" on one blade and "HARDER" on the other. Since his hundredth birthday is more than another quarter century away, it's wise advice.
---
MORE FROM C&K
The article was originally published on Canoe & Kayak
For access to exclusive gear videos, celebrity interviews, and more, subscribe on YouTube!