[This story appears in the June 2013 issue of Canoe & Kayak, available on newsstands Tues., May 28]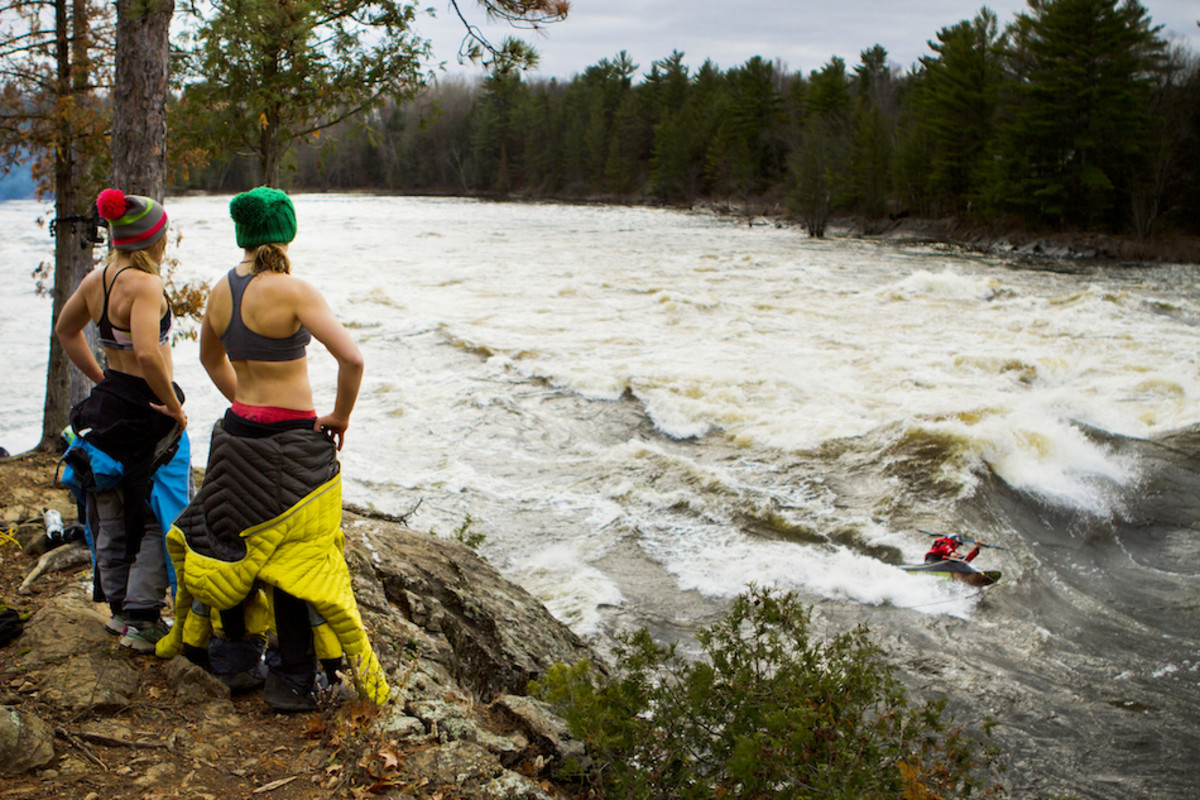 By Kate Stepan
Today's paddlers live in a different world. Compact and capable video cameras, inexpensive editing software and free video-sharing websites have made publicizing one's exploits easier and more important than ever. Paddlers desperate to stand out from the crowd must constantly promote themselves to sponsors, friends, and fans. This reality has long fueled a film genre labeled simply as "kayak porn"—short clips packed with heart-pounding whitewater action and no meaningful storyline. But the latest crop of YouTube-generation paddling filmmakers has blurred the line between kayak porn and the real thing, reigniting a simmering debate about gender roles in the sport.
In the world of kayak porn, there is a cadre of accomplished and talented cinematographers producing stylish, classy, even empowering works of film. Balls Deep Productions is not among them. Last fall, the Hood River, Ore.-based crew released a video entitled Pleasure Strokes on Vimeo.
The BDP footage consisted mostly of relative newcomers such as Sam Freihoffer and Davis Gove hucking meat on popular Pacific Northwest stouts, shooting guns, and smoking joints. It's set to a soundtrack of hard reggae and explicit hip-hop. Moonlighted by bigger name paddlers like Evan Garcia and Ben Marr, the movie prompted heated discussions on several blogs and online forums. Posts on the Colorado-based Mountainbuzz critiqued the film's mediocre editing and camera angles; some lambasted the crew for their off-water antics and lack of substantial boating footage. Many called out the filmmakers' educators, role models, and in some cases, sponsors—questioning the integrity of an industry that promotes these individuals as ambassadors of their sport.
Soon after, Dagger-supported athletes pulled their bio information from the BDP website. In one 'Buzz post, a representative from Dagger stated the brand's managers were "uncomfortable" associating the company with "behavior that is offensive, demeaning, or disrespectful." (This coming from Dagger, whose booth at Gauley Fest a few years ago featured pole dancing and female mud wrestling.) The BDP crew set out to promote themselves by documenting the number of stouts they stomp, the quantity of weed they smoke, and the girls who go shirtless at their parties. What they got was the whitewater community's panties in a twist with arguments about gender, censorship, misogyny, and sexuality. And a lot more exposure than even they bargained for.
"At the time, we thought we were just making a movie about having fun, but looking back it was more of just us acting childish," says Gove. "Our intentions were never to portray women in a negative light."
Not to be outdone by her male contemporaries, Canadian paddler Katrina Van Wijk, who paddled with the BDP crew this winter, released in February the first in a series of videos under the title TiTs Deep. The first installment follows the 22-year-old Van Wijk and three other female chargers, Louise Jull, Louise Urwin, and Erin Clancey as they road-trip around the Southeast preparing for the 2012 Green River Narrows Race. In the film, the girls huck, Jull is seen busting her shoulder above the Notch, and strong female vocals blare in the background. Group yoga, lip-syncing, and hand gestures suggestive of grabbing one's chest ensue, garnering a whole new set of reactions about sexuality in whitewater media.
Anna Levesque was one of the impassioned voices in the online kerfuffle. As someone who founded and built a company (Girls at Play) around the idea of empowering female paddlers, Levesque says she respects Van Wijk as a paddler and instructor, but believes she's "buying into the belief that how you get noticed as a woman is by making your looks and sexuality more important than your paddling talents." Levesque called for a "long overdue" discussion of female stereotypes in whitewater paddling, railing against Dagger, also her sponsor, for the brand's aforementioned Gauley Fest booth and history of inequities in athlete pay. The brand has made strides, she admits; its parent company Confluence Watersports has the only all-female executive team in the industry. Levesque also praised Dagger's move to dissociate its athletes from BDP.
Van Wijk contends her female crew isn't exploiting sexuality. "I'm trying to help girls see that not everyone is like the girls in the [BDP] video," she says. Meanwhile, other leading ladies in the sport, such as Mariann Saether, Emily Jackson, and Adriene Levknecht, have let their paddles do the talking, proving by example that the fairer sex can huck just as hard, loop just as high, and run rapids just as fast as the boys. The question remains: Do girls need the edge to prove it to themselves and to a largely male audience?
The last time I felt intimidated on the way to the river was on the three-hour drive to Gore Canyon, the Class V gauntlet on the upper Colorado River. We were packed into an SUV, and the guys spent the entire drive, not surprisingly, talking big about the sick lines they planned. My stomach churned as I silently watched the mountain scenery roll by, nervous about the season's low water levels and what that might mean for the run's bony drops and sticky holes. On the river, I followed Heidi, the only other chick in the group, as she fired up the "meat line" at Gore Rapid while the boys watched from the bank, contemplating the portage. At least one of them told me later, in private, the only reason they ran the rapid was because we had done it first.
In a recent post on the NRS Souls + Water blog, Andria Davis encourages female paddlers to "embrace their inner dumbass" when stepping up to hard rapids with the guys. Her point is valid, that men often do not think of the consequences of running a particular line or rapid as seriously as women do—which is why they excel at adrenaline sports like whitewater kayaking. I'd go one step further and ask those offended by these videos and supposed sexual references to embrace their inner dirtbag. Thicken your skin and remember to laugh at yourself and the (often lowbrow) sense of humor that bonds us as whitewater paddlers. Seriously, who among us has not once enjoyed an off-color joke? I myself have an entire repertoire of R-rated "female raft guide" quips.
Yes, this attitude walks precariously across the slippery slope of female objectification. However, if we remove these sensitivities, it would suck the air out of all of this supposed gender bashing, and the words and gestures would be stripped of their power. Let's save our fire for the important battles—equality in opportunity, competition, compensation, and respect—and leave the young 'uns to their hangovers and stunts. Admonishing them only panders to the cries for attention, and publicity, which videos and blogs represent in the first place.
The article was originally published on Canoe & Kayak
For access to exclusive gear videos, celebrity interviews, and more, subscribe on YouTube!